This Asparagus Gruyere Tart is gorgeous and impressive. Makes for a delicious appetizer or main dish. It's also super EASY to make! You've got to try this!
That dreaded walk of shame.
You might know that walk. And maybe you have to endure that walk pretty frequently like myself. I'm talking about whenever I'm late for something. Walking in late. With my head slightly down.
At church. At pre-school when I drop off Madeline late. At Madeline's ballet class. Sometimes, when meeting friends.
I'm almost always running late, which I hate. This is something I am constantly working on. Some days/weeks are great but some days/weeks, it's bad. Like having your daughter late to pre-school everyday, three days in a row.
The walk of shame.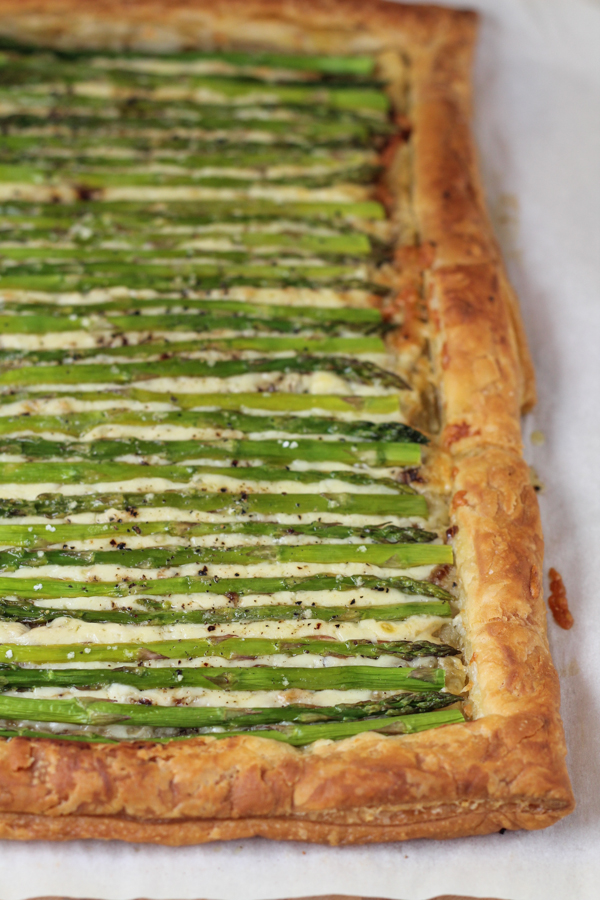 You can tell what the state of my life and mind are in simply by looking in my purse (or my messy bedroom). If my purse is organized, I'm good. .  but usually it's a big mess, with all sorts of things thrown in there: napkins, snacks, half eaten crackers and granola bars, a million pieces of paper with scribbles on it (almost always a grocery list or recipe ideas).
The other day, I was done. I was sick of having crap everywhere so I cleaned the house, cleaned out my purse and got Madeline to school on time. And then, I came home and made this asparagus gruyere tart.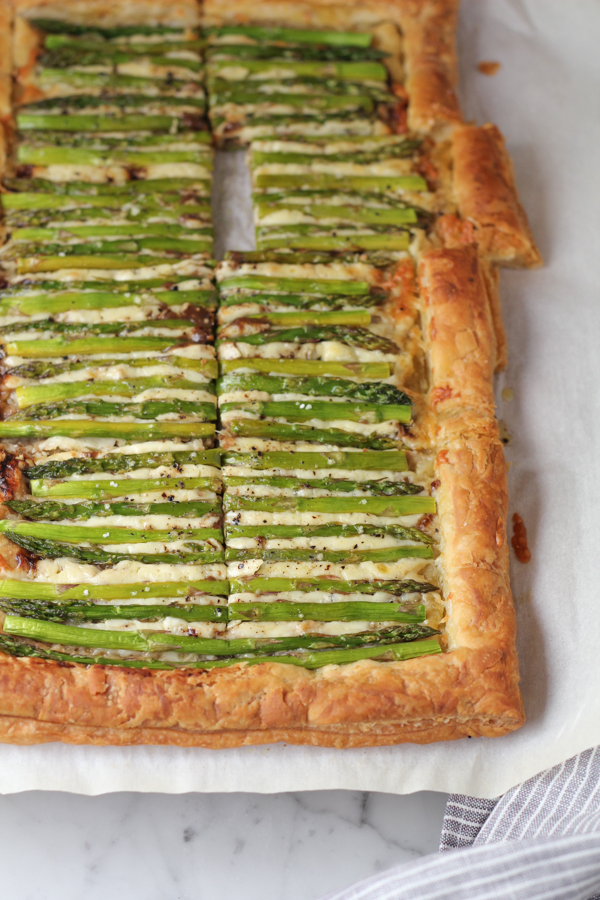 This super easy and utterly delicious Asparagus Gruyere Tart.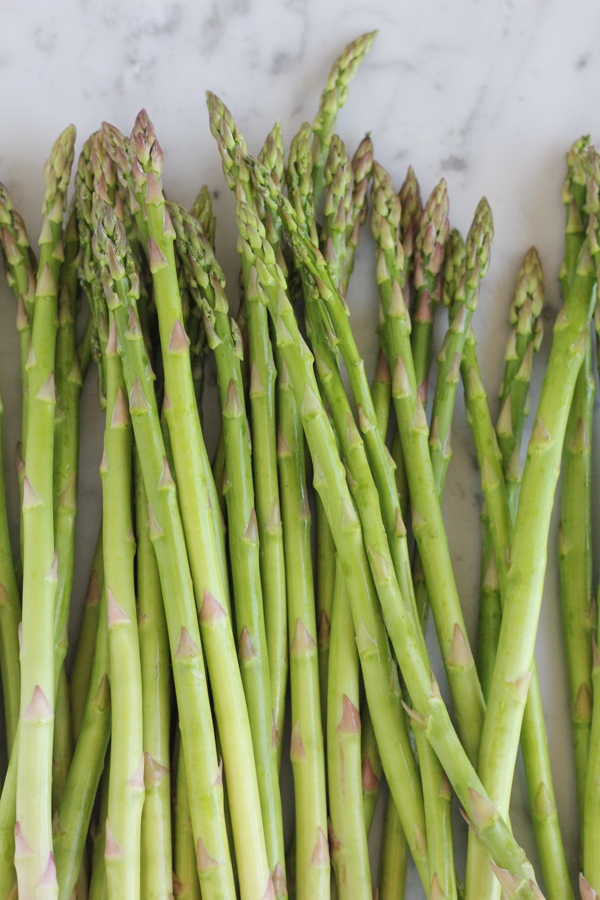 Maybe it was the magical, beautiful asparagus that inspired me. That was calling my name. Maybe it's because it's spring and the weather is starting to warm up again and I have no time for lateness. I have no time for messy and unorganized.
I want to be my best self this spring. Insert the inspirational music right here.
And this asparagus gruyere tart kinda gave me hope that I can do it. And you can too.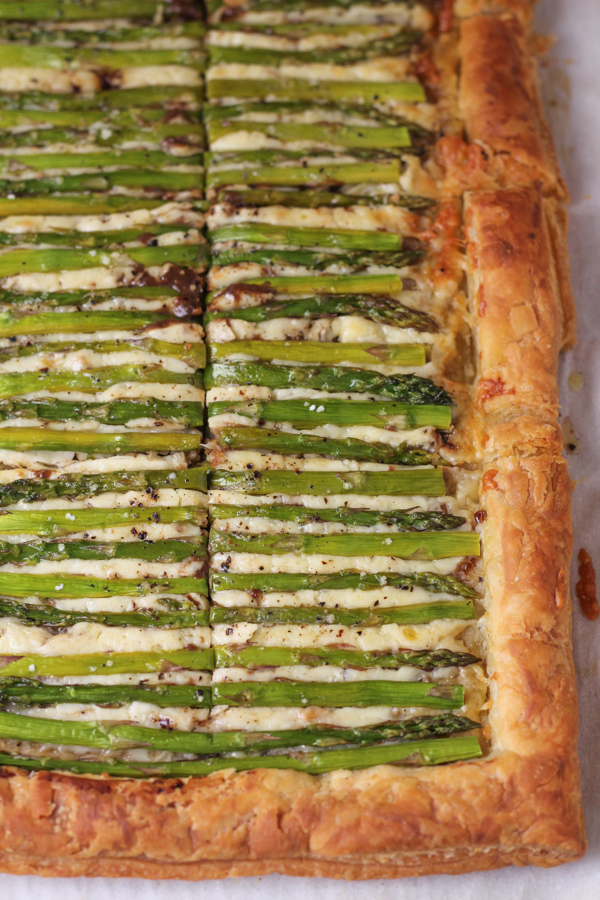 Easter is less than one month away and I don't know about you, but Easter is big for us. And you gotta have great food right?! We always host an Easter brunch and you can bet that this tart will be on the table.
Totally inspired by Martha but I added some fun twists to make my version of this classic! Add this honey dijon mustard with balsamic vinegar for an extra kick and I use two puff pastry sheets to make a larger tart. If you don't have this mustard, you can simply use dijon mustard (or plain honey dijon) and a few splashes of balsamic vinegar before serving. I hope you give this one a try!
Click here to see me making this tart on The TODAY Show! And I added even more spring goodness: peas on top (can be fresh or frozen) and fresh pea shoots as a garnish before serving!

Asparagus Gruyere Tart
TIP: I simply leave my frozen puff pastry in the refrigerator to defrost overnight. Then, it's ready to use the next day. If you don't have the honey dijon mustard with balsamic vinegar, use 1 to 2 tablespoons of dijon mustard or honey dijon mustard and serve with some balsamic vinegar or balsamic glaze before serving. Also, I combined TWO sheets of puff pastry but you can just bake ONE if desired. Watch the video to see how. You can also add peas and pea shoots on this tart for even more spring goodness!
Recipe type:
Appetizer, Side or Main
Ingredients
2 sheets frozen puff pastry, defrosted
1 to 2 tablespoons honey dijon mustard with balsamic vinegar
7 ounces (about 3 cups) Gruyere cheese, freshly grated
1½ pounds medium asparagus, trimmed*
1 tablespoon extra virgin olive oil
Salt and pepper
Balsamic glaze, when serving
Instructions
Preheat oven to 400 degrees. Prep a parchment lined baking sheet and place the two puff pastry sheets on the baking sheet, overlapping them just an inch in order to connect them. Using a sharp knife, lightly score the pastry dough 1 inch in from the edges all around to mark a rectangle. Then, using a fork, pierce the dough all around in the center, not the edges. Bake the pastry dough until golden, for about 15 minutes.
Remove the pastry shell from the oven, let it sit for a minute or two and then spread on the honey dijon mustard with balsamic vinegar (or dijon mustard if that's what you have) and then sprinkle on the Gruyere cheese.
*Trim the bottoms of the asparagus spears to fit crosswise inside the tart shell. Arrange them in a single layer over the Gruyere cheese, alternating ends and tips. Brush with olive oil, and season with salt and pepper. Bake until the spears are tender, for about 20 to 25 minutes. Remove from oven and let cool for a few minutes. Slice and serve with balsamic glaze.
Click
here
to see me making this tart on The TODAY Show! And I added even more spring goodness: peas on top (can be fresh or frozen) and fresh pea shoots as a garnish before serving!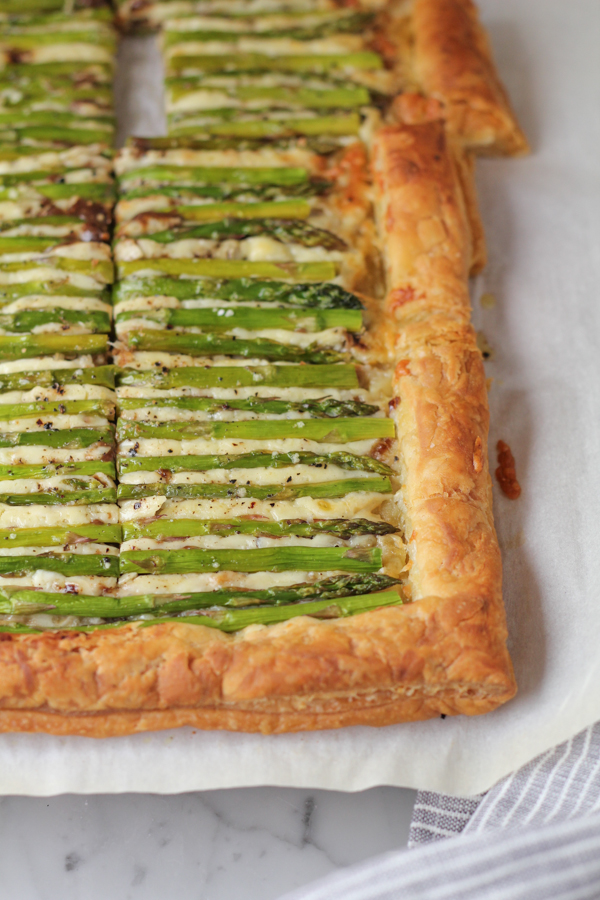 Easter Brunch Menu Ideas:
Asparagus Gruyere Tart, recipe above
Onion, Mushroom and Thyme Tart
Apple Spinach and Zucchini Salad
Olive Oil and Thyme Mini Bundt Cakes
You might also like...