Caramelized Onion, Mushroom and Thyme Tart using puff pastry! So easy to make and delicious! This is great for appetizers, or a main!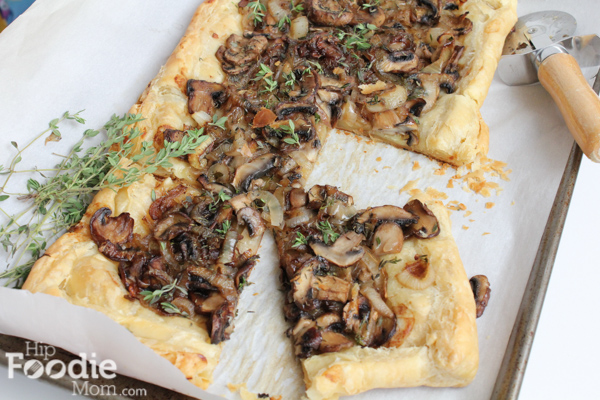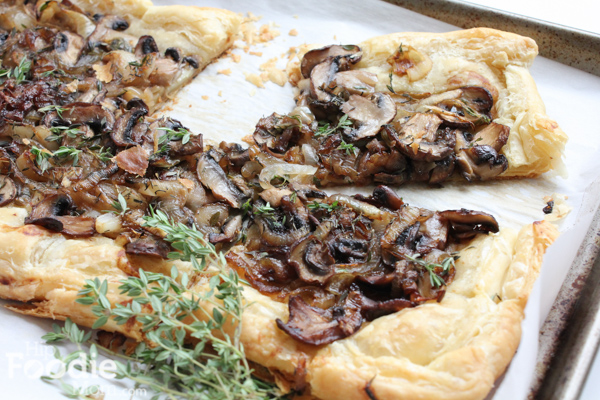 I recently attended one of Amy Pennington's cooking classes. .  her Croatian cooking class to be exact (will post the deets on this lovely class later!). Amy was so friendly, funny and warm and I absolutely loved watching her cook . .  I found this recipe on her blog the other night and immediately ran to the store to get some puff pastry to make this.
The onion, mushroom, and thyme tart is freaking delicious. Absolutely wonderful. + it's so simple to make. + it incorporates my absolute FAVE thing I am currently addicted to: puff pastry. I have been switching between the Aussie Bakery brand and Pepperidge Farms puff pastry, honestly because these are the only two brands that are available at the grocery stores closest to me (only QFC carries the Aussie Bakery ones; you can find Pepperidge Farms pretty much anywhere). I have not looked at Trader Joe's, PCC or Whole Foods yet but I'm told I need to purchase the good stuff. The all butter puff pastry dough. The frozen puff pastry dough that I think costs like $10. For as often as I bake and eat puff pastry, I can't afford to buy the good stuff every time but you can bet I will be testing some recipes soon with the all butter puff pastry. I mean, how can I not? If you have a brand that you use all the time and love, please tell me about it! All butter all the time?
To my puff pastry lovin' friends. You must try this recipe. You will thank me later. I hope you enjoy!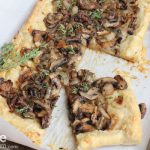 Print Recipe
Onion, Mushroom & Thyme Tart
Ingredients
3

tablespoons

extra virgin olive oil

2

large yellow onions

cut into thin half moons

2-3

cups

sliced mushrooms

try to use cremini or baby portobello mushrooms

1

teaspoon

salt

5 to 7

sprigs fresh thyme

leaves stripped and chopped

2-3

teaspoons

balsamic vinegar

1-2

sheets frozen puff pastry

defrosted but kept cool

freshly grated cheese: like Parmigiano-Reggiano or Gruyère
Instructions
Heat the olive oil in a large sauté pan over medium heat. Add the onions and stir continuously until softened, about 8 to 10 minutes. Sprinkle in the salt, add the sliced mushrooms and continue stirring until the onions release their moisture and the pan becomes more and more dry. When this happens, add half of the thyme and the balsamic vinegar and reduce the heat to medium low. Cook the veggies, stirring occasionally, until caramelized and golden, about 20 -25 minutes or so. (If the onions start to brown, reduce the heat as low as your stove goes.) Remove from the heat and set aside.

Preheat the oven to 350°F. Adjust the oven rack to the center position.

Unfold the sheet/s of defrosted puff pastry on a parchment-lined baking sheet. I used 2 so that my tart would be a little larger and just attached the puff pastry dough; you can just use 1 sheet if desired. Fold all the edges over to create the pretty border around your tart. Top the center of the rolled out puff pastry evenly with the onion, mushrooms, thyme mixture.

Bake the tart for about 25 to 35 minutes, until the pastry is golden brown and flaky. When there is about 2-3 minutes left, if you are adding the cheese, sprinkle on the freshly grated cheese and continue baking for the remaining time. Remove it from the oven, sprinkle the remaining thyme over the top, and let it cool for about 10 minutes before slicing and serving. (Any leftover tart can be kept at room temperature, lightly covered with parchment. Best to crisp it in an oven or toaster oven prior to serving again.)
Recipe adapted from Amy Pennington. I added the mushrooms because I simply LOVE them.