Korean Kimchi Fried Rice Bowl (Kimchee Bokkeum Bap)!! Hot and spicy and filled with bacon bits, kimchi and topped with a fried egg. This is one of my favorite meals to eat! You've got to try this!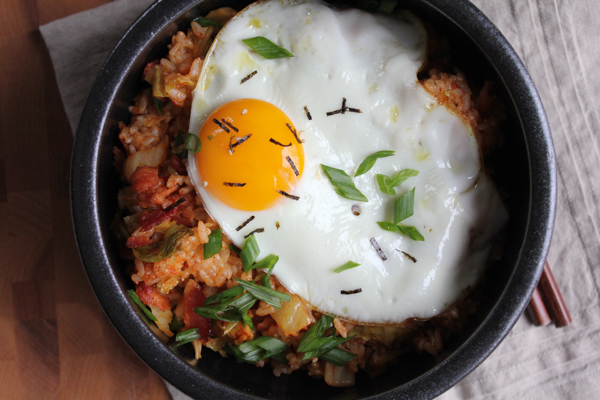 Yesterday, I did the unthinkable.
I slept in until 6:35am.
On the weekdays, I usually wake up at 5:50am. And I didn't post anything new here on the blog on Monday. We have 9 days until Christmas and I'm living on the edge.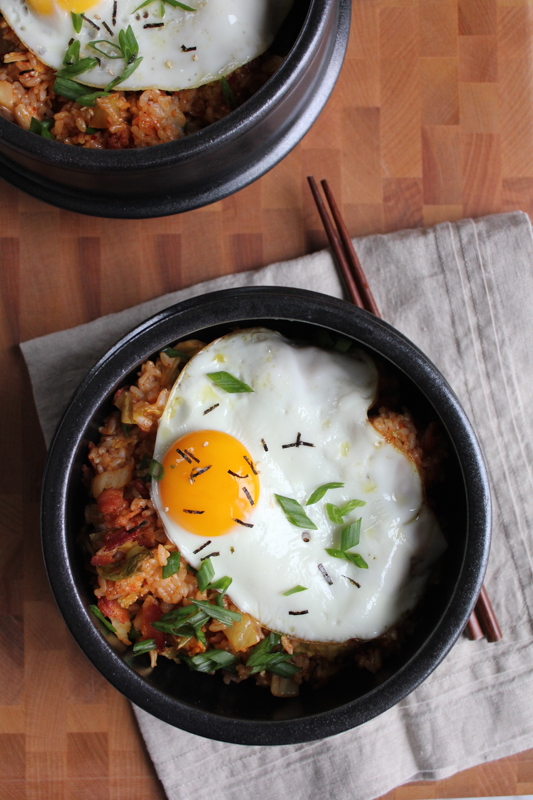 Last weekend, we hosted two parties. One for my daughter and her friends. .  who – by the way – are all 7 years old. .  and my husband swears he heard talk of boys and kissing. .  WHAT?!!! I'm so not ready for this. I know my daughter doesn't even like boys yet . .  or so I think . . . let's hope he overheard something out of context. Parents with older kids, help me out here. .  does it start at this age? I didn't like boys until at least 5th grade.
And then we hosted a small dinner party (tapas night!) for some friends on Sunday night. We had so much fun! I was introduced to this fabulous singing group, Pentatonix. Have you seen these guys on youtube? oh my gawd, I love them. Especially their Evolution of Beyonce.
Anyway, I'm fighting off a semi-cold . .  and trying my best not to get sick right now.  I have a school field trip, doctors appointments, deadlines and most importantly, girls night out, this week. I've got to catch up on my sleep and still have a million and five things to do before next Thursday.
So, what do I do when I'm feeling sick? I drink Emergen-C like there's no tomorrow AND I eat kimchi. My husband swears there are healing powers in kimchi and I believe it. Kimchi jjigae (kimchi stew) is like our chicken noodle soup. And so I always like to make a big batch of kimchi jjigae, Korean kimchi fried rice (kimchee bokkeum bap) or some kind of rice bowl filled with kimchi when I'm starting to feel a little under the weather.
Kimchi Fried Rice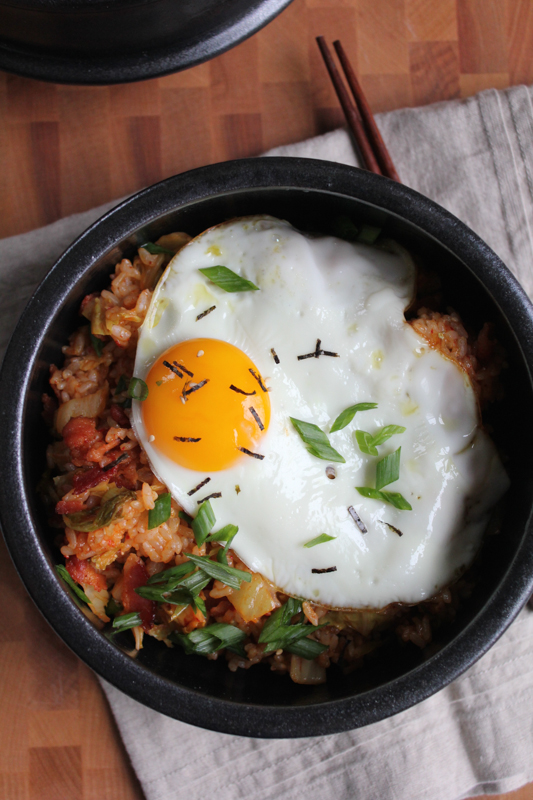 Sick or not, this is one of my all time favorite things to eat and make. This rice bowl is so easy to make ..  and next year, I'm finally going to make my own kimchi! I'm so excited! Growing up, my mom always made ours and now, I kind of like supporting the Korean small business owners and buying my kimchi from these local Korean markets (we have 2 small ones in Madison) but I just want to do it. I kind of feel like I need to do this to celebrate my heritage. Kimchi party anyone?
This is my I don't have a lot of time, I'm hungry and want to eat now, fast version of Korean kimchi fried rice (kimchee bokkeum bap). . it's still absolutely delicious.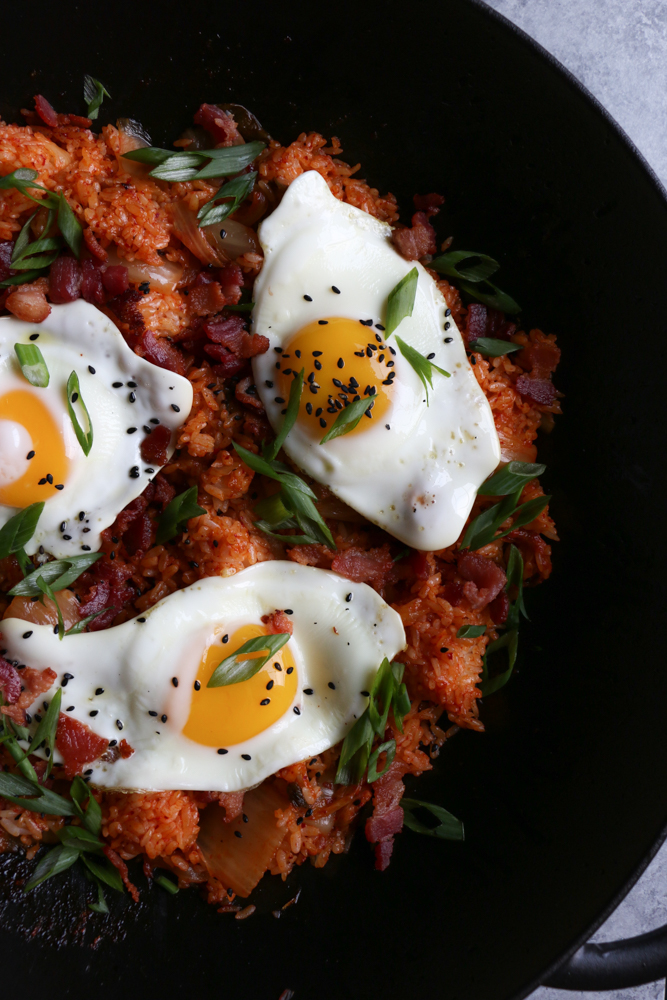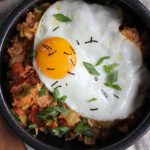 Print Recipe
Korean Kimchi Fried Rice Bowl (Kimchee Bokkeum Bap)
Note for the cook: Day old rice works best for this recipe. Alternatively, you can add the kimchi FIRST, sauté for a few minutes and then add in the rice, the remaining 1 tablespoon of sesame oil, the kimchi juice, gochujang, soy sauce and fish sauce.
Ingredients
5 to 6

strips bacon

chopped into pieces

4

cups

cooked brown or white medium grain rice

day old rice works best

2

tablespoons

sesame oil

split

Roasted sesame seeds

2

heaping cups kimchi

chopped (plus 2 tablespoons reserved kimchi juice from jar)

1 to 1 ½

tablespoons

gochujang

Korean hot pepper paste

2

teaspoons

low sodium soy sauce + more if needed

1

teaspoon

fish sauce

Fresh green onions

diced for garnish

4

Fried eggs

Finely shredded gim

dried seaweed, optional
Instructions
Using a heavy bottomed pot or large pan, cook the bacon over medium-high heat until browned and crispy, for about 6 to 8 minutes.

While the bacon is cooking, mix the cooked rice with 1 tablespoon of sesame oil and sprinkle on some sesame seeds. Set aside.

When the bacon is cooked, crispy and finished, remove the bacon from the pan and onto a paper towel lined plate. Drain a little of the bacon fat if desired, but keep all the browned bits on the bottom of the pan. Immediately add the cooked rice*, the remaining 1 tablespoon of sesame oil, the chopped kimchi, kimchi juice, gochujang, soy sauce and fish sauce.

Mix everything together for a few minutes, making sure everything gets incorporated, and then let the rice sit, untouched, for a few minutes so the rice can start to get a little browned and crispy on the bottom. Repeat the process one more time: Mix everything together for about 1 to 2 minutes and then let the rice sit, untouched for a couple of minutes.

Add in the crispy bacon bits, green onions and mix together. Let cook for another minute or two, tossing as needed. Taste, and adjust any ingredients if needed. Serve with a fried egg on top and garnish with more green onions, sesame seeds and some finely chopped gim if desired. Enjoy immediately.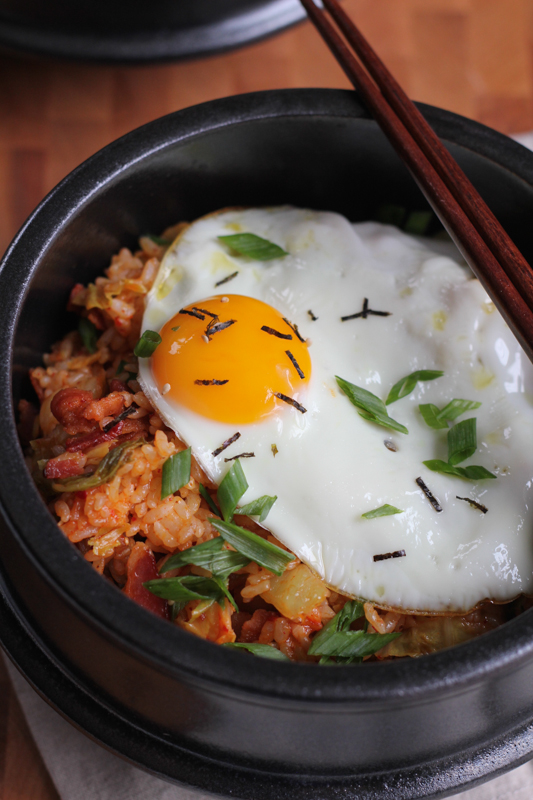 Disclosure: This is a sponsored post and is in partnership with my on-going work with KitchenAid. All opinions expressed here are 100% my own.