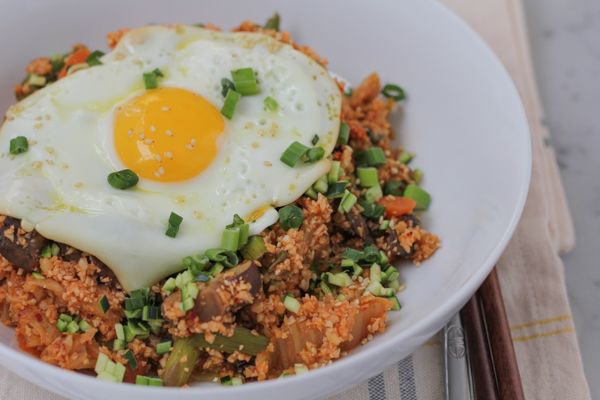 It's Friday!!! Woot woot!!! We survived another week!
We've been in Dallas and have been having so much fun and my brother's family and sister's family arrive tonight so my kids are so excited to see their cousins!
Spending time with family. Seriously, this is what it's all about.
I love that all of our kids can get together and play and love seeing each other. Ah, if only we could all live in the same state! A girl can dream . .
Well, today, I'm bringing you something I am obsessed with. Something I seriously hope you will try. .  I might say this about every recipe (don't we all?) but I sooooo mean it with this one.
If you're a fan of cauliflower, you have to try cauliflower rice! I'm telling you, this is not to be missed. I love dishes that turn something as beautiful as a head of cauliflower into something like this.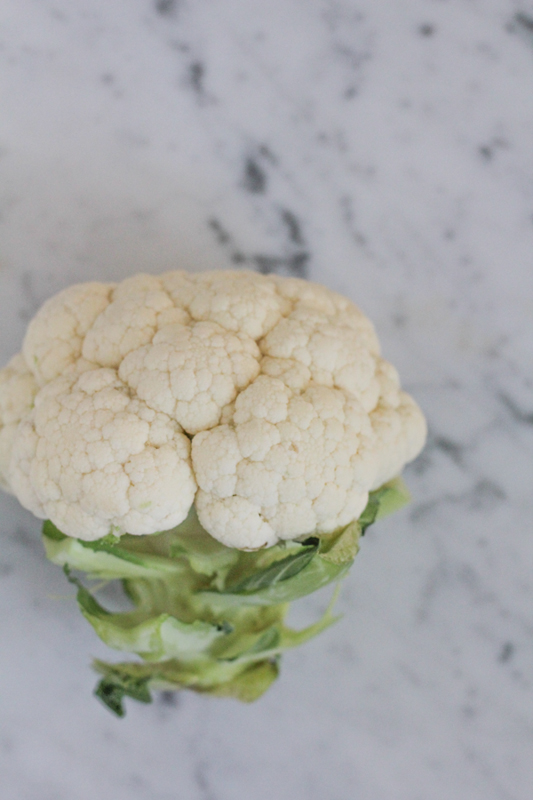 All with the magic of a food processor.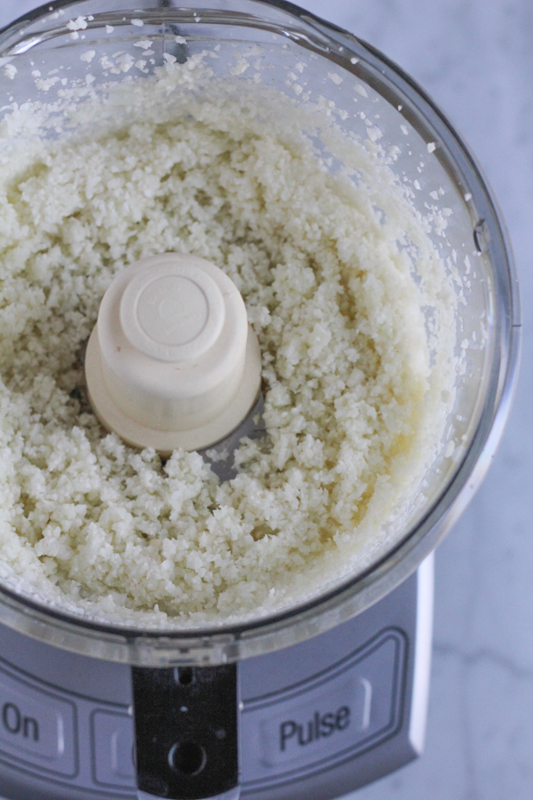 I am guest posting today over at Everyday Maven for my friend, Alyssa, who recently had a baby and is spending some quality time with her newborn. If you haven't visited Everyday Maven, you need to. Alyssa has a great "why I started the blog" story, and has a ton of delicious mostly Paleo, Whole30 & Gluten Free recipes and she loves Korean and Asian Foods! She even has this great post on how to make cauliflower rice and a delicious recipe for Ginger Coconut Cauliflower Rice.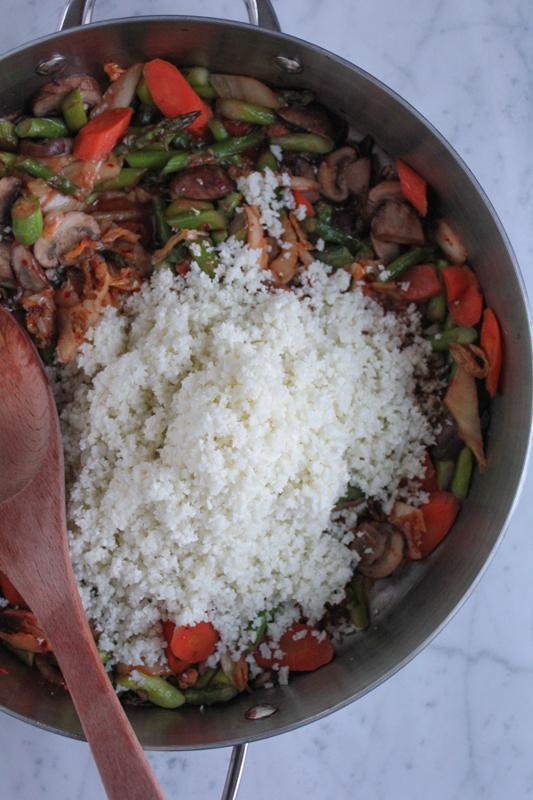 My Korean Style Cauliflower Rice that I am sharing today uses some of my favorite Korean food ingredients and yes, has a little heat. Big flavor, a little spice, lots of texture and it's healthy! OK, so maybe the fried egg on top doesn't make it completely healthy but I couldn't help myself.
How could I not top this with an egg?! So, head on over to Everyday Maven for my post and this recipe! I hope you enjoy!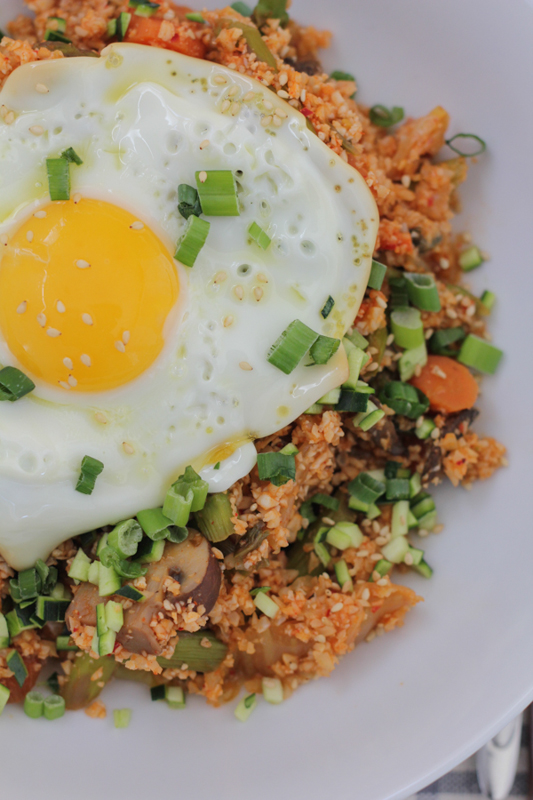 Korean Style Cauliflower Rice
Ingredients
1 small to medium sized head of cauliflower, green leaves removed and cut into chunks
2 tablespoons sesame oil, split + more if desired
2 garlic cloves, peeled and minced
8 oz. package mushrooms, finely diced (I used cremini)
1 large carrot, finely diced
2 to 3 asparagus spears, finely diced
1 tablespoon brown rice vinegar
1 tablespoon low sodium soy sauce
1 cup kimchi, chopped
1 to 2 tablespoons Korean hot pepper paste (Gochujang)
1 teaspoon honey
fresh green onions, diced for garnish
half raw zucchini, julienned and finely diced for garnish
Fried egg for serving, optional
roasted sesame seeds for garnish
Instructions
Using a food processor, place the cauliflower chunks inside and pulse until it becomes a cous-cous like texture. Remove from food processor and set aside.
Using a large saute pan over medium-high heat, heat one tablespoon of the sesame oil, after a minute or two, add the garlic and saute for 1 to 2 minutes.
For the rest of the instructions and to see the entire recipe card, please visit Everyday Maven.
For the rest of the instructions and to see the complete recipe card, please visit 
Everyday Maven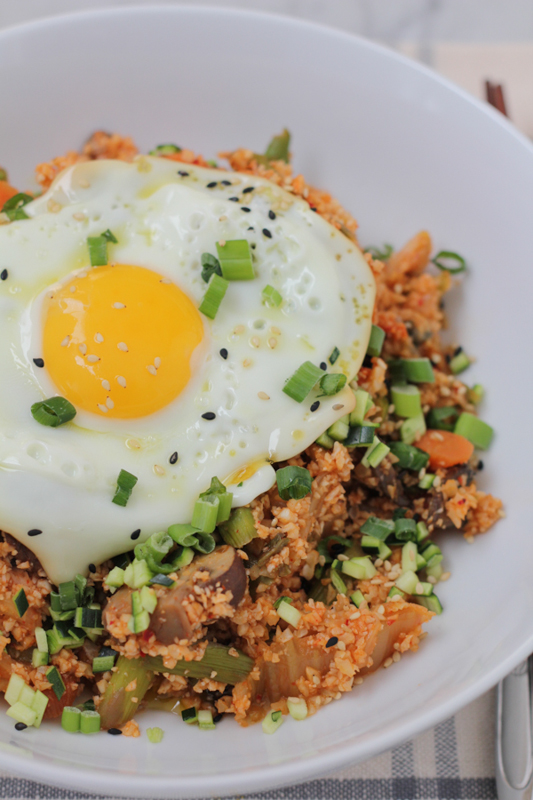 You might also like...