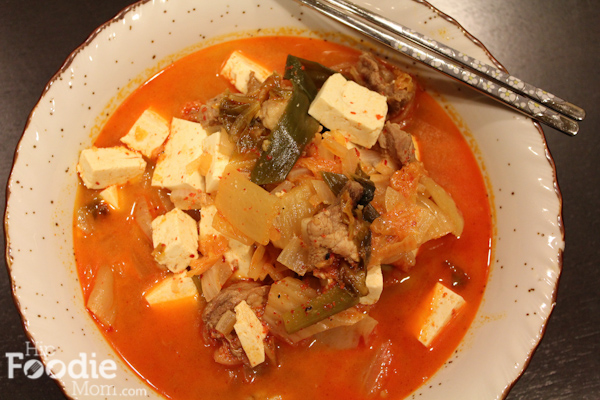 (Update: My husband and I love Kimchi Jjigae so I make this at least 2-3 times a month. I have since updated the recipe (I improvise depending on what I have in my refrigerator) so the recipe card has been updated below. I will update the photos too. In the meantime, please excuse the sucky photos. I hope you enjoy!)
Moving is never easy. Moving to another city in a different state with kids is worse.
When my husband received his new job offer that would take us to Seattle, WA from Los Angeles, CA, I thought, ok, Seattle is a cool city. . it has the Space Needle, Pike Place market, Starbucks, cool restaurants, Mount Rainier, trees, Starbucks. . did I mention Starbucks? And then, like everyone else, I thought about the weather, someone told me about the Seattle Freeze and I thought about the weather again.
Seattleites, is this really what I have to look forward to?
So, we moved. Obviously. It was a good opportunity for my husband, the schools here supposedly kick ass and I got the kitchen of my dreams (with two sinks). I'm a pretty positive person. . I thought. . I have this. Who cares about rainy, no sunshine for five, six, seven months straight. Now, come on, this can't be true. Can it? Well, I guess I'll find out soon.
Weather aside, the move was easier than I thought (not counting the snow storm that welcomed us to our new home), the people here have been delightful and my kids are happy. I'm from Dallas, TX and actually have a handful or more friends who I grew up with who live here! So, initially, we met up with and re-connected with a bunch of people. As the dust started to settle and we got into our groove, we met some great, warm people, went on a gazillion play dates, explored the city, visited a ton of parks, heard rumblings of BEARS, and have just been happy. Seeing my kids play with the other neighborhood kids has been a true joy. The kids will ring our doorbell (they come in packs of 3) and ask, "Can Phoebe come out and play?" She'll be playing with her sister or watching something on the Disney channel and she'll immediately run to the door and then run to get her shoes on.
We've only been here for about 7-8 months now but I already feel blessed. Through my friend Victoria, who I knew from Dallas, (who only lives like 5 minutes away from me!), I was able to join a women's bible study and I met Jen. Jen and I share a love for cooking, eating and enjoying food. We are even taking a cooking class together in November (The Classic American Doughnut Shop!). Watch out yo! I'm so excited. All of my posts in December will be all donuts :P. . . and it was Jen who introduced me to the Kimchi Chronicles. OK, I am ashamed to say that I just learned about this. There's a Public Television series too.
Marja Vongerichten, the author of this glorious cookbook, born in Korea, but adopted and raised in the US, "rediscovers her love for Korean food as a way of reconnecting with the family and traditions she left behind as a child." Not only is this cookbook amazing, filled with delicious and innovative food and recipes (this is where I got the Hot Dogs with Kimchee Relish and there's Grilled Steak with Kimchi Butter in here, that's all I'm sayin') but Marja's story is extremely heart warming and joyful. If you love Korean food, you must buy this cookbook.
Continuing my Celebrating Korean Food posts. . Here's Kimchi Jjigae.
Anyone who buys kimchi has probably made this dish because you need really old, fermented kimchi for this. The smellier the better. Just like kimchi itself, I didn't enjoy eating Kimchi Jjigae (kimchi stew or soup) until a little later in my life. I know, I know. Now, I can't get enough of it and this is one of my husband's favorites. If you like kimchi and haven't tried this, add this to your list. Now.
So, will I have months of crappy, cold, rainy weather to look forward to? Probably. But at least I'll have me some kimchi jjigae. And that's ok by me. I hope you enjoy!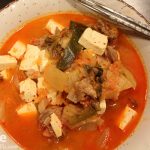 Print Recipe
Kimchi Jjigae
Ingredients
1-2

tablespoons

toasted sesame oil

Don't overdo it. This will make your jjigae really oily

1

pound

pork shoulder

cubed

Coarse salt and freshly ground black pepper

1/2 to 1

large onion

coarsely chopped

3

cups

coarsely chopped fermented

old kimchi with some of the kimchi liquid/juice

3-4

cups

water

1

tablespoon

fish sauce

1-2

tablespoons

low sodium soy sauce + more if needed

about 2 cups greens

kale or fresh spinach; coarsely chopped

2-3

cups

tofu

or one whole package; cubed

5

scallions

thinly sliced
Instructions
Heat the sesame oil in a large soup pot over medium-high heat. Add the pork shoulder, season with salt and pepper, and cook, stirring often, until browned and crispy, about 10 minutes.

Add the chopped onion, kimchi, kimchi juice, fish sauce and soy sauce and stir to combine. Add enough water to nearly cover the pork mixture (about 4 cups), cover, and bring to a boil. Immediately reduce the heat and simmer until the onion and kimchi are softened and the soup is thick, about 20 minutes.

Stir in the greens, tofu and scallions. Cover the pot and simmer for about 10 minutes until the greens have wilted and softened and to combine the flavors. Taste and season with more soy sauce if needed. Serve with white or brown rice.
Recipe adapted from the Kimchi Chronicles.