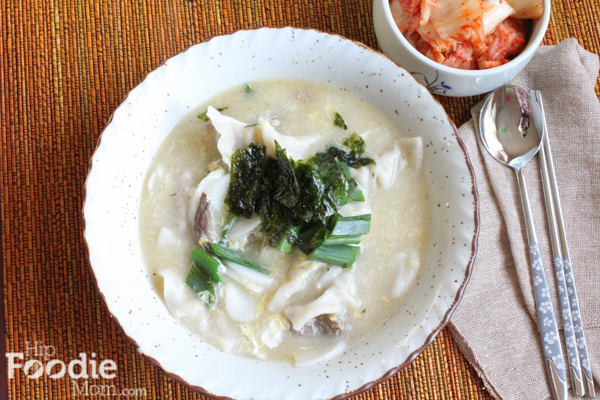 Korean Food: Duk Mandu Guk for New Year's Day!! A traditional Korean food meal for New Years Day. Korean Rice Cake and Dumpling Soup.
I know this post may seem a little early. .  but New Year's Day will be here sooner than you think! Scary to think 2012 is already coming to an end. . for us, 2012 represented a lot of change:
We moved from Los Angeles, CA to Seattle, WA . . . which meant leaving our extended family in CA  . . . but looking forward to new adventures!
 Paul, my husband, started a new job.
 We had to get acclimated to a brand new life, new everything! (friends, neighbors, community) here in WA.
  Phoebe, my oldest, started Kindergarten!
  I quit my job to be at home with the girls. . .
  I officially, really started this blog, Hip Foodie Mom!
For us, we have certainly been blessed with the move and it's been a great year!  2013, I hope you are just as good to us! Cheers!
This soup, Korean Rice Cake and Dumpling Soup (Duk Mandu Guk) is a traditional Korean dish that is made and eaten on New Year's Day. A lot of families gather together on New Year's Day and make the dumplings from scratch. Click here for my dumpling recipe.  I loved eating this soup when I was a kid and now, I have a family of my own and we still get together, make dumplings and then make this soup! And now, my daughters know how to make the dumplings. They don't roll or fold them perfectly, but it really doesn't matter! Still tastes delicious! Wishing everyone a very happy New Year!
I hope you enjoy!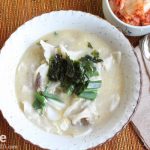 Print Recipe
Korean Food: Duk Mandu Guk for New Year's Day
The longer you let your beef simmer, the better it will taste. For best results, let your soup simmer for at least one hour.*
Ingredients
About 1 1/2 pounds

or one bag of sliced rice cakes. You can find this at any Korean or Asian grocery store; look for the ones that look like flower petals.

2

tablespoons

toasted sesame oil

1/2

pound

beef brisket or steak

or boneless beef short rib, cut into 1/4 or 1/2 inch pieces

Kosher salt

to taste

6 to 7

cups

cold water

2

teaspoons

fish sauce

4

garlic cloves

minced

2 to 3

tablespoons

low sodium soy sauce + more if needed

15 to 20

pieces

of ready made frozen dumplings

any kind

6

scallions or green onions

+ a few more for garnish, diced

2

eggs

beaten

4

sheets toasted gim or nori seaweed

cut into thin slivers for garnish
Instructions
Cover and soak the rice cake pieces in cold water for at least 1 hour. You can even soak them overnight and leave them in the fridge. Drain.

Heat the sesame oil in a large heavy soup pot over medium-high heat. Add the beef and a pinch of salt and cook, stirring occasionally until the meat has been browned on all sides, for about 4 to 5 minutes. Add the cold water (or enough to cover your meat and then some; this will become the soup broth so you want to make sure you have enough), cover the pot, increase the heat to high to bring to a boil. Once boiling, bring the temperature down to low and let simmer for at least 20 to 30 minutes, skimming off any foam that rises to the surface. The longer you let your beef simmer, the better it will taste. For best results, let your soup simmer for at least one hour.*

Add the fish sauce, garlic, soy sauce, frozen dumplings, and season with salt. Cook uncovered for about 3 minutes. Then, add the drained rice cakes and let boil for another 6 to 8 minutes. Taste the soup and season with more salt, soy sauce and/or garlic if needed. Keep checking the rice cakes to ensure you are not over cooking; if you cook them for too long, they become too soft. Add the scallions or green onions and cook for another minute.

Using a large wooden spoon, stir the soup and pour in the beaten eggs, while stirring. They will cook instantly and break into small, feathery bits. Ladle the soup into bowls and garnish with more green onions and the gim. Serve immediately.
Recipe adapted from The Kimchi Chronicles Cookbook.