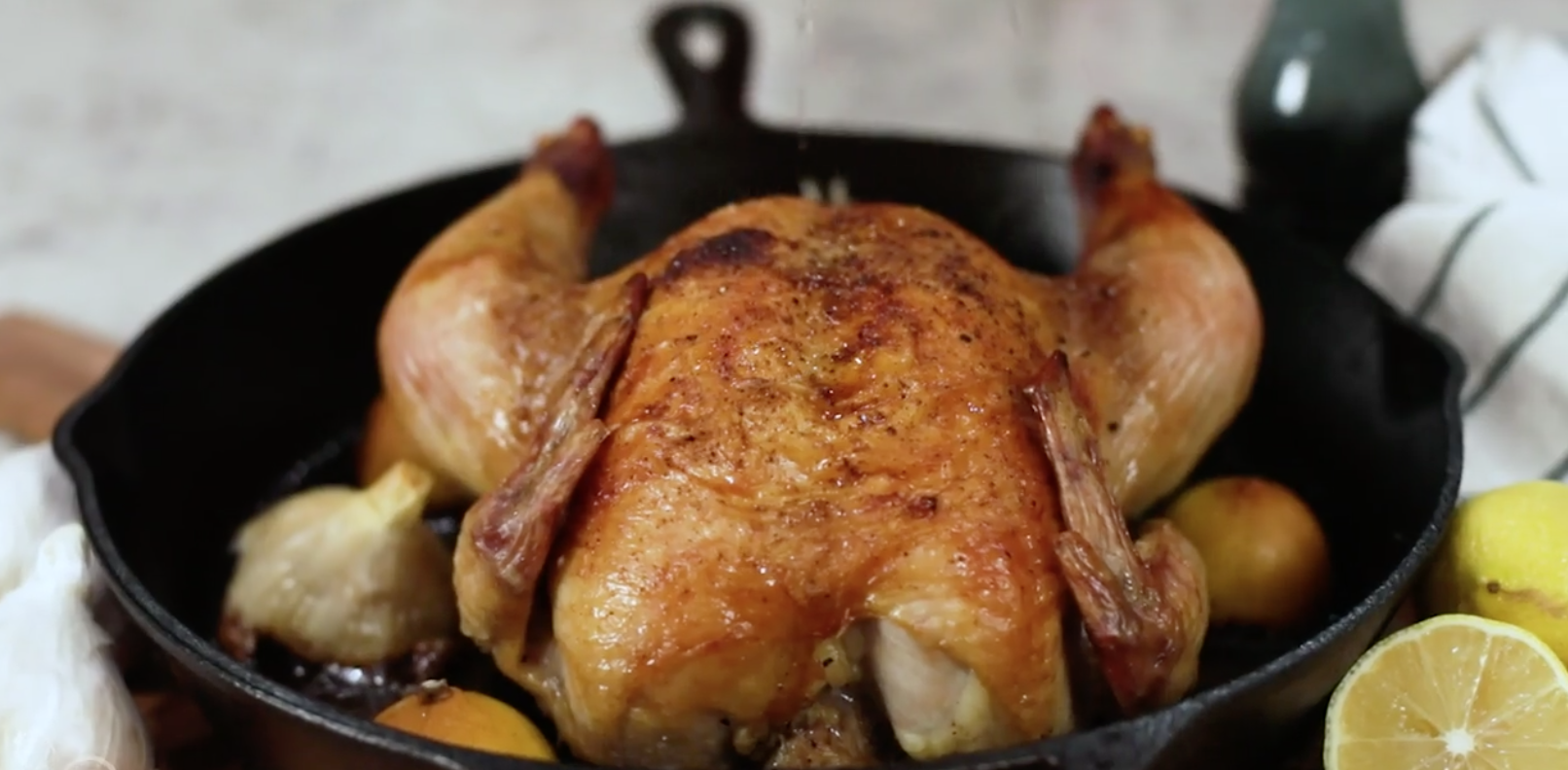 Perfect Roast Chicken. Super flavorful, just requiring a few ingredients. You won't believe how easy this is! This is something I believe every home cook should know how to make!
When I was a kid, my mom brought me into the kitchen armed with a spiral notebook and pencil and taught me how to make some of my favorite Korean food dishes. At the time, I had no interest in learning. .  but I still wrote down everything she told me. It was hard for her to tell me measurements because it was a little of this and a little of that.  .
When I would move away from Texas for the first time to San Francisco, my mother had packed – probably what were the only 4 Korean cookbooks that were printed in English- into my kitchen stuff. She wanted me to continue cooking. I love my mom for that.
I plan to teach my daughters some core Korean food dishes. .  and other non-Korean dishes that I think every home cook should know how to make.
One of the first lessons is going to be Roast Chicken. This is something that's so simple and versatile. I know it's just as easy to buy a rotisserie chicken from Costco, or any grocery store, but I feel better about making my own. I know exactly what the ingredients are and I feel like I get a fresher, juicier, more flavorful chicken.
I hope you try the recipe!
Once you've made this chicken, you need to make this Cobb Salad! So good!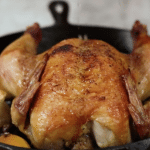 Print Recipe
Perfect Roast Chicken
*Option for COOK: *With chicken breast facing up and legs pointing toward you, use a sharp knife to slice through loose area of skin draped between leg and breast, making about a 3"-long incision. Continue cutting downward until you hit the joint that connects the thigh to the body, then stop (once you get through the skin, there's not much there; if you are cutting through flesh, you're too close to the breast). This exposes the leg joint, making it easy to tell if chicken is cooked. Repeat on second side. ** Feel free to add fresh herbs like finely diced parsley, rosemary, oregano and mix with the melted butter; you can also add some minced garlic into the melted butter as well. **Sometimes I use a full stick of butter.
Ingredients
1

3 to 4 lb. whole chicken

1 to 2

lemons

cut in half crosswise

1

head of garlic

unpeeled, cut in half crosswise

1

shallot

unpeeled, cut in half crosswise

¼

cup

½ stick unsalted butter, melted + more if needed**

2 to 3

tablespoons

mixture of fresh herbs: diced parsley

rosemary, oregano

Kosher salt

Freshly ground black pepper
Instructions
Arrange a rack in center of oven; preheat oven to 425 degrees. Place whole chicken on a cutting board and pat dry with paper towels.* (If you need a more fool proof way to ensure your chicken is done and cooked through, do the following*, see above)

Transfer chicken breast side up to a large cast iron skillet. Arrange lemons, garlic and shallot cut sides down in the skillet around the chicken.

Drizzle the melted butter all over the chicken (**If you want more flavor, use a full stick of butter), sprinkle the fresh herbs (finely diced parsley, rosemary, oregano) over the chicken and season generously with salt and pepper. Make sure you get every surface of chicken with a generous amount of salt and pepper.

Transfer to oven and roast until chicken is nicely browned and cooked through, checking for doneness after about 55 minutes. To check, carefully remove skillet from oven, poke a knife into leg joints, and pierce the meat. If juices run clear, chicken is done. If you see a rosy pink color, it needs more time. Continue to roast, checking every 5 minutes, until juices run clear.

Let chicken rest in skillet for at least 15 minutes before carving. Transfer chicken to a platter. Top with pan juices and serve with roasted lemon and garlic. Enjoy!