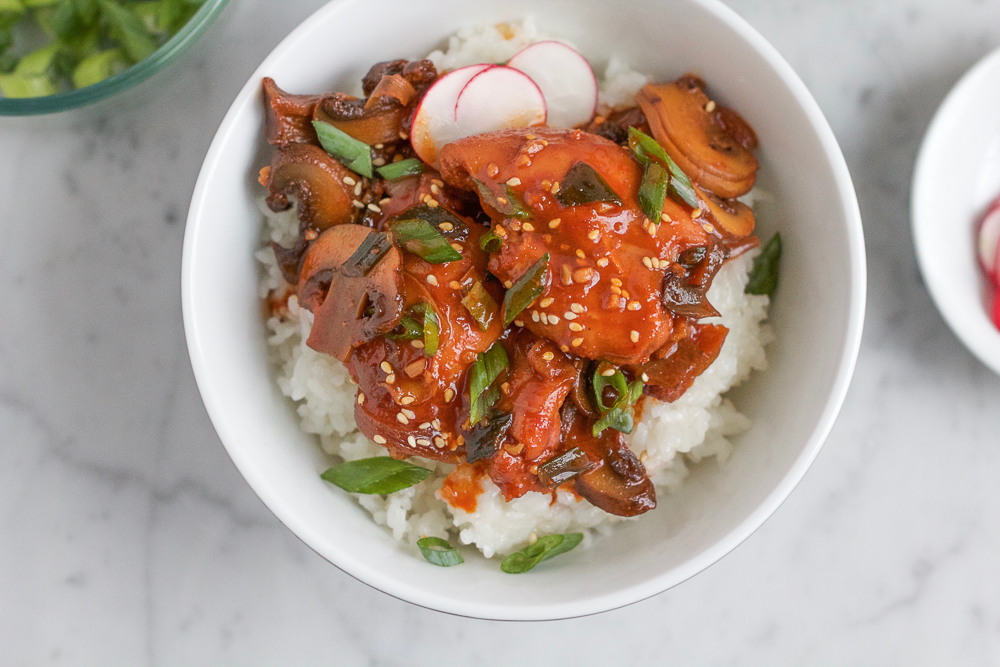 Spicy Korean Chicken Stew! Amazing and super yummy sweet and spicy chicken made with gochujang, coconut sugar, garlic, soy sauce and chicken stock. So delicious and so easy to make! 
I've been thinking a lot lately about my life. Where I am, what I'm doing, where I'm going and what I am teaching my children. I remember when we were little, my parents painstakingly sent my brother, sister and I to Korean language school every summer for like 3 years. After that third summer, I think they realized it wasn't going to happen. Forcing us to learn the language wasn't going to happen.
We would have to want to learn the language on our own.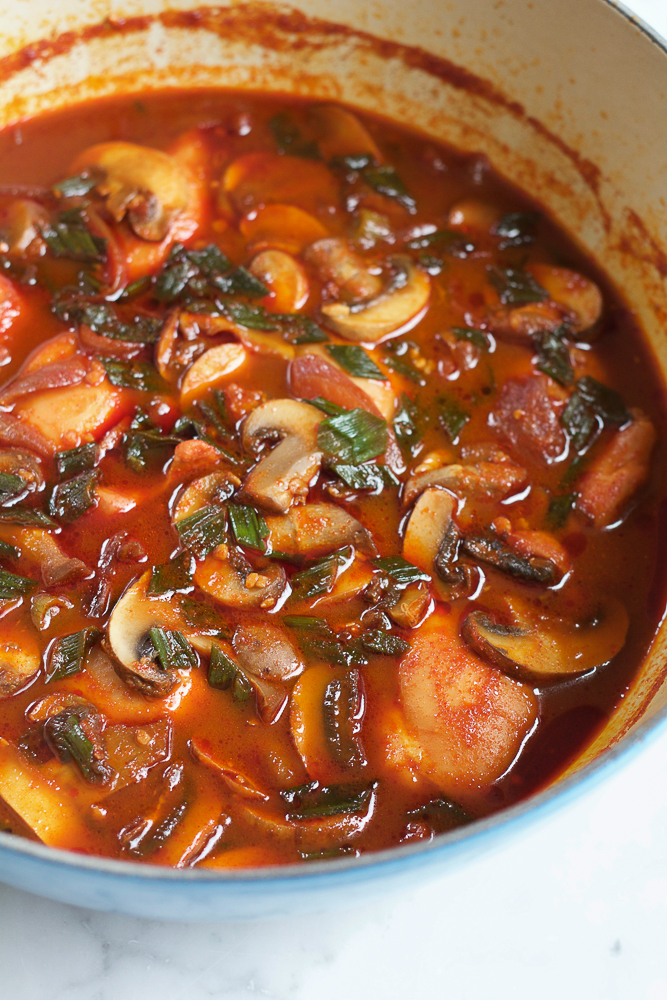 Korean food was another thing. My mother diligently tried to teach me how to cook Korean food and when I would move away to live by myself for the first time ever in San Francisco back in 1999, my dear mother snuck in 3 or 4 Korean cookbooks (written in English) into my moving boxes; probably the only 4 Korean cookbooks written in English at the time.
Korean food. I enjoyed eating it . .  but it wasn't until later in life that I would want to learn how to make and cook every single Korean dish I had ever eaten.
My family and I love Korean food; my kids included. They still can't handle the spicy foods yet but it's ok . . we'll keep moving in that direction. And when my daughters are ready to learn how to cook Korean food, I will be right there waiting. Just like my mother.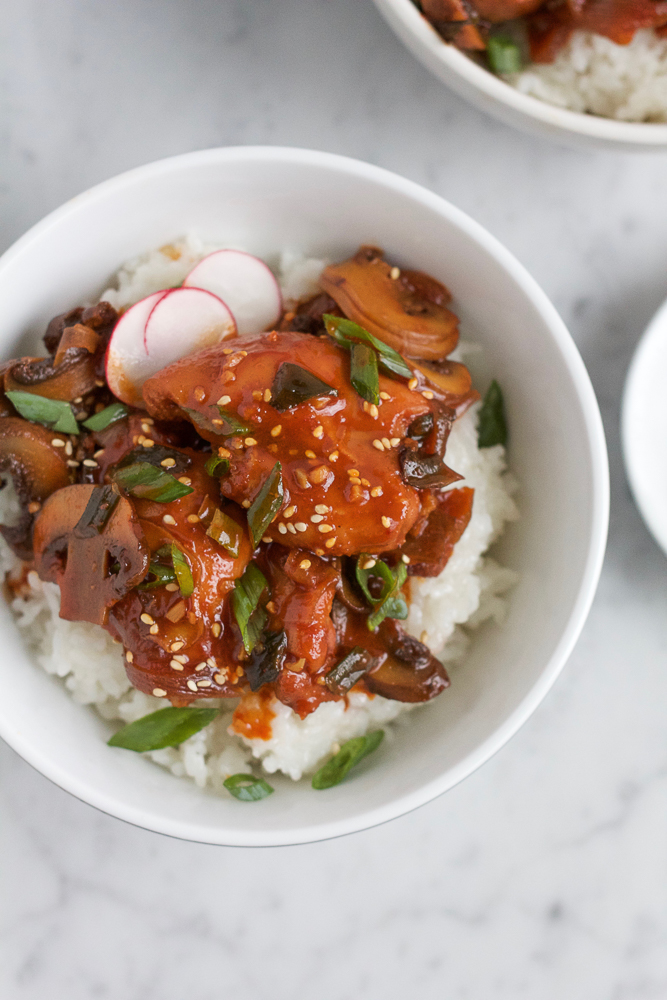 This Spicy Korean Chicken Stew is my ultimate comfort food. And kimchi fried rice takes a close second to this stew. I don't know what's happening with the weather here but it's been cold all weekend. I have an over abundance of chicken in my fridge and freezer so this dish had to happen.
I used boneless, skinless chicken thigh meat because we love thigh meat, but feel free to use chicken breast if you prefer. And if you can't find gochujang where you live, buy it online here. You should be able to find gochujang (Korean hot pepper paste) at any Asian or Korean market. And if you are a fan of spicy and have never tried it ..  I beg you. .  pick some up! Your life will be changed!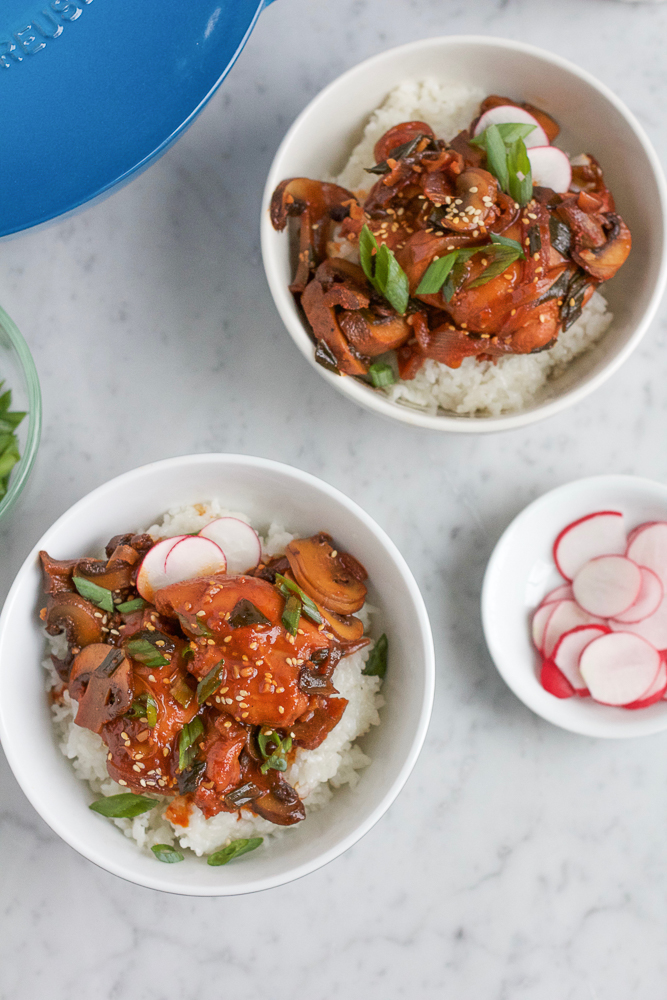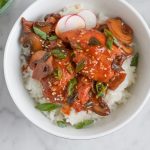 Print Recipe
Spicy Korean Chicken Stew
* If you don't have coconut sugar, you can use granulated sugar. I use Bob's Red Mill's coconut sugar.
Ingredients
1.25

lbs.

boneless

skinless chicken thighs

1

small onion

peeled and sliced

1

heaping cup cremini mushrooms

sliced

2 to 3

cups

chicken stock

1/2

cup

gochujang

Korean hot pepper paste

½

cup

coconut sugar*

3

tablespoons

low sodium soy sauce

3

cloves

garlic

minced

1/4

cup

fresh green onions

diced + more when serving

roasted sesame seeds

raw radishes

sliced thin

Serve over cooked white or brown rice
Instructions
Using a heavy bottomed pot or Dutch oven, lay the chicken thigh meat in one layer on the bottom of the pot. Scatter the onions and mushrooms evenly over the chicken. Using a separate medium sized bowl, whisk together the chicken stock, gochujang, coconut sugar, soy sauce, and garlic.

Pour the gochujang mixture evenly over the chicken and bring the pot to a boil. Then, turn the heat down and let simmer for about 25 to 30 minutes.

To serve: serve over cooked white or brown rice. Garnish with more diced green onions, radishes and sesame seeds. Enjoy while hot.