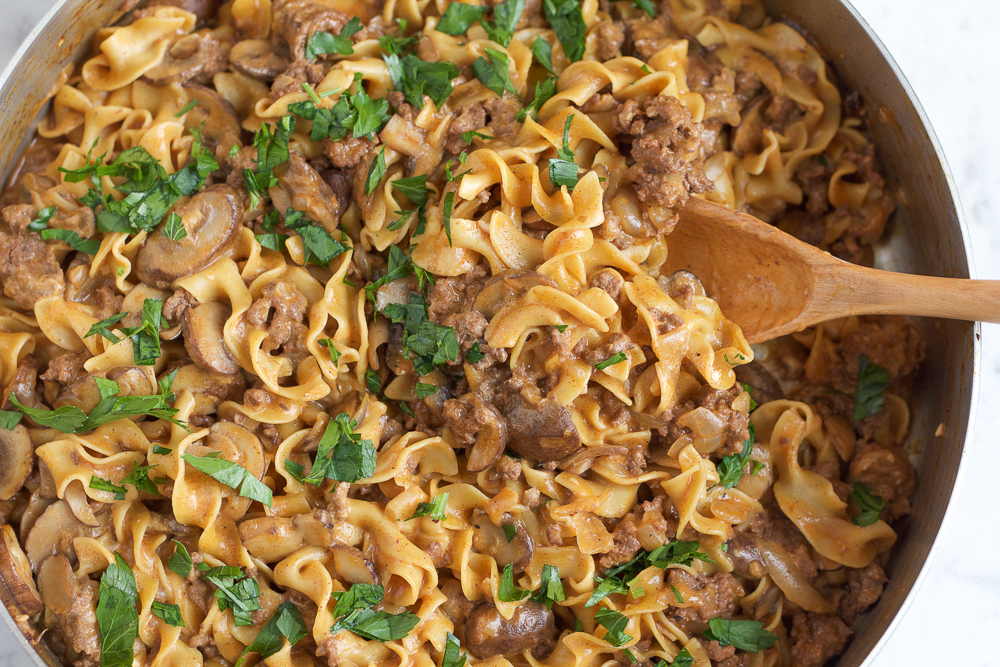 Quick, easy and delicious One Pot Beef Stroganoff!! Perfect for a weeknight meal and will have your family asking for seconds! 
For the last two weekends in a row, I've been traveling so this past weekend, it was so great to just be home with my family, relax and feast on a classic one-pot beef stroganoff. Well, relaxing takes on a different meaning with kids (I think), especially on the weekends when there's errands to run and ballet make-up classes to attend.
We all went with my youngest to her ballet class on Saturday and ended up staying out all afternoon. .  we went shopping ..  Sur La Table was having a sidewalk sale.. this is how they lured me in. .  just having a few items out on the sidewalk to get my attention . . and I always end up spending way too much in that store. My rationale: my kitchen was just renovated and needs some new accessories. I'll have a video and before and after photos of my kitchen coming soon!
We stopped into ALDI to pick up Easter treats, took my oldest to her tutoring class, picked up groceries and stopped into PetSmart. We don't have a pet but my girls want a puppy so badly. .  so we stop in from time to time when they have puppies or kittens there from the humane society. Anyone with young kids and pets, please chime in. .  should I just bite the bullet and do it? I'm holding back because my house is already a mess and I know it would be messier ..  with dog hair everywhere and I would be the one cleaning up. Everything.
After going through a month long kitchen renovation and cooking (heating up) faster, more convenient meals and eating out way more than we usually do, I was happy to get home and make dinner. On the stove. And unwind. Anyone else feel at peace when cooking? The kitchen is definitely my happy place.
Enter, this delicious One Pot Beef Stroganoff.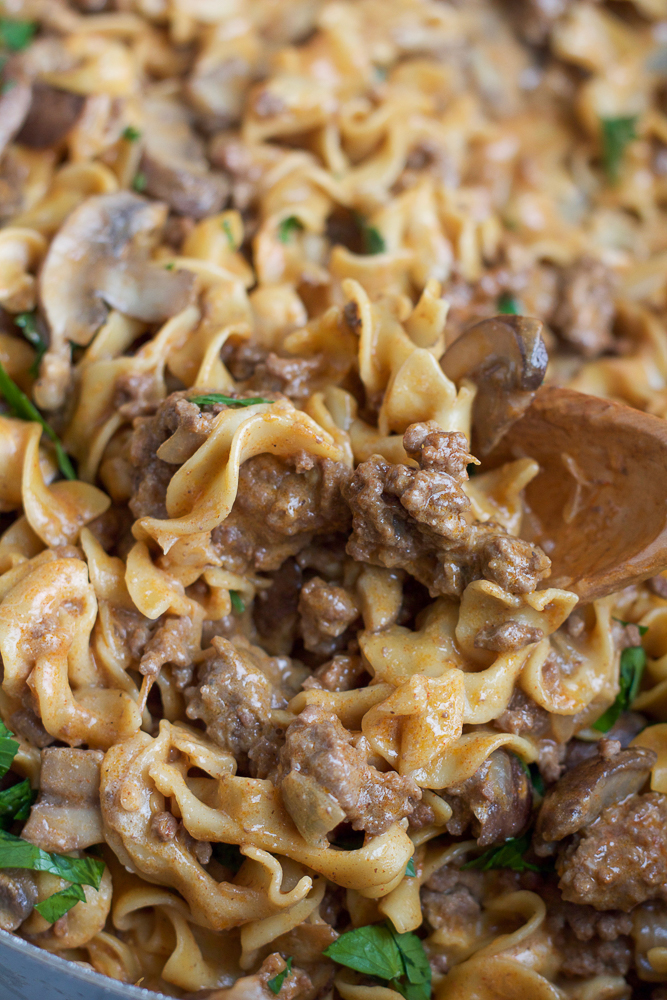 Best One Pot Beef Stroganoff Ever
I love this One Pot Beef Stroganoff recipe so much! You literally cook everything in one pan and you can get dinner on the table in about 30 minutes. And, my kids ate all of their dinner! Like, everything. My oldest usually doesn't like creamy pasta or mushrooms but she loved this and both of my kids gobbled this whole thing up!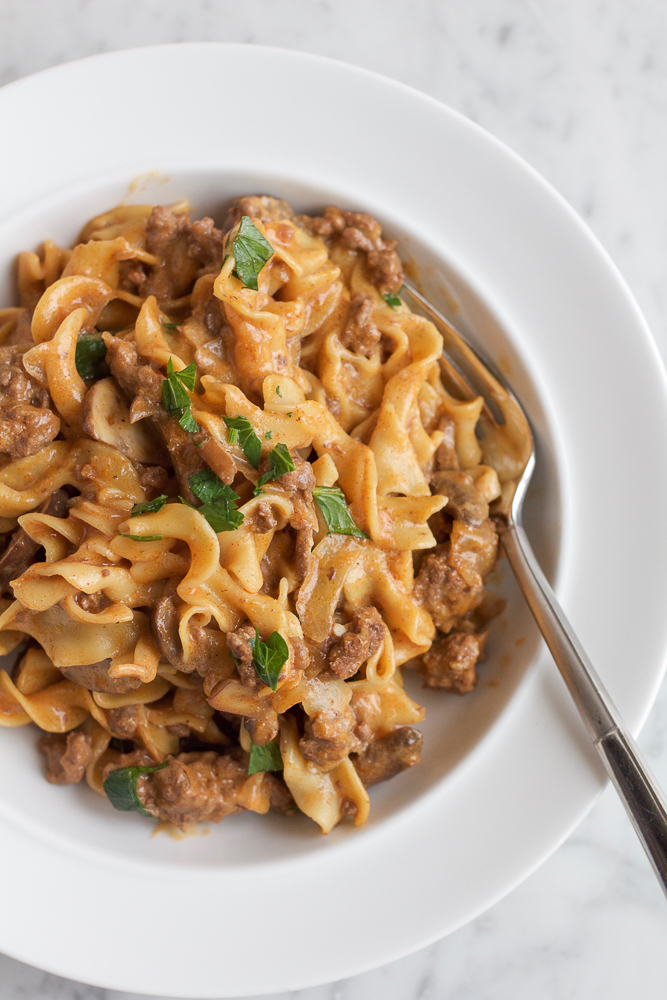 I'm a happy momma! You need to make this One Pot Beef Stroganoff now! Your family will love this!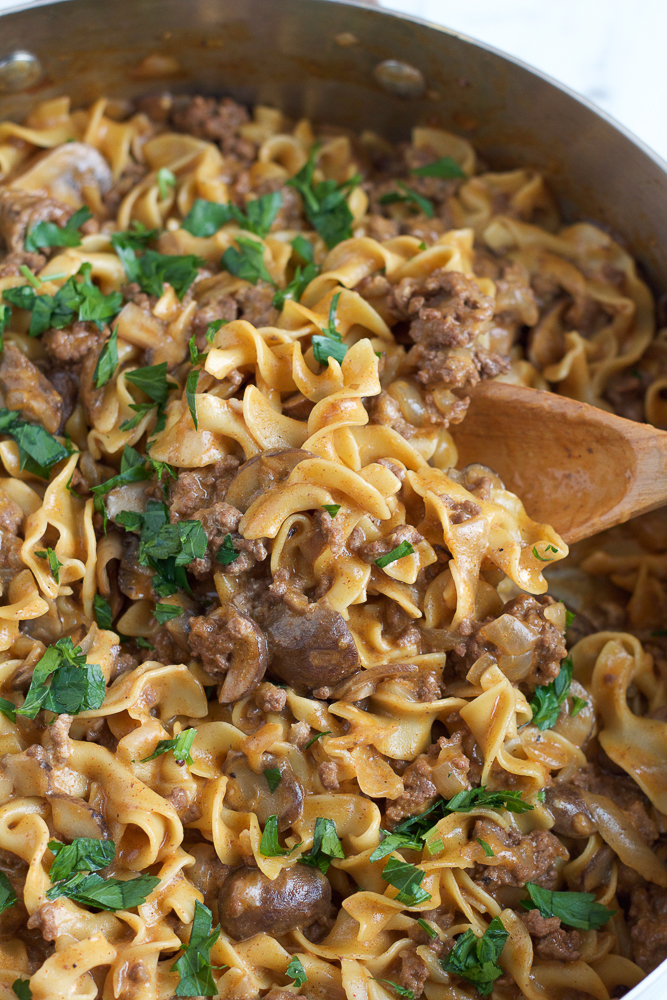 Enjoy!
Best One Pot Beef Stroganoff Ever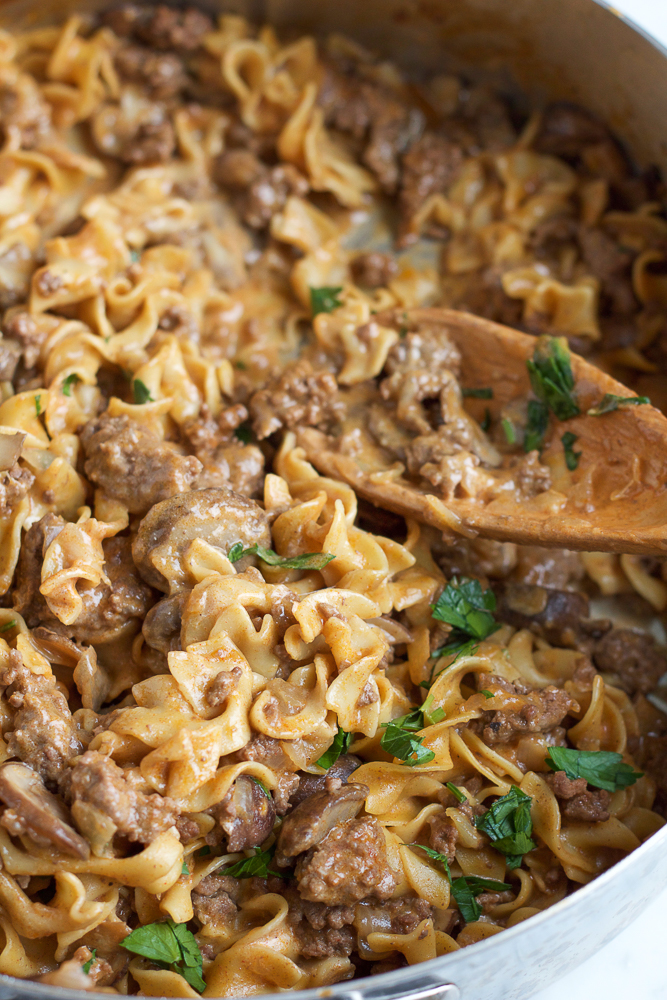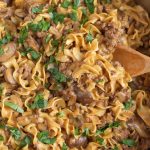 Print Recipe
One Pot Beef Stroganoff
* A cornstarch slurry is used when you want to thicken something. It usually will consist of 2 parts cold water and 1 part cornstarch, or if there's liquid in the dish you are making, I will use that liquid and mix it with cornstarch (in a separate bowl) and then add it into the mixture I am cooking to thicken it. For this recipe, use one tablespoon of cornstarch and mix it with two tablespoons of the beef stock liquid directly from the pan. Mix together (in a separate bowl) until the cornstarch is all dissolved, then add in 1 tablespoon of the cornstarch slurry into the pan and stir until thickened. You can use more or all of the cornstarch slurry if you think you will need it but one tablespoon should be enough to thicken.
Ingredients
2

tablespoons

extra virgin olive oil

16

oz.

cremini mushrooms

sliced

Salt & pepper to taste

1

small onion

diced

2 to 3

cloves

of garlic

minced

1

lb.

of lean ground beef

2 to 3

hefty teaspoons smoked paprika + more if needed

4

cups

beef stock

8

oz.

egg noodles

uncooked

1

tablespoon

cornstarch slurry

see instructions above, if needed

1/2

cup

sour cream

fresh parsley

finely diced for garnish
Instructions
Using a large pot or large sauté pan, heat the olive oil over medium high heat. Add the mushrooms and season with salt and pepper. Add in the onions and garlic. Cook until the onions are translucent.

Add the ground beef and cook until all browned. Stir in the smoked paprika. Add in the beef stock and uncooked egg noodles. Stir together and cover with lid.

Let simmer for about 15 to 20 minutes. Mix together once halfway through, mixing and incorporating all of the egg noodles. Lower the heat, mix in the cornstarch slurry if needed and stir until thickened. Add in the sour cream and mix together until incorporated. Taste and season generously with more salt and pepper. Garnish with parsley, serve and enjoy!
adapted from Buzzfeed.com