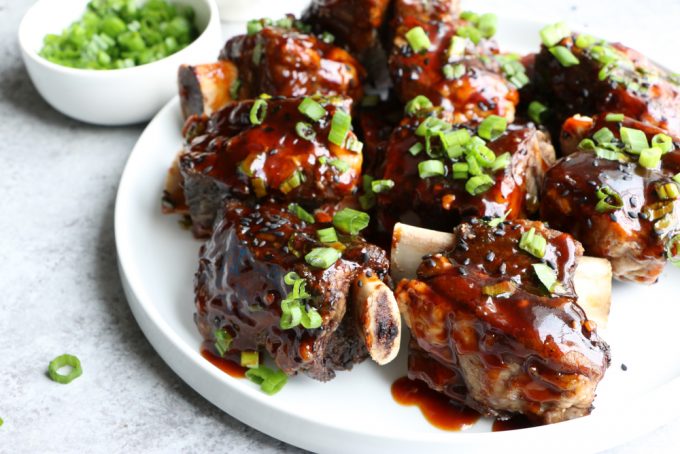 Instant Pot Asian Beef Short Ribs!! Fall-off-the-bone tender with extra spicy flavor in a fraction of the time! 
I'm back with another Instant Pot meal! Your family is going to love this one! And if, for some reason, you are not a fan of beef short ribs, use the glaze for salmon, chicken or even pan fried tofu or roasted cauliflower!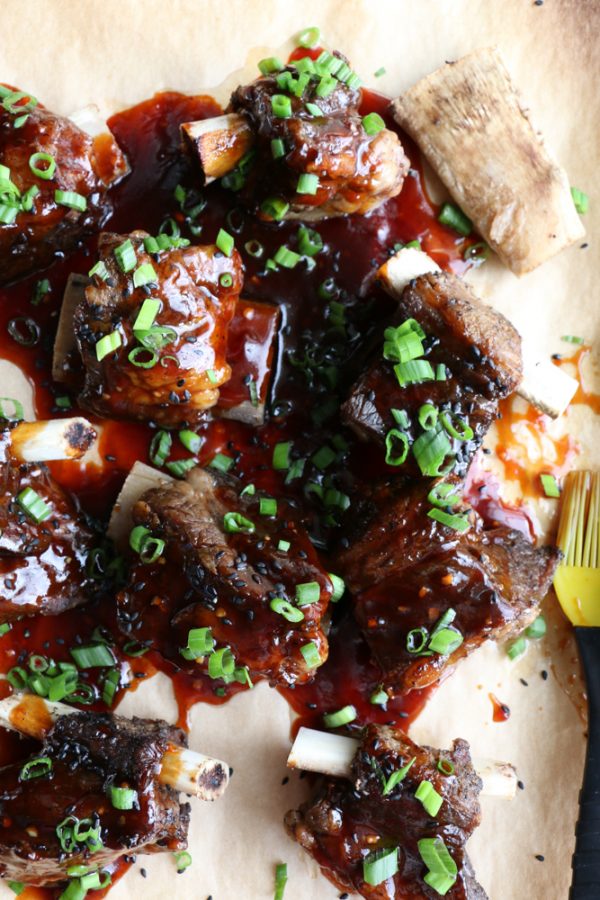 If you received an Instant Pot for Christmas and still haven't opened it or taken it out of the box, what are you waiting for?! That is the #1 comment that I hear. "I have an instant pot but it's still sitting in the box collecting dust."
Why Why Why?????
The beauty of the instant pot is that it cooks food so much faster. .  which on a weeknight, if you are strapped for time, which we all are, is a life saver. Regular braised beef short ribs can take anywhere from 1.5 to 3 hours in the oven, depending on the recipe.
This recipe takes 30 minutes on high pressure in the instant pot. Plus more time for prep and you do finish these under the broiler but hey, less than 45 minutes compared to 2 to 3 hours? You can't beat that.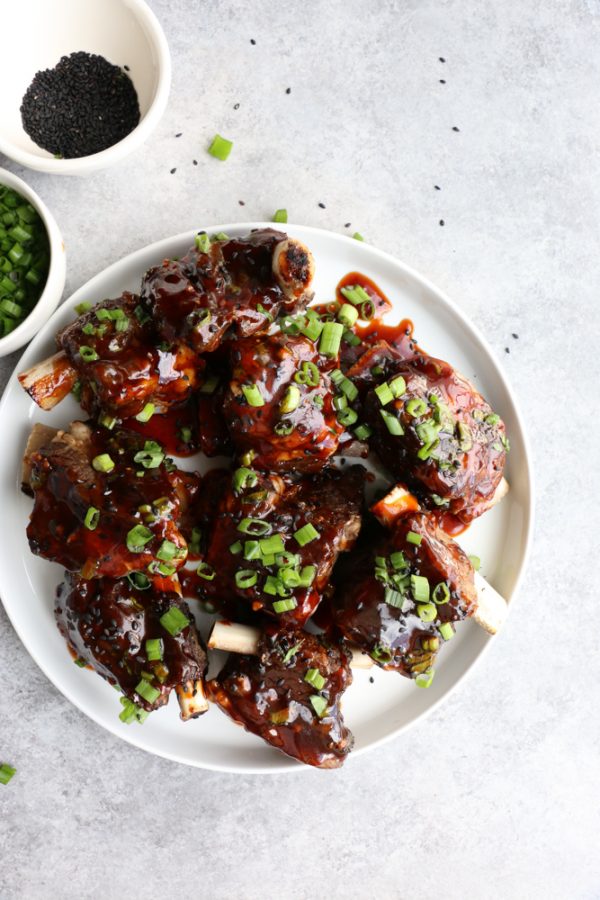 Using An Instant Pot for the First Time
Before you start your first recipe in your brand new Instant Pot, here are some helpful links: How to use an instant pot by Melissa Clark or simply watch this video depending on which model you have. Great read from CNET https://www.cnet.com/how-to/how-to-use-your-instant-pot/ and this one from The Kitchn: https://www.thekitchn.com/5-things-you-should-know-about-your-new-instant-pot-233636
Instant Pot Asian Beef Short Ribs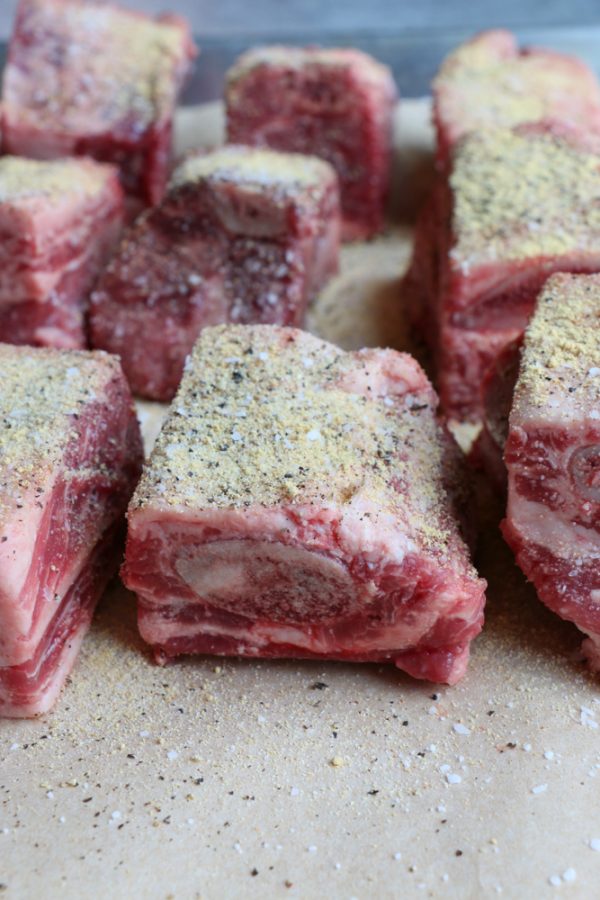 OK, let's get on to the recipe, shall we? One of the most important parts to this recipe is what type of beef short ribs are you buying. I highly recommend grass-fed bone-in beef short ribs. I purchased mine from Conscious Carnivore here in Madison.
The Conscious Carnivore is "a whole animal butcher shop that provides expertise to help customers be more knowledgeable about what and how they eat. The store on University Avenue was the first retail outlet for Black Earth Meats (Black Earth, Wisconsin), the first humane certified, USDA processor in the area. With the growing demand of Madison-area consumers for grass fed beef and pastured pork, The Conscious Carnivore opened with a mission to educate the home cook.
At The Conscious Carnivore, customers find meat that is locally-sourced, healthy, and handled with respect. From local animal sourcing to on-site, high quality butchering and packaging, The Conscious Carnivore can ensure organically-raised, grass fed, and healthy meats through its small group of local farmers. All animals are sourced from Wisconsin, and since the closing of the Black Earth facility, we work with local, state-inspected abattoirs to ensure our animals are slaughtered humanely."
If, for some reason, you can't find short ribs, pick up a boneless chuck roast at the market and cut it into 2-inch chunks instead.
Just follow the recipe card below and if you make this, please let me know what you think!!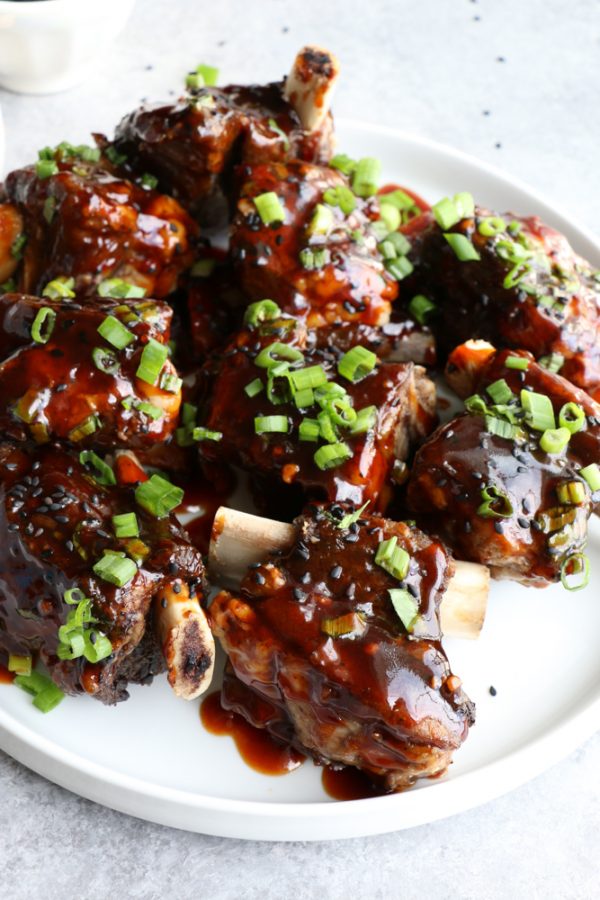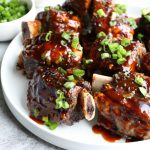 Print Recipe
Instant Pot Asian Beef Short Ribs
Ingredients
For the Beef Short Ribs:
3

lbs.

Bone-In Beef Short Ribs

1

teaspoon

garlic powder

1

teaspoon

onion powder

1

teaspoon

ground ginger

1

teaspoon

freshly cracked pepper

1

teaspoon

kosher salt

1

cup

water
For the glaze:
3/4

cup

low sodium soy sauce

1/4

cup

brown sugar

1

tablespoon

brown rice vinegar

1

tablespoon

sesame oil

1

teaspoon

fresh ginger

minced

2

garlic cloves

minced

1

tablespoon

gochujang

Korean hot pepper paste + more if more heat is desired

1

tablespoon

cornstarch
For garnish:
roasted sesame seeds

Finely diced scallions or green onions
Instructions
For the Beef Short Ribs:
Using a large mixing bowl, place the beef short ribs in the bowl and add the garlic powder, onion powder, ground ginger, pepper and salt and rub this mixture all over the short ribs. Place the rack insert into the inner cooker pot of your instant pot and pour in 1 cup of water.

Place the beef ribs onto the rack, so they are sitting on the rack above the water.

Put the instant pot lid on, make sure the valve is in the sealed position, then cook on high pressure for 30 minutes. Please note, it will take about 5 to 10 minutes or so for your instant pot to come to pressure. When finished, let the pressure naturally release for 10 minutes (do not open the valve for 10 minutes after the 30 minute cook time is over). Once it's released naturally for 10 minutes, finish with a quick release (open the valve).
For the glaze:
Combine the ingredients for the glaze in a small saucepan over medium heat, whisking until smooth and thickened, about 5 minutes.

Turn the broiler on in your oven and place the beef short ribs on a foil lined baking sheet. Brush the glaze on all sides of the ribs and broil for 2 minutes. Garnish with the sesame seeds and diced green onions. Enjoy!
Adapted from this recipe