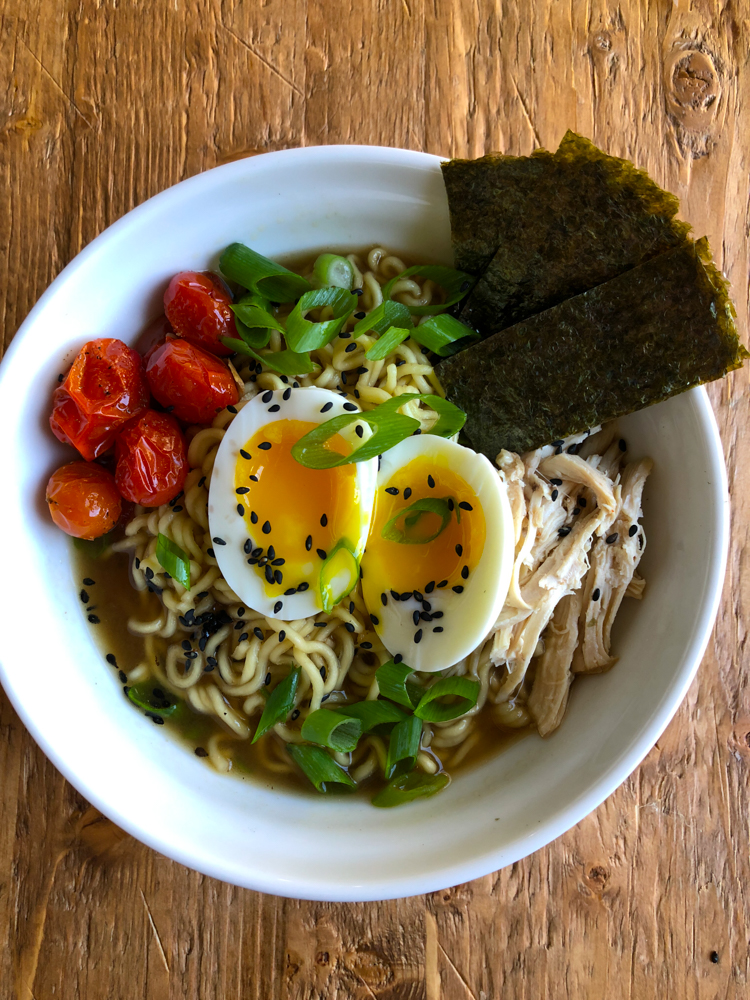 Instant Pot Chicken Ramen! Have homemade chicken ramen on your table in about 25 minutes! So flavorful and delicious, you are not going to believe how easy this is!
It's the end of September and I've been crazy busy. Today, I'm sharing my homemade Instant Pot Chicken Ramen recipe! It's starting to feel like Fall here in Madison, so I figured the timing would be perfect! Also, I don't know if it's the change in weather or just the fact that I've been running non-stop doing all sorts of things since the kids started school but I am also trying not to get sick!
Chicken Ramen to the rescue!
Recently, I watched the Chef's Table (Netflix) episode with Ivan Orkin in it. "Ivan Orkin, a chef from New York who moved to Tokyo to open one of the most well-regarded ramen joints in the country". .  the episode is amazing and shows how he was able to, as an American, master ramen in Japan, and then in NYC. They don't show the actual recipe or how he does it but he uses roasted tomatoes in his broth . . so I thought. . that's brilliant! and this episode was obviously the inspiration for my Instant Pot Chicken Ramen.
Instant Pot Chicken Ramen
I also use a combination of both chicken and mushroom stock or broth. You can certainly just use chicken stock but I think the combination, along with the roasted cherry tomatoes, is amazing. I hope you give this a try!
For help with soft boiled eggs, click here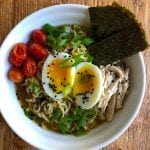 Print Recipe
Instant Pot Chicken Ramen
Depending on your portion sizes, this can easily feed 4 people. . or just two, if your servings are larger.
Ingredients
For the broth:
1

lb.

bone in, skin on chicken breast/s

salt and peper

1

tablespoon

toasted sesame oil

1/2

cup

cherry tomatoes

1

tablespoon

fresh ginger

grated

2

cloves

garlic

minced

4

cups

chicken stock

1

cup

mushroom broth

3

tablespoons

low-sodium soy sauce

1

tablespoon

rice wine vinegar

2

packages instant ramen noodles

noodles only
To serve:
Soft boiled eggs

Roasted cherry tomatoes

Shredded or cut nori

dried seaweed

Freshly diced scallions

Sesame seeds
Instructions
Turn on your Instant Pot and set to the sauté function. Pat chicken breast with paper towels and generously season with salt and pepper, on both sides. Add the sesame oil to the Instant Pot and then place the chicken breast in, skin side down.

Add the cherry tomatoes. Let the chicken breast and tomatoes cook for about 7 minutes, flipping the chicken halfway through. Some of the tomatoes may begin to burst but that's fine. When finished, remove the chicken breast from the Instant Pot and set aside.

Still on the sauté setting, add in the garlic and ginger. Let cook for about 30 seconds. Pour in the chicken stock and mushroom broth. Add the soy sauce and rice wine vinegar and place the chicken breast back into the Instant Pot.

Place the lid back on and set the timer to manual high pressure for 20 minutes. Make sure the valve is placed in the sealed position. After 20 minutes, (make sure all of the pressure has been released before trying to remove the lid.) remove the chicken and set on a plate. Place dried ramen noodles into the Instant Pot for just a few minutes, into the hot broth. Shred the chicken using two forks.

To serve: using tongs, portion out the ramen noodles into bowls, ladle the broth into each bowl over the noodles. Top with the cooked shredded chicken, shredded nori, the roasted tomatoes, a soft boiled egg, garnish with scallions and sesame seeds. Enjoy!