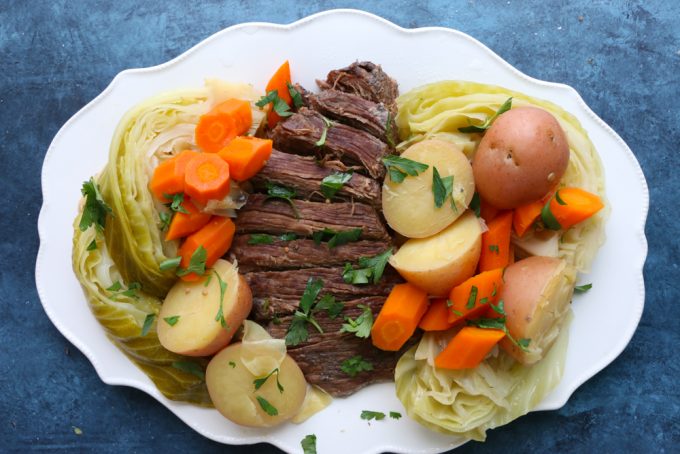 Instant Pot Corned Beef and Cabbage! The perfect recipe to make for St. Patrick's Day! And in half the time! 
Hey everyone! St. Patrick's Day is this Saturday! I've always enjoyed celebrating St. Patrick's Day just for the fun of it and the food! It's a day where it's perfectly acceptable to wear green, eat green cookies, drink green beer and enjoy some corned beef and cabbage.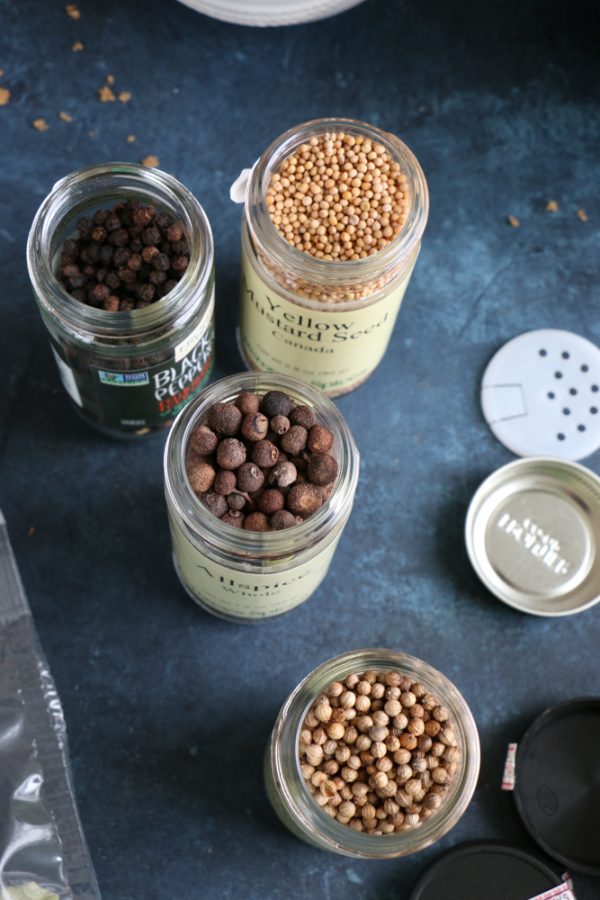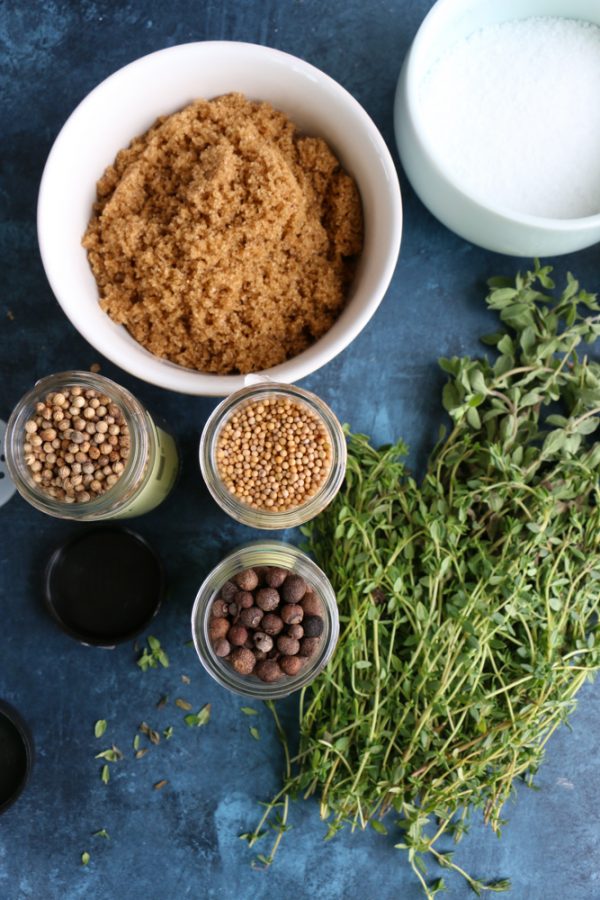 I've actually never made corned beef and cabbage on my own. .  and because of the new Instant Pot that came into my life that could reduce the cooking time by half .  . I knew I had to give this recipe a go!
Now, traditional corned beef needs to sit in the brine for 10 days. TEN DAYS. I usually never plan that far in advance for a holiday, unless it's Thanksgiving so I needed to find a way to still make this work and still be delicious.
With my recipe, which is a shortcut recipe, because, hey we're using the instant pot. .  and St. Patrick's Day is THREE days away. .  you let the brisket sit in the brine overnight. Obviously, if you can do the brine for longer, like 2-3 days, that's better but don't stress yourself out. I do want to say that you will not get red looking corned beef. To some, that's super important.  . so if the color of the meat is important, do one of the following:
Leave your brisket in the brine for 10 days, which you'll have to do next year or enjoy this the week after St. Patrick's Day
Leave your brisket in the brine for 4 days and use sodium nitrate in place of kosher salt
Simply buy a brisket that has already been brined from your butcher and all you have to do is cook it!!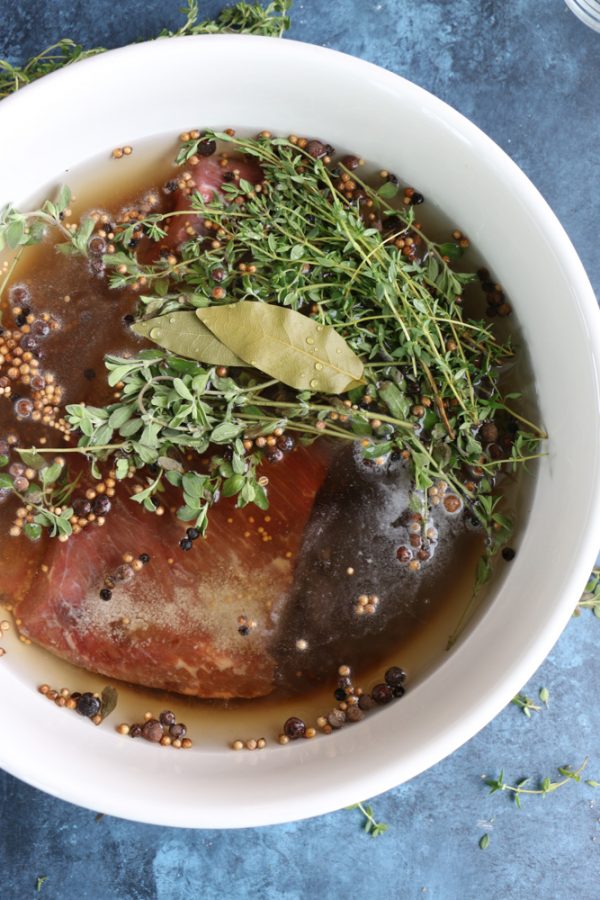 Once your brisket is ready, you simply place it into your Instant Pot or pressure cooker and pressure cook it on high for 90 minutes!!!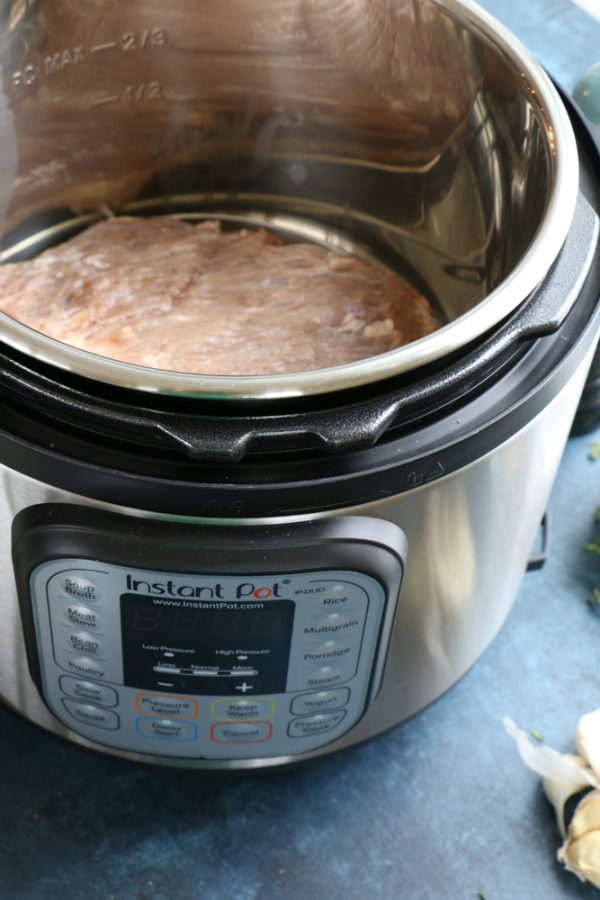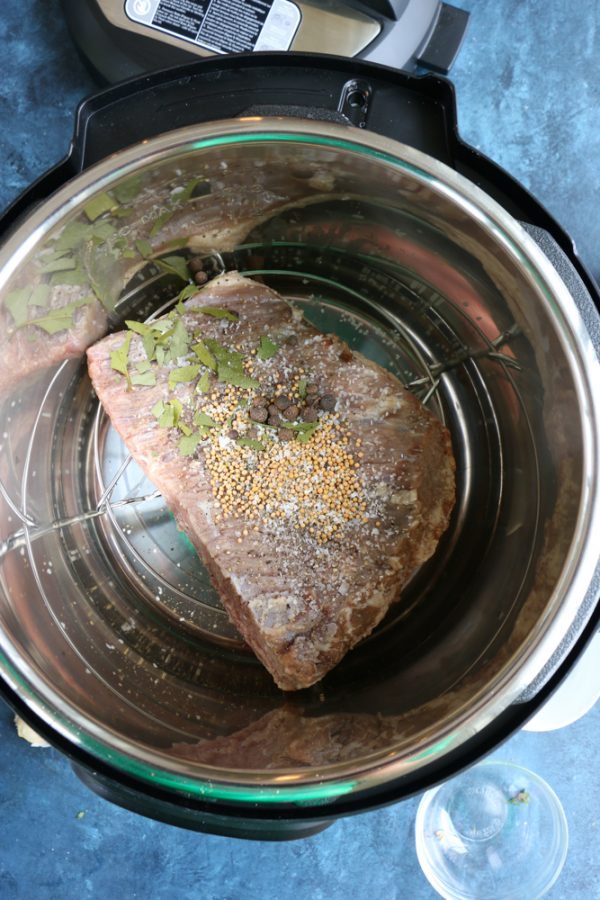 Once the corned beef is ready, you remove it from your instant pot, and then place in your potatoes and cabbage and other veggies, like carrots, if you are adding. All the veggies cook in your instant pot in 5 minutes! It doesn't get any easier than that!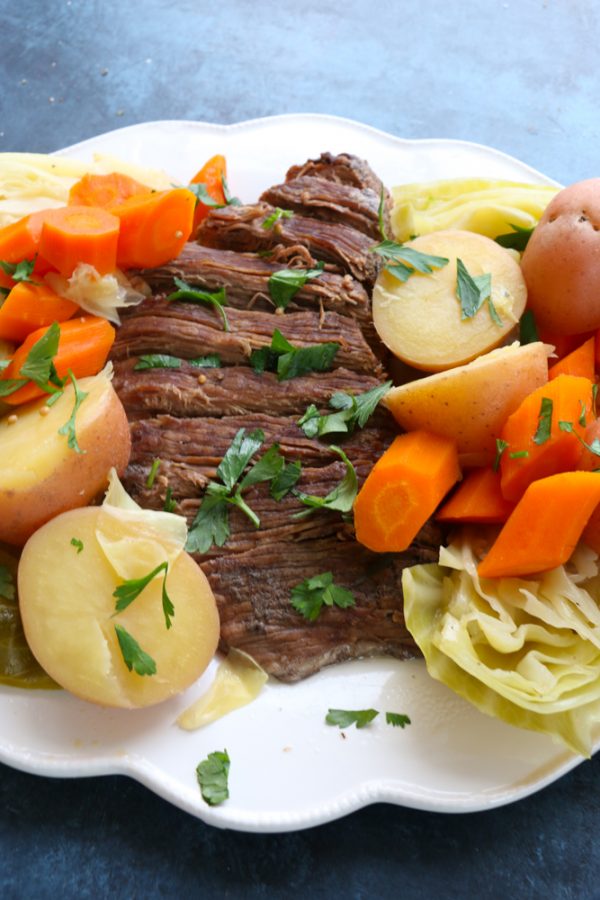 I'll be over at the All Recipes Instagram page today, on their stories, walking you through this recipe so head over there to watch! Happy St. Patrick's Day, everyone!

Instant Pot Corned Beef and Cabbage
Traditional corned beef needs to be in the brine for 10 days.
Ingredients
For the brine:
1 cup kosher salt
1 cup brown sugar
1½ tablespoons whole coriander
1½ tablespoons whole mustard seeds
1½ tablespoons whole black peppercorns
1½ tablespoons whole allspice
4 sprigs fresh marjoram
4 sprigs fresh thyme leaves
2 bay leaves
1 (2½ to 3 pound) brisket
For the corned beef and cabbage:
½ teaspoon mustard seeds
2 to 3 bay leaves, crushed
8 Allspice berries
½ teaspoon kosher salt
½ teaspoon black pepper
4 to 5 garlic cloves
4 cups water
2 lbs petite red potatoes, halved
3 to 4 large carrots, peeled and chopped
1 head green cabbage, cut into large wedges
Instructions
For the brine:
Combine all of the brine ingredients, except the brisket, in a large bowl or large brine bag. Add the brisket (you may have to cut it into 2 pieces) and rub the spice mix into the meat. Pour cold water over until the meat is covered. If you need to, weight the brisket down with something so that it is completely submerged; cover and refrigerate. The meat can be brined overnight or as long as 10 days. The longer the brining the more pickled the meat.
When ready, remove the meat from the brine and rinse well.
For the corned beef and cabbage:
Place your wire rack into your instant pot. Place the brined beef brisket on top of the wire rack and then add the spices, salt and pepper, garlic and water into the instant pot.
Close with lid and cook on on high pressure for 90 minutes. Quick release pressure and remove the lid carefully. Remove the cooked corned beef to a platter and cover with foil. Let rest while cooking the vegetables.
Without discarding any of the liquid in the instant pot, add the potatoes, carrots, and cabbage wedges inside; you may remove the rack if desired. Cook on high pressure for 5 minutes. (I placed my cabbage on top of the potatoes and carrots. This steamed the cabbage very nicely and the cabbage came out perfectly!) Do a quick pressure release before carefully removing the lid and then, removing the vegetables and onto the same platter with the corned beef. Season with salt and pepper and enjoy!