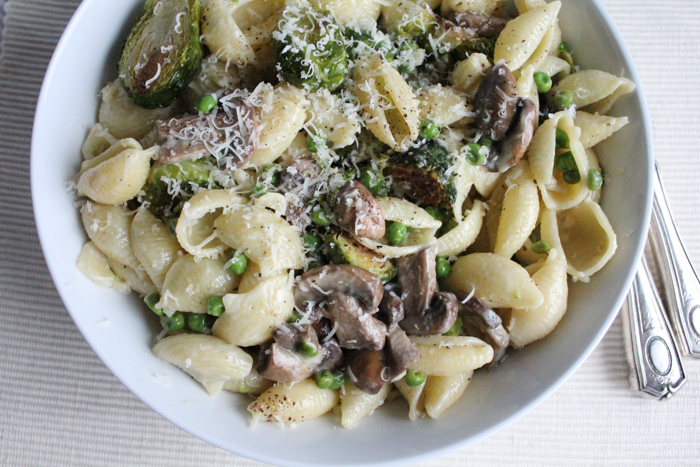 A delicious pasta dish packed with fresh spring peas and cremini mushrooms! Easy to make and your family will love this! 
Happy Sunday everyone! Today I am bringing you one of my favorites pastas, Conchiglie, "shells" or "seashells" pasta loaded with all of my favorites vegetables. And is that brussels sprouts you see? In the pasta?! Yes! Don't knock this until you've tried it. I am currently obsessed with brussels sprouts. Really obsessed. And now, we always have some in the refrigerator. I was roasting some for dinner and thought why not? I am totally smitten with these vegetables and I actually love the taste, texture and smell of these guys.
Despite the look, this pasta is light, delicious and flavorful. I think the roasted brussels sprouts add just the right texture and enhances this pasta really well. You'll have to give it a try and let me know what you think. Why not give this one a try on your next Meatless Monday?
Thank you for reading and I hope you enjoy!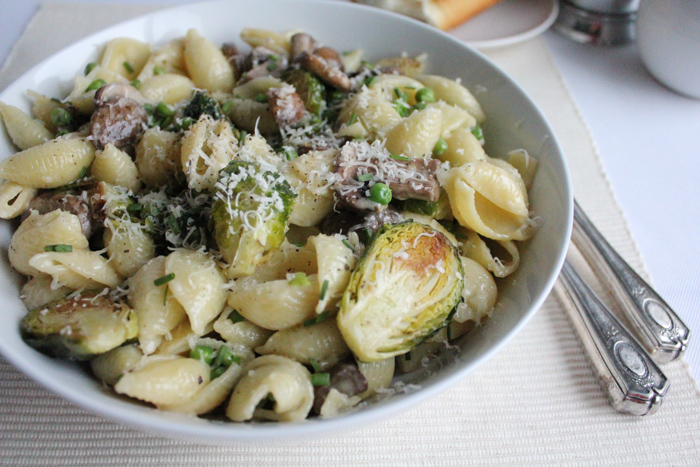 Spring Veggie Pasta
Ingredients
½ pound brussels sprouts; cleaned and cut in half
olive oil
salt and pepper
½ pound pasta shells
1 cup fresh shelled peas; frozen is fine too if that's what you have
1-2 cups mushrooms; sliced and sauteed (I recommend cremini)
½ cup heavy cream
2 tablespoons unsalted butter
freshly ground black pepper
kosher salt
1-2 teaspoons finely grated fresh lemon zest
1 cup finely grated Parmesan cheese + more if needed for garnish
2 tablespoons chopped fresh flat-leaf parsley or fresh chives
Instructions
Preheat your oven to 400 degrees. Wash and cut the brussels sprouts in half. Mix the brussels sprouts in olive oil and season with salt and pepper. Bake - cut side down- for about 15 minutes or until lightly browned and crispy.
While the oven is pre-heating, heat a pan with a little olive oil and sauté your sliced mushrooms. Season with a little salt and pepper.
Bring a large pot of salted water to boil. Add the pasta, and cook according to package directions. Add the peas to cook during the last 30 seconds of the pasta cooking time. Reserve about ½ cup of the cooking water. Set aside. Drain the pasta and the peas together.
In the same pot, bring the heavy cream to a simmer and heat for just a couple minutes, stirring frequently. Add the butter, and stir it until it has melted. Season the sauce with freshly ground black pepper, add a pinch of salt and the lemon zest. Add about ¾ cup of the Parmesan, and stir it until the sauce is smooth. Add the drained pasta, peas and cooked mushrooms. Mix well until the sauce has coated everything evenly. Add the reserved pasta water by the spoonful only if needed to loosen up the sauce. Lastly, add the roasted brussels sprouts and toss/mix lightly.
Divide the pasta among bowls. Garnish with remaining Parmesan and chopped parsley or chives.
You probably already read Deb's blog. If you don't have the cookbook, this one is a must purchase! Recipe adapted from the
Smitten Kitchen cookbook
. Pages 121-122: Deb's Sweet Peas and Shells Alfredo.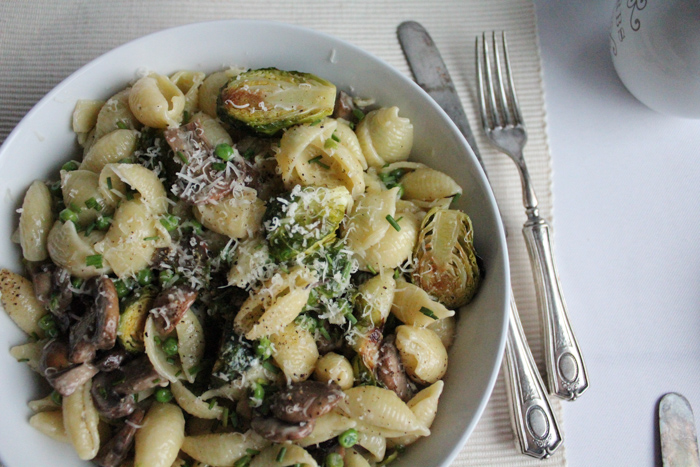 You might also like...