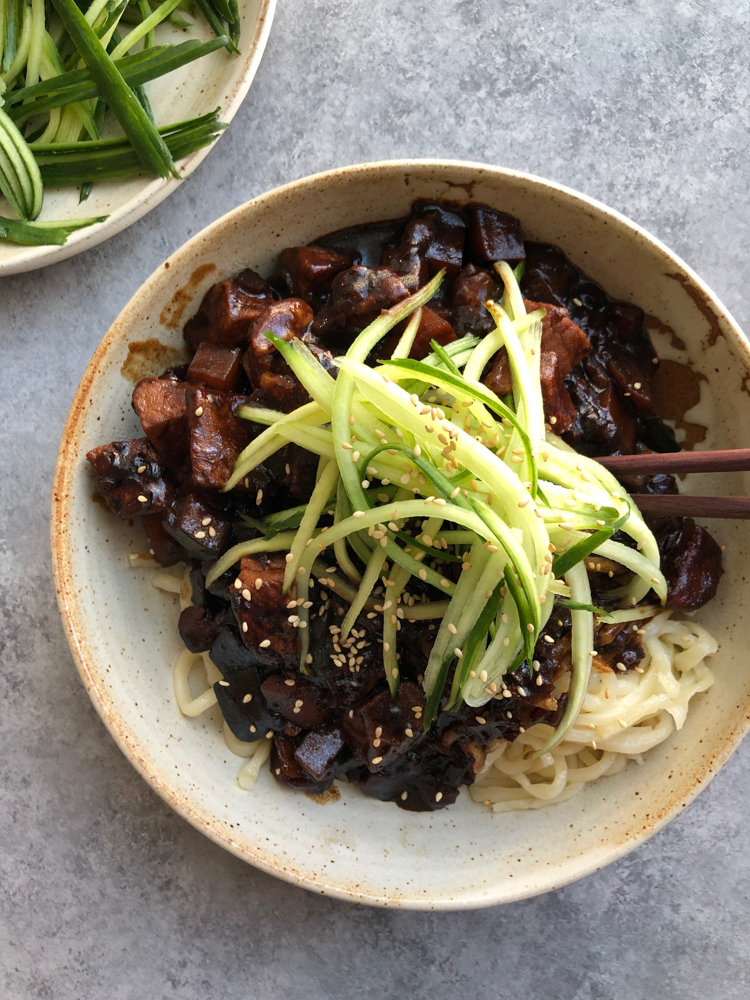 Korean Jajangmyeon: Noodles with Black Bean Sauce + A Video! This Korean adaptation of a Chinese black bean noodle dish is so delicious! Jajangmyun is one of the most popular noodle dishes in Korea. You can find it at most Korean and some Chinese restaurants. It's one of my favorites (and my daughters) and super easy to make.
I remember as a kid growing up in Dallas, Texas, my family and I would often go to this Chinese restaurant called Chien Garden. The owners and servers were so nice and the food. . . the food was amazing! This is where I had Jajangmyeon for the first time! (side note: jajangmyun or jajangmyeon?) I use both.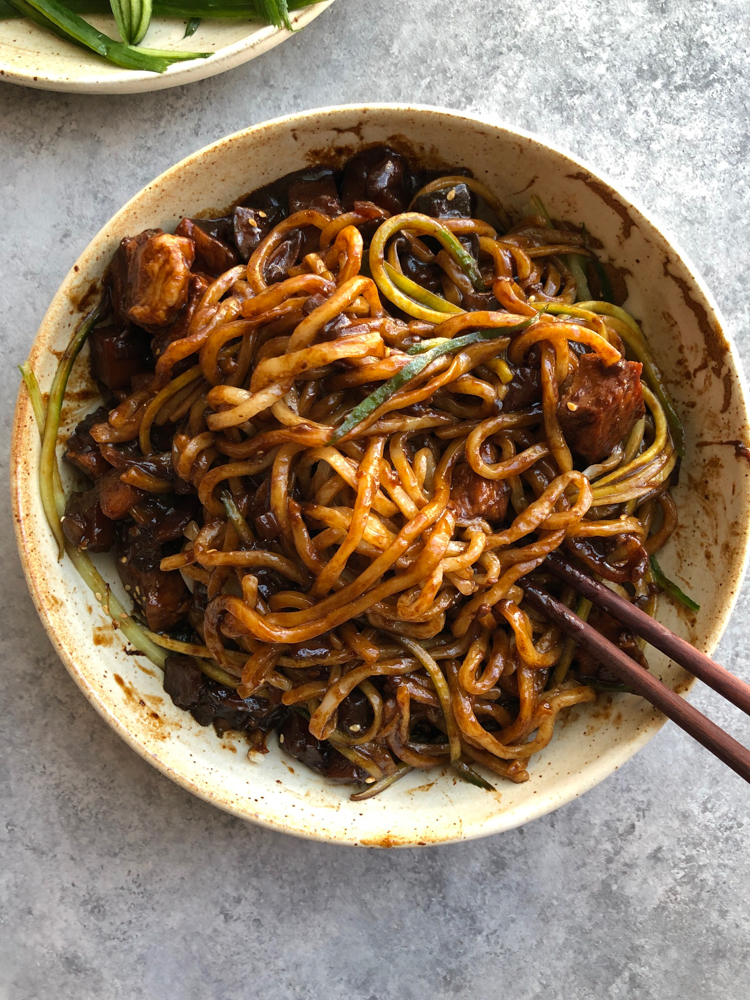 Noodles in a rich, delicious black bean sauce. .  it was like Asian spaghetti!!! This was my go-to order and I would literally lick the bowl clean.
History Of This Dish
Jajangmyeon dates back to 1905, when it first appeared in Gonghwachun, a restaurant in Incheon Chinatown run by an immigrant from the Shandong Province of China. The restaurant is now the Jjajangmyeon Museum.
In the mid-50s in South Korea, soon after the Korean War, jajangmyeon was sold at low prices so that anyone could eat it without burden. The new Korean-style Jajangmyeon began to gain explosive popularity among the many merchants visiting the port of Incheon, which was the center of trade, and the many dock workers working in the fish market, and quickly spread throughout the country.
Jajangmyeon uses thick, hand-made or machine-pulled noodles made from wheat flour, salt, baking soda, and water. When served, jajangmyeon may be topped with julienned cucumber, scallions, egg garnish, boiled or fried egg, blanched shrimp, and/or stir-fried bamboo shoot slices. The dish is usually served with danmuji (yellow pickled radish), sliced raw onions, and chunjang sauce for dipping the onions.
Source: Wikipedia
If you've never tried this dish, I suggest going to a Chinese or Korean restaurant and having it there first. It's absolutely amazing and there's no doubt in my mind that you'll fall in love with this dish! Enjoy!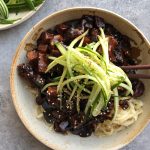 Print Recipe
Korean Jajangmyeon: Noodles with Black Bean Sauce
This Korean adaptation of a Chinese black bean noodle dish is so delicious!
Ingredients
2

tablespoons

sesame oil

split

2 to 3

cups

boneless pork loin or pork shoulder

cubed

3

medium

potatoes

peeled and diced

1

medium

onion

diced

2

medium

zucchini

diced

6 to 8

tablespoons

Korean black bean paste

1 to 2

tablespoons

sugar

start with 1 tablespoon

2 to 3

garlic cloves

minced

1

cup

water

split

1

tablespoon

cornstarch

14

oz

fresh jajangmyeon noodles

2 to 3

large

cucumbers

julienned for garnish
Instructions
In a large skillet or wok, over medium high heat, add 1 tablespoon sesame oil, sauté the pork and potatoes for 2 to 3 minutes.

Add the onions and zucchini and continue to sauté for 2 to 3 minutes.

Add the black bean paste, remaining tablespoon sesame oil, sugar, and garlic to the pan, stirring to combine. Sauté for 3 to 4 minutes.

Add 1/2 cup of water and bring to a boil. Taste and add more black bean paste if needed. Reduce to a simmer.

Mix cornstarch with remaining 1/2 cup cold water (in a separate small bowl) and pour into the sauce to thicken. If the sauce is too thick, you can add another 1/2 cup of water.

Cook for about 10 to 15 minutes, or until vegetables are tender.

While your sauce is simmering, prepare noodles according to package directions. They should only have to cook for 4 to 5 minutes. Do not overcook.

To Serve: Place a large helping of noodles in a bowl. Ladle the jajang sauce over the noodles and top with the cucumber garnish. Enjoy!