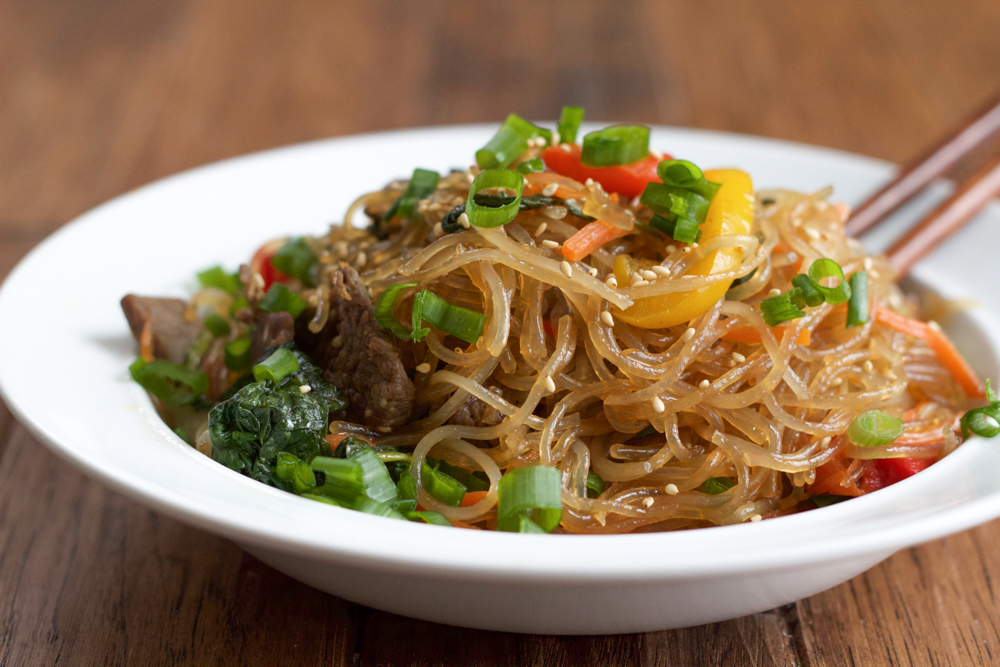 Japchae: Korean Stir Fried Noodles! One of my favorite Korean dishes and so easy to make! I hope you give this recipe a try!
The month of January has been a blur. I can't believe it has already come and gone. We've been so busy and now, we're heading into Girl Scout cookie sales, Valentine's Day and Spring Break.
The weather here is getting warmer but it's still cold. When it's cold, I just want to curl up on the couch and eat. But I can't do that. That wouldn't be productive and I wouldn't get any work done. So, I've been cooking. A lot. I've been craving, cooking and eating a lot of comfort food.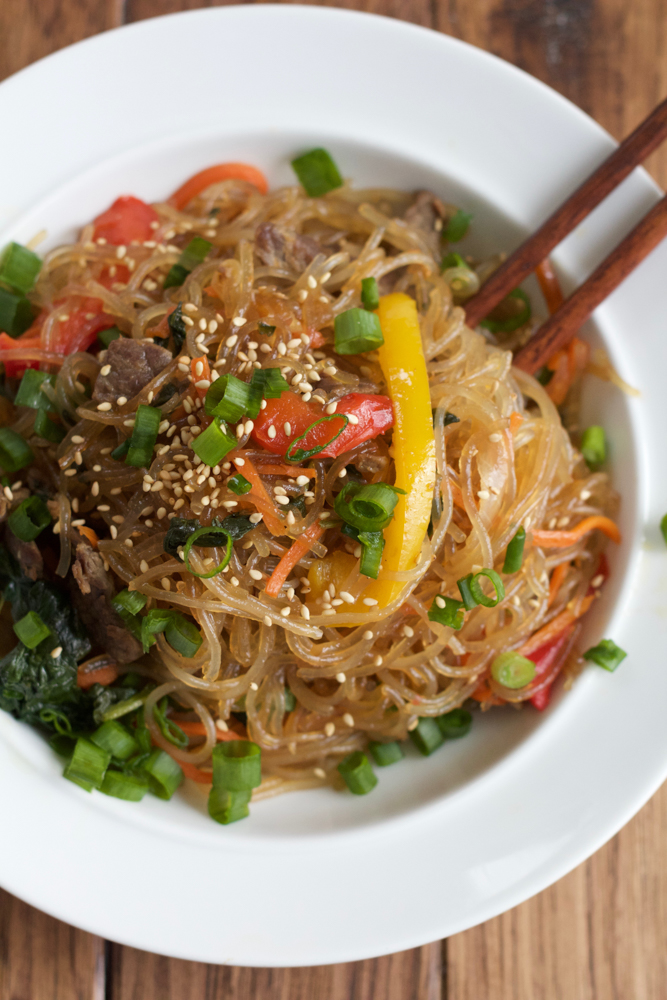 For me, comfort food is like mac and cheese and soups and foods that remind me of my childhood. My childhood was filled with all sorts of delicious Korean food and Japchae was one of my favorites.
Whether you're keeping it vegetarian or cooking with bulgogi, or adding some spice, this dish is versatile and delicious in so many ways. And it's packed with veggies and my favorite sweet potato glass noodles! As a kid, Japchae was always a side dish. A side dish to kalbi or bulgogi or something else on the table. Because I pack so much into it, including bulgogi, we enjoy this as a main dish. I hope you give this recipe a try!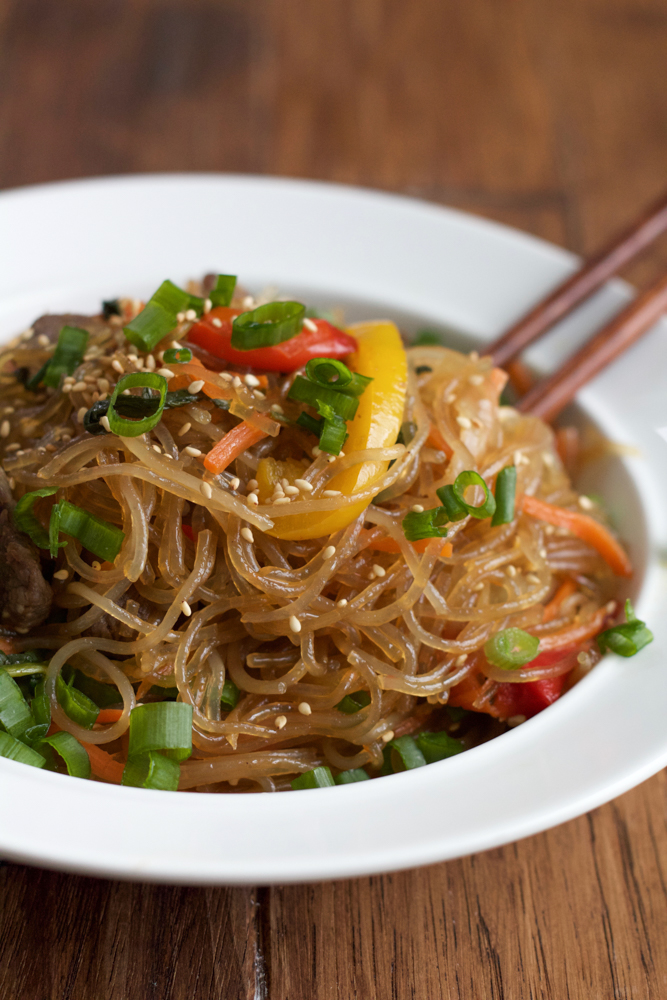 For the bulgogi marinade recipe, click here. If you don't have the time for the marinade, just marinate your beef in some soy sauce and sesame oil. I always like to marinate the meat overnight but if that's not possible, marinate for at least one hour. Marinating the meat just makes it taste so much better.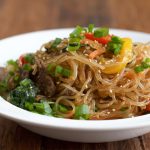 Print Recipe
Japchae: Korean Stir Fried Noodles
Rotisserie chicken, strips of egg, or fried tofu pieces are also great protein additions in this in place of the bulgogi. See link above for my bulgogi marinade recipe. PREP time includes time to marinate the beef.
Ingredients
8

oz.

mung bean or sweet potato noodles

might be called cellophane or glass noodles or Chinese vermicelli; can be found at any Asian/Korean grocery store

3 to 4

tablespoons

sesame oil; split

1

tablespoon

vegetable oil

1

onion

peeled and sliced into thin strips

2 to 3

cloves

garlic

finely chopped or minced

6

oz.

marinated beef or Korean bulgogi

3

carrots

julienned

Half yellow bell pepper

sliced into thin strips

Half orange bell pepper

sliced into thin strips

Half red bell pepper

sliced into thin strips

½

pound

baby spinach

3 to 4

tablespoons

sesame oil; split

4 to 5

tablespoons

low sodium soy sauce + a little more if needed

1

teaspoon

fish sauce

1

teaspoon

sugar

3

green onions

finely chopped

Sesame seeds
Instructions
Cook the sweet potato noodles in boiling water for about 4 minutes. Drain and place into a bowl and set aside. Lightly drizzle a tablespoon or two of sesame oil over the noodles so they do not stick.

Using a large pan or wok, heat the vegetable oil over medium high heat. Add the onion slices and garlic and sauté for about 2 to 3 minutes. Add the bulgogi and cook until browned and cooked through.

Add the carrots and bell peppers and cook for about 5 to 6 minutes or, until the vegetables are beginning to soften. Add in the spinach and toss with the vegetables until slightly wilted and softened.

Turn the heat to low and add the cooked noodles, 2 tablespoons sesame oil, soy sauce, fish sauce and sugar. Toss to combine and cook for another 3 to 4 minutes.

Taste and adjust/add seasonings if needed. Garnish with green onions and sesame seeds. Serve and enjoy!
In case you missed it above, for the bulgogi marinade recipe, click here.