Quite, simply I've found the Best Steak Marinade in Existence!!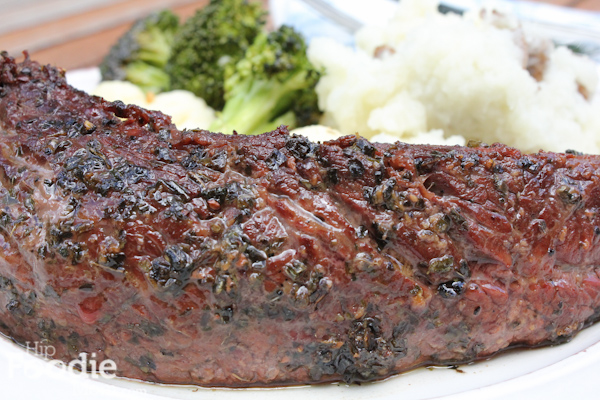 I don't quite remember how I stumbled upon Chrissy's blog but once I found this best steak marinade recipe, I was amazed to find out, Chrissy Teigen, is a beautiful model who blogs about food and cooks! I love it! And, most people, of course, know her as "John Legend's girlfriend" but again, I love the fact that she loves food and is cooking!
Chrissy posted a recipe for the steak marinade that John actually made for her. . which makes me LOVE HIM even more. He sings, he cooks, he grills. . he's awesome. And boy, this marinade is awesome. It really is the real deal. If you grill and like meat, you must try this. But I was thinking about this. . you need 3 things in order to have a delicious steak and I can only help you with one:
You must have a good piece of meat. Yeah most people talk about only purchasing grass-fed organic beef or steak. . read up on it.
You must have a good marinade. Done. It's right here. 'nuff said.
You must know how to grill a steak properly. Don't undercook it, don't burn the poor thing. I can't help you with this. My husband is the grilling master of our house. If you don't have someone to grill for you or you can't do it, find someone who can and keep him or her close to you. 🙂
Once you have these three things, make this marinade. It really is delicious! I am seriously now thinking of buying enough rib-eye or tri-tip to last me the entire week so I can eat more of this!
Grill on, my friends. Grill on.
Best Ever Steak Marinade
Best Steak Marinade in Existence!!
Update to this recipe: August 10, 2012: I added some brown sugar to the marinade to add a tiny bit of sweetness and it was awesome. Give it a try. Try this marinade first without the sugar and then again,but with the sugar and see which one you prefer. You only need to mix in a little, about 1 tablespoon of brown sugar, depending on how much meat you are marinating. Leave a comment down below if you have any questions!
Ingredients
⅓ cup soy sauce
1 tablespoon brown sugar
½ cup extra virgin olive oil
⅓ cup fresh lemon juice
¼ cup Worcestershire sauce
1½ tablespoons garlic powder
3 tablespoons dried basil
1½ tablespoons dried parsley flakes
1 teaspoon ground white pepper
¼ teaspoon hot pepper sauce (optional)
1 teaspoon dried minced garlic or fresh minced garlic
Instructions
Place the soy sauce, brown sugar, olive oil, lemon juice, Worcestershire sauce, garlic powder, basil, parsley, and pepper in a blender. Add hot pepper sauce and garlic, if desired. Blend on high speed for 30 seconds or until thoroughly mixed.
Pour the marinade over desired type of meat. Cover, and refrigerate for at least 5 to 8 hours. The longer you allow the meat to marinate, the better. Grill the meat and enjoy.
You might also like...