Vegetarian Chow Mein recipe that is quick, easy-to-follow and downright delicious! Make your favorite Chinese dish at home!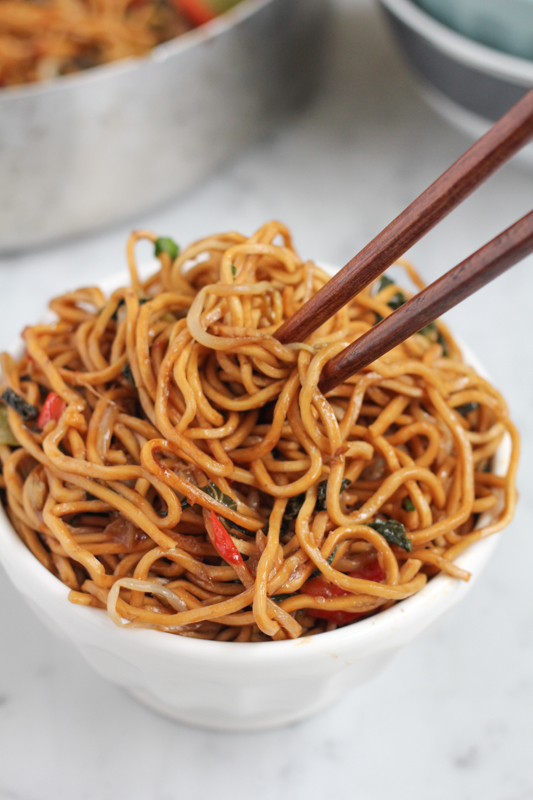 After dessert and chocolate, my next love is Asian food. I love all kinds of Asian foods. .  Chinese, Korean, Japanese, Vietnamese, Thai. .  and so on.
Chinese New Year is next week, Thursday, February 19, so I wanted to celebrate by sharing all Asian foods recipes for the next week. I won't be posting everyday, but every recipe you see here on Hip Foodie Mom for the next week (6 recipes, 4 posts) will be an Asian food recipe.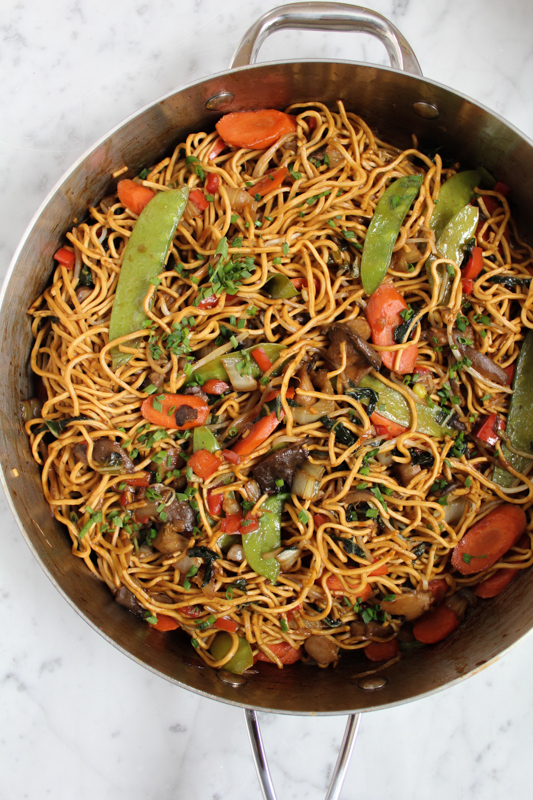 When it comes to Asian cooking like vegetarian chow mein, it's not hard at all. It just comes down to the ingredients and the method of cooking.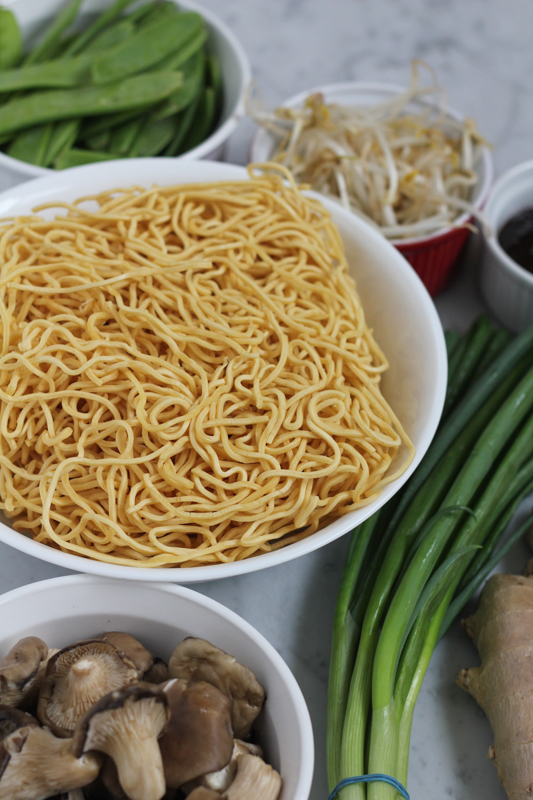 I live just outside of Madison, Wisconsin, where we do, thankfully, have a few Asian markets in town. I was psyched to see fresh egg noodles when I went to one last week, Asian Midway Foods. Now, truthfully, the produce isn't always the best there, but I can buy my essentials and staple Asian food ingredients here and at the Korean market right down the street.
When shopping at your local Asian market, don't feel lost. Just ask for help. Now, I hate to say it but sometimes the people working there may not know how to speak English well so just carry the printed recipe or have a photo of what you are trying to make and someone should be able to help you. Just speaking the truth here. If you have an Asian market that's in a larger city, chances are, someone there will speak English and you'll be fine.
And as I do anywhere I shop, check the expiration dates on everything. The last thing you want is to purchase a brand new bottle of hoisin sauce that's almost going to expire.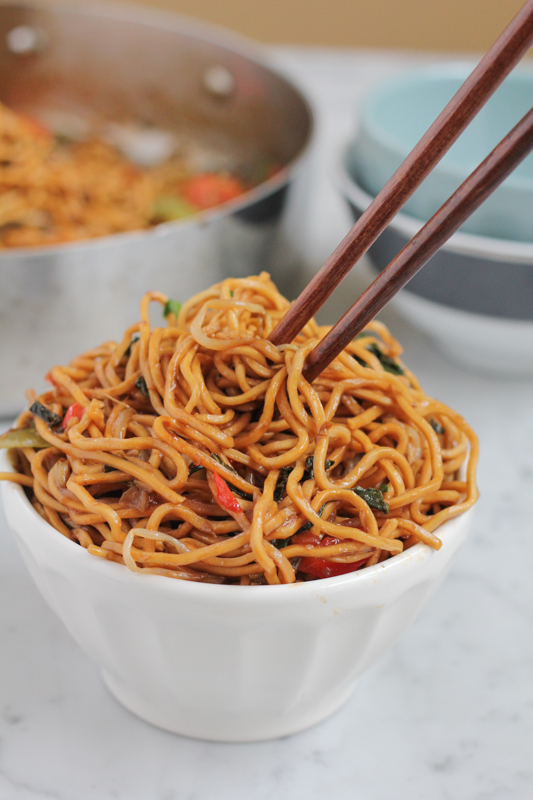 Vegetarian Chow Mein is a staple in our family. It's the pasta. My kids go crazy for anything with long noodles. And chow mein has got to be flavorful and the noodles cooked just right. I can't do flimsy, over cooked chow mein noodles.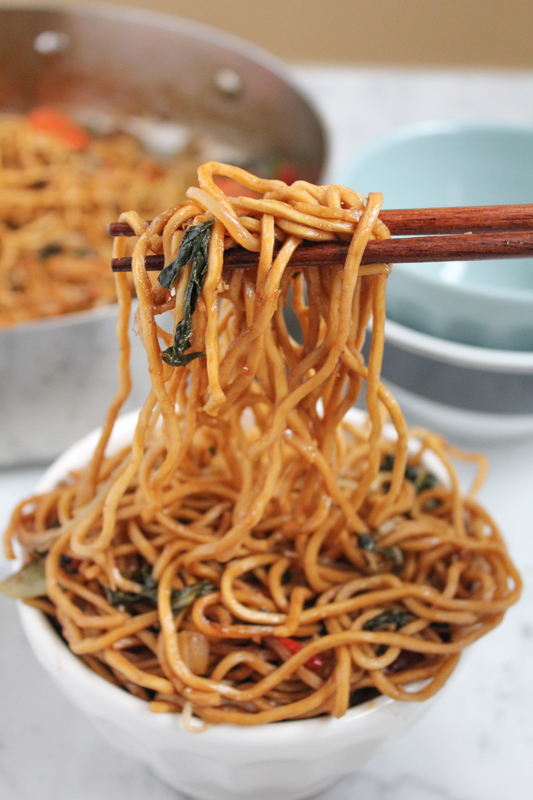 You're going to be shocked at just how easy this is to make. .  and in under 30 minutes. A lot of Asian people will be enjoying vegetarian chow mein noodles for Chinese New Year. .  long noodles = good luck. .  so slurp up those noodles! Enjoy!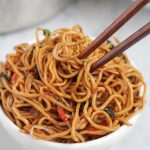 Print Recipe
Vegetarian Chow Mein
Feel free to use a mixture of whatever Asian vegetables you have on hand.
Ingredients
2

tablespoons

vegetable oil

2 to 3

teaspoons

fresh ginger

minced

3

garlic cloves

minced

1

cup

bok choy

chopped (both green and white parts)

2

large carrots

peeled and chopped

1/2

red bell pepper

chopped

8

oz

shiitake or oyster mushrooms

chopped

8

ounces

fresh or dried chow mein egg noodles

1

cup

fresh bean sprouts

1 to 2

cups

snow peas

1/4

cup

vegetable broth

1/2

cup

hoisin sauce

2

tablespoons

low sodium soy sauce + more if needed

2

tablespoons

honey

Kosher salt and freshly ground black pepper

2

green onions

diced for garnish
Instructions
Using a large nonstick skillet, heat the oil over medium-high heat. After a minute or so, add ginger and garlic and saute for a minute or two. Add all of the vegetables from the bok choy to the mushrooms and cook for about 4 to 5 minutes, or until the vegetables begin to soften a bit. Feel free to add a touch more vegetable oil if needed.

Next, add in the egg noodles and stir to combine. Cook for about 2 minutes and then add in bean sprouts and snow peas and cook for about 3 minutes or so. Add in the vegetable broth, hoisin sauce, soy sauce, and honey. Bring the mixture to a boil and stir until slightly reduced and thick, for about 2 minutes. Season with salt and pepper, to taste and garnish with the diced green onions before serving.
Adapted from The Food Network