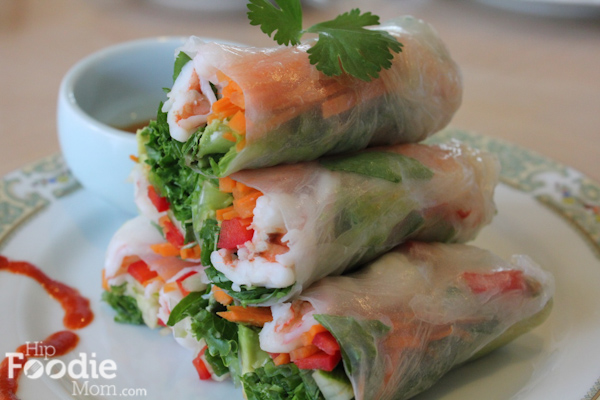 We had a little impromptu spring roll party today! This also came off the tail end of a conversation we had the night before with one of our friends who recently started the Paleo Diet. He's been eating strict Paleo for over a month, feels great, is working out hard, has a lot of energy and looks terrific! So anyway, I thought we should celebrate with some veggies and get rollin'! So, I called up some girlfriends and went to the Asian market.
If you've never been to an Asian Market, you need to visit one soon. Don't be scared of things that might seem strange or unfamiliar to you, people speaking different languages or the smell of fish. . it's all GOOD. Much like any grocery store, I think you can tell if an Asian market is good by their produce. Is everything clean and fresh? If not, then- you can walk out.
Visiting Asian markets takes me back to my childhood. My parents have owned and operated a Korean grocery store for as long as I can remember. We would go there as kids and walk through the candy/snack aisle and run up to my mom asking if we could take some home. When we got older, we would help my mom out every Christmas & New Years by helping her cut Korean rice cake. We didn't always like it, but I'm glad my parents made us do that. That was kind of our family tradition and made us appreciate our parents and their hard work even more.
My mom was finally able to retire a couple of years ago. She worked hard. I learned so much about having a good work ethic from my parents. In addition to the thousands of other things they taught us and drilled into our heads while growing up- ALWAYS WORK HARD was up there and repeated to us constantly. I always appreciated all of their hard work while growing up, giving us everything we always wanted and needed, paying for our college educations and teaching by example. Their jobs weren't always glamorous but they always (and still do) have a lot of pride in what they do and have taught us to celebrate being Korean-American.
So, here's to my parents! My mom actually ate the spring rolls with us today These are great for gatherings with friends. . everyone can roll their own! Hope you give this one a try!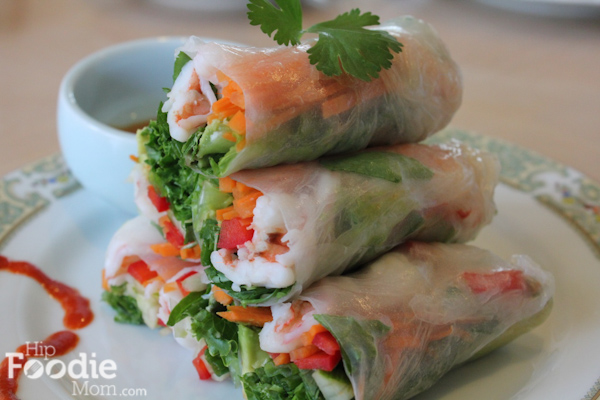 Homemade Spring Rolls!!
Recipe type:
Main or Appetizer
Ingredients
1 package Rice Paper Wraps for Spring rolls (available at most stores in the Asian food section or at any Asian market; large round ones are easier to work with)
3-4 medium to large carrots, sliced really thin lengthwise or julienned
4-6 cups washed hardy greens (spinach, lettuce, basil, cilantro); chopped or sliced
1-2 red bell peppers, sliced lengthwise
1 large cucumber, sliced lengthwise or julienned
1 bunch green onions, sliced lengthwise
1-2 avocados (optional, only include if eating right away)
1 pound fresh shrimp
Peanut sauce
Sriracha sauce
Fish sauce (optional)
Instructions
If adding shrimp, boil some water. Peel and clean the shrimp. Boil the shrimp until the shrimp starts to turn pink; only a few minutes. Then, slice them in half.
Wash and prep all of your veggies: Wash your greens, and leave them whole in a bowl and set aside. Julienne your carrots and set aside in a separate bowl. Continue with the rest of the veggies, making sure to keep them all separate, either in bowls or on a large platter or cutting board.
To make the spring rolls, prepare a clean work surface on a counter top or a large cutting board. You can also just use a large plate.
Get a large mixing bowl and fill it with very hot tap water or water that you have boiled.
Take a piece of rice paper and dip it in the bowl of water to soften. You may have to dip and rotate the rice paper in order to get the entire thing wet.
Remove from the bowl and lay flat on the work space or plate.
To assemble: start laying your shrimp and all of your veggies (lay down more towards the bottom so it's easier to roll).
Once you have everything you want in your spring roll, start rolling. Roll from the bottom. Roll as tight as possible; without tearing the rice paper. As you are rolling, fold in the ends and roll to close. (If you've ever rolled a burrito, it's the same technique).
Serve with dipping sauce & enjoy!
For the sauce, you can do the following:
Just use the ready made peanut sauce by itself
Use the peanut sauce and add some sriracha sauce
Use the peanut sauce and add a little fish sauce
The ingredients to look for at the Asian market: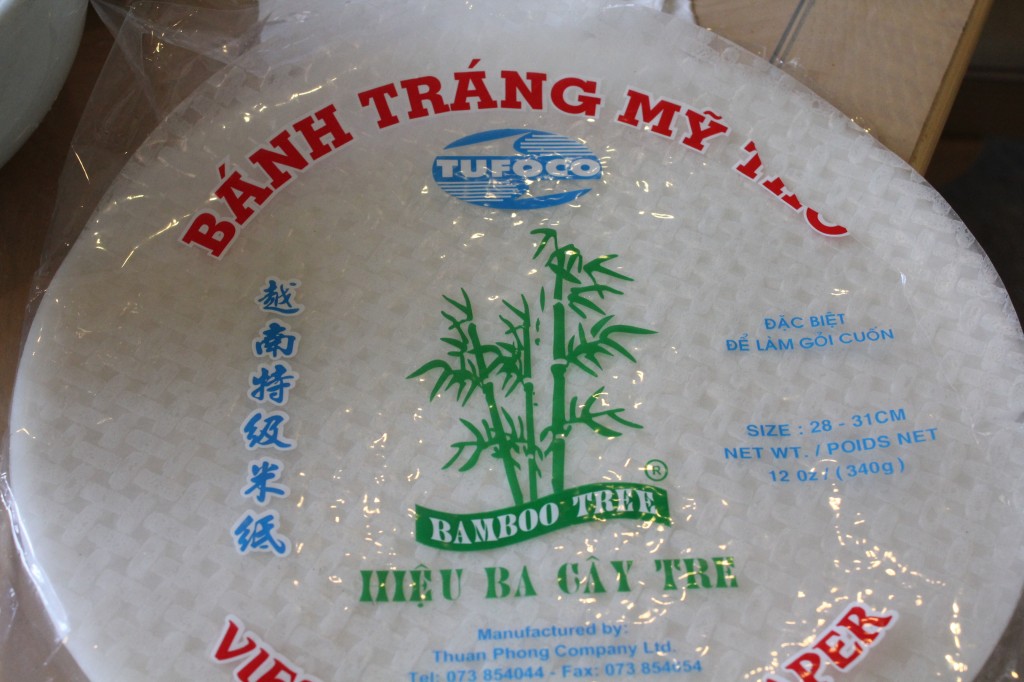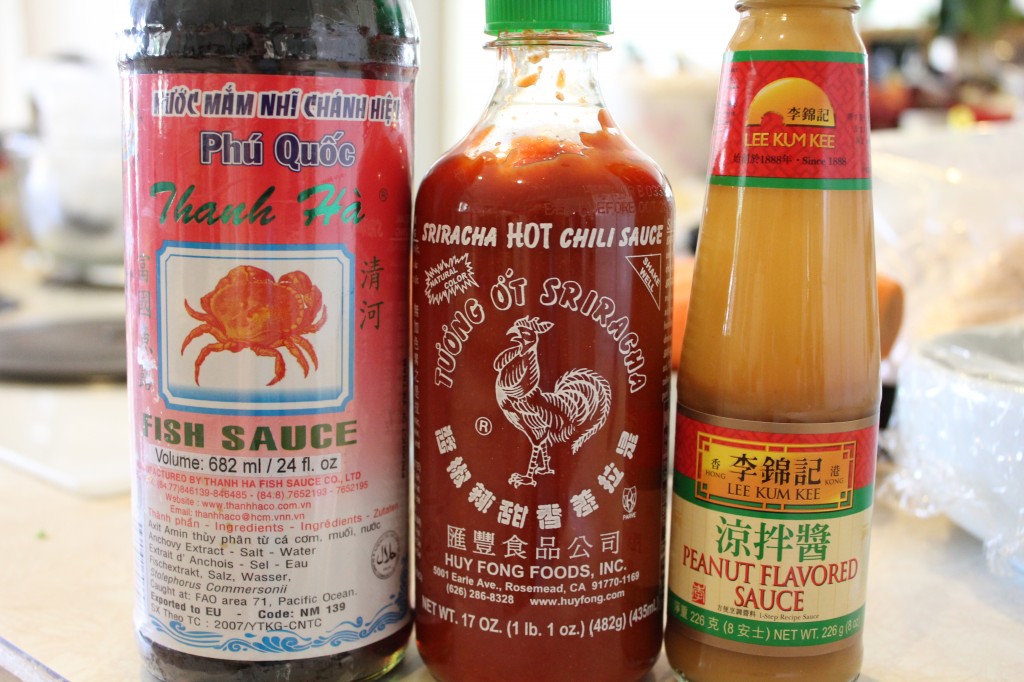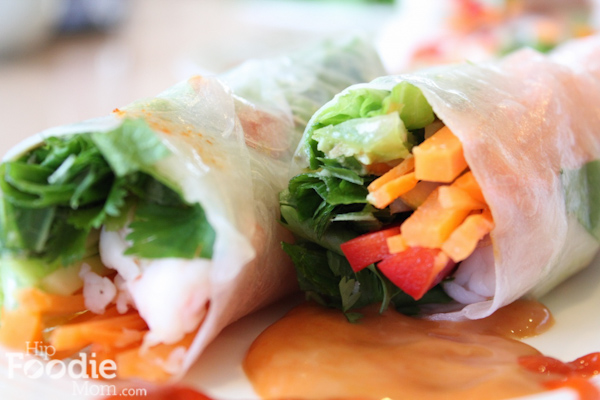 You might also like...