I whipped this up for my husband one night because we always have tomatoes, mozzarella and basil on hand at home. . and who would have known I was going to receive so many comments and likes on Facebook for this one? So, I am posting this very simple recipe and hope you will enjoy! This time, I used the same balsamic glaze I made from this recipe for my caprese salad. It was divine! You get a little garlic and sweet & sour with the balsamic and the basil, cheese and tomato all in one bite! It's heaven. For reals. 😛
This salad is my absolute favorite!!!
Hip Foodie Mom's Caprese Salad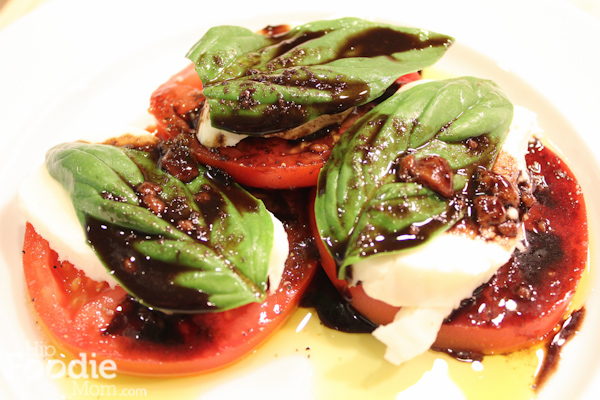 Simple Caprese Salad
Recipe type:
Appetizer or Salad
Ingredients
2 whole Ripe Tomatoes, sliced semi-thick
fresh Mozzarella Cheese, sliced semi-thick
Fresh Basil Leaves
Olive Oil, For Drizzling
Kosher Salt And Freshly Ground Black Pepper
if not trying the glaze, you just need balsamic vinegar
For the Balsamic Glaze:
¾ cup balsamic vinegar
2 tablespoons maple syrup
1 tablespoon Dijon mustard
1 clove garlic, peeled and smashed or chopped
Instructions
For the glaze: In a small saucepan, bring the vinegar, maple syrup, mustard and garlic to a boil over medium heat. Reduce the heat to a simmer and cook until thick, about 10-12 minutes. Set aside to cool for 5 minutes.
While the glaze is cooling, prep your tomatoes, basil and mozzarella
Assemble:
Drizzle a little olive oil on the plate
Place the tomatoes on the plate and season them with salt & pepper
Layer on the mozzarella and then a single basil leaf or you can tear the basil with your hands (do not cut the basil with a knife; it will turn black)
Drizzle balsamic glaze on top (or just some balsamic vinegar if you are not making the glaze & you might want to add a little more salt & pepper to taste; with the glaze, you don't need it!)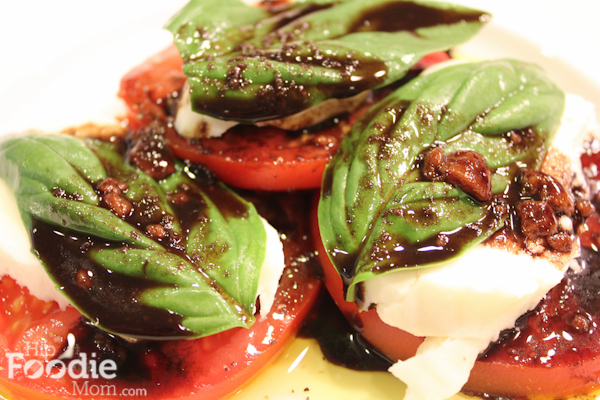 You might also like...