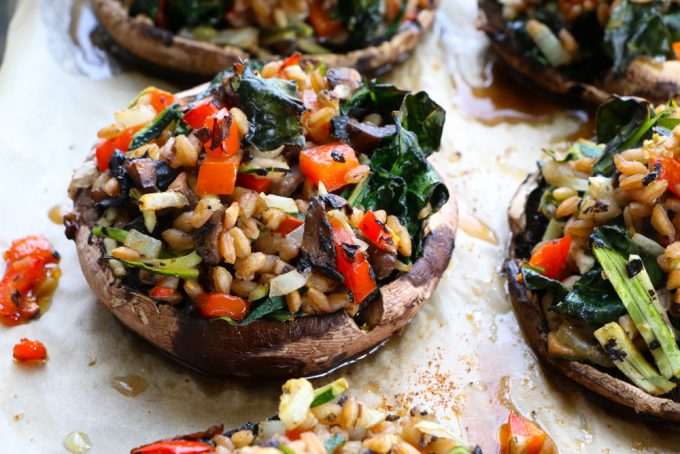 Vegetarian Stuffed Portobello Mushrooms! Packed with sautéed vegetables, farro and seasoned with Tony Chachere's No Salt Seasoning Blend! You're going to love these!
Disclosure: This is a paid, sponsored post in partnership with Tony Chachere's No Salt Seasoning Blend. All opinions are 100% my own. 
I can't believe March is here and summer is only a few months away. Although it may seem like I have everything together, I don't. Well, not everything. I was with some of my mom friends and we were discussing summer plans. .  camps, activities for the kids, summer travel, etc. If you're a parent, you know you literally need to sign your kids up for certain camps and things like 3 to 4 months before summer is even here. .  which means, I am already behind.
I used to be in the mindset that I needed to sign my kids up for everything but then I soon realized, we don't function like that. Running my kids from one thing to the next, although I do think there are positive things that come out of kids being in so many activities (kids learning new skills, sports, making new friends etc), they often get tired and sometimes, over stimulated.
My kids and I need to find a balance: have my kids participate in certain activities and camps and still just have time to relax and have fun. This summer I want to get my kids out more and be more active! Whether we are just going to the pool, going to a park or going for a walk, I want us to be more active as a family.
In the summer, we grill. Like almost everyday. It's still only March, which, here in Wisconsin, doesn't mean we can easily grill outside. It could snow again here next week for all I know. I'm joking; kind of. So, whether you are baking these in your oven or throwing these Portobello mushroom caps on the grill, you need to try this recipe! It's absolutely delicious!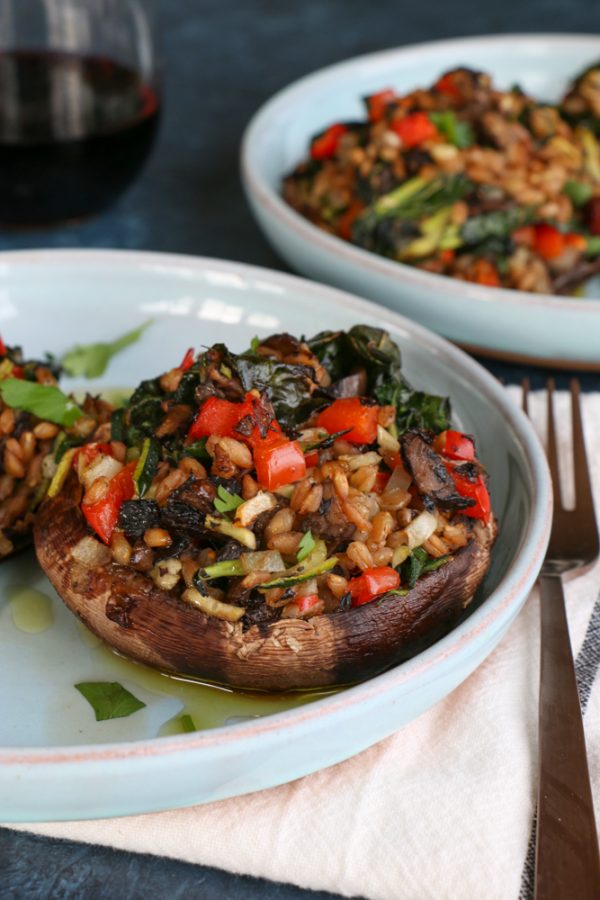 I recently tried Tony Chachere's No Salt Seasoning Blend! A lot of you watch your sodium intake so when I tried this, I knew you guys would love it too! It's absolutely delicious, allows me to season my foods without salt all the time and adds some nice flavor!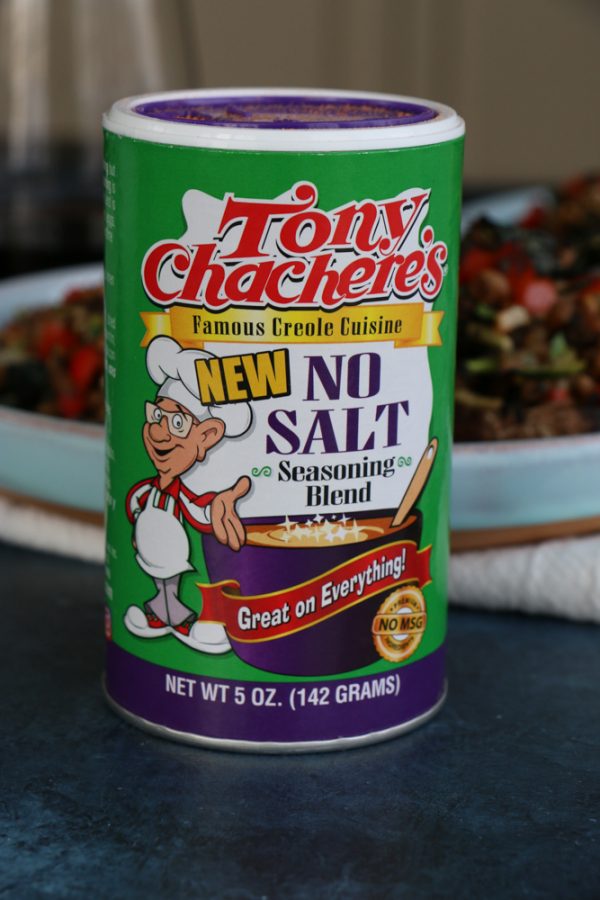 This flavorful all-purpose blend is the perfect seasoning for all meats, seafood, poultry, vegetables, eggs, soups, stews and salads. You can even use this seasoning on sweet potato wedges and popcorn! Use anywhere and anytime on any type of food!
I used my Tony Chachere's No Salt Seasoning Blend to season the mushrooms and the farro vegetable mix. It was so good, I hope you guys give this recipe a try and visit the Tony Chachere's No Salt Seasoning Blend website to learn more!

Vegetarian Stuffed Portobello Mushrooms
Recipe type:
Main or Side
Ingredients
For the stuffed mushrooms:
9 or 10 Portobello mushroom caps, with stem and inside scraped out; but do not discard
1 Tablespoon extra-virgin olive oil
½ Onion, finely chopped
2 Garlic cloves, minced
½ Cup zucchini, shredded and chopped
½ Cup red bell pepper, finely chopped
1 Bunch kale, chopped
Tony Chachere's No Salt Seasoning Blend
2 to 3 Cups cooked farro
Fresh parsley, finely chopped
Chimichurri sauce, (optional)
For the chimichurri sauce:
1 Cup firmly packed fresh flat-leaf parsley, trimmed with the stems cut off
½ Cup fresh cilantro
2 Garlic cloves
1 Tablespoon fresh oregano leaves
½ Cup good quality olive oil + more if needed
2 Tablespoons red wine vinegar
Tony Chachere's No Salt Seasoning Blend, to taste
Freshly ground black pepper
½ Teaspoon red pepper flakes
Instructions
For the stuffed mushrooms:
Preheat oven to 375 degrees.
Line a baking sheet with foil or parchment paper. Chop up the stems of the mushrooms and set aside. Lay your Portobello mushroom caps down on the baking sheet, season generously with Tony Chachere's No Salt Seasoning Blend and set aside.
Using a large skillet or sauté pan over medium-high heat, add the oil. After a few minutes, add in the chopped onion and sauté for a few minutes until tender.  Add in the garlic, zucchini, red bell pepper and the chopped mushroom stems and sauté for about 4 to 5 minutes.
Add the chopped kale and season generously with Tony Chachere's No Salt Seasoning Blend. Mix together and continue cooking for a few more minutes. Remove from the heat.
Stir in the cooked farro and mix together with the vegetables. Fill the Portobello mushroom caps with the farro and vegetable mixture and bake for about 20 to 25 minutes, or until mushrooms are cooked through; baking time may vary depending in size and thickness of your Portobello mushrooms.
Garnish with fresh parsley and serve with homemade chimichurri sauce, if desired.
For the chimichurri sauce:
Combine ingredients from the parsley to the oregano in a food processor. Pulse and process until desired consistency is reached; usually several pulses. Place in a small bowl and set aside.
In a separate bowl, mix and combine the olive oil, vinegar, Tony Chachere's No Salt Seasoning Blend, pepper, and red pepper flakes. Pour over the parsley mixture and mix together well. Taste and adjust any seasonings as needed. Enjoy!