Continuing with my healthy theme, here is a recipe for Turkey Lettuce Wraps/Cups, whatever you want to call them. It's using ground turkey instead of ground chicken (Recipe adapted from Cooking Light).
I think the artichoke hearts and all the veggies make this recipe special and super yummy and I love that this is so light and fresh tasting! I added bell peppers (of course!) and did not use the mozzarella cheese simply because I don't think it's needed for this one (see Cooking Light recipe if you want to add the cheese).
Hope you give this one a try and enjoy!!
Turkey Lettuce Wraps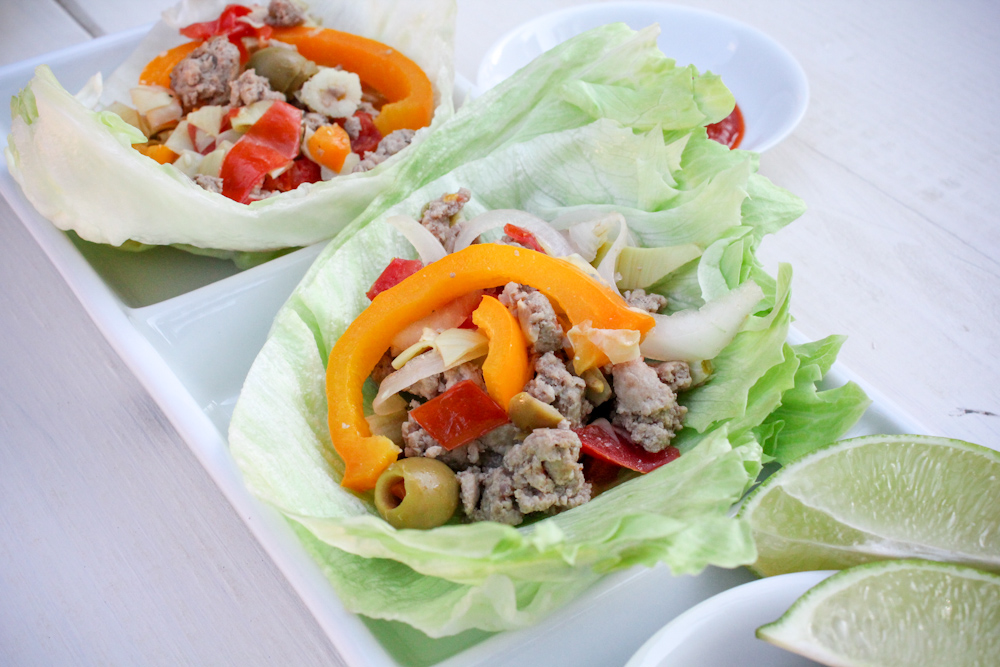 Turkey Lettuce Wraps
Ingredients
Cooking spray or olive oil
1 pound ground turkey
¼ teaspoon freshly ground black pepper
⅛ teaspoon salt
1 cup vertically sliced red onion (or white)
1 orange bell pepper, sliced vertically in long strips
1 cup canned artichoke hearts, drained and coarsely chopped
¼ cup diced tomato (you can use fresh or canned; I prefer fresh)
1 tablespoon chopped fresh oregano
1 tablespoon chopped fresh flat-leaf parsley
10 green olives, chopped
1 tablespoon fresh lemon or lime juice
8 Bibb lettuce leaves or just plain iceberg lettuce will do
Sriracha sauce (if you want a little kick)
Instructions
Heat a large nonstick skillet over medium-high heat. Coat pan with cooking spray or olive oil.
Add turkey, pepper, and salt to pan; cook for 3 minutes, stirring to crumble.
Stir in onion and all ingredients (through green olives); cook for 3-4 minutes or until turkey is done. Season with salt and pepper.
Cut lettuce in half and break off leaves.
To serve: Spoon ¼ cup turkey mixture (or more) into each lettuce leaf and squeeze fresh lemon or lime juice on top
You might also like...