Simple Caprese Salad
I whipped this up for my husband one night because we always have tomatoes, mozzarella and basil on hand at home. . and who would have known I was going to receive so many comments and likes on Facebook for this one? So, I am posting this very simple recipe and hope you will enjoy! This time, I used the same balsamic glaze I made from this recipe for my caprese salad. It was divine! You get a little garlic and sweet & sour with the balsamic and the basil, cheese and tomato all in one bite! It's heaven. For reals.

This salad is my absolute favorite!!!
Hip Foodie Mom's Caprese Salad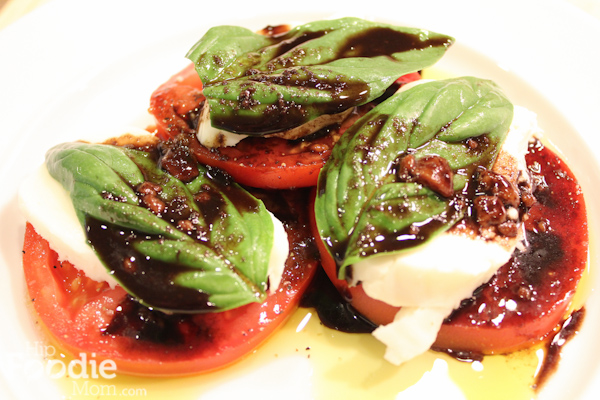 Simple Caprese Salad
Recipe type:
Appetizer or Salad
Ingredients
2 whole Ripe Tomatoes, sliced semi-thick
fresh Mozzarella Cheese, sliced semi-thick
Fresh Basil Leaves
Olive Oil, For Drizzling
Kosher Salt And Freshly Ground Black Pepper
if not trying the glaze, you just need balsamic vinegar
For the Balsamic Glaze:
¾ cup balsamic vinegar
2 tablespoons maple syrup
1 tablespoon Dijon mustard
1 clove garlic, peeled and smashed or chopped
Instructions
For the glaze: In a small saucepan, bring the vinegar, maple syrup, mustard and garlic to a boil over medium heat. Reduce the heat to a simmer and cook until thick, about 10-12 minutes. Set aside to cool for 5 minutes.
While the glaze is cooling, prep your tomatoes, basil and mozzarella
Assemble:
Drizzle a little olive oil on the plate
Place the tomatoes on the plate and season them with salt & pepper
Layer on the mozzarella and then a single basil leaf or you can tear the basil with your hands (do not cut the basil with a knife; it will turn black)
Drizzle balsamic glaze on top (or just some balsamic vinegar if you are not making the glaze & you might want to add a little more salt & pepper to taste; with the glaze, you don't need it!)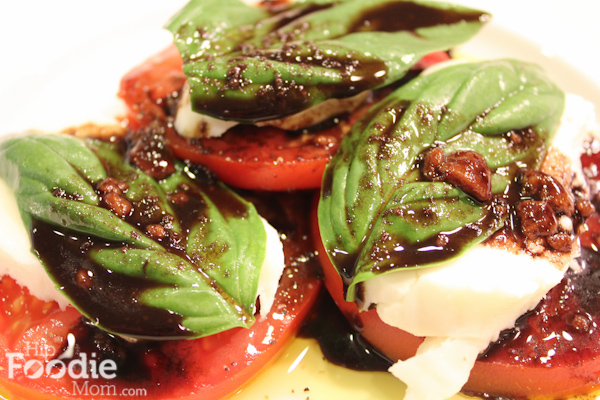 You might also like…