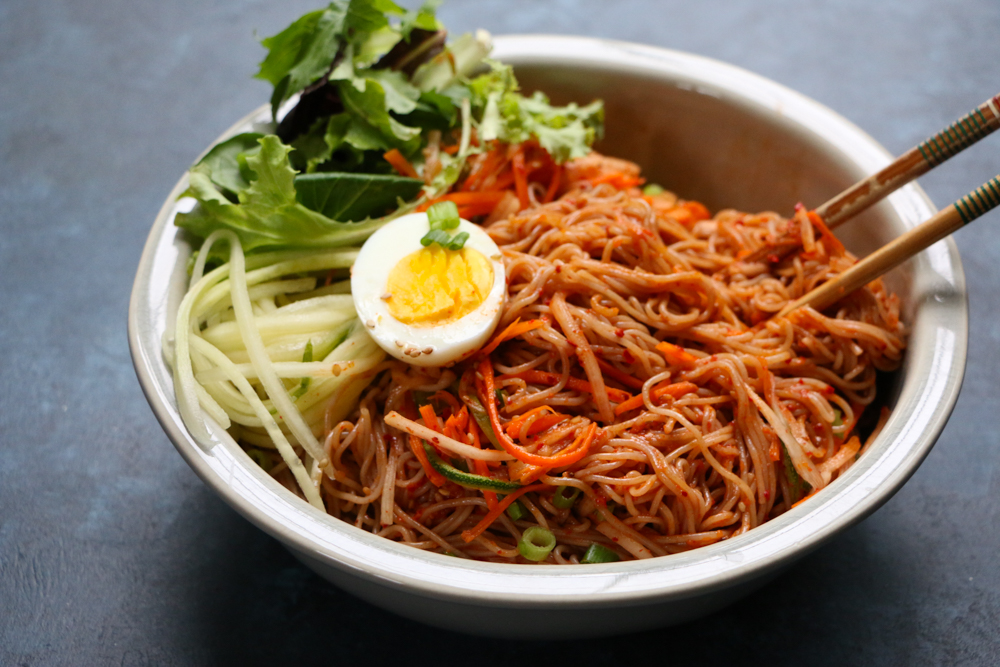 Cooking Workshop: Spicy Korean Cold Noodle Salad! This is my version of Korean Bibim Naeng Myun for the summer! Naeng myun noodles mixed with a spicy sauce made up of Korean hot pepper powder, hot pepper paste, onion, garlic and more and then topped with fresh cucumbers, mixed greens and hard boiled egg and more! This is so good!
I had the great pleasure yesterday of teaching a Korean cold noodle workshop class at The Allen Centennial Garden here in Madison. If you're in Madison, the garden is a really beautiful place to visit.
Allen Centennial Garden is the artful living laboratory and public botanical garden of the Horticulture Department at the University of Wisconsin-Madison. The Garden serves as an outdoor classroom for UW-Madison students and the surrounding communities, providing wonderful learning opportunities for visitors of all ages.
The Garden also hosts events all summer long! Check out the calendar here! I'm going to check out the Summer Sunday Concerts in the Garden.
In addition to this Spicy Korean Cold Noodle Salad, I also made one of my favorite Korean vegetable side dishes. As I told everyone last night, this is a great quick slightly sweet and spicy side dish you can make using daikon radish, cucumbers, zucchini and carrots.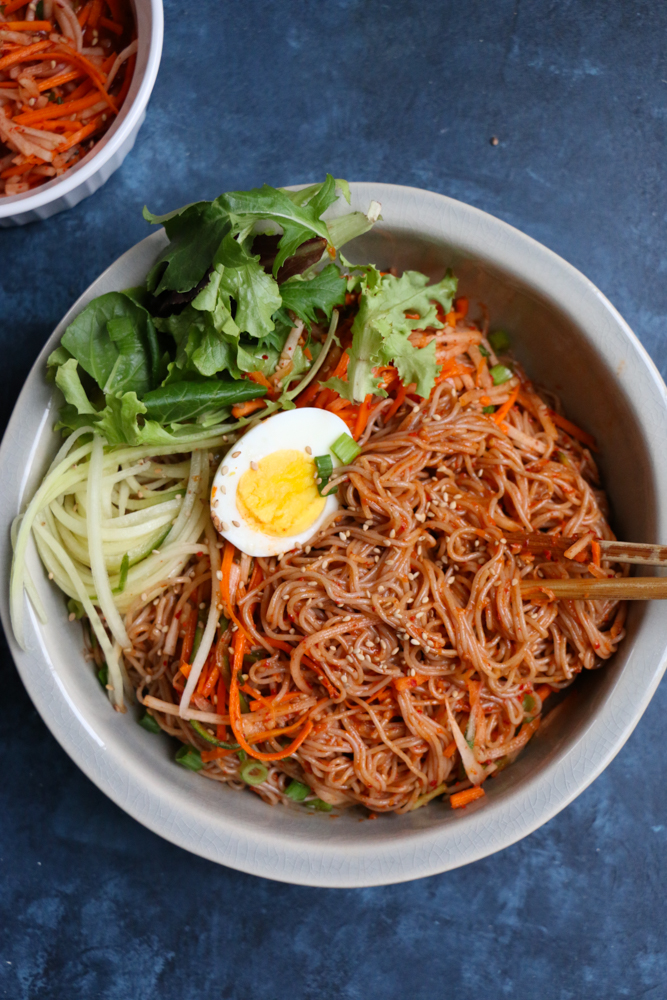 If you enjoy a little heat and love Korean flavors, you need to give this Spicy Korean Cold Noodle Salad a try! This is my version of Korean Bibim Naeng Myun for the summer! I love adding mixed greens and a hard boiled egg on top! Mix everything up together and enjoy!
And for everyone who attended last night, thank you! It was so great to meet everyone and I hope you guys make this at home soon!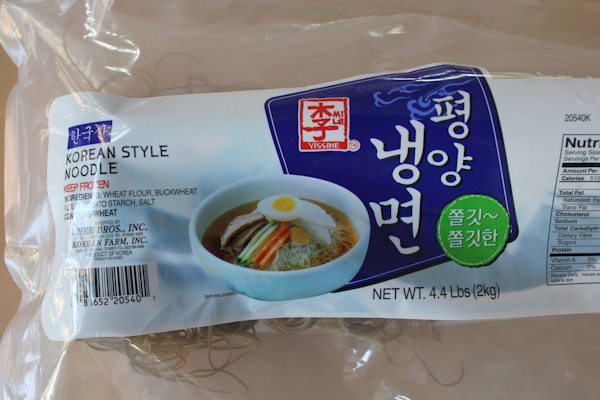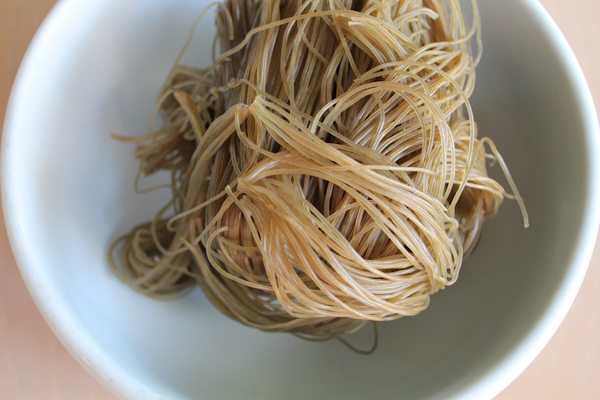 Cooking Workshop: Spicy Korean Cold Noodle Salad
* you can also use natural applesauce here instead
Ingredients
Korean vegetable side dish:
4 cups blend of shredded Korean radish (or Daikon), carrots and cucumber or zucchini
½ tablespoon coarse sea salt or kosher salt + more if needed
2 tablespoons Korean red hot pepper powder
1½ tablespoons brown rice vinegar
1½ tablespoons granulated sugar
1 tablespoon sesame seeds
½ tablespoon minced garlic
For the bibim sauce:
2 tablespoons low sodium soy sauce
¼ cup blended Fuji apple*
¼ cup blended pear
¼ cup blended onion
¼ cup crushed Korean hot pepper powder (gochugaru)
2 tablespoons hot pepper paste (gochujang) + more if you want it spicier
1 tablespoon fresh minced garlic
1 tablespoon sesame seeds
1 tablespoon sesame seed oil
1 tablespoon brown rice vinegar
1 tablespoon honey
For the noodle salad:
16 oz package naeng myun buckwheat noodles (frozen or dry)
sesame oil
brown rice vinegar
Korean veggies (above)
mixed greens
shredded cucumber
2 hard boiled eggs; cut in half lengthwise
sesame seeds
Instructions
Korean vegetable side dish:
Place shredded vegetables in a bowl and sprinkle with the salt. Let sit for 2 to 3 minutes and then using a small separate bowl, mix together the ingredients from the Korean red hot pepper powder to the minced garlic.
Pour the spicy mixture over the shredded vegetables and mix together using your hands. Cover with plastic wrap and let sit in the refrigerator for about 30 minutes. Chilling it for 30 minutes is not mandatory but the vegetables will just taste better after they have had time to marinate in the sauce. I like to serve this vegetable side dish cold.
For the bibim sauce:
Using your food processor, blend together all of the ingredients until completely smooth. Pour sauce into a bowl and let sit while you cook the noodles.
Bring a large pot of water to a boil and cook the naeng myun buckwheat noodles for about 3 to 4 minutes. Drain and rinse in very cold water.
Using a large bowl, place your noodles in the bowl and pour the spicy bibim sauce over the top. Combine thoroughly using your hands or tongs.
To assemble: divide noodles among bowls. Drizzle on a little sesame oil and brown rice vinegar (if desired) and top with the Korean vegetable side dish, fresh mixed greens, more shredded cucumbers (optional), a hard boiled egg and sprinkle with sesame seeds. Mix together and enjoy!!