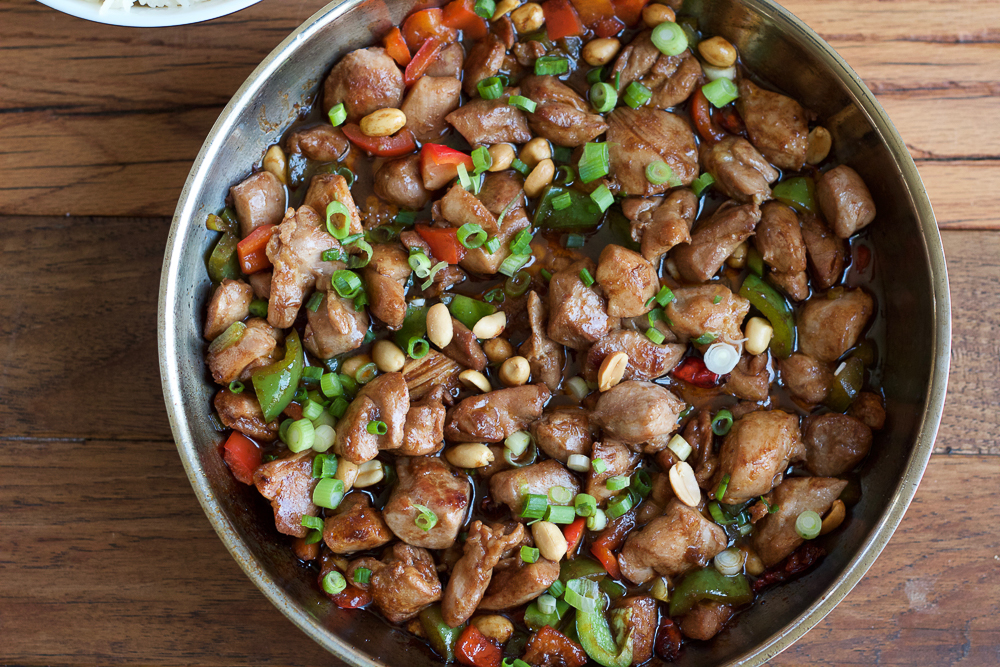 Easy Kung Pao Chicken. Make your fave Chinese food at home! Spicy, savory, easy and delicious. . . you've got to try this! 
This might seem like an odd recipe to be sharing, the week heading into the Christmas holiday . .  but for me and my family, by this time in December, we are a little turkey-ed and ham-ed out so Asian food looks and sounds awfully good to us!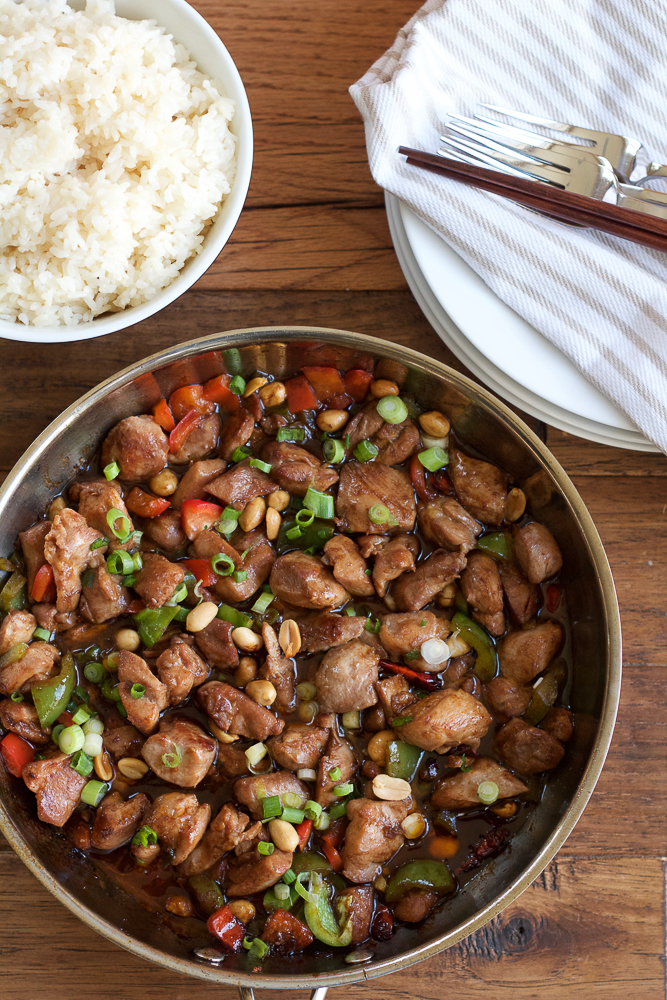 We usually do steaks for Christmas and Asian food right after and into the New Year . .  so, pin this recipe and save it for a day soon where Chinese food sounds good to you!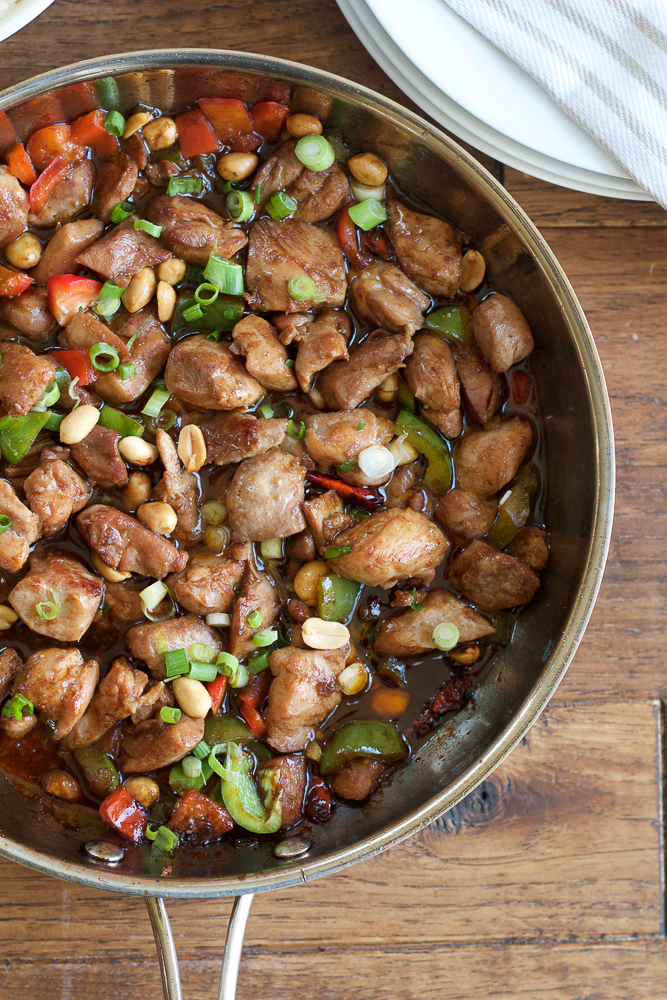 I also love supporting local Asian food restaurants but sometimes you need to cook at home. Some of you may not have a good Asian food restaurant close by and I really want to convey that cooking Asian food at home is not difficult. You will have to go to an Asian food grocery store, but if you like and eat Asian food and haven't visited one in your area, now is the time!
I hope you check out my recipe over at The Kitchenthusiast!! And yes, I am using my favorite pan again!
Happy Holidays!!!!

Kung Pao Chicken
Note for the cook: This is not an authentic Chinese Kung Pao Chicken recipe as I use a favorite Korean food ingredient, gochujang, to spice things up! *If you don't have time to marinate your chicken overnight, marinate for at least 30 minutes in the refrigerator.
Ingredients
For the marinade:
3 tablespoons low sodium soy sauce
4 teaspoons Chinese rice wine
½ teaspoon sugar
1 teaspoon sesame oil
2 teaspoons cornstarch
1 to 1½ pounds boneless, skinless, chicken thigh meat, cut into 1 to 1½-inch cubes
For the kung pao chicken sauce:
2 tablespoons good-quality balsamic vinegar
2 tablespoons low sodium soy sauce
1 to 2 heaping tablespoons Korean hot pepper paste; 2 tablespoons will make this very spicy
1 heaping tablespoon hoisin sauce
2 teaspoons sesame oil
2 teaspoons honey, or to taste
1 teaspoon cornstarch
1 teaspoon ground Sichuan pepper
For the kung pao chicken:
1½ teaspoons vegetable oil
8 to 10 dried red chilies
3 scallions, diced fine
½ green bell pepper, chopped into ¾ inch pieces
½ red bell pepper, chopped into ¾ inch pieces
2 to 3 garlic cloves, minced
1 heaping teaspoon freshly grated ginger
⅓ cup unsalted dry-roasted peanuts for garnish
Instructions
First, you need to marinate your chicken. Using a small bowl, stir together the soy sauce, rice wine, sugar, sesame oil and cornstarch until the cornstarch is dissolved. Place the chicken in one layer in a baking dish and pour the soy sauce mixture evenly over the chicken. Cover with plastic wrap and refrigerate overnight for best results, flipping the chicken just once halfway through.*
When ready to cook, leave the chicken on your kitchen counter and start making the sauce. Using another small mixing bowl, combine the balsamic vinegar, soy sauce, gochujang, hoisin sauce, sesame oil, honey, cornstarch, and Sichuan pepper. Stir together and taste, adjusting any ingredients as needed. Set aside.
Using skillet or pan over medium-high heat, heat the vegetable oil and after a minute or two, add in the dried chilies and stir-fry for about 1 to 2 minutes, or until the oil starts to become slightly fragrant. Add the marinated chicken and stir-fry until no longer pink, for about 3 to 5 minutes.
Next, add the scallions, bell peppers, garlic, and ginger. Mix together and stir fry for about 2 to 3 minutes. Pour in the sauce and toss together to coat. Let your Kung Pao Chicken cook for another 3 to 4 minutes, or until the chicken is completely cooked through and is no longer pink. Sprinkle on and mix in the peanuts and cook for another 1 to 2 minutes. Transfer to a serving plate, garnish with more scallions and peanuts if desired and serve with rice and enjoy!
*If you don't have time to marinate your chicken overnight, marinate for at least 30 minutes in the refrigerator.
To see the rest of the instructions and complete recipe card, please visit
The Kitchenthusiast
Disclosure: This is a sponsored post in partnership with KitchenAid USA. All opinions expressed here are 100% my own. Thank you for supporting me in working with the brands and products that I use and love.