Seafood Paella!!!! Easy, delicious and flavorful Seafood Paella that you can make at home! Takes some time but it's well worth it!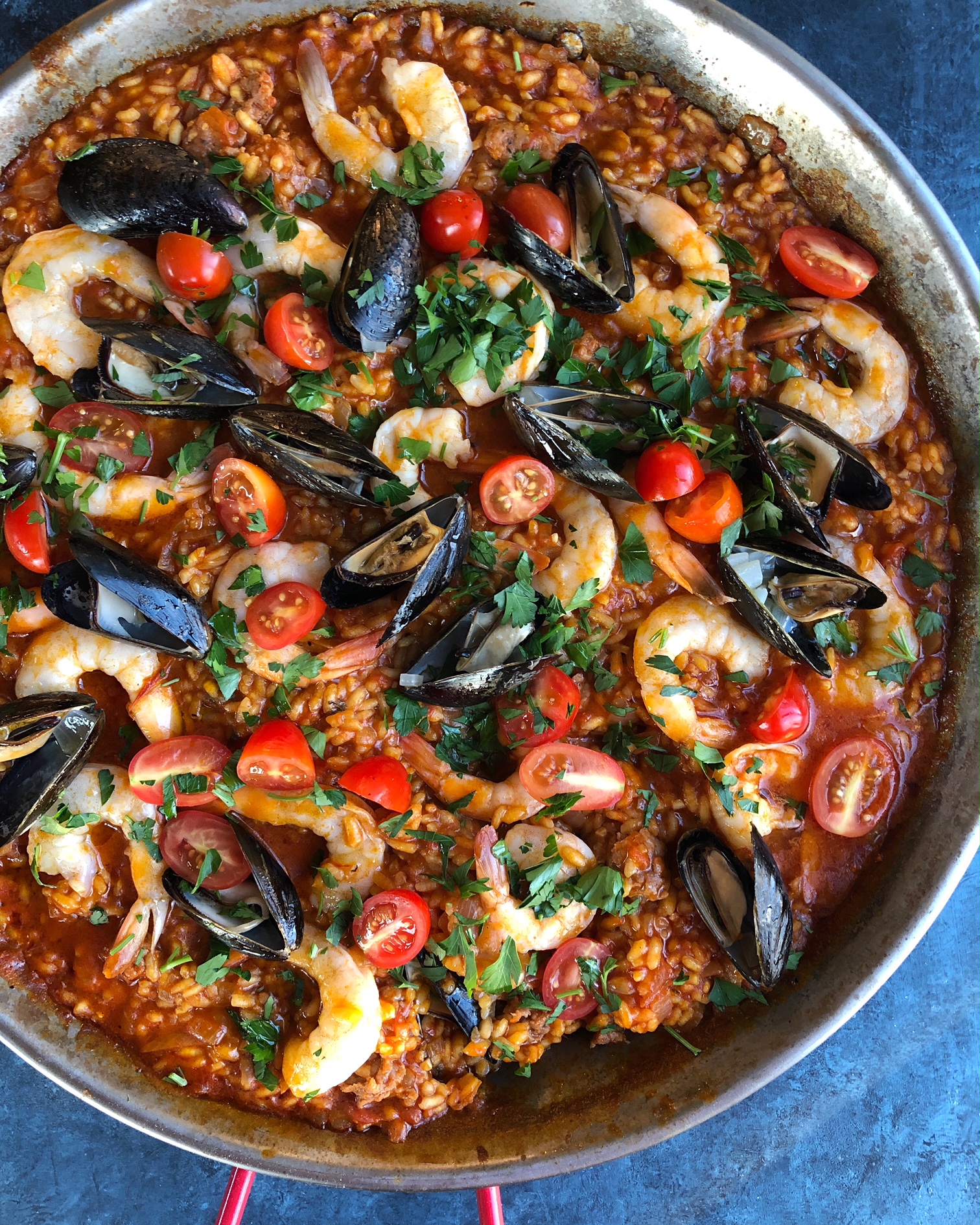 I used to stray away from difficult or time consuming recipes. .  but now I enjoy them. I think I just appreciate the different steps required in a recipe and the time it takes to make food right. And although I hate clean-up, I don't have a problem getting out different pots and pans in order to get something just right.
My family and I love seafood. Seafood is a great alternative to beef and chicken and is just as versatile. I decided to try something new and I made Seafood Paella! Something that's super hard, right? Well, you can make this at home and you don't even need a paella pan! If you have one great, but if not, we can make it work in a cast iron skillet!
The one thing I will stress is getting quality seafood. Spend the money and get some great, fresh, quality seafood. It makes all the difference!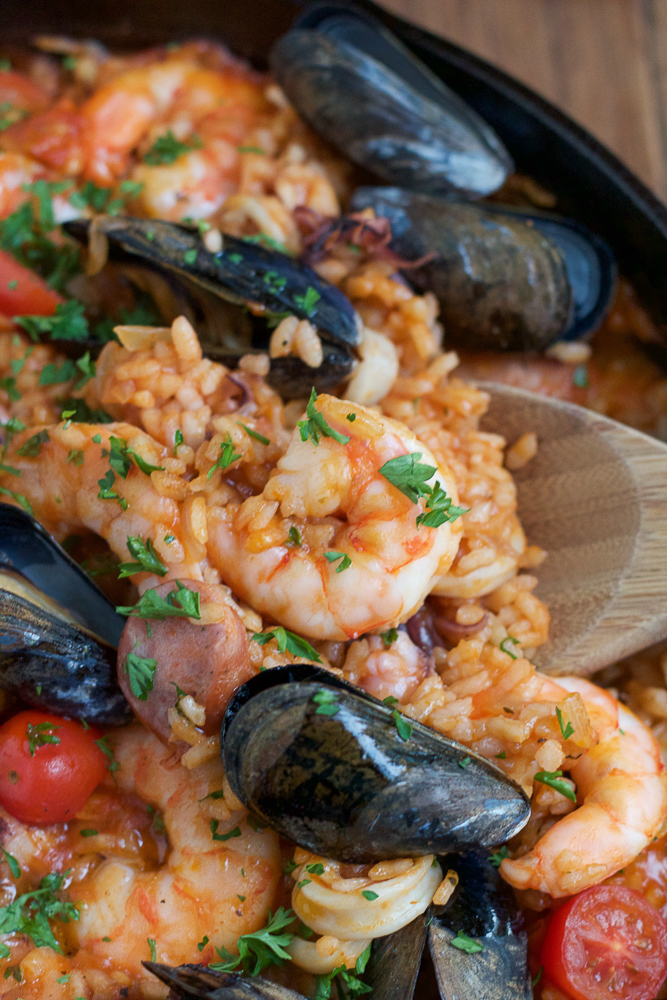 I used the Wild White Shrimp from Omaha Steaks. Yes, Omaha Steaks has shrimp you guys! In fact, not only do they carry shrimp, they also have salmon, cod, crab, lobster, scallops and seafood fillets! Their Wild White Shrimp are the best of the catch. They are delivered raw and individually flash-frozen to preserve all the freshness of the ocean waters where they're caught, every shrimp is peeled, de-veined, and de-tailed. With a delicate flavor and firm texture, these Wild White Shrimp are sure to impress any seafood lover.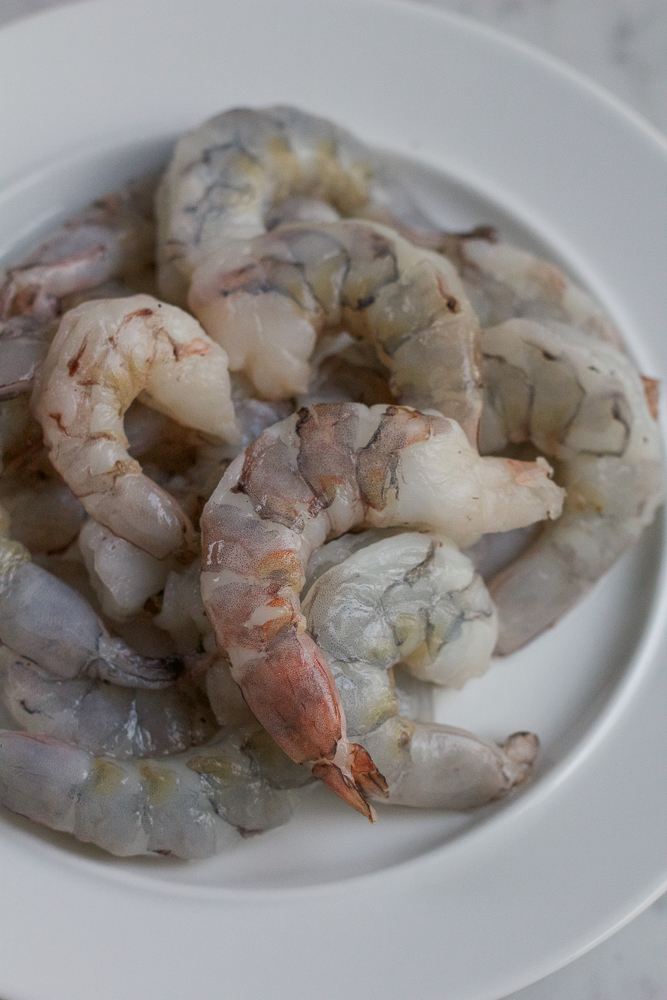 Now, this recipe does require some extra steps because I like to steam my mussels separately and then add them on top of the paella. But the results are amazing!! I mean, just look at this. This Seafood Paella works great for a family dinner or for entertaining. This is the most requested dish that I make and bring to parties and potluck dinners!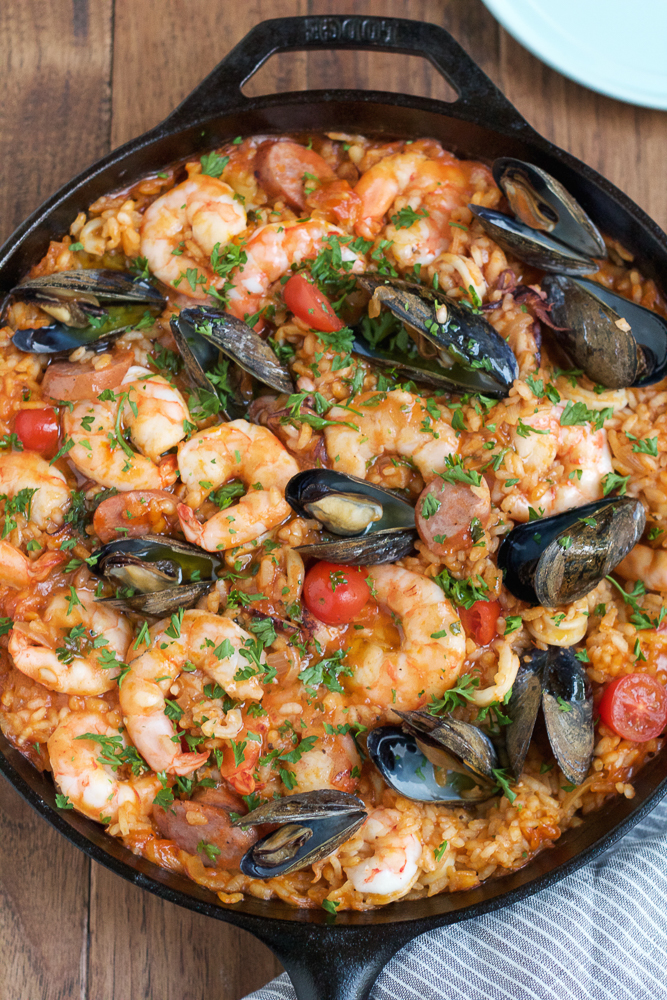 I hope you give this recipe a try!! This Seafood Paella is incredible!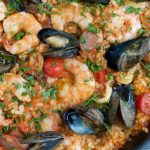 Print Recipe
Seafood Paella
Note for the cook: I do highly recommend using a paella pan if you have one, but you can also use a cast iron skillet. The more you make paella, the easier it will be to make! For the spicy Italian sausage, make sure it's been removed from the casing.
Ingredients
For the paella:
3

tablespoons

extra virgin olive oil

split + more if needed

1

onion

peeled and finely chopped

2 to 3

garlic cloves

minced or finely chopped

1

28 oz. can or jarred tomato sauce + more if needed

Kosher salt and pepper

2 to 3

teaspoons

smoked paprika

One pinch of saffron threads

4

cleaned small squid

sliced or chopped

2

cups

medium-grain Spanish paella rice or risotto rice

3

cups

chicken stock

plus 1 to 2 cups more if needed*

1

cup

dry white wine

1

pound

spicy Italian sausage

chopped, or broken up into pieces

1

12 oz. package fresh Wild White Shrimp

½

cup

cherry tomatoes; cut in half crosswise

fresh parsley

finely diced for garnish
For the mussels:
1 to 2

tablespoons

extra virgin olive oil

2

tablespoons

butter

1 to 2

shallots

minced

2 to 3

cloves

garlic

minced

½

pound

mussels

scrubbed and de-bearded (about 12)

1

cup

chicken stock

1/2

cup

dry white wine or ½ cup water
Instructions
For the paella:
Using your cast iron skillet or paella pan, heat 2 tablespoons of olive oil over medium-high heat. Add in the onions and sauté until softened, for about 3 to 4 minutes. Stir in the garlic and continue to sauté until fragrant, for about 1 to 2 minutes.

Add in the tomato sauce, season with salt and pepper and add in the smoked paprika and the saffron threads, mixing well, and cook for about 4 to 5 minutes. Add in the squid and cook, stirring, for a minute or so and then, add in the rice and stir well until all the grains are coated with the tomato sauce mixture and the rice is evenly distributed around the skillet or pan.

Using a separate small saucepan, bring the chicken stock and wine to a boil and then pour evenly over the rice. Turn up the heat to high and bring to a boil, and season with salt.

Turn the heat down to low and let the rice simmer for about 15 to 20 minutes. If it looks like you need more liquid to help your rice cook, you can add just a little more tomato sauce (1/4 cup to a 1/2 cup depending on how much you need) and more chicken stock* to the rice, half way through cooking. If you do this, pour evenly over the rice and then make sure the rice is still evenly distributed over the skillet.

Add in the sausage, either chopped, or broken up into pieces and evenly distribute all over the rice and stir and cook until the sausage is cooked and browned completely. As your paella is cooking, remember to keep mixing around the pan so it doesn't stick to the bottom as much. A little sticking is ok (and some people even like the really cooked bits stuck to the bottom) but you just don't want it to burn.

While the rice is cooking, prepare the mussels.
For the mussels:
Using a large sized saucepan or small pot, warm the butter and olive oil over medium-high heat, waiting until the butter has melted. Add in the minced shallots and garlic and sauté until the shallots are translucent and the garlic is fragrant, for about 1 to 2 minutes.

Add the mussels into the saucepan and pour in the chicken stock and wine or water. Immediately cover the pan with the lid for about 5 minutes. After about 5 to 6 minutes, lift the lid and check the mussels. Nearly all of the mussels should be open by now. If not, cover and cook an additional 1 to 2 minutes. You can mix the mussels around in the saucepan to get the sauce nicely distributed over them. Discard any mussels that haven't opened after this time. Do not consume any mussels that have not opened.

Once the rice is cooked, arrange the shrimp and tomatoes evenly over the rice and let cook. After the shrimp start to turn pink, flip them over and cook the other side. You want to cook the shrimp until they are just pink. Do not overcook.

Arrange the open mussels on top of the seafood paella, drizzle the remaining tablespoon of extra virgin olive oil over the top of the paella, garnish the parsley and serve immediately. Enjoy!
Click here to read my full post: SteakBytes.com
Make sure you are using fresh seafood, especially the shrimp. If the shrimp is already pink, that means it has already been cooked and will, therefore be tougher when eaten. And when purchasing mussels, most grocery stores do all the cleaning and debearding for you, but if you need to do it yourself, click here for a great resource for how to clean and debeard mussels.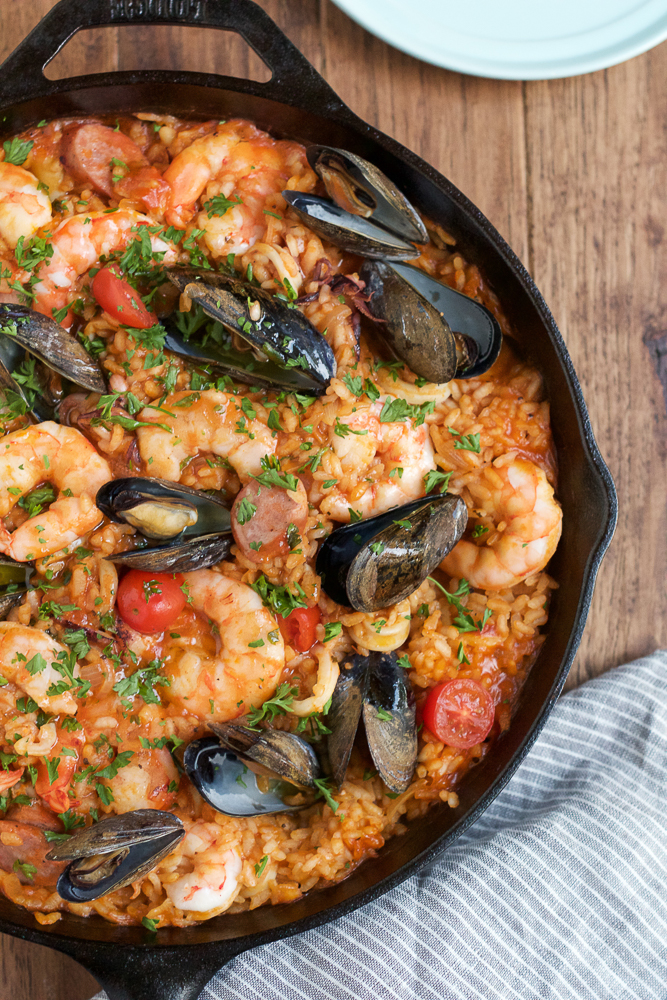 Disclosure: This is a paid, sponsored post in partnership with Omaha Steaks. All opinions expressed here are 100% my own. Thank you for supporting me in partnering with the brands and products that I use and love.