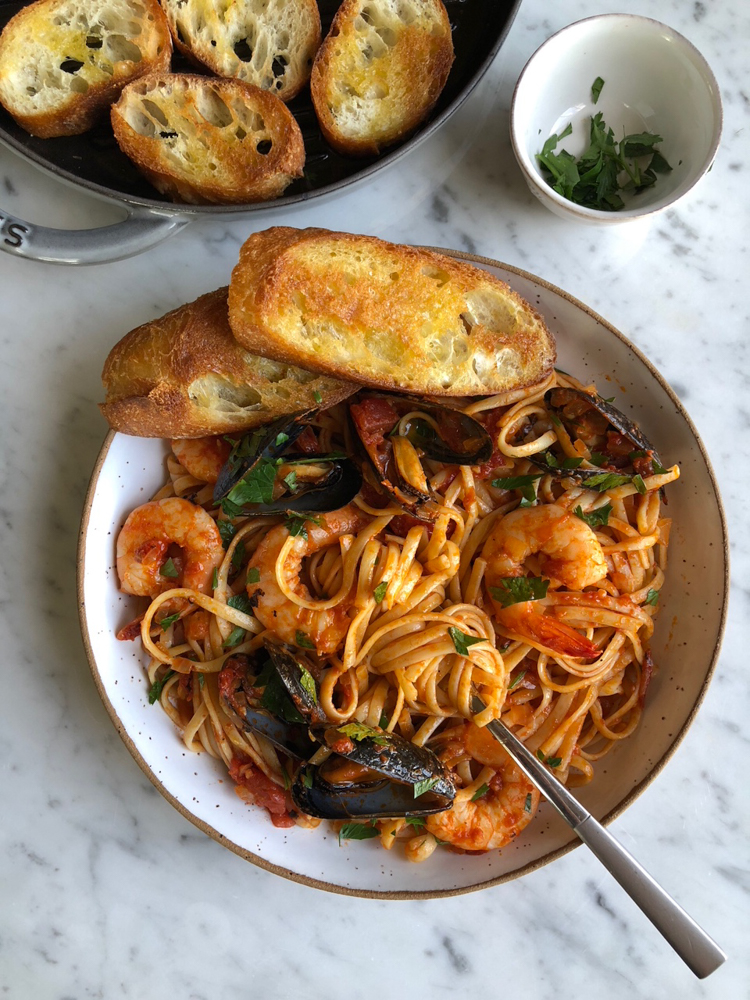 Seafood Pasta with Linguine Shrimp and Mussels. If there's one thing my family will always eat, it's seafood pasta. This one takes a little more time but it's so wonderfully delicious! 
Fall is right around the corner and for me, that means comfort food. Chili, stews, casseroles, lasagna and pasta. I want it all. And in the fall, I don't mind standing in the kitchen cooking for a little bit longer.  . maybe it's the cooler weather temps or the mixing and throwing things together that I love.
Ever since I mastered my Seafood Paella, my family wants seafood all the time. It's funny, because when we lived in Seattle, where fresh seafood is plentiful, we didn't eat that much of it. And now, we're in Madison, Wisconsin where everything is flown in. Regardless of how it gets here, we definitely like to eat a lot of it.
This Seafood Pasta is so incredibly flavorful. I love how the sauce comes together. .  I really hope you try this recipe. Your family is guaranteed to love it!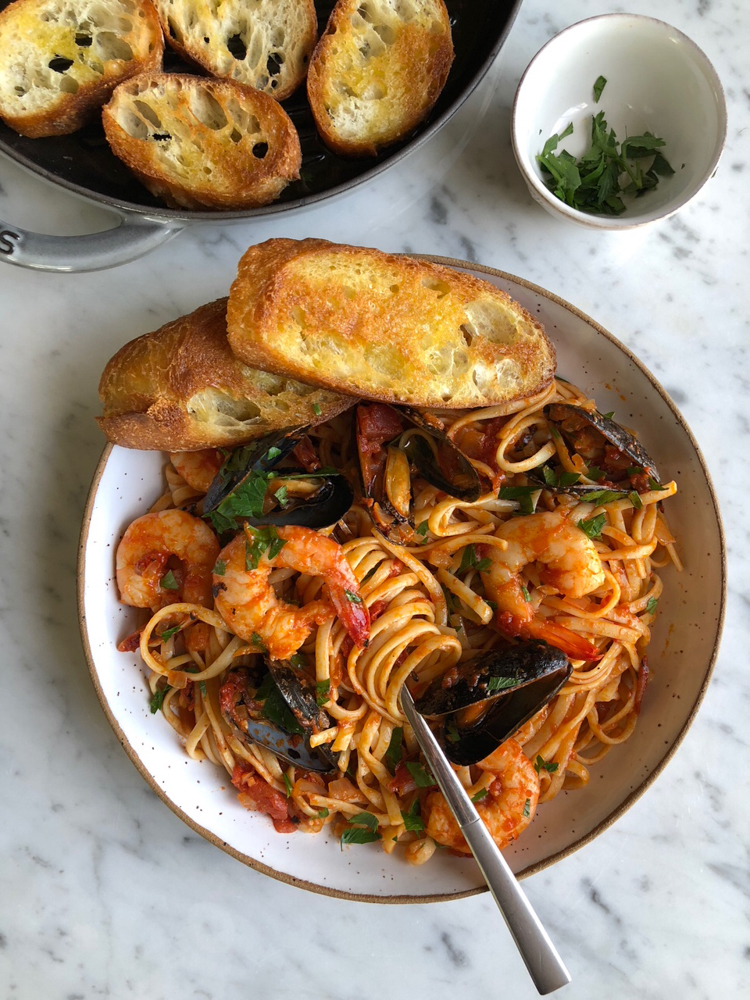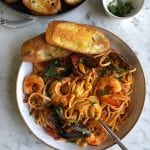 Print Recipe
Seafood Pasta
Ingredients
¼

cup

extra-virgin olive oil

1

medium onion

finely chopped

3 to 4

garlic cloves

minced

1/2

teaspoon

crushed red pepper flakes; optional

Kosher salt

3

tablespoons

tomato paste

1

cup

dry white wine

1 28-

ounce

can fire roasted crushed tomatoes

1

pound

linguine

1

pound

mussels

scrubbed, debearded

1

pound

large shrimp

peeled, deveined

3

tablespoons

unsalted butter

3

tablespoons

parsley; finely chopped
Instructions
Heat oil in a large heavy pot over medium heat. Cook onion, stirring occasionally, until golden and softened, for about 8 to 10 minutes. Add the garlic and red pepper flakes (if using) and season with some salt. Cook, stirring often, until fragrant and garlic is softened, for about 2 minutes.

Add the tomato paste and cook, stirring occasionally, until slightly darkened in color, for about 3 to 4 minutes. Pour in the wine and cook, stirring often, until the smell of the alcohol is almost completely gone, about 4 minutes. Add the crushed tomatoes and increase the heat to medium high. Cook, stirring often, until the sauce thickens slightly, for about 8 to 10 minutes. Taste and season sauce with salt.

Meanwhile, cook pasta in a large pot of boiling salted water, stirring occasionally, until al dente. Reserve 1 cup of the pasta cooking liquid and drain the rest.

Back to the sauce: Add in the mussels, shrimp, and ¼ cup pasta cooking liquid to the sauce. Cover and let cook until the mussels open, for about 3 to 4 minutes. Feel free to flip the shrimp, halfway through cooking. Using tongs, pick out the shrimp and mussels and transfer to a large bowl, discarding any mussels that have not opened.

Add in the cooked pasta and another ¼ cup pasta cooking liquid to the sauce and combine with the sauce. Reduce the heat to medium, add the butter, and continue to cook, stirring and adding more pasta cooking liquid if needed, until the sauce coats pasta, about 2 to 3 minutes. Remove from the heat, add the shrimp and mussels back to the pot, and toss to combine. Garnish with parsley and serve.
Adapted from Bon Appetit
Want more Seafood Pasta? Click here