Beef Chow Fun! A staple Cantonese dish, made from stir-frying beef, wide rice noodles and vegetables, this delicious Chinese Food dish will come together in no time at all! Skip the take out and try cooking Chinese food at home!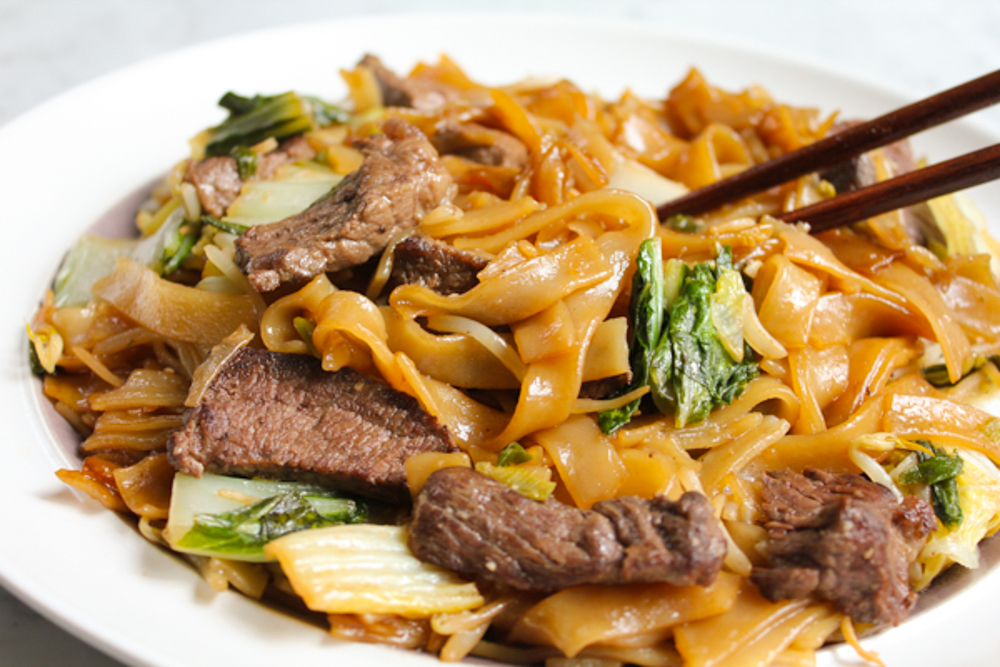 November 1st will mark the end of our first year here in Wisconsin. Although it's only been a year, it feels like a lot longer. Moving to the midwest right before our crazy long winter last year got me and kept me in the kitchen cooking…  just to keep busy.
Shortly after the move, we quickly discovered that there are hardly any options for good Asian food here… I'm not complaining though…  at least we have an Asian market and a Korean market, so I'm happy!!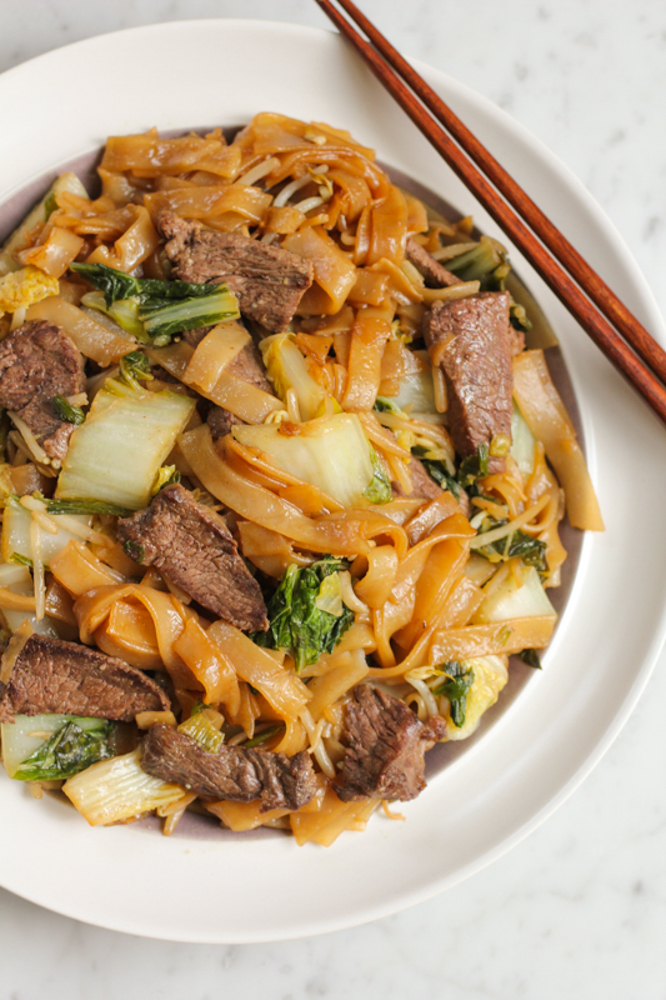 And that trip to Asian Midway Foods on Park Street made this dish possible. Now, if I can find the ingredients for this here in Madison, Wisconsin at my tiny little Asian market, you can too. And, I was pleasantly surprised that my little Asian market had fresh flat rice noodles!! However, if you can't find fresh, simply buy dry noodles. I've said this before but cooking Chinese food (or any Asian food) at home is so much better. You know exactly what's going inside and you can tweak things to your preference.
Now, cooking it at home isn't going to be faster than ordering take-out. .  but it's so worth it.
I have to say I am very pleased with how this Beef Chow Fun turned out. Beef Chow Fun is a staple Cantonese dish, made from stir-frying beef, hefen (wide rice noodles) and bean sprouts and is commonly found in yum cha restaurants in Guangdong and Hong Kong. 
Also, you get to say CHOW FUN. How fun is that?! I'm all about using what you have at home so I threw in lots of Chinese cabbage and some bok choy, along with my bean sprouts. LOVED this. loved this. And once you have your veggies and beef cut up, it all comes together pretty quickly! I really hope you give this one a try!
Enjoy!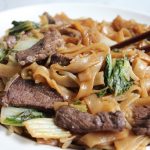 Print Recipe
Beef Chow Fun
If you are using dry wide, flat rice noodles, cook before adding into the wok.
Ingredients
3

tablespoons

sesame oil; split

8

oz.

boneless beef short rib

sliced into about 1 or 1 1/2 inch pieces

1 to 2

teaspoons

fresh ginger

minced

1 to 2

fresh garlic cloves

minced

4

scallions or green onions

split in half lengthwise and cut into 3 inch pieces

2 to 3

cups

bok choy

chopped

1 to 2

cups

Chinese cabbage

chopped

12

oz.

fresh flat rice noodles

if purchasing fresh noodles, separate the noodles as much as possible before adding in

2

teaspoons

Shaoxing wine

Chinese rice wine

4

tablespoons

low sodium soy sauce

pinch

of white granulated sugar

salt and pepper

to taste (if desired)

2

cups

fresh mung bean sprouts
Instructions
Using a large wok or skillet over high heat, pour in 1 tablespoon of sesame oil to coat the wok. Add the beef short rib and cook until browned. Remove the cooked meat from the wok and set aside.

Turn the heat down to medium-high and add 1 tablespoon of sesame oil to the wok, add the ginger and the minced garlic and let cook for about 15 to 30 seconds, then add the scallions. Mix and let cook for a minute or two and then add in the bok choy and Chinese cabbage and mix well, stir frying everything for about 4 to 5 minutes.

Turn the heat up to high and add in the flat rice noodles. Pour the shaoxing wine around the rim of the wok and add the remaining 1 tablespoon sesame oil, soy sauce, pinch of sugar, and season with a bit of salt and pepper to taste if desired (Taste the noodles before adding salt. Alternatively, you can skip the salt and pepper and add a touch more soy sauce if needed), mixing and combining everything really well. Lastly, add the cooked beef and bean sprouts, mixing everything really well for a few minutes, ensuring the noodles, veggies and beef are nicely coated with the sauce. Serve immediately and enjoy!
Adapted from The Woks of Life