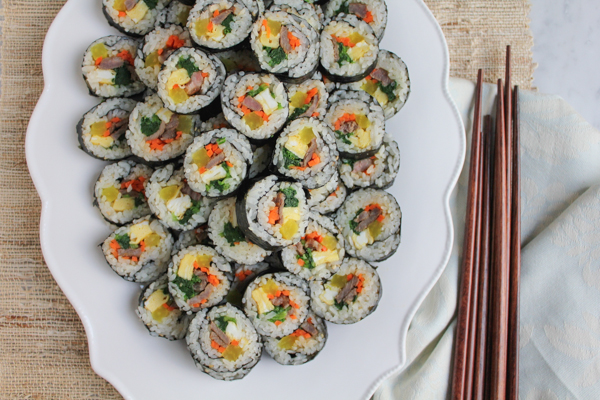 Entertaining with Kimbap!
Kimbap or Korean Sushi, is a popular Korean food dish made from steamed white rice (which is "bap" in Korean) and other ingredients such as bulgogi, spinach, yellow pickled radish, eggs and more. It's rolled in gim (sheets of dried roasted seaweed), with the gim on the outside and served in small, bite-sized pieces.
I remember the days when I was a kid. A kid trying to be American and growing up in a very Korean-American household. My parents spoke fluent English and Korean and would speak both, or a mixture of the two "Konglish", to us at home. My parents loved Korean food so we were exposed to a lot of different kinds of Korean food growing up.
I remember the days when I had friends come over after school and I'd be embarrassed by all the weird looking Korean food items laying around the kitchen, like dried seaweed (gim) in a container or dried cuttlefish or shredded squid. The worst would be when my friends and I would open our refrigerator to grab a drink and they would catch the huge whiff of kimchi. That completely recognizable, garlicky smell made me cringe every time.
That was then.
I was a young, foolish, silly kid trying to embrace my American-ness when I should have been celebrating my Korean-ness.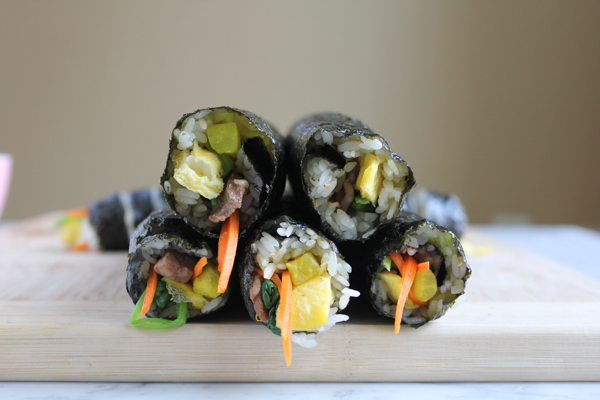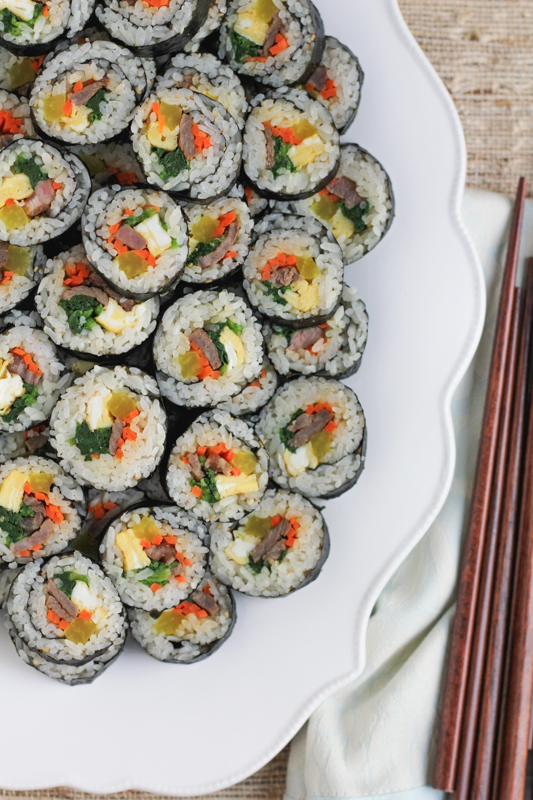 And even though I had no interest in being in the kitchen or learning how to cook, my mother dragged me in there and taught me how to make kimbap. Don't get me wrong, I loved eating Korean food (with the exception of kimchi would I finally acquired a taste for in college and absolutely LOVE it now), I just didn't want to learn how to make it.
Thank God for my mother. My awesome, smart and wise mother who put up with my crap when I was a kid.
Now, I am exposing my girls to Korean food and feeding it to them as much as possible. They are still young and are not embarrassed by anything yet. I hope this doesn't change. I mean, I feel like it's a different world now. Ethnic foods have gained so much exposure and popularity.
I mean, you can buy kimchi and gim (dried seaweed sheets) at Costco! I freaking love that! Entertaining with Kimbap and Tips on How to Make Your Own Rolls!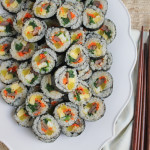 Print Recipe
Korean Kimbap
Note for the cook: You can find all of the items and ingredients below at your local Korean market. This recipe makes 6 rolls.
Ingredients
Helpful items:
A bamboo rolling mat

Disposable gloves

A small bowl of water

A wood cutting board or other clean surface

A sharp knife
For the carrots:
2-3

large carrots

1/2

teaspoon

sesame oil

Pinch

of salt
For the spinach:
1/2

pound

spinach

uncut with stems on and blanched

Sesame oil; start with 1 teaspoon

Pinch

of salt

Sesame seeds
For the eggs:
3

eggs

Pinch

of salt

1

teaspoon

extra virgin olive oil
For the rice:
3

cups

cooked white medium grain rice; slightly cooled

Sesame oil; start with 1 tablespoon

Pinch

of salt

Sesame seeds
For the kimbap:
6

sheets dried roasted seaweed

gim

3

cups

cooked seasoned white medium grain rice

6

strips yellow pickled radish

purchase the package that has the radish is already cut

2-3

large carrots

1/2

pound

spinach

blanched

3

eggs

1

pound

cooked Korean bulgogi

see recipe link below this recipe card

Sesame seeds
Instructions
For the bulgogi:
Marinate and cook the bulgogi based on the link to the recipe above.
For the carrots:
Using your KitchenAid® 9-Cup Food Processor, insert the Julienne Disc and place your carrots (as shown in the photo above) into the largest opening of the wide mouth feed tube. Turn the KitchenAid® 9-Cup Food Processor on LOW and press the carrots down into the feed tube. Remove the julienned carrots and set aside, repeating until all of your carrots are julienned.

Using a non-stick pan over medium heat, heat the sesame oil and add in the julienned carrots, sautéing them for only a few minutes. You just want to soften them a bit. Season with salt, remove from the heat and place on a large platter.
For the spinach:
Season the cooled, blanched spinach with sesame oil, starting only with one teaspoon. Season with salt, taste and adjust any seasonings. Sprinkle with a touch of sesame seeds and place on the platter with the carrots.
For the eggs:
Using a medium-sized bowl, whisk the eggs with the salt and using a large non-stick pan over medium low heat, heat the olive oil. Pour the beaten eggs into the pan and leave flat, filling up the entire pan. Cook your eggs, remove from the pan, cut into long, thin strips and place on the same platter with the vegetables.
For the rice:
Place cooked white rice into a large bowl and let cool for at least 10 to 15 minutes. Starting with 1 tablespoon, mix in the sesame oil and salt. Mix well and taste. Add just a touch more sesame oil if needed but do not overdo it. Your rice only needs a hint of sesame oil for taste. Sprinkle with sesame seeds, mix one last time and set aside.

Once you have all of the kimbap filling ingredients ready to go, set up everything at a table, making sure you have everything you need close by.
For the kimbap:
Take one sheet of the dried gim and place onto your bamboo mat (make sure the bamboo sticks are horizontal). Spread about a 1/2 cup of cooked, seasoned rice onto 2/3 of the gim, spreading it evenly with your fingers. Tip: leave at least one inch uncovered (with no rice at all) at the top. This will help you to seal your roll at the end.

Lay in all of the ingredients (bulgogi, carrots, spinach, eggs, and yellow pickled radish) side by side down at the bottom, leaving about an inch of exposed rice down at the bottom. Using the bamboo mat on the end closest to you, roll from the bottom up and over the ingredients (like you're rolling a sleeping bag), pressing down gently but firmly to make the fillings stay in. As you continue to roll, pull the mat up and straighten it so that it doesn't get caught in the roll. Continue until you have reached the edge of the gim.

Using your fingers, dab just a little bit of water along the top seam of the dried seaweed and roll to seal it closed. Roll and gently squeeze one last time with the bamboo mat, set aside and continue with the other seaweed sheets.

When all of the rolls are finished, using a sharp knife, dip the knife into the water and lift the knife up so the water runs down the blade. This will help you to get a nice, clean cut. Slice each roll into about 8-10 pieces. You can eat the end pieces immediately as these are not flat and usually not placed on the platter. Sprinkle on some sesame seeds and enjoy!
Click here for my bulgogi recipe
So, click on over to KitchenAid's blog, The Kitchenthusiast, for this wonderful recipe, my TIPS on how to make the perfect kimbap roll and to read my post.
And the great thing about kimbap? It's so versatile. . you can put just about anything you want inside. I made a very traditional version above with bulgogi but you can also make veggie rolls or a non-meat roll (sautéed asparagus, spinach, yellow pickled radish, cucumber and eggs), or switch out the bulgogi for crab meat. The possibilities are endless!!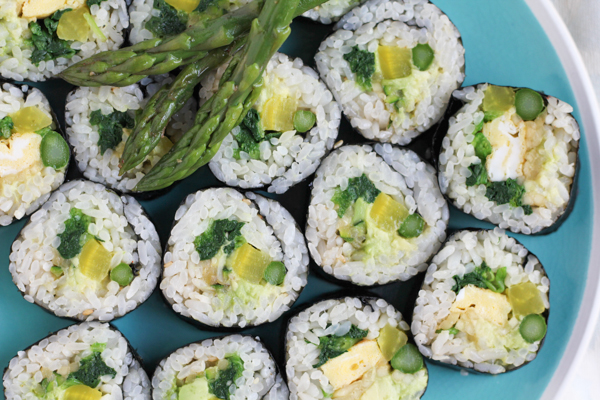 I hope you enjoy!
Disclosure: This is a sponsored post. I am a regular contributor to KitchenAid's Blog, The Kitchenthusiast. All opinions expressed here are 100% my own. Entertaining with Kimbap and Tips on How to Make Your Own Rolls!