My husband and I love hummus. He was actually the one who wanted to buy our food processor and was the one who made our homemade hummus for the first time a year or 2 ago. If I don't watch myself, I can seriously gobble down an entire bowl of this stuff. . especially with toasted pita bread (oh!) and most recently, my new fave with hummus is fresh veggies: carrots, cucumbers and yellow or orange bell peppers (ah!). Love the stuff.
Homemade hummus is extremely easy if you have a food processor. . so, go for it! I have 2 recipes below, one for Traditional Hummus and one for Roasted Red Bell Pepper Hummus (my husband's fave). For the roasted red bell pepper one, you can roast your own bell peppers, directions here. Or simply buy some already roasted in a jar and just chop them up and throw them in the food processor.
I was inspired to soak my garbanzo beans and add the paprika on top (isn't it pretty?) after reading Mrs. Buena Vida's Hummus recipe. And I just went searching for a better Roasted Red Bell Pepper hummus recipe (than what my hubby did) and loved Guy Fieri's because he incorporates cilantro! Lovely!
Hope you enjoy!
Traditional Hummus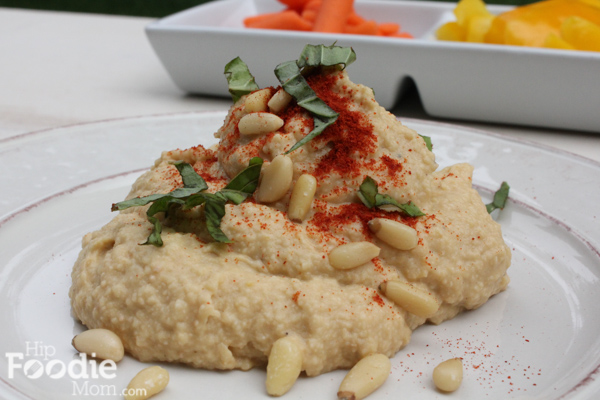 Roasted Red Bell Pepper Hummus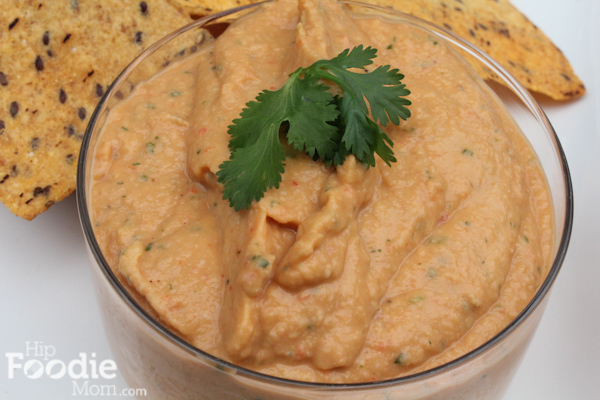 Hummus: Two Ways!
Recipes below are for Traditional Hummus and Roasted Red Bell Pepper Hummus
Recipe type:
Appetizer or Snack
Ingredients
TRADITIONAL HUMMUS:
2 (15.5-ounce) cans no-salt-added chickpeas (garbanzo beans), rinsed and drained
2 garlic cloves, crushed
½ cup water
¼ cup tahini (sesame seed paste)
3-4 tablespoons fresh lemon juice
2 tablespoons extra-virgin olive oil
¾ teaspoon salt (more to taste)
¼ teaspoon black pepper
paprika, pine nuts and shredded fresh basil (optional)
ROASTED RED BELL PEPPER HUMMUS:
1 (15.5-ounce) can no-salt-added chickpeas (garbanzo beans), rinsed and drained
6 ounces roasted red bell peppers
1 jalapeno, seeded, diced
1 tablespoon chopped garlic
3 tablespoons chopped cilantro leaves
1 teaspoon paprika
3 tablespoons chopped onion
1 teaspoon freshly cracked black pepper
1 tablespoon chipotle pepper (optional)
¼ cup extra-virgin olive oil
Toasted pita bread, for serving
Instructions
FOR TRADITIONAL HUMMUS:
Soak your garbanzo beans for a few hours if you can. This helps to soften them but if you can't, no worries at all!
Place the beans and garlic in a food processor; pulse 5 times or until chopped. Add ½ cup water and remaining ingredients; pulse until smooth, scraping down sides as needed.
Dress/garnish how you want. Serve with chips, fresh veggies or toasted pita bread.
FOR ROASTED RED BELL PEPPER HUMMUS:
Mix all ingredients, except the olive oil, in a food processor until pureed, then slowly add in the olive oil.
Serve with toasted pita bread.
You might also like...