Fusilli Pasta Salad.  Yum!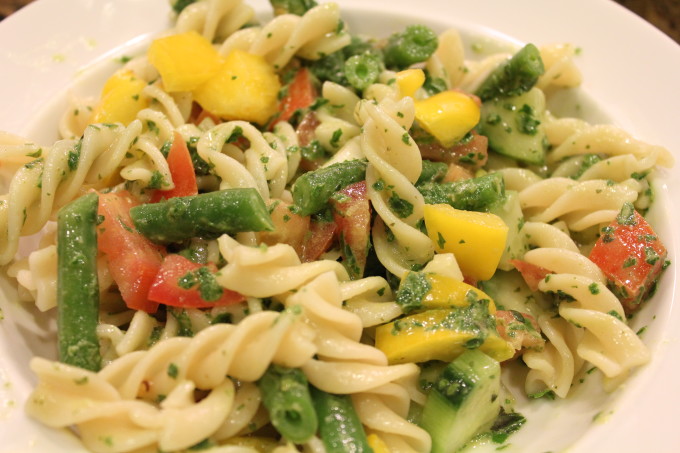 So, summer is just about here in Washington and I can't wait! Supposedly summers here are THE BEST! The weather is perfect, people are outside, soaking up the sun and smiling 🙂 This will be our first summer in Seattle and I – C-A-N-'T W-A-I-T!
To me, SUMMER = grilling, sun, cold drinks and pasta salad! I love me some pasta salad. . it's something about all the fresh vegetables along with the pasta and dressing. . and as long as you don't overdo it, it's light and fresh and super yummy.
Here's my Fusilli Pasta Salad recipe with a slight twist (for the better). It's using the basil vinaigrette from the chunky salad recipe I got from Mrs. Buena Vida. I just love the smell of basil, all the colors and vegetables in here. You can use whatever veggies you want! ENJOY!
FUSILLI PASTA SALAD
INGREDIENTS FOR PASTA SALAD
1/2- 1 lb of fusilli pasta (depending on how much you want to make); Orecchiette pasta would probably work too & look really pretty.
2 roma tomatoes, diced
1-2 cucumbers, diced
1/2 yellow bell pepper, chopped
1-2 cup green beans, cut
1/2 red onion (for color) (although I ran out so used white or yellow organic onions)
Salt and pepper to taste
1-2 tbsp of crumbled bleu cheese (optional for sprinkling)
BASIL VINAIGRETTE DRESSING
1/2 clove fresh garlic, optional (or crushed garlic)
2 Tbsp raw apple cider vinegar (or any wine vinegar like brown rice vinegar)
1/2- 1 Tbsp dijon mustard
2 Tbsp olive oil
1 cup fresh basil
DIRECTIONS
Make pasta according to package. Rinse, drain and set aside.
Steam your green beans; all of the other veggies can and should be raw.
Wash and chop up all of your vegetables and set aside in a large bowl.
For the DRESSING: In a mini food processor, run the garlic through. Except for the basil, pulse the remaining dressing ingredients until emulsified (kind of creamy looking). Then, add the basil and pulse a few times leaving the basil a little chunky.
Combine everything together in one, large bowl. Mix gently and serve.
Sprinkle with bleu cheese. Why? Why not? (I had some left over from bleu cheese burgers we made and it was delish with the pasta salad)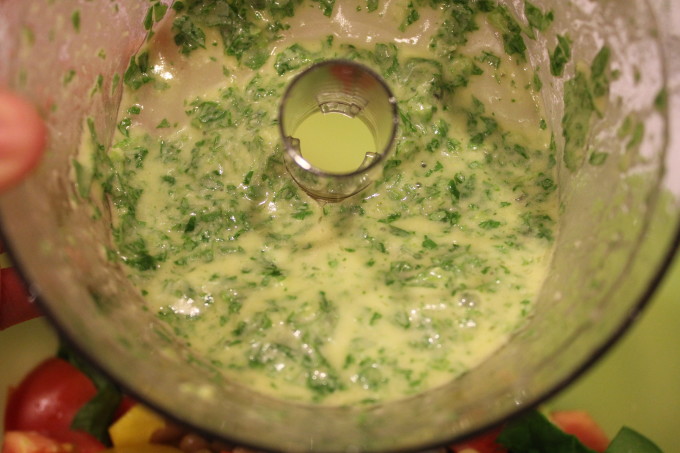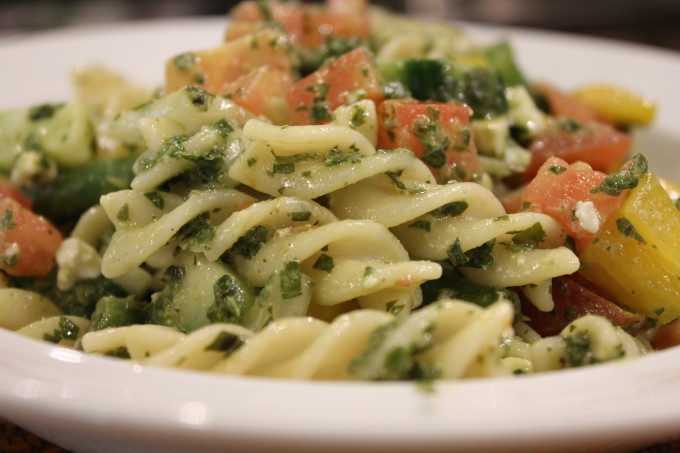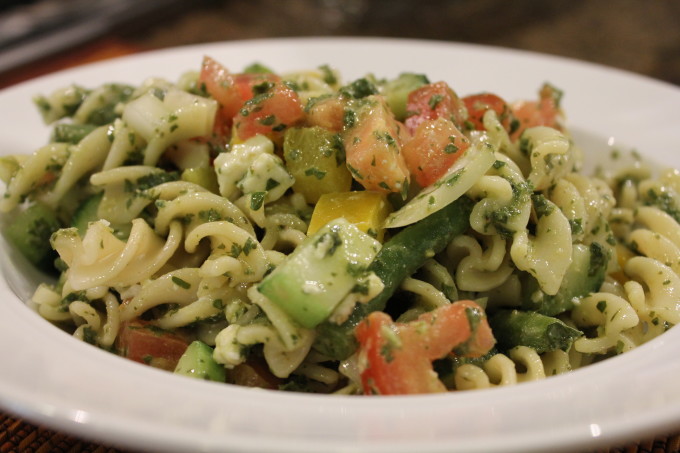 You might also like...