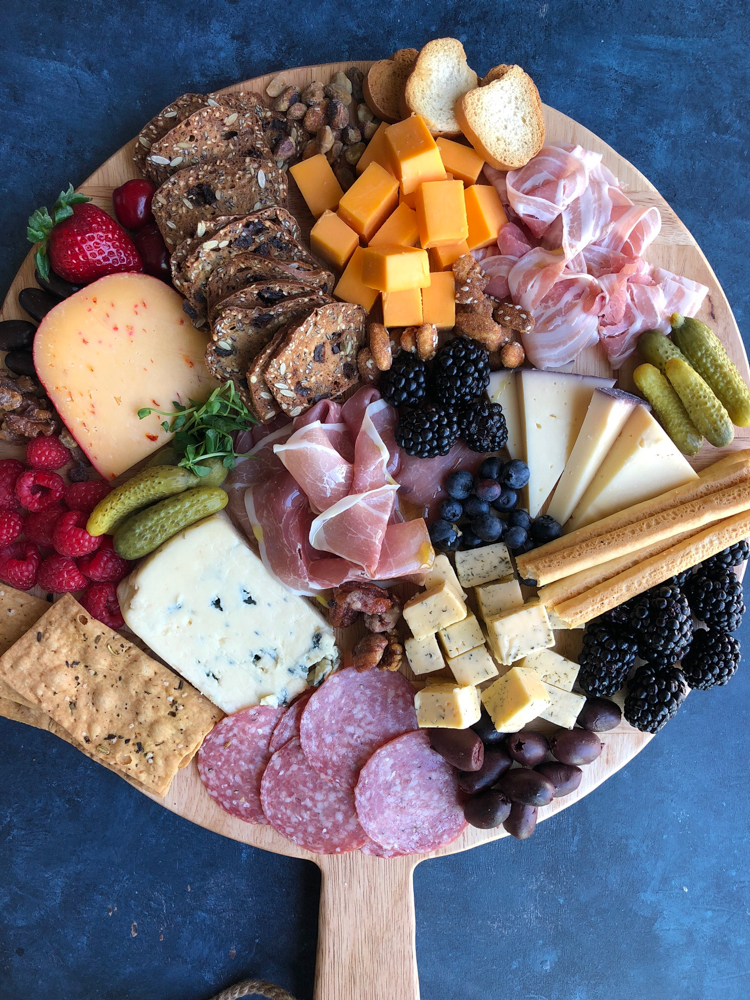 How to Build a Cheese and Charcuterie Board! Entertaining can be so easy simply by putting together a cheese and charcuterie platter. All you have to do is buy everything and assemble! There is no cooking involved!
If you know me, you know I like a good cheese and charcuterie platter. I think my fondness for all things cheese and charcuterie developed after moving here to Wisconsin. .  home of some of the best cheese I've ever tasted! After that first perfect bite of blue cheese with some prosciutto on a cracker, I was hooked.
I've learned over the years what, in my mind, makes the perfect board or platter. First you must have these things:
Cheese: all types (hard, soft, crumbly) and cut into different shapes. Some wedges I leave as is, some I cut into cubes and some I cut into triangle pieces
Charcuterie: again, all types, different shapes and textures and flavors
Fruit: dried or fresh, use what's in season
Crackers or bread or both: get an assortment
Nuts: almonds, candied walnuts, get a mix of your favorites. I like to add some that have a little heat too
Pickled things: cornichons (pickled French gherkins), pickled beets, pickled asparagus, basically anything that will give you that great sweet and sour note to help balance the saltiness and creaminess from the cheese and charcuterie
Jams or preserves for something sweet
Olives: get an assortment of green and black
Next, you just have to visualize everything and have some fun. There's no right or wrong way to do it. Just arrange everything on there, make sure you have plates, knifes and napkins and your guests will be good to go!
Over the years, I've made probably over 50+ cheese and charcuterie boards. .  sometimes I have some fun and add completely unexpected things like baked popcorn tofu and pan fried tortellini just for kicks! Just have some fun and make it delicious!
I hope the video helps! If you have any questions, please let me know. and if you make one this summer, let me know and share the photo on social media! Cheers!