If you follow me on Instagram, you know I was in Miami this past weekend for BlogHer Food. I had such a great time meeting everyone, attending sessions, learning, networking, mingling and just having fun.
Highlights were: meeting Ree, meeting Elise, meeting David, seeing friends and attending the best wine and cheese party ever. In fact, pretty much the entire weekend was filled with sampling and eating appetizers, small plates and everything else in between. I'm all about apps or small servings. .  because, to me, that means you can have more and get a variety!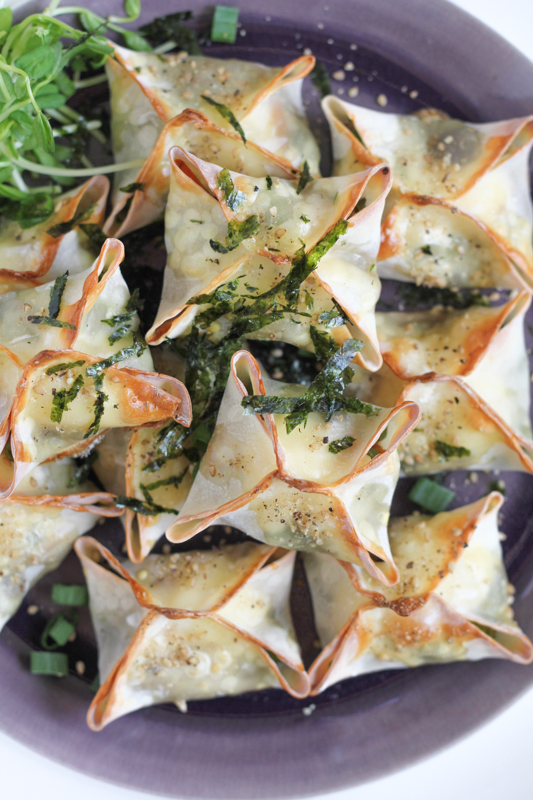 These are my baked veggie wontons and I love these small bites of deliciousness so much! They are super simple and quick to make and they are so versatile! You can customize what you put inside and you can make a few different fillings to meet various dietary needs, like and dislikes etc. These are vegetarian but you can easily throw in some ground beef or ground turkey for the meat lovers in your family.
So, if you're looking for a great appetizer to serve at your next party, or simply looking for something easy and delicious, you've got to check out this recipe.

Baked Veggie Wontons
Makes about 50 wontons.
Ingredients
2 tablespoons sesame oil
½ yellow onion, diced
1 to 2 cloves fresh garlic, minced
2 to 3 medium- to large-sized carrots, shredded
1 (1-pound) bunch asparagus, diced (discard the bottom ends)
1 (8-ounce) package cremini mushrooms, diced
1 cup peas, fresh or frozen
1 bunch scallions, diced
Salt and pepper, to taste
2 teaspoons soy sauce
1 teaspoon roasted sesame seeds, plus more to garnish
1 heaping teaspoon crushed red pepper flakes (optional, for some heat)
12-ounce package square wonton wrapper skins (about 50 skins)
7 ounces cream cheese
Egg wash, made with 1 egg yolk + 1 teaspoon water, mixed together
Roasted sesame seeds or seaweed gomasio, for garnish
Dried salted seaweed (or gim), cut thin or crumbled, for garnish
Dipping sauce, to serve
Instructions
Read the full recipe at The Kitchn.
You can find the full recipe at
The Kitchn
. I hope you enjoy!
Disclosure: I am a regular contributor to The Kitchn. Visit The Kitchn for great kitchen tips, recipes and more. 
You might also like...