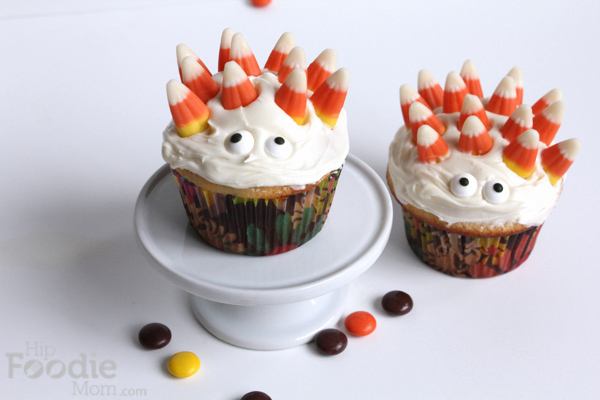 Monster and Mummy Cupcakes for a Halloween Party!!! See how to make these adorable and scary cupcakes for your kids!
Halloween is this week!!
Can you believe it? I certainly cannot. We are in Minneapolis, MN visiting my sister before the big move into our house in Madison, WI.  And my girls are in for a big treat.
They get to go trick-or-treating with their cousins. Oh happy day. They are thrilled.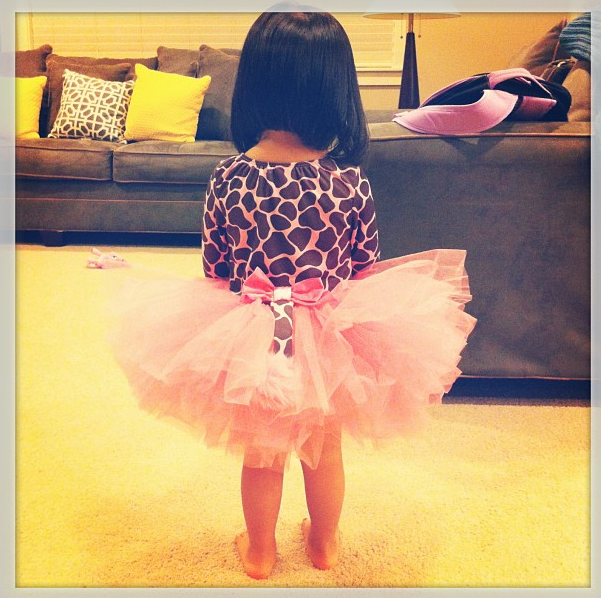 So, Madeline initially chose this as her Halloween costume. She has since changed her mind three times. Kids. My guess is that she will probably end up in a princess dress but we'll see. She never ceases to surprise me.
Candy, dressing up and more sweets. .  it's no wonder every kid loves Halloween.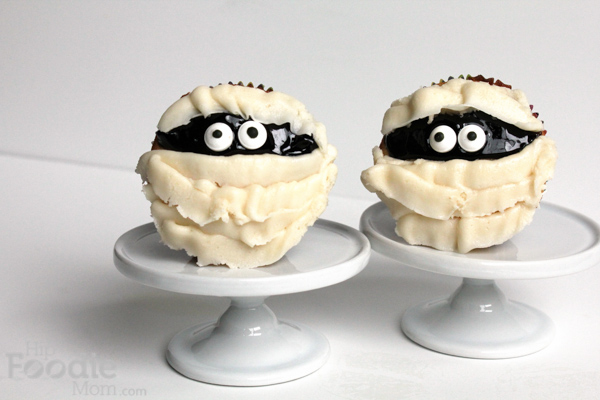 If you're having a Halloween party, these Monster and Mummy cupcakes are great! On the Candy Corn Monster cupcakes, the kids can totally help decorate them and if they are good with piping frosting, which as you can see, I still need to work on, let them have a go at the mummies! And younger kids can help with the eyes.
Either way, it's fun for the whole family!
Have a great Halloween and be safe!!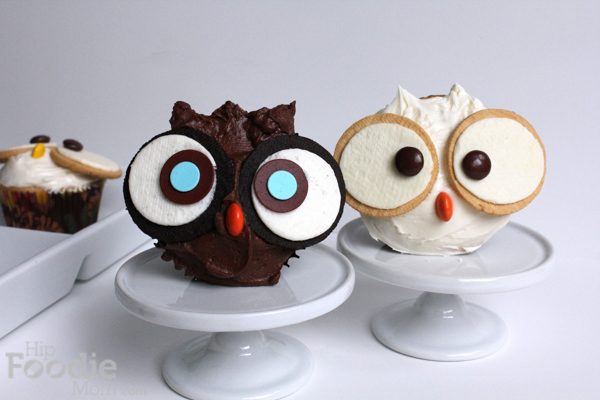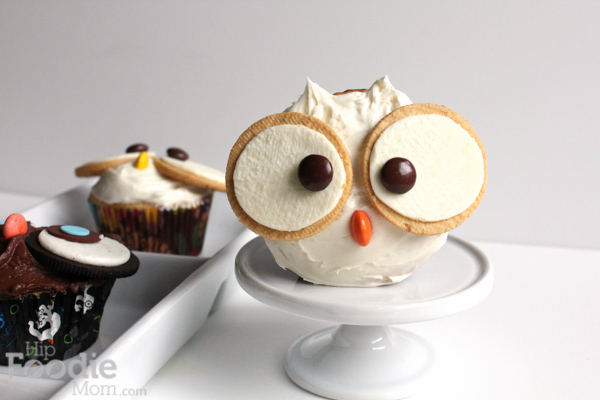 And although these cupcakes are not SPOOKY or scary, they are super adorable. I call these cupcakes dressed up like owls so I have to share these with you! Get creative, break out the Oreo cookies and some M&Ms or Reese's pieces and you are set! Enjoy!
Monster and Mummy Cupcakes for a Halloween Party #SundaySupper
For the Owls, just make the frosting peak up for the ears (doing by hand). For the mummies, you will need a pastry bag and a tip to apply the mummy frosting. Recipe makes 24 cupcakes.
Ingredients
FOR THE CUPCAKES:
3 cups cake flour
1 tablespoon baking powder
1 teaspoon kosher salt
2 sticks (1 cup) unsalted butter, at room temperature
2 cups granulated sugar
4 large eggs, at room temperature
1 tablespoon vanilla
1 cup whole or 2% milk
¼ cup Sprinkles; any kind (optional)
FOR THE FROSTING:
2 sticks (1 cup) unsalted butter, at room temperature
4 to 6 cups confectioners sugar
¼ cup whole or 2 % milk
1 tablespoon vanilla extract
FOR THE DECORATIONS/TOPPINGS:
Golden Oreo cookies (you're only using the side with the creme filling)
Reeses pieces
Candy corn
Black icing for the mummies
Candy eyes
Instructions
FOR THE CUPCAKES:
Preheat oven to 350 degrees (F). Line your cupcake tin with cupcakes liners and set aside.
Using a large mixing bowl, combine and whisk together the flour, baking powder and salt together and set aside. Using your stand mixer (or hand mixer) fitted with the flat beater attachment, beat together the butter and sugar until pale and fluffy. Scrape down your mixing bowl with a rubber spatula if needed. Add in the eggs, one at a time, beating after each addition. Add in the vanilla and beat until incorporated.
With the mixer running on low, slowly add in half of the flour mixture into the wet ingredients and beat until just combined. Scrape down your mixing bowl with a rubber spatula if needed. With the mixer running, slowly pour in the milk, and then add in the remaining flour. Mix until everything is just combined. Be careful not to over mix the batter. Lastly, if making funfetti cupcakes, pour in the sprinkles and mix by hand, with your rubber spatula, gently.
Spoon the cupcake batter into the cupcake liners (filling about ½ to ¾ way full) and bake for about 18-20 minutes or until a tester inserted comes out clean. Let cool completely, and then frost.
FOR THE FROSTING:
Using a stand mixer, beat together the butter and confectioners sugar together (adding about ½ cup of confectioners sugar at a time until it has reached your desired sweetness and texture). Slowly mix in the milk (you may only need ⅛ cup) and the vanilla extract, beating until slightly stiff and well combined, for about 3 minutes. Refrigerate for at least 10 minutes and then frost the cooled cupcakes.
FOR THE DECORATIONS:
Now, decorate!! And have fun. . and let the kids help too!
For the owls, put on the frosting using an offset spatula, and make the frosting peak up for the ears (or, a butter knife works too). Then, apply the Oreo cookies (you are only using the side with the creme filling) and place on the Reese's pieces for the eyes and nose!
For the monsters, put on the frosting, apply the candy corn and then the candy eye balls.
For the mummies, put on the black icing first and spread. Then, using a pastry bag and flat tip, apply the vanilla buttercream frosting, line by line, as shown in the photos. Lastly, put on the candy eye balls.
I've shared these on my blog before but sharing them with you again today for Halloween!
Vanilla cupcake recipe adapted from Ashley over at Baker by Nature, love her blog!  For the Chocolate Buttercream Frosting on the chocolate owl, I used Alice Currah's over at Sweet Savory Life.  For my Chocolate Owl, you might be wondering what I used for his eyes. .  if you're familiar with Sprinkles Cupcakes, I had a package of their candy toppers on hand, so used some of those for my chocolate owl's eyes!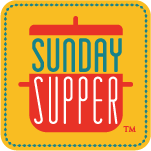 Today we are celebrating a HALLOWEEN SundaySupper. .  so break out the spooky eyes, witches brew and monster cookies!!! The lovely Kathia from Basic N Delicious is hosting today, horray!! so check out the awesome list and cocktails, sweet treats and more!!
Halloween Sunday Supper
COCKTAILS
SWEETS AND DESSERTS
CUPCAKES, COOKIES AND MORE
APPETIZER, MAIN MEALS
Join the #SundaySupper conversation on Twitter each Sunday. We tweet throughout the day and share recipes from all over the world. Our weekly chat starts at 7:00 pm EST. Follow the #SundaySupper hashtag and remember to include it in your tweets to join in the chat. Check out our#SundaySupper Pinterest board for more fabulous recipes and food photos.
Would you like to join the Sunday Supper Movement? It's easy. You can sign up by clicking here → Sunday Supper Movement.