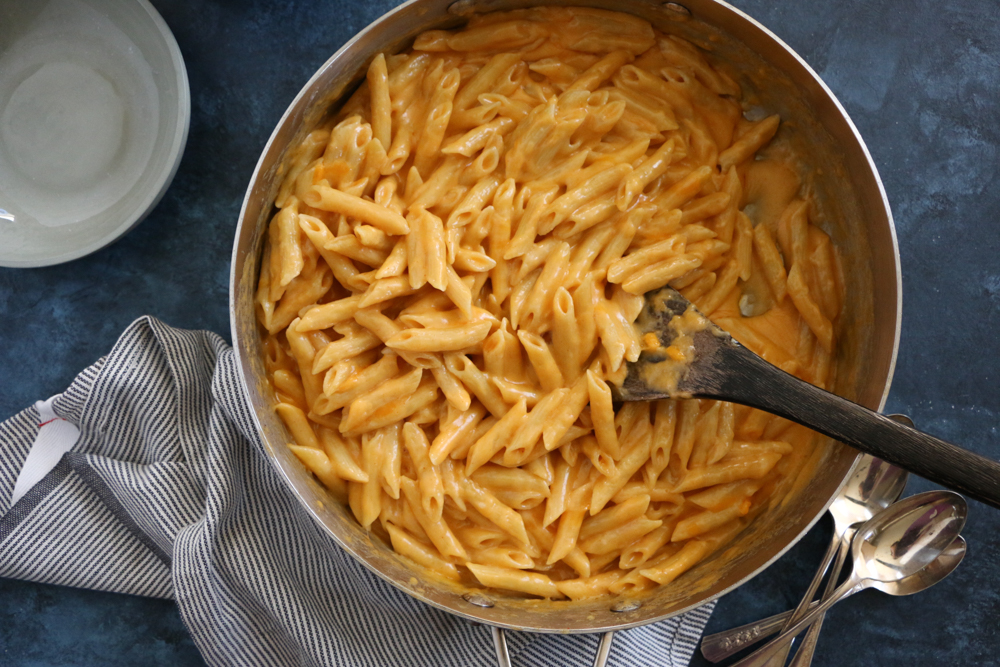 Creamy Stovetop Macaroni and Cheese made with fontina, cheddar and gruyere cheese. So delicious and so easy to make! Perfect for a weeknight dinner!
Yesterday I had one of the most productive days I've had in a while. I planned out my editorial calendar for the next two months and worked on three recipes and photographed two of them. Macaroni and cheese, granola and kimchi fried rice. It was like the best eating day ever!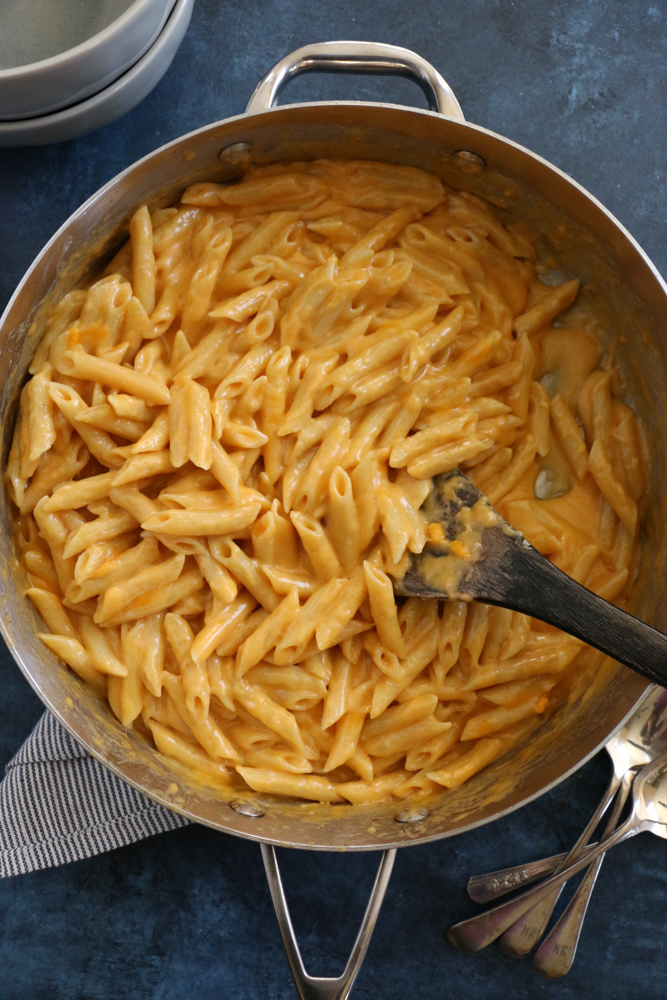 If you follow me on Instagram, you may have seen this photo. So many of you asked for this recipe so here it is! The key to really good mac and cheese in my mind, is using a blend of great quality, great tasting cheeses. If you can grate your own cheese, I promise you, you will taste the difference. I used fontina, cheddar and a gruyere cheese.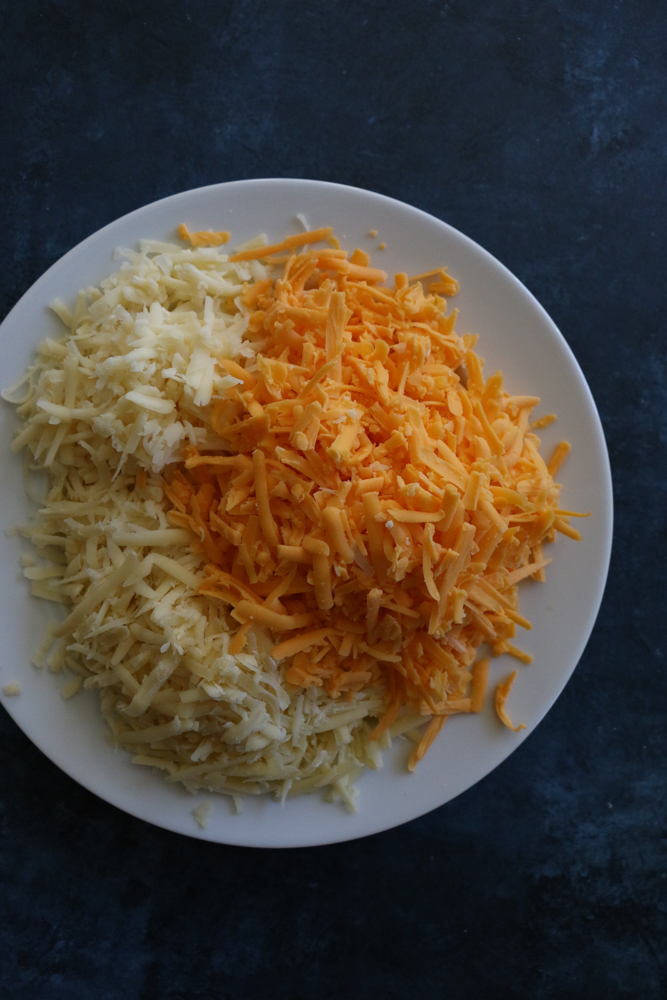 Feel free to add more cheese, or take some out. .  either way, this recipe will become a family favorite! I hope you enjoy!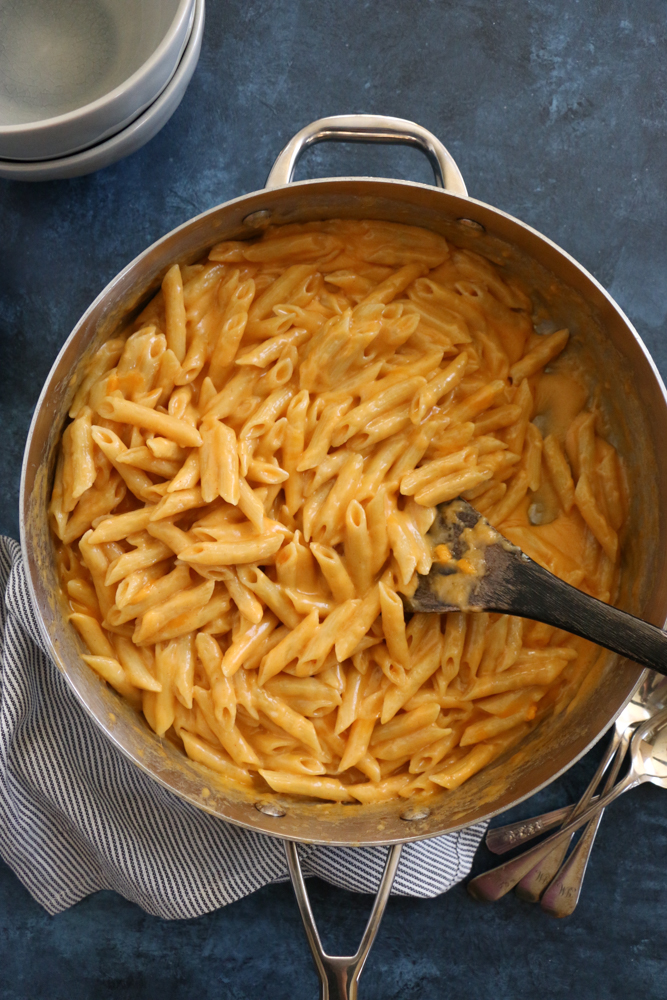 Creamy Stovetop Macaroni and Cheese
Ingredients
1 pound penne pasta (you can also use shell, elbow, bowtie or rotini pasta)
2½ teaspoons of kosher salt, split
1½ cups whole or 2% milk, split
2 tablespoons all-purpose flour
2 to 3 cups freshly grated cheese, like cheddar, fontina and gruyere
1½ teaspoons dijon mustard
1 teaspoon Worcestershire sauce
½ teaspoon smoked paprika
Instructions
Bring a pot of water to a boil over high heat. Add the pasta and 2 teaspoons of salt. Cook until the pasta is al dente, about 8 minutes. Drain and set aside.
Prepare the cheese sauce: Begin warming 1 cup of the milk in a large saucepan over medium heat. Whisk together the remaining ½ cup of milk and the flour until there are no lumps. When you start to see the edges of the milk start to bubble and thicken, whisk in the milk and flour mixture. Continue whisking gently until the milk thickens slightly to the consistency of heavy cream, for about 3 to 4 minutes.
Turn the heat to low and begin adding in and mixing handfuls of cheese into the milk. Stir in the remaining ½ teaspoon of salt, dijon mustard, Worcestershire sauce and the smoked paprika. Stir until all the cheese has melted and the sauce is creamy. Taste and adjust the seasonings as desired.
Add the pasta into the cheese sauce and stir together until all of the pasta is nicely coated. Let cook in the saucepan for about 2 to 3 minutes. Stir together one last time and then serve and enjoy!
Adapted from
here
.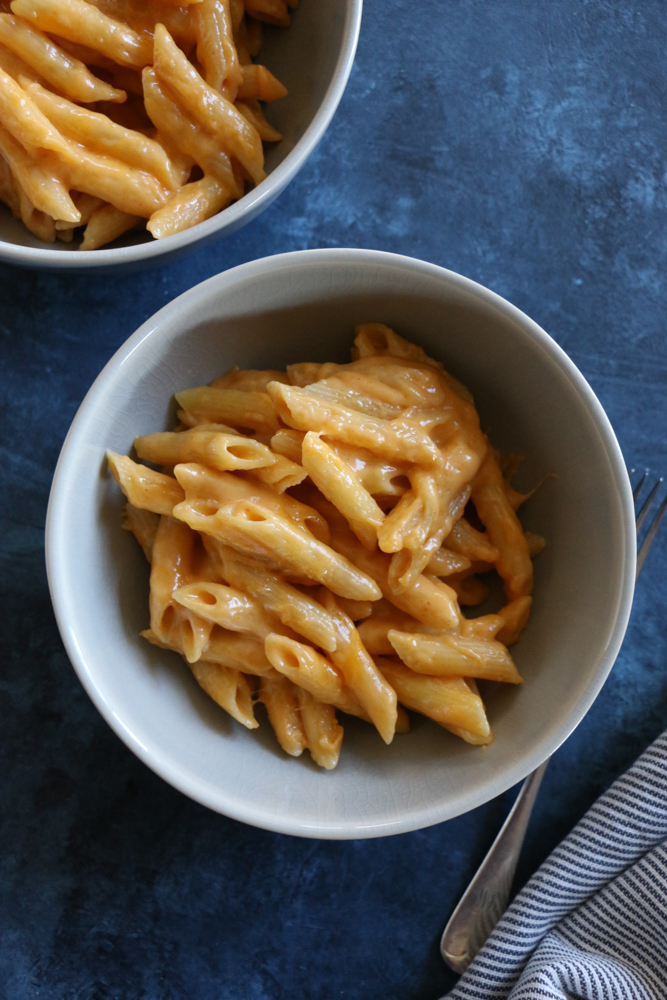 You might also like...