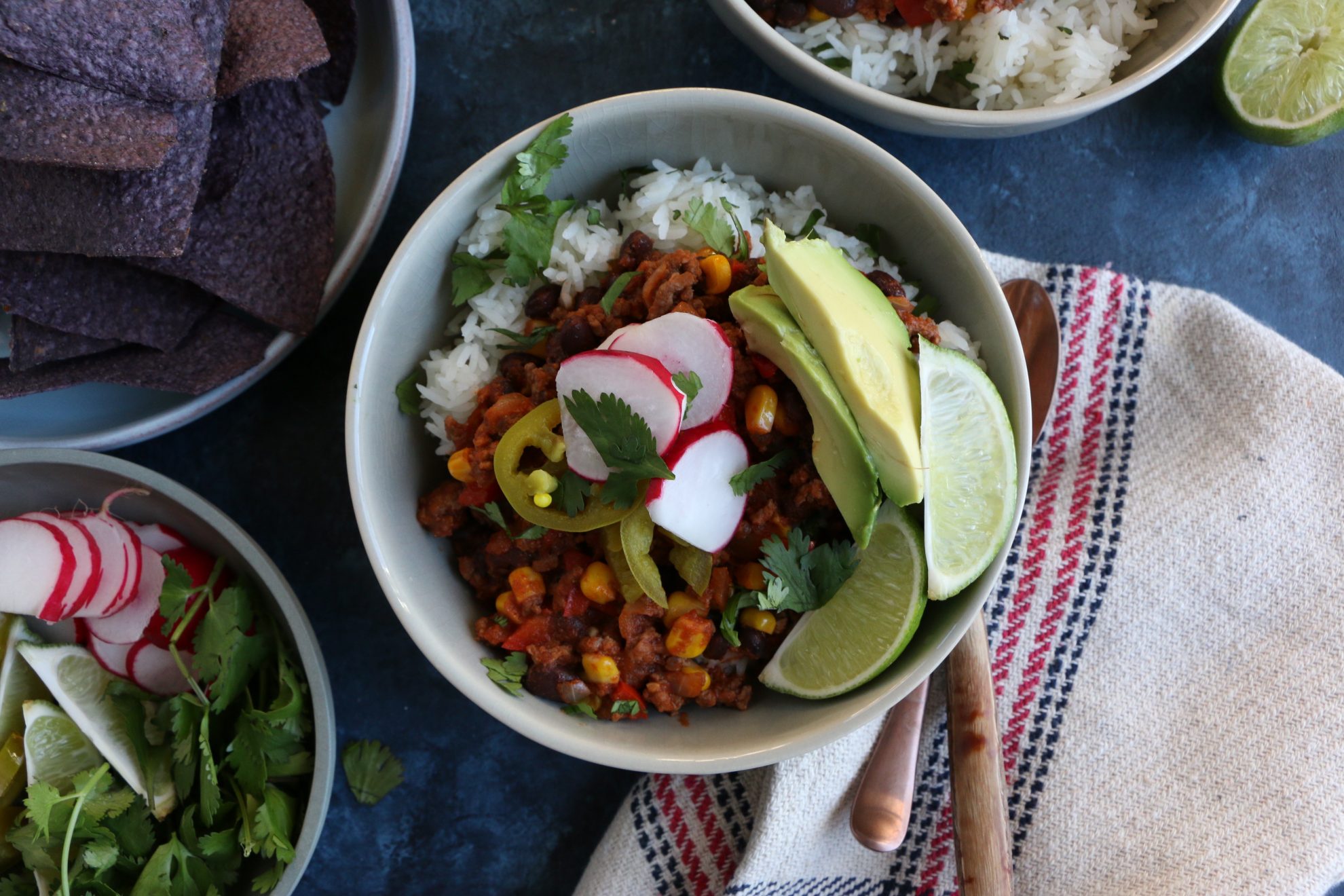 Chipotle Beef Burrito Bowl! This burrito bowl uses lean ground beef which speeds up the cooking time and makes this bowl the perfect burrito bowl to have for lunch or dinner.
I was hit with flu-like symptoms yesterday and spent the entire day sleeping and I was aching from head to toe. If you know me, you know I am usually doing 15 things at once and always have a pretty packed schedule. So, dropping everything I had to do and just allowing myself to get some sleep was hard but necessary. I'm still feeling pretty weak so keeping this one short today.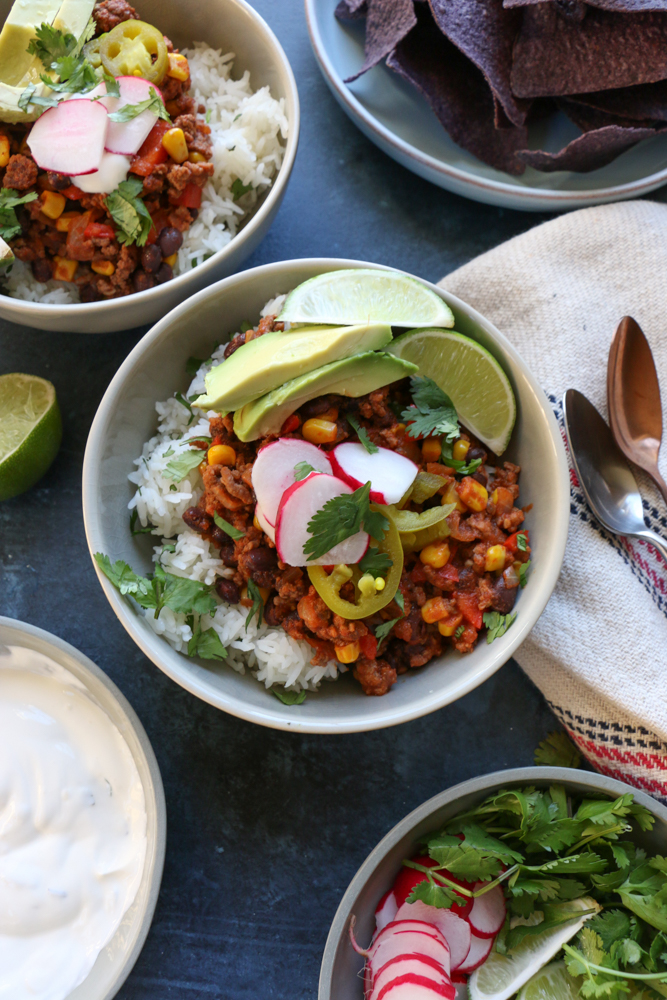 We love going to Chipotle with the kids. .  I'm all about the burrito and salad bowls and loved creating this one at home. I used lean ground beef which makes for a faster get it on the table dinner which works for everyone!
My kids will eat this minus the jalapeños and radishes but I love them in here. I hope you give this recipe a try!

Chipotle Beef Burrito Bowl
I make the rice in the morning so it's ready to go at meal time!
Ingredients
For the lime cilantro crema:
¼ cup sour cream
1 tablespoon fresh minced cilantro + more for topping
1 teaspoon grated lime zest + 1½ tablespoons juice
⅛ teaspoon salt
For the burrito bowls:
1 tablespoon extra virgin olive oil
1 onion, chopped fine
1 red bell pepper, stemmed, seeded and chopped
1 pound lean ground beef
2 garlic cloves, minced
1 tablespoon cumin
2 heaping teaspoons chipotle chile powder
1 (15 ounce) can tomato sauce
1 (15 ounce) can black beans, rinsed
1 cup frozen corn
2 to 3 cups cooked long grain white rice
avocado
lime wedges
fresh cilantro
radishes
jalapeños
Instructions
For the lime cilantro crema:
Whisk together the sour cream, 1 tablespoon cilantro, lime zest, lime juice and a ⅛ teaspoon of salt if desired. Cover and refrigerate until ready to use.
For the burrito bowls:
Heat the oil in a large skillet over medium heat and add the onion and bell pepper and cook until beginning to soften and starting to brown, for about 5 to 7 minutes. Add the lean ground beef and cook until no longer pink, for about 6 to 8 minutes.
Add the garlic, cumin, chile powder and cook until fragrant, for about 1 minute. Add the tomato sauce, black beans, corn and season with salt and cook for about 3 to 4 minutes.
Distribute the cooked rice evenly among bowls and top with the beef mixture. Garnish with avocado, lime wedges, fresh cilantro, radishes, jalapeños and the lime cilantro crema. Enjoy!