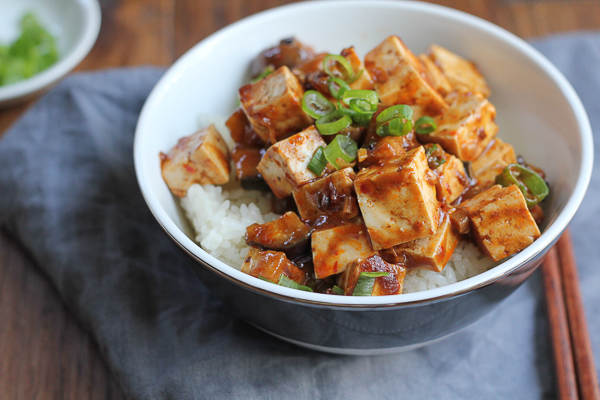 We still have a week left before we get back into the back to school routine and I plan on kicking back and enjoying every minute of it.
I've been cooking a lot and trying new things and you can tell if I've had a productive day by the amount of dirty dishes in my sink. And if we are all (kids included) able to actually eat what I've made for dinner, it's a double win.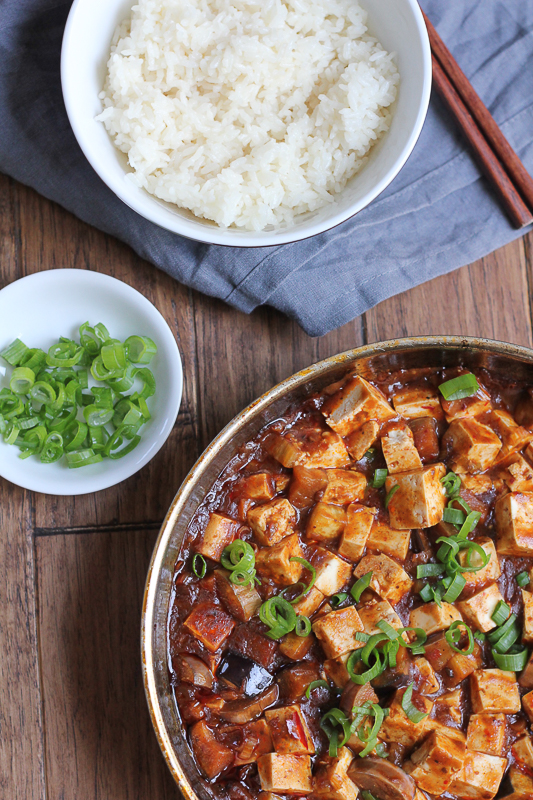 Mapo Tofu is one of my favorite Chinese food dishes. I love tofu and I love spicy. We always order this when we get takeout and so I'm happy to say that this version might be better than than the one we get at House of Mei here in Madison. This was a little too spicy for my kids so I did make a mild version for them. But it's all good.
I'm waiting for the day where I can just make one dish and we can all eat spicy food together. But that probably won't be for a long time.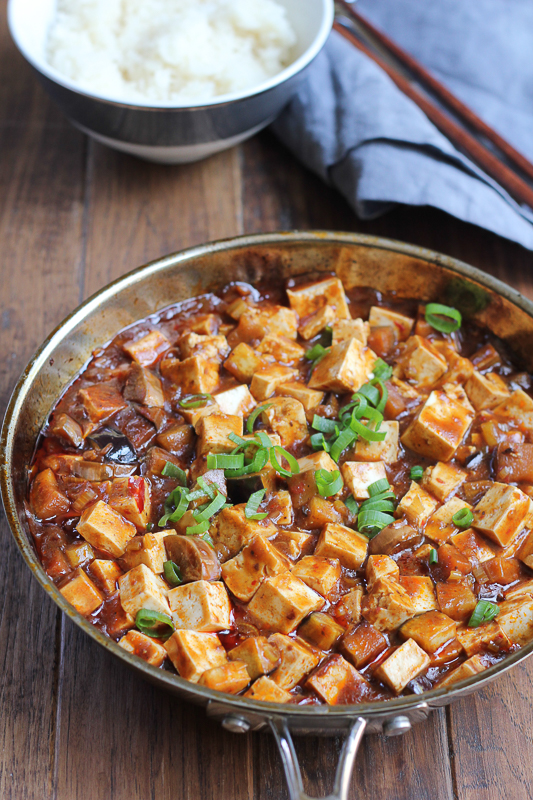 I used my trusty KitchenAid® 7-Ply Stainless Steel with Copper Core 10″ Skillet. This is my absolute favorite skillet (yes, I've said this before) and I use it all the time. The low, gently angled sides not only make stirring and flipping easier, but provide a larger surface area for quickly cooking, sautéing, and searing meats and vegetables.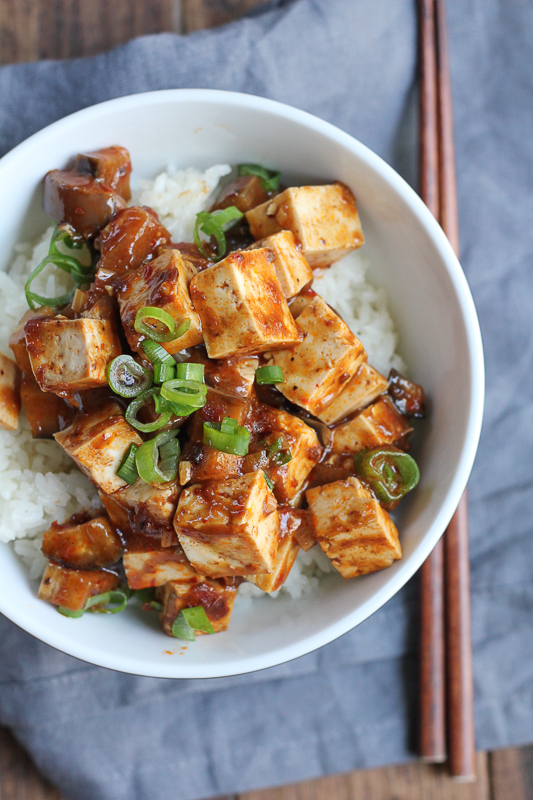 With any Asian food dish, there are varying degrees of spiciness and preference. Play around with this recipe and add more or less heat and spice, depending on what you want. I hope you give this recipe a try! If you like eggplant and Chinese Mapo Tofu, you simply must try this!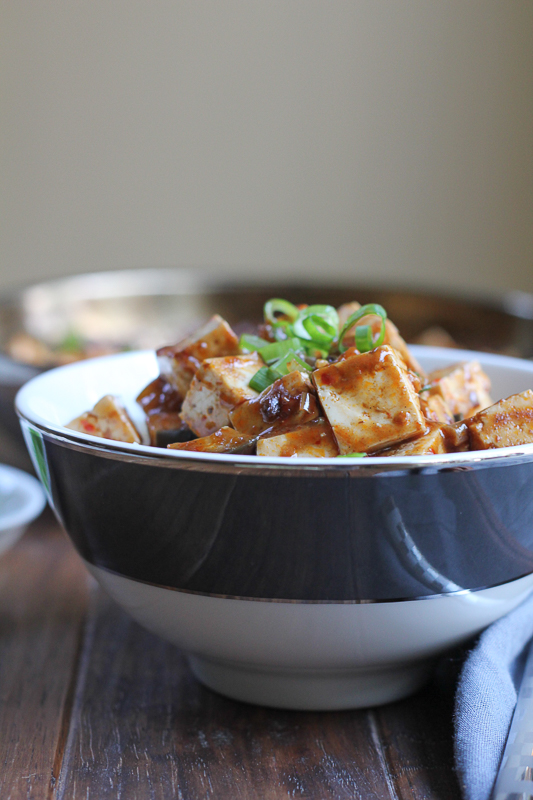 And I'm using my new boards today! Food blogger friends: my husband had the brilliant idea of googling wood floor companies in the area to see if any had remnant pieces of reclaimed wood. And I scored big! Hooray!
I hope you try my Eggplant Mapo Tofu!

Eggplant Mapo Tofu
Ingredients
½ cup chicken stock
1 tablespoon cornstarch
1 tablespoon low sodium soy sauce
2 teaspoons granulated sugar
1 tablespoon sesame oil
2 to 3 fresh cloves of garlic, minced
2 teaspoons minced ginger
2 to 3 green onions, finely diced (white and green parts)+ more for garnish
2 to 3 tablespoons spicy black bean paste (or hot bean sauce)
½ teaspoon Sichuan peppercorns, ground
⅓ cup spicy bean sauce + more if needed (as shown above)
14 ounce container of silken tofu, drained and cut into cubes
½ cup Chinese eggplant, cubed
½ cup eggplant, cubed
Serve with white or brown rice
Instructions
Using a small mixing bowl, whisk together the chicken stock, cornstarch, soy sauce and sugar. Set aside.
Using your KitchenAid® 7-Ply Stainless Steel with Copper Core 10" Skillet over medium high heat, add the sesame oil, garlic, ginger and green onions and cook until fragrant, for about 4 to 5 minutes, stirring continuously. Add the hot bean paste, ground Sichuan pepper and spicy bean sauce. Taste and adjust ingredients according to your taste. Continue sautéing for a few more minutes, or until heated through.
For the rest of the instructions and to see the complete recipe card, please click over to The Kitchenthusiast.
To see the complete recipe card, please visit
The Kitchenthusiast
.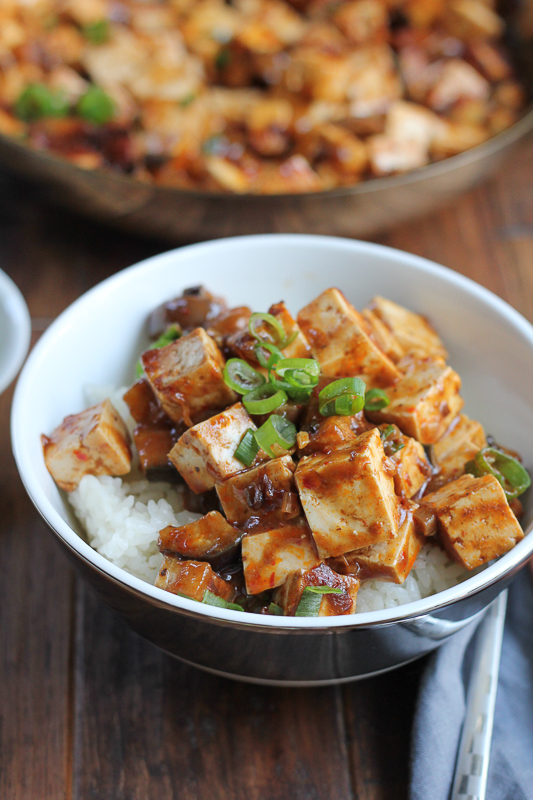 Disclosure: This is a paid, sponsored post in partnership with KitchenAid USA. All opinions expressed here are 100% my own. Thank you for supporting me in partnering with the brands and products that I use and love.
You might also like...