If there was ever a post of mine that was doomed even before I began baking or cooking, it's this one. For starters, this was supposed to be a full-sized regular bundt cake. . . But it was in the 80's today here in Seattle and remember, I don't have any air conditioning in the house. . so what did I do? I baked MINI bundt cakes instead of a regular sized one because I was not about to have the oven on for one hour. 20 minutes was good enough and manageable for me.
80's? Some of you are saying, "What?!" That's nothing. Well, all I can say is that the Pacific Northwest has made me soft and I am very used to the cool weather. And when you don't have A/C, it feels more like 90 something.
Secondly, this poor little bundt cake is part of Bundt-a-Month and this is CARAMEL JULY so, you guessed it, we are baking bundts using caramel! Now, just to be clear- the doom part does not come in regarding the taste. . because boy these little bundts are delicious! If you like salted caramel, you must bake this. The doom part comes in for me because I was not happy with my photos, particularly the caramel on my little bundt cakes. I was hot and tired and just couldn't get these photos right. I'm not even sure that this photo looks appealing . . but hoping you'll hang with me for a while to read the recipe and check out all of the other stunning, gorgeous, delicious bundt cakes with caramel down below.
In fact, if this recipe were not a part of my baking group, I would not have posted this baby. I would have re-baked it and tried again with the photos. . maybe on a cooler day and when the sun was working with me a little more.
Oh well. It's all good. I got to reward myself with 2 little bundt cakes. Salted Caramel. Word up.
I hope you enjoy!
Print Recipe
Chocolate Bundt Cake with Salted Caramel for #BundtaMonth
This recipe makes 6 mini bundt cakes.
Ingredients
For the cake:
1

cup

brewed coffee

1/2

cup

1 stick unsalted butter

1/2

cup

natural unsweetened cocoa powder + additional for dusting the bundt pan if desired

1

cup

white granulated sugar

1 1/2

cups

all-purpose flour

1/2

teaspoon

baking soda

½

teaspoon

salt

1

large egg

1

teaspoon

vanilla extract

non-stick cooking spray for the bundt pan
For the caramel:
¼

cup

1/2 stick unsalted butter

¼

cup

packed brown sugar

1 1/2

tablespoons

evaporated fat-free milk

¼

teaspoon

vanilla extract

½

cup

powdered sugar

maldon sea salt or other coarse sea salt to sprinkle on top
Instructions
Preheat your oven to 375 degrees. Brew the coffee. While the coffee is brewing, spray your bundt pan with non-stick cooking spray and then dust with cocoa powder (for extra insurance if needed). Do this well to ensure the mini bundt cakes come out of the bundt pan. Knock out any excess powder.

In a microwave safe bowl, melt the butter for 20 seconds. Mix with the coffee and cocoa powder. Stir with a wire whisk. Once everything is combined, add the sugar and whisk until it has dissolved. Transfer the mixture to a large bowl and set aside to cool for about 5 minutes.

In another medium-sized bowl, combine the flour, baking soda, and salt. And lastly, in a separate small bowl, whisk together the egg and vanilla.

Whisk the egg mixture into the chocolate mixture. Slowly add the flour mixture and continue to mix. Once all of the ingredients have been combined you are left with a batter with the consistency of a slightly thick soup.

Pour the batter into the mini wells of the bundt pan and bake for about 20-25 minutes or until a toothpick inserted comes out clean.

Remove the bundt pan from the oven and let cool for at least 20 minutes. Once cooled, gently run a butter knife or fork around the sides of each cake to gently loosen from the pan. You can either remove with the knife or fork or place a wire rack on top of the bundt pan and flip it to release and catch the mini bundt cakes. Let cool on a wire rack.

Melt the butter in a saucepan over medium heat. Add the brown sugar and the evaporated milk; allow to cook for 2 minutes.

Remove from the heat. Add the vanilla and powdered sugar; stir with a whisk until smooth. Let cool slightly before drizzling on your mini bundt cakes. Sprinkle on some maldon sea salt and serve.
Cake recipe from my now trusted chocolate cake recipe here. And used the same caramel from my Salted Caramel Brownies.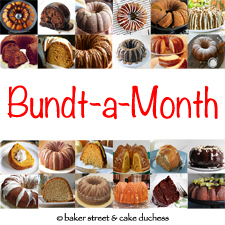 Bundt-a-Month July!
It's all caramel today, so make sure you check out all of the fabulous recipes below!
Brown Butter Bundt Cake with Salted Caramel Icing by Holly from A Baker's House
Buttermilk Bundt Cake with Salted Caramel Icing by Carrie from Poet In The Pantry
Caramel Apple Bundt Cake by Rachel from I Love My Disorganized Life
Caramelized Apple Bundt Cake by Lora from Cake Duchess
Caramel Pound Cake by Veronica from My Catholic Kitchen
Chocolate Bundt Cake with Salted Caramel by Alice from Hip Foodie Mom
Double Glazed Caramel Mocha Bundt by Stacy from Food Lust People Love
Dulce de Leche Bundt Cake by Renee from Magnolia Days
Dulce de Leche Swirl Pound Cake by Anuradha from Baker Street
Orange Caramel Bourbon Bundt Cake by Paula from Vintage Kitchen Notes
Salted Butterscotch Caramel Bundt Cake by Laura from The Spiced Life
Salted Caramel Mini Apple Cake Bundts by Anita from Hungry Couple
Snickers Bundt Cake by Karen from In The Kitchen with KP
Toffee Pecan Bundt Cake with Caramel Drizzle by Anna from From My Sweetheart
Vanilla Bean Salted Caramel Bundt Cake by Kate from Food Babbles
Here is how you can be a part of Bundt-a-Month:
Simple rule: Bake us a bundt using caramel
Post it before July 31, 2013
Use the #BundtaMonth hashtag in your title. (For ex: title could read #BundtaMonth: Caramel Swirl Bundt)
Add your entry to the Linky tool below
Link back to our announcement posts
Even more bundt fun! Follow Bundt-a-Month on Facebook where we feature all our gorgeous bundt cakes. Or head over to our Pinterest board for inspiration and choose from hundreds of Bundt cake recipes. Connect with Bundt-a-Month on Facebook and Pinterest!
Powered by Linky Tools
Click here to enter your link and view this Linky Tools list…