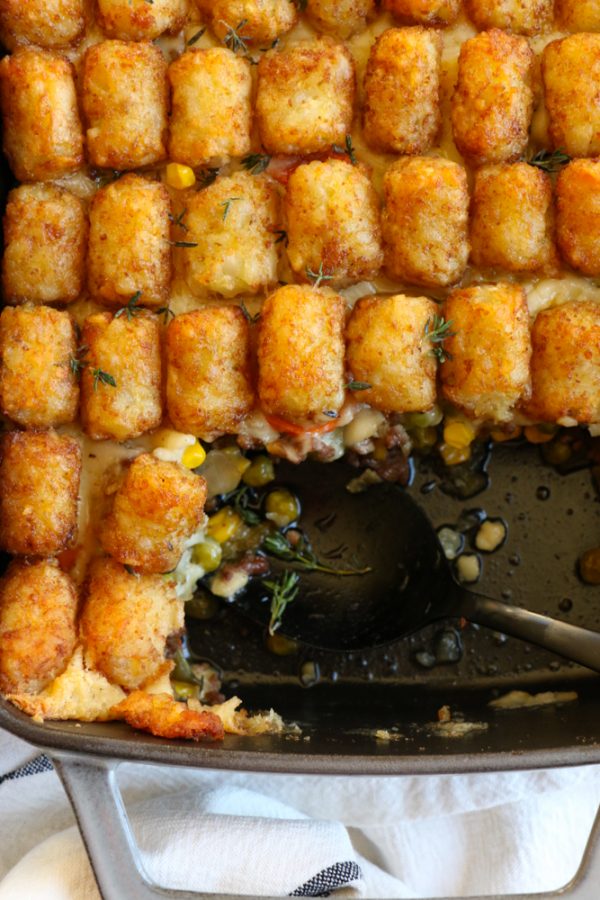 Hotdish Tater Tot Casserole! The unofficial state cuisine of Minnesota, it's a comfort food staple found in households across the Upper Midwest. Incorporating a mixture of ground beef or chicken and vegetables, it feeds a crowd and is delicious!
After moving to the Midwest, I've become very familiar with certain foods that people love here. It's cold here 6 months out of the year so comfort food is a must. Also, people here appreciate no fuss, easy, feeds a crowd type dishes. I first learned about a Hotdish from my sister, who lives in Minnesota. People often serve these at large gatherings such as family reunions, potlucks or church suppers. "Don't be turned off by its humble appearance; the combination of cream of mushroom soup, corn, green beans, beef and a delightful crispy potato topping is universally likeable!" And then, re-visited the Hotdish Tater Tot Casserole after seeing and watching Molly Yeh make this online!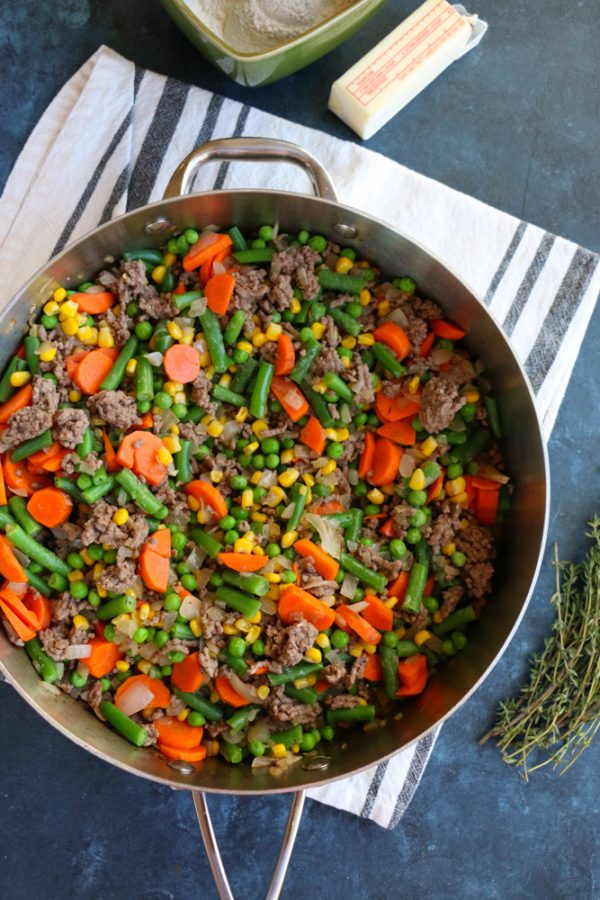 I did want to load mine with veggies.  . so I incorporated carrots, peas, green beans and corn. Plus side? You can use frozen vegetables so no cutting, chopping or prepping! Traditionally, the Hotdish Tater Tot Casserole uses 1 to 2 cans cream of mushroom soup. I decided to make a roux, which is just as easy and I can feel a little better about the ingredients.
I've also seen the Hotdish Tater Tot Casserole made with a mushroom béchamel with deeply roasted button mushrooms, chopped fresh parsley and chives, along with a dash of savory Worcestershire sauce and some Dijon mustard! – from Serious Eats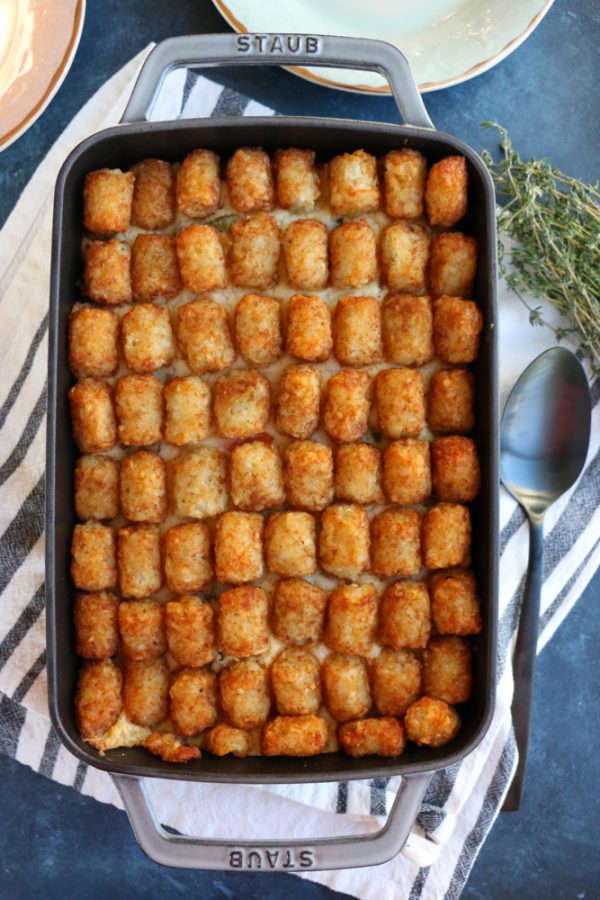 However you make this, just give this recipe a try! It's so good!!! My family loved it! and who could resist anything topped with tater tots?!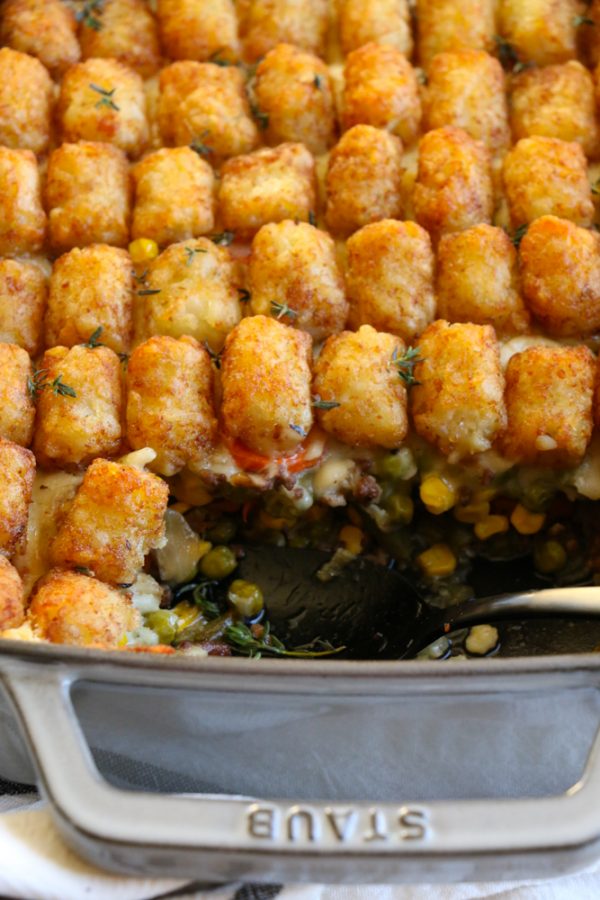 Hotdish Tater Tot Casserole
For the cook: If you don't want to make the roux, simply use (two) 10-ounce cans cream of mushroom soup
Ingredients
For the hotdish:
2 tablespoons unsalted butter
1 medium yellow onion, finely chopped (about 2 cups)
1 lb. lean ground beef
½ teaspoon dried or fresh thyme
Kosher salt and freshly ground black pepper
1 ½ cups frozen cut green beans, thawed
1 ½ cups frozen peas, thawed
1 ½ cups frozen corn kernels, thawed
1 cup fresh or frozen cut carrots, thawed (if frozen)
1 pound frozen shredded potato nuggets
For the roux:
6 tablespoons unsalted butter, cut into cubes
6 tablespoons all-purpose flour
1 cup milk
½ cup chicken stock
Kosher salt and freshly ground black pepper
Instructions
For the hotdish:
Preheat the oven to 350 degrees F.
Add the butter to a pan over medium heat. Add the onions and cook until tender, for about 5 to 7 minutes. Add in the ground beef and cook until completely cooked and browned. Season with the thyme, salt and pepper.
Add in the green beans, peas, corn and carrots and mix to combine. Transfer the ground beef and vegetable mixture to a 9 x 13-inch baking dish.
Make the roux:
Wipe out your pan. Heat the butter over medium low heat until almost completely melted. Add in the flour, and using a wooden spoon, mix the flour and butter together forming a paste. Switch to a whisk, and slowly pour in the milk while whisking. Add in the chicken stock and keep whisking until thick. The roux will have a thickness similar to a creamed soup. Season with salt and pepper.
Pour the roux evenly over the top of the ground beef and vegetable mixture. Alternatively, you can mix together the ground beef and vegetable mixture with the roux in your pan and then add it back into your casserole dish. I like to just cover the top with the roux; I find that this creates a nice cushion for the tater tots.
Cover the top completely with your tater tots (frozen potato nuggets). Make sure they are nice and snug and fill the top completely. Bake uncovered for 1 hour; the potato nuggets should be golden brown. Serve and enjoy!