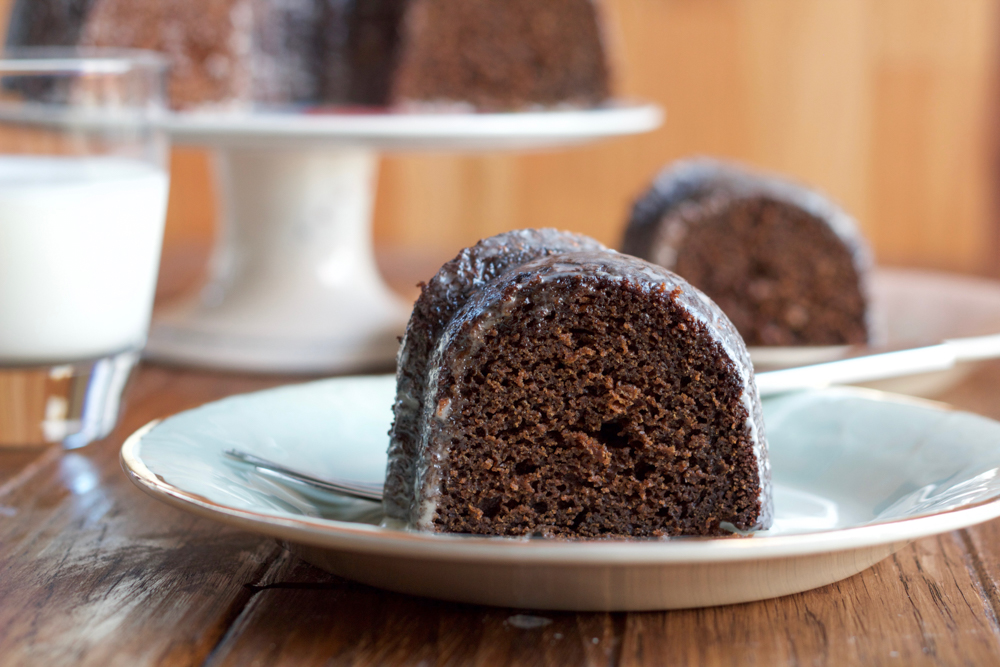 Gingerbread Cake, made with LACTAID® Reduced Fat 2% Milk, so it's still delicious but easier to digest! Enjoy everything the holiday season has to offer with this cake!
The holidays are always fun time for my family because we usually get together with my parents and my brother and sister's families in Dallas. Because we all live in different states, we obviously don't get to see each other as often as we would like, so the holidays are an extra special time of catching up and just letting all the kids play and spend time together.
Last Christmas, all the kids watched all of the Star Wars movies, like all 8 or 9 of them ..  I lost count after the 5th movie went in.  We all stay at my mother's house so it's a full house and there's always something going on.  With whatever the kids are doing and in the kitchen.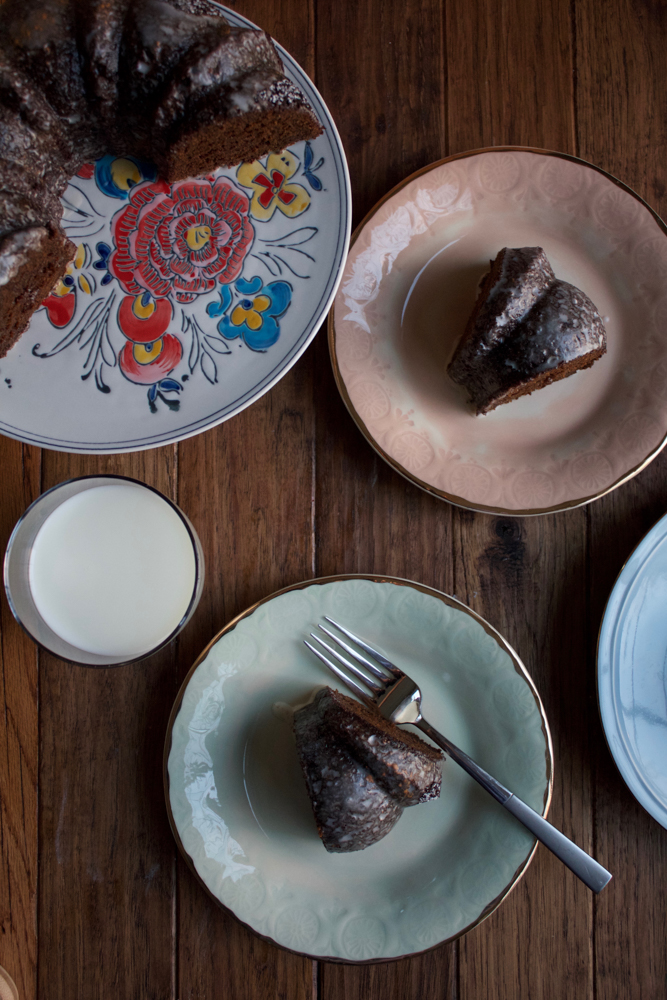 When my family gets together, there's sure to be a ton of food and dessert.
Now, I talk a lot about portion control, which I still believe in during the holidays. But, the holidays shouldn't be a time where you can't have something you want because of your dairy sensitivity. Is there a dish or dessert you've always wanted to make, but never did because of dairy sensitivity due to lactose?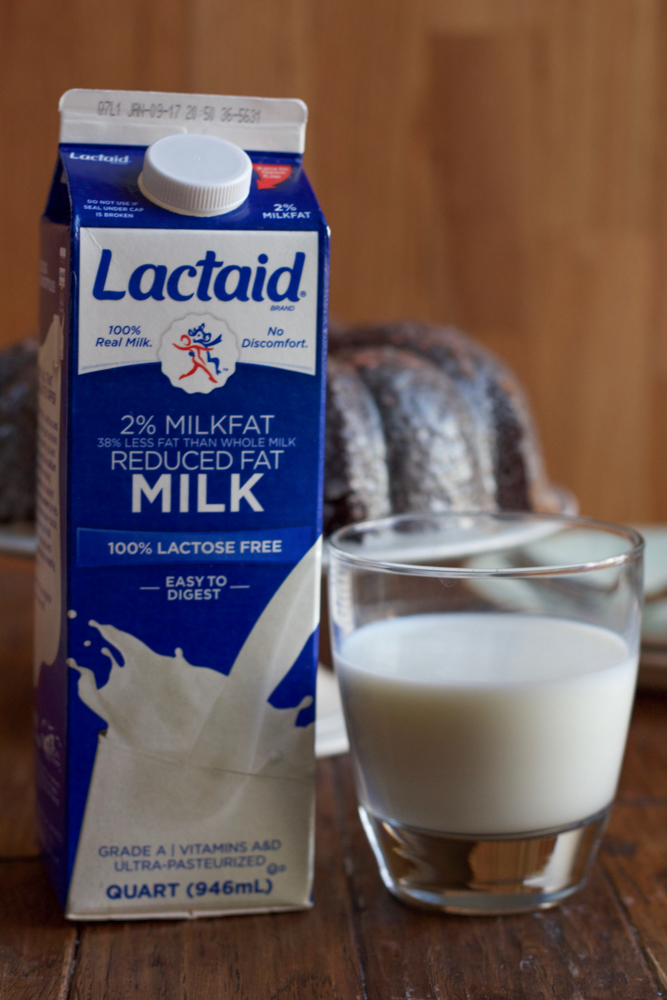 Entertaining this holiday season and feel like you can't make or eat everything you want? Well, my friends, that's when LACTAID® comes into the picture. I use this in place of regular milk, or heavy cream all the time when baking and it's delicious.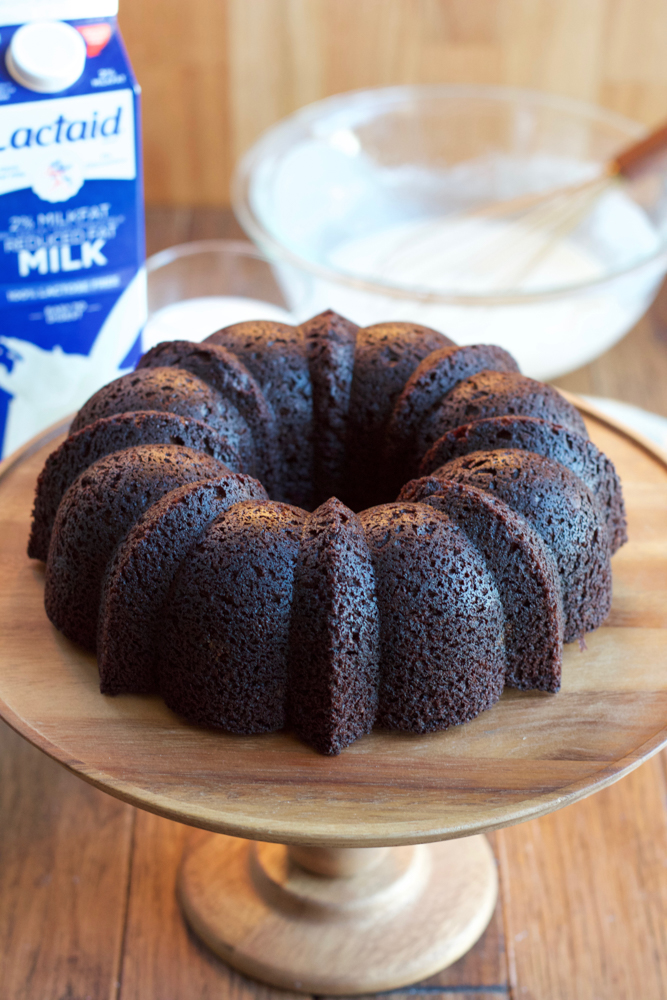 Most of you know, I'm a little lactose intolerant so I simply use LACTAID® Reduced Fat 2% Milk when baking. It's still creamy and delicious and I love that it's still real milk but without the lactose! LACTAID® products are real dairy just without the lactose, so dairy sensitive sufferers (like me) due to lactose are still able to enjoy the great taste and nutritional benefits of real dairy without having dairy envy. #DairyEnvy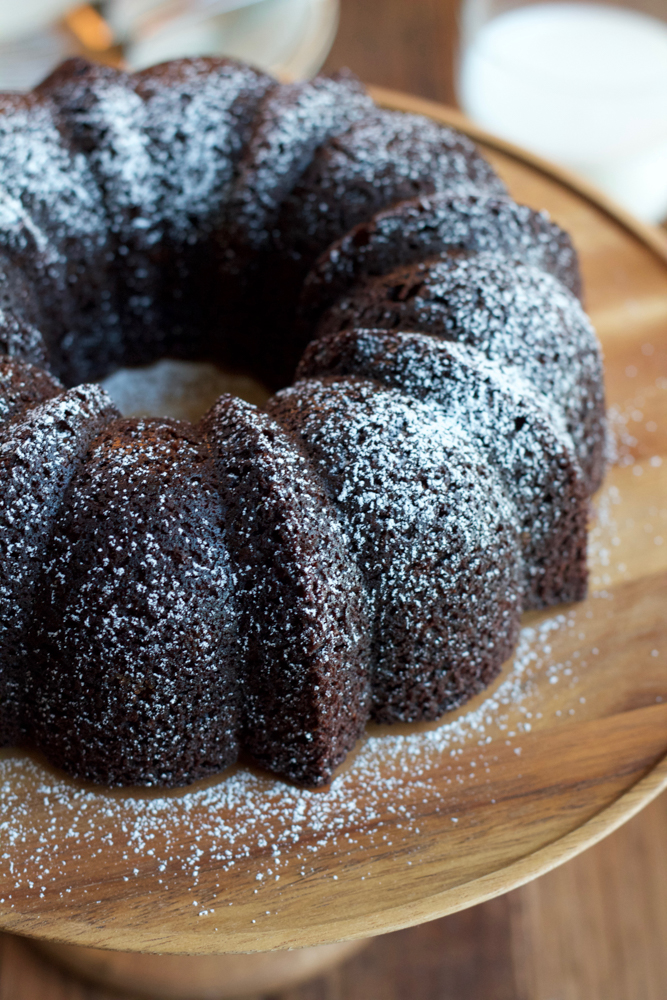 Nothing says the holidays more to me than Gingerbread Cake. This one uses LACTAID® Reduced Fat 2% Milk and is absolutely delicious. I love ginger so it's evident the ginger flavor is there. If you're not a huge fan of ginger, you can make some tweaks to the recipe as noted below.
Do you see this texture? I am so pleased with how this cake came out. I use coconut oil and coconut butter instead of butter. It's so moist and flavorful and I absolutely love it with the light dusting of powdered sugar. I am definitely making this one again for Christmas and I am also making gingerbread cake cupcakes!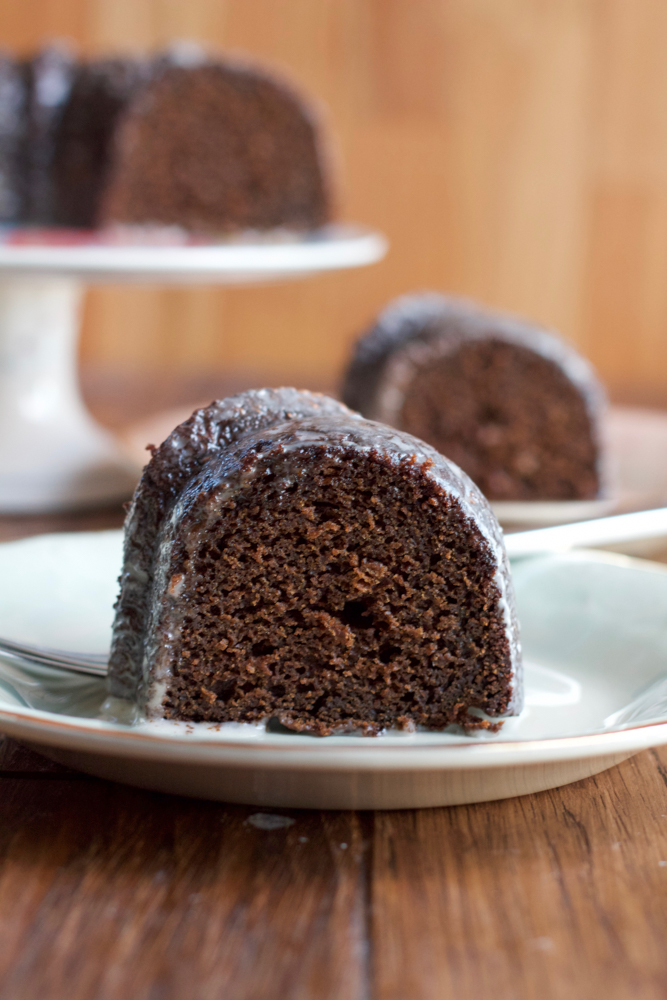 Be sure to check out the recipe card below. Enjoy and Happy Holidays!!

Gingerbread Cake
Notes: If you are not a huge fan of ginger, use only 1½ teaspoons of ground ginger*. ** You can also use ¼ cup coconut oil + ¼ cup coconut butter for a slightly creamier taste. This Gingerbread Cake can also be baked as: 1) Cupcakes: Bake at 350 degrees for about 20 minutes, or until a tester inserted comes out clean. 2) Square pan: Bake at 350 degrees for about 30 to 35 minutes, or until a tester inserted comes out clean. 3) In a 9-inch round cake pan: Bake at 350 degrees for about 30 to 35 minutes, or until a tester inserted comes out clean.
Ingredients
For the cake:
2 cups all-purpose flour
1 teaspoon baking soda
½ teaspoon baking powder
½ teaspoon kosher salt
1½ teaspoons ground cinnamon
1 ½ to 2 teaspoons ground ginger*
¼ teaspoon nutmeg
¼ teaspoon cardamom
¼ teaspoon ground cloves
Zest of 1 lemon
½ cup coconut oil, melted and cooled**
½ cup light brown sugar
¼ cup granulated white sugar
2 large eggs, at room temperature
½ cup unsulphured molasses
1 cup LACTAID® Reduced Fat 2% Milk, at room temperature
For the glaze:
1½ cups powdered sugar
3 tablespoons LACTAID® Reduced Fat 2% Milk + more if needed
Instructions
For the cake:
Preheat your oven to 350 degrees F and spray a regular sized bundt cake pan with non-stick baking spray. Lightly sprinkle in some cocoa powder and knock out any excess. Set aside.
In a mixing bowl, whisk together the flour, baking soda, baking powder, salt, ground cinnamon, ginger, nutmeg, cardamom, cloves and lemon zest.
Using your stand mixer fitted with the flat beater attachment (or your hand mixer), beat together the coconut oil and sugars until light and fluffy; for about 2-3 minutes. Add in the eggs, one at a time, beating well after each addition. Scrape down the sides of the bowl as needed.
Add in the molasses and beat to combine. Scrape down the sides of the bowl again as needed. Add the dry ingredients (in three additions) and the LACTAID® Milk (in two additions), alternating, beginning and ending with the dry ingredients. Beat just until incorporated.
Pour the cake batter into the prepared bundt pan and smooth the top with the back of a spoon or an offset spatula. Bake for about 60 minutes, or until a toothpick inserted into the center of the cake comes out clean. Remove from oven and let cool on a wire rack for at least 20 to 25 minutes.
When ready to serve, use a butter knife or fork to gently loosen the edges of the cake. Place a plate or cake stand directly on top of the bundt pan (flat side down up against the bundt cake pan) and invert, flipping over the cake so the bundt cake comes out onto your plate or cake stand.
For the glaze:
Whisk together the powdered sugar and the LACTAID® Reduced Fat 2% Milk until smooth and combined. Lightly drizzle over the top of the cake. Slice, serve and enjoy!
Alternatively, you can just lightly dust the cake with some powdered sugar for a festive look. Serve and enjoy!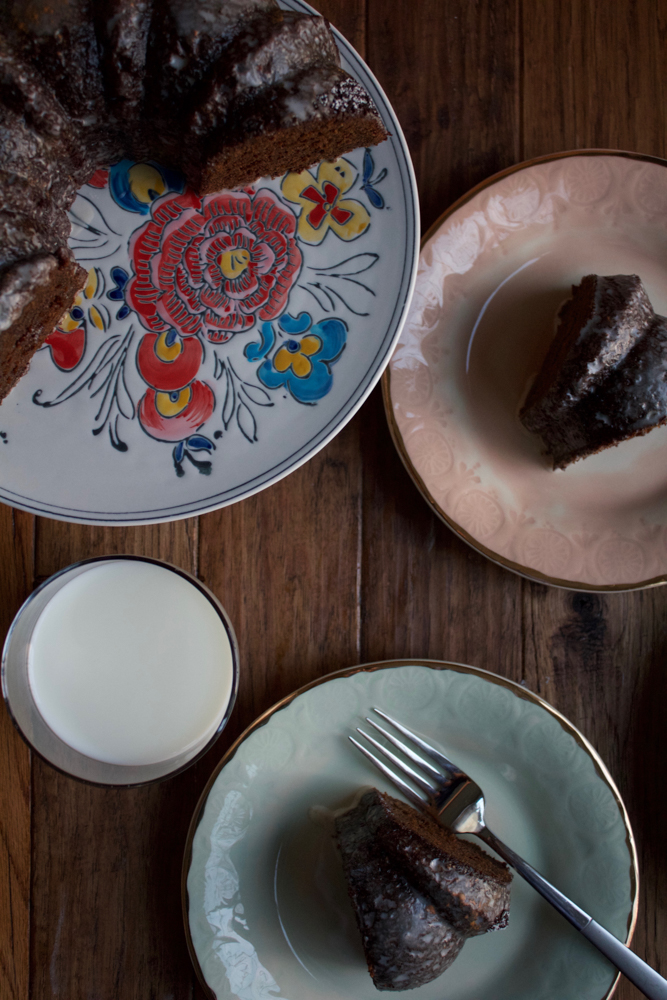 The LACTAID® Brand has worked for over 30 years to introduce high-quality products that help those with dairy sensitivity due to lactose enjoy the delicious taste of real dairy milk without a second thought. Made with real dairy, LACTAID® Products have all the same nutrients found in regular dairy products, just without the lactose making them easy to digest. All LACTAID® Dairy products – milk, ice cream and cottage cheese – are made with real milk, just without the lactose.
Disclosure: I have received information and materials from JOHNSON & JOHNSON CONSUMER, Inc., McNeil Nutritionals, LLC Subsidiary the makers of LACTAID®. The opinions stated are my own. This is a sponsored post.