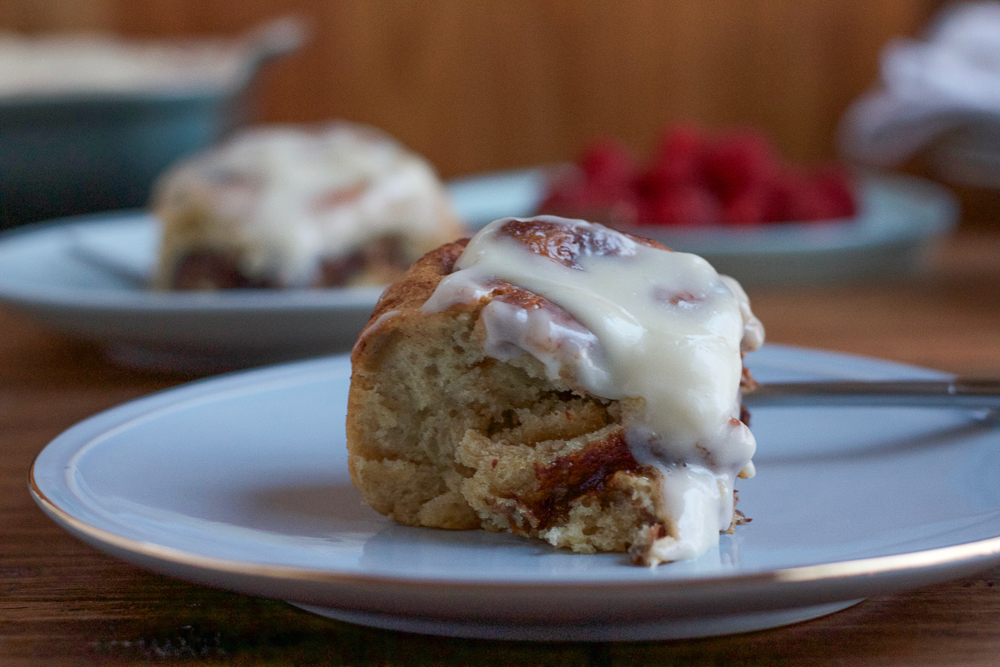 Light, fluffy, delicious Eggnog Cinnamon Rolls! A holiday version of classic cinnamon rolls with an eggnog cream cheese frosting. Perfect for Christmas morning!!
I'm in full holiday baking mode and taking advantage of the little time I have left before we leave for the holidays. Every weekend, I do a little baking, but during the holiday season, I multiply that times four.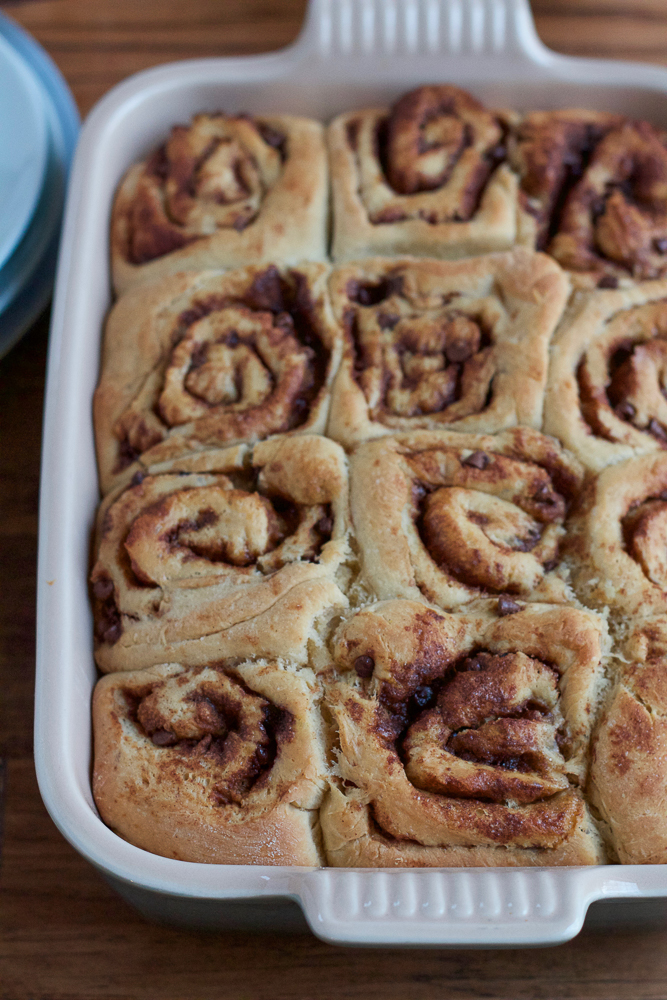 I wish I was joking.
Nothing says the holidays to me more than smelling something delicious baking in the oven. Especially if there's cinnamon involved.
And eggnog. And eggnog cream cheese frosting.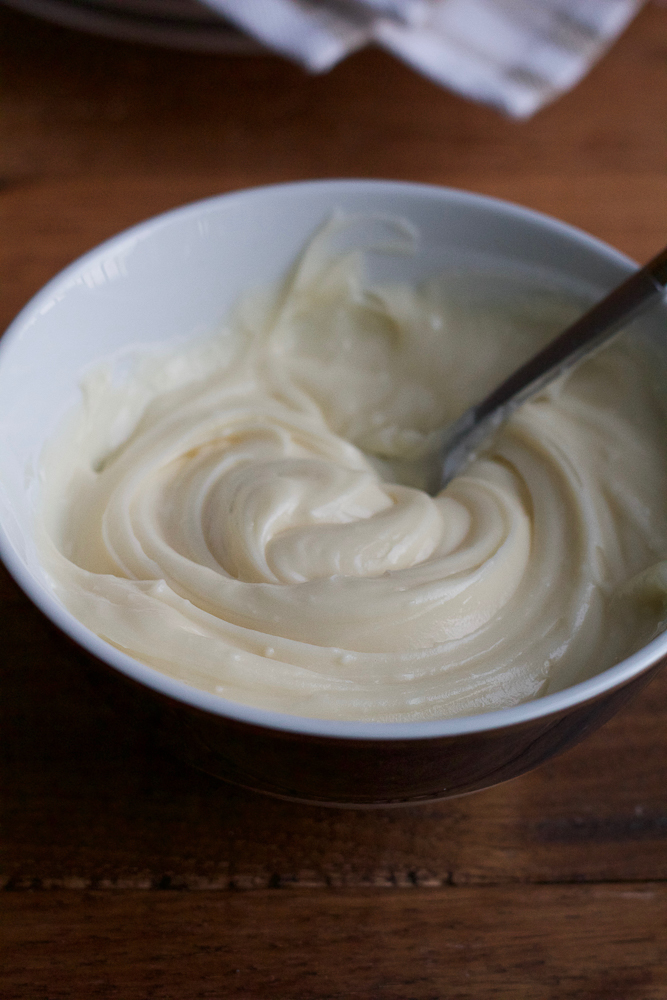 Who else is with me? Any eggnog lovers out there? I don't go crazy with the actual eggnog beverage but I love baking with it.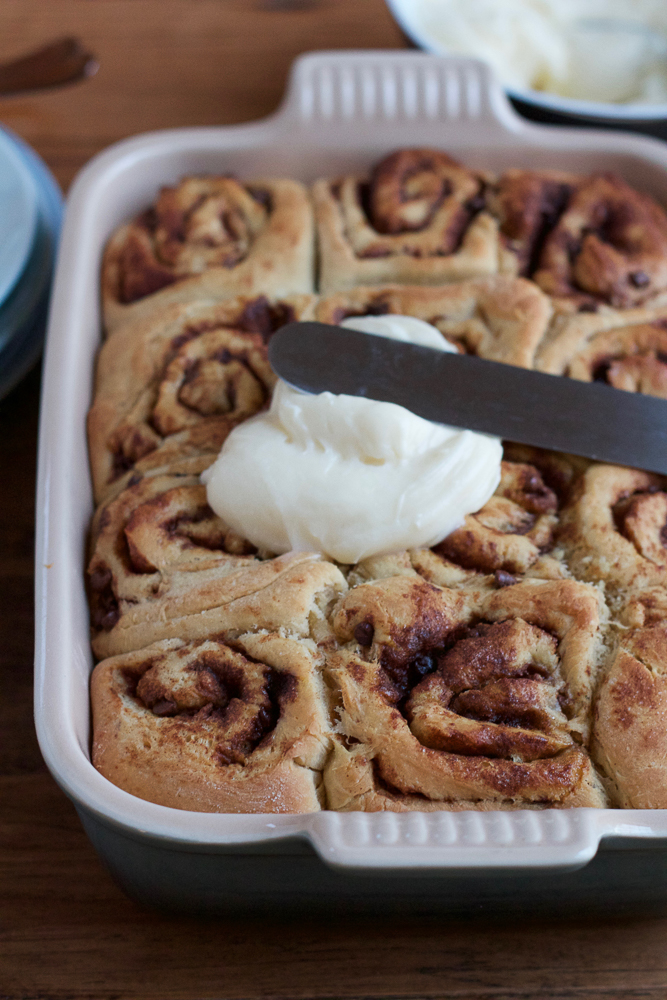 I can't be in holiday mode without some cinnamon rolls and I absolutely love these because of the eggnog flavor. The flavor is very subtle, not over powering at all. It's delicious!! And I wanted to make these a little more decadent, so I added mascarpone cheese and mini chocolate chips.
You guys have to try these cinnamon rolls.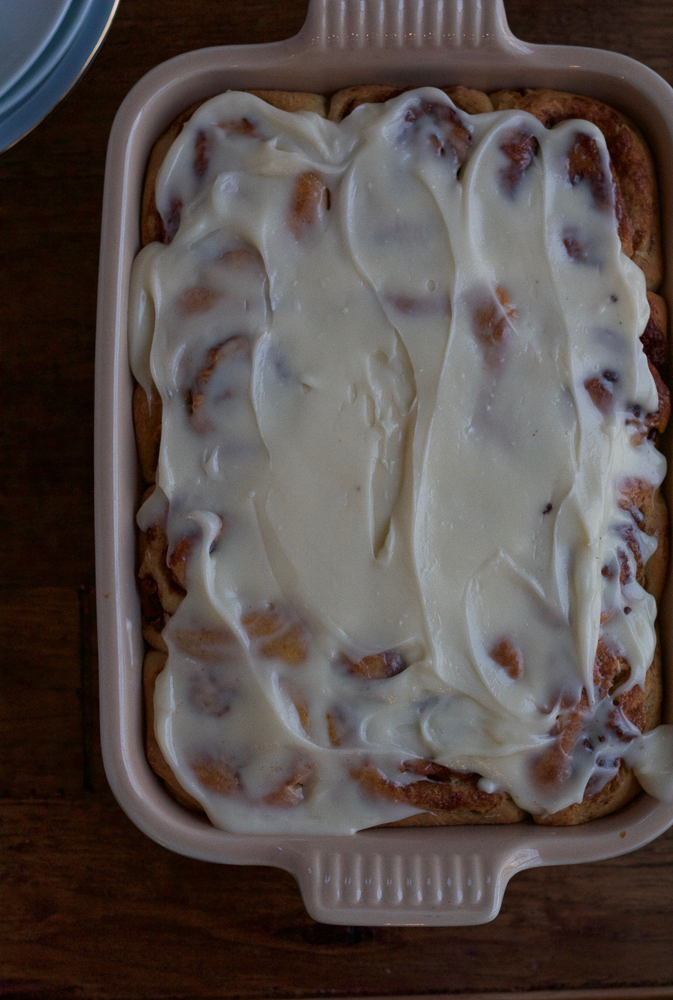 And I used Davidson's Safest Choice Eggs. If there's ever a worry that the dough isn't fully cooked, there's no need to worry. These eggs are pasteurized which means there is no risk of salmonella in the eggs before they even enter your kitchen. I personally use these eggs all the time for baking but Davidson's Safest Choice Eggs should definitely be considered when making recipes such as Hollandaise, Caesar salad dressing and other sauces, or sunny side up, poached or soft scrambled eggs.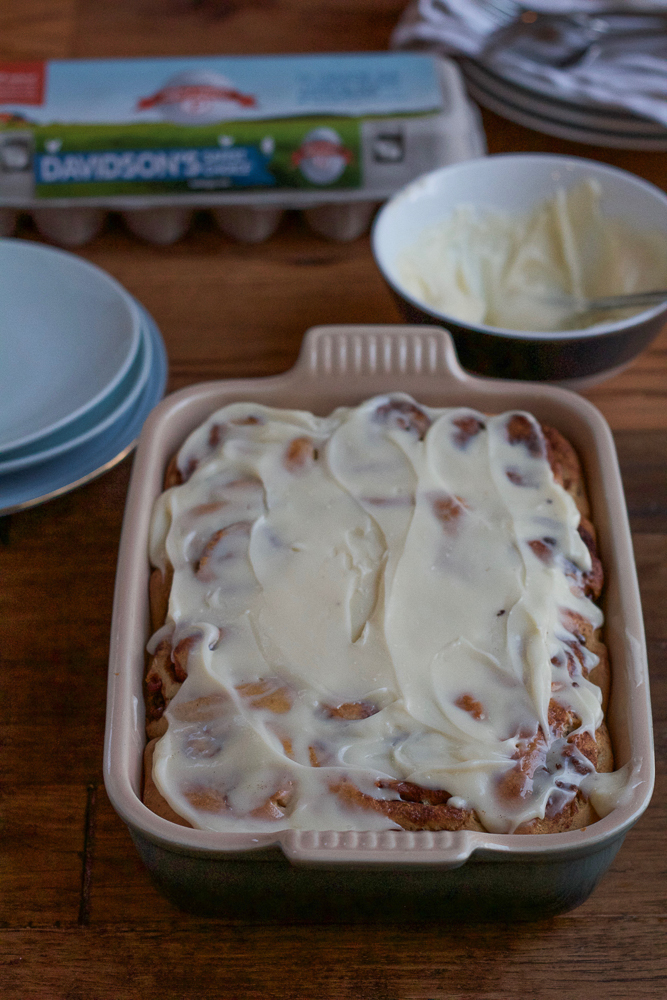 And this month, Davidson's Safest Choice Eggs is all about EGGNOG. They are talking eggnog, holiday prep, baking and more all month long! And tonight, they are hosting a Twitter chat at 8pm EST. Follow #SafeNog on Twitter, Facebook, and Instagram! Do you have a favorite eggnog recipe? Be sure to share it with us!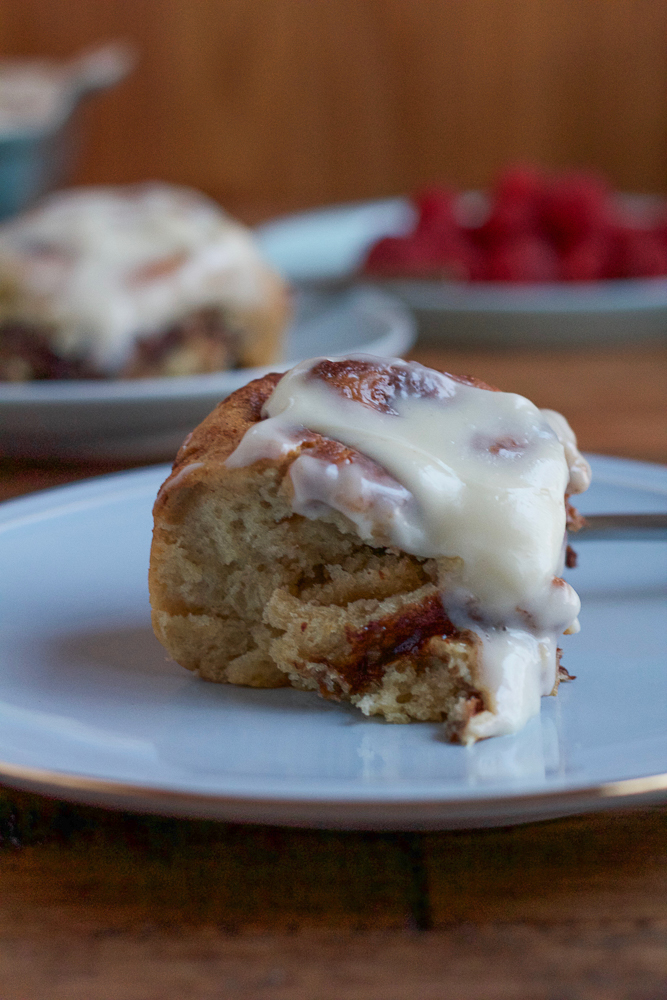 I hope you give these Eggnog Cinnamon Rolls a try! These were soooooo good! I immediately devoured one right after I finished shooting these photos. I love the hint of eggnog, the cinnamon and the mini chocolate chips! I'm definitely making these again for my family on Christmas day!
Enjoy!

Eggnog Cinnamon Rolls
Recipes yields 12 large sized cinnamon rolls.
Recipe type:
Breakfast, Brunch or Dessert
Ingredients
For the dough:
2¼ teaspoons active dry yeast (or 1 packet)
2 tablespoons light brown sugar
¼ cup warm water
½ cup (1 stick) unsalted butter, melted
1 cup warm eggnog
¼ cup mascarpone cheese, room temp
1 egg
4 cups all-purpose flour + more if needed
¼ teaspoon salt
1 teaspoon pure vanilla extract
For the filling:
½ cup + 1 tablespoon brown sugar
2 tablespoons ground cinnamon
¼ teaspoon ground cloves
¼ teaspoon ground nutmeg
7 tablespoons butter, softened; split
⅓ cup mini chocolate chips
For the frosting:
4 ounces cream cheese, room temp
2 tablespoons unsalted butter, melted
2 tablespoons eggnog
1½ cups powdered sugar; sifted
1 teaspoon vanilla extract
¼ teaspoon salt
Instructions
For the dough:
Using your stand mixer fitted with the dough hook, place the yeast and sugar into the bowl. Slowly pour in the warm water and stir together gently just a few times. Let sit until the yeast has doubled and is puffed and foamy on top, for about 8 to 10 minutes.
Add in the melted butter, warm eggnog, mascarpone and egg, and stir to combine. Add in the flour, salt and vanilla. Using your stand mixer again, knead the dough with the dough hook until the dough is smooth and forms a ball, for about 5 minutes. I start out using a low setting on my stand mixer and then go to just a slightly faster setting for just a little as the dough beings to form a ball. The dough may be sticky but that's ok.
Remove the dough from the bowl and place onto a lightly floured work surface. Use a little flour if the dough is really sticky to help you shape into a ball and place into a large greased bowl and cover with plastic wrap, and then with a kitchen towel (or two). Let the dough rise in a warm area for about 1 hour or until doubled in size. I like to leave my bowl next to my oven.
For the filling:
Preheat your oven to 375 degrees.
Using a small bowl, mix together the brown sugar, cinnamon, ground cloves and nutmeg. Generously grease a 9 x 13 baking dish and set aside. Remove your dough from the bowl and place onto a lightly floured work surface. Using a rolling pin, roll the dough into a rectangle shape. Spread about 6 tablespoons of the butter (reserving 1 tablespoon) evenly over the dough and then sprinkle on the brown sugar cinnamon mixture over the entire top. Next, sprinkle on the mini chocolate chips.
To assemble the rolls:
Starting with the bottom end, pull the edge up and over the filling and carefully roll the dough into a log, like rolling a sleeping bag; trying to keep it as tight as you can, while gently working with the dough.
Using a very sharp knife, cut the log into evenly sized pieces and place the rolls into your prepared baking dish. Cover with plastic wrap and a kitchen towel and allow to rise in a warm place until doubled in size, for about 30 minutes.
For the frosting:
Combine the cream cheese, butter, eggnog, powdered sugar, vanilla and salt and whisk together until smooth and well combined.
Reduce the oven temperature to 350 degrees and brush remaining butter over the rolls. Bake for about 30 minutes, or until golden brown and cooked through. Remove from the oven and let cool for just a few minutes before spreading on the eggnog frosting. Serve immediately and enjoy!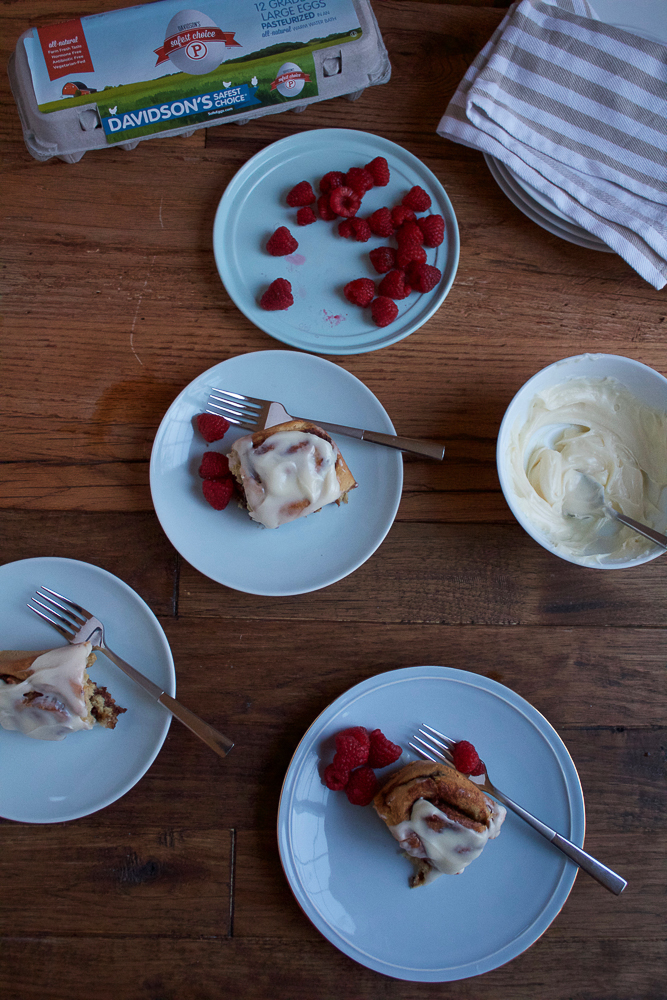 Disclosure: This is a sponsored post in partnership with Davidson's Safest Choice Eggs. All opinions expressed here are 100% my own.
You might also like...