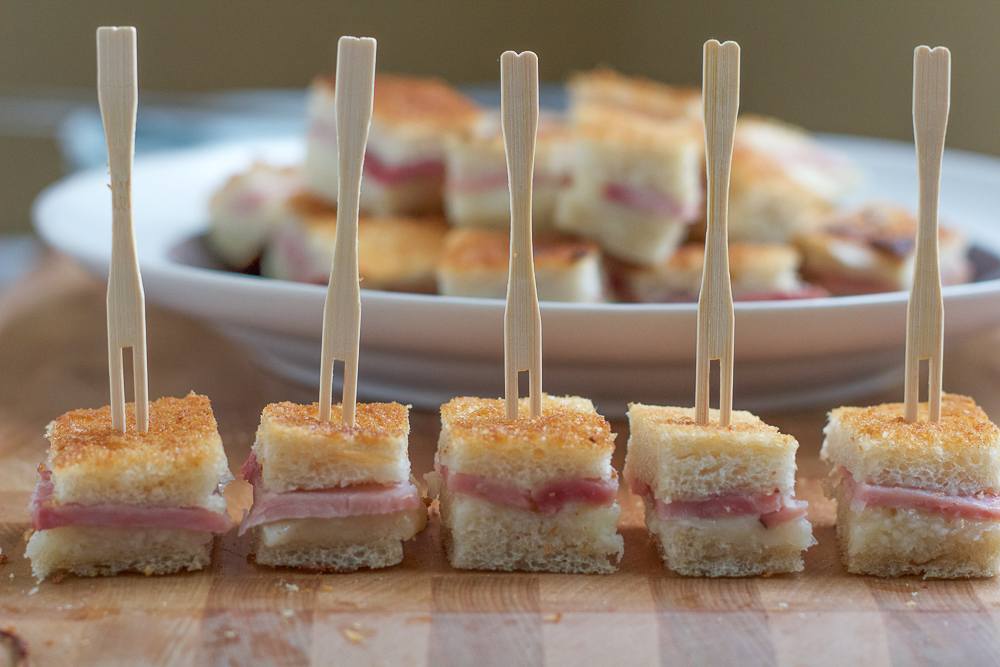 A dear friend of mine just had a baby and all I'm seeing on Facebook these days are photos of the beautiful new baby with her sisters. The photos are so cute and of course, I start reminiscing about when my kids were infants. .  and then, for a second, I want another one.
For a second!
I love babies and am so happy to be here today to celebrate David, from Spiced Blog!! David and his wife, Laura, are having a baby!! Their first baby, which is super special and I couldn't be happier for them. If you don't read his blog by the way, you need to . . he has the best stories and recipes and I love that he is one of like 15 male food bloggers out there. OK, there are more I'm sure but I only read a handful. And David's blog is one of them.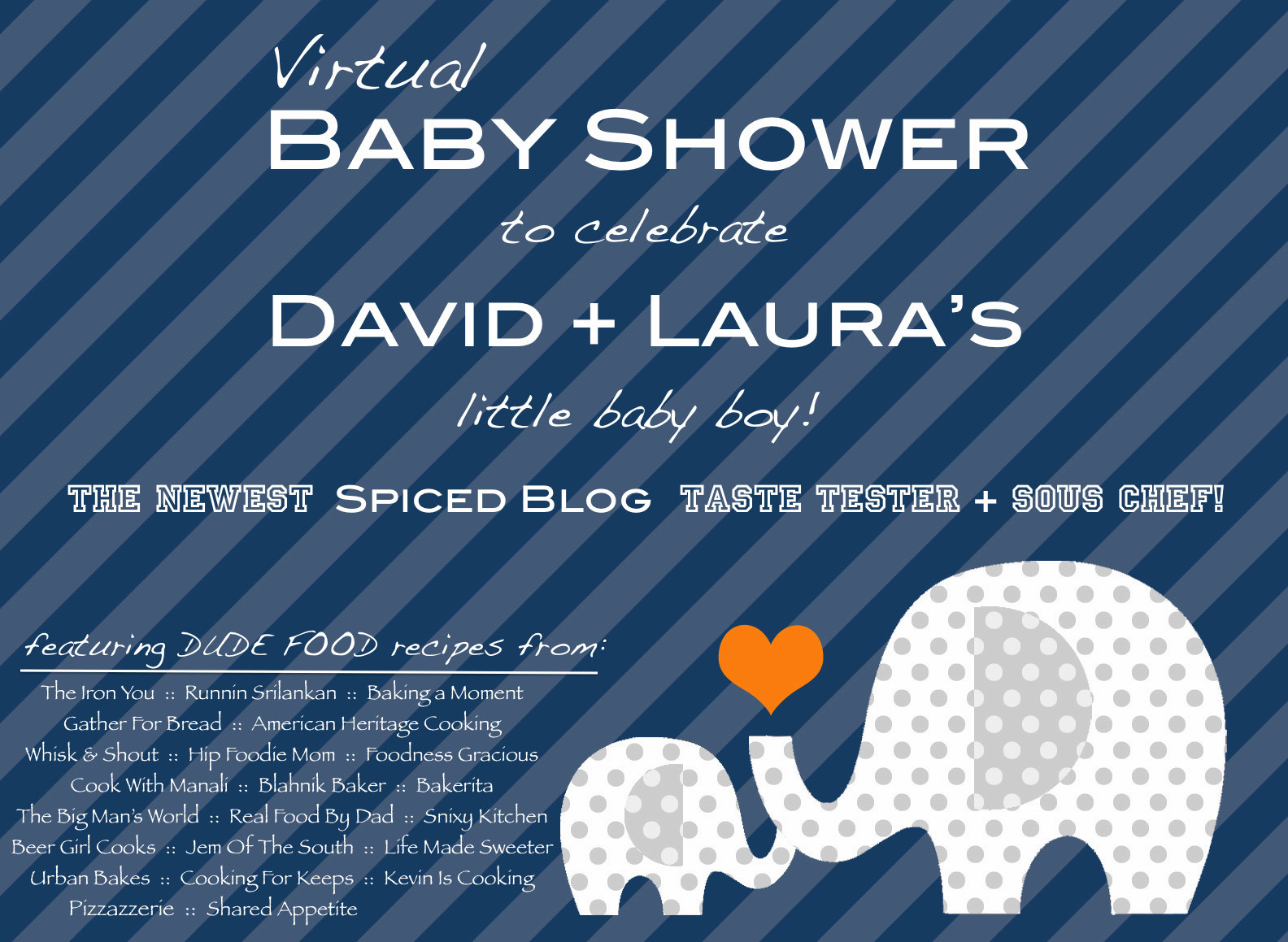 We were supposed to make dude food for today. .  Not sure if this qualifies as full-on dude food, but it has meat, cheese and bread so I'm going with this.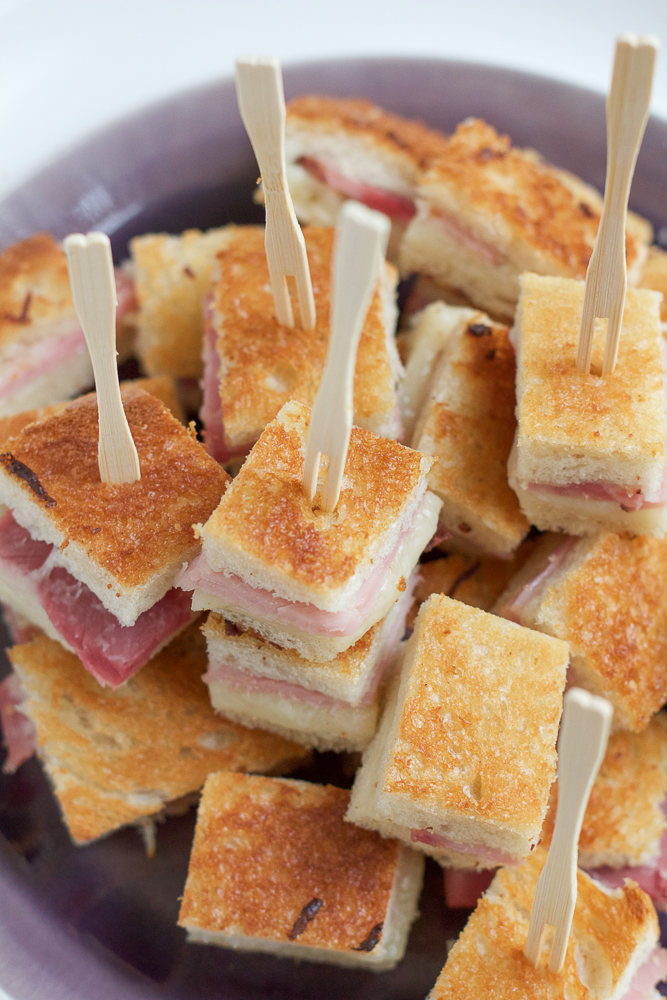 I made mini croque monsieur sandwiches. A croque monsieur is traditional French ham and cheese sandwich. These are super easy to make. Any dude could make these. And you can totally change these up! Use Jarlsberg, Gruyère, or any cheese you have at home and you could even use dijon mustard, or make a bacon onion jam or marmalade and spread some on the bread before baking.
The possibilities are endless!
Start off by making your ham and cheese sandwiches and slather on a load of butter on each side.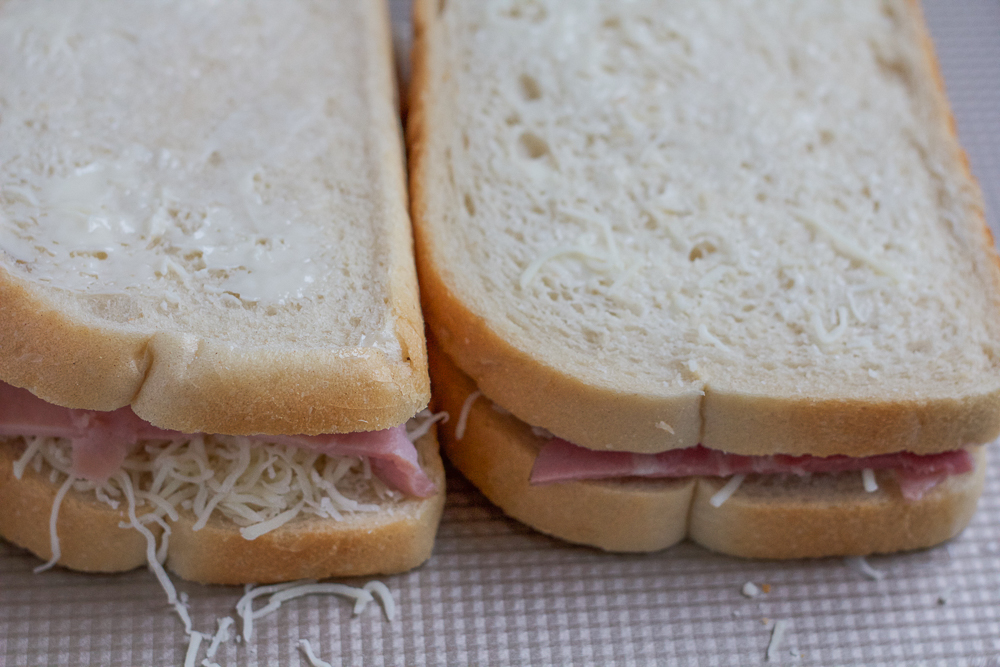 Next, you're going to bake them in the oven until golden brown, crispy and the cheese is all melted.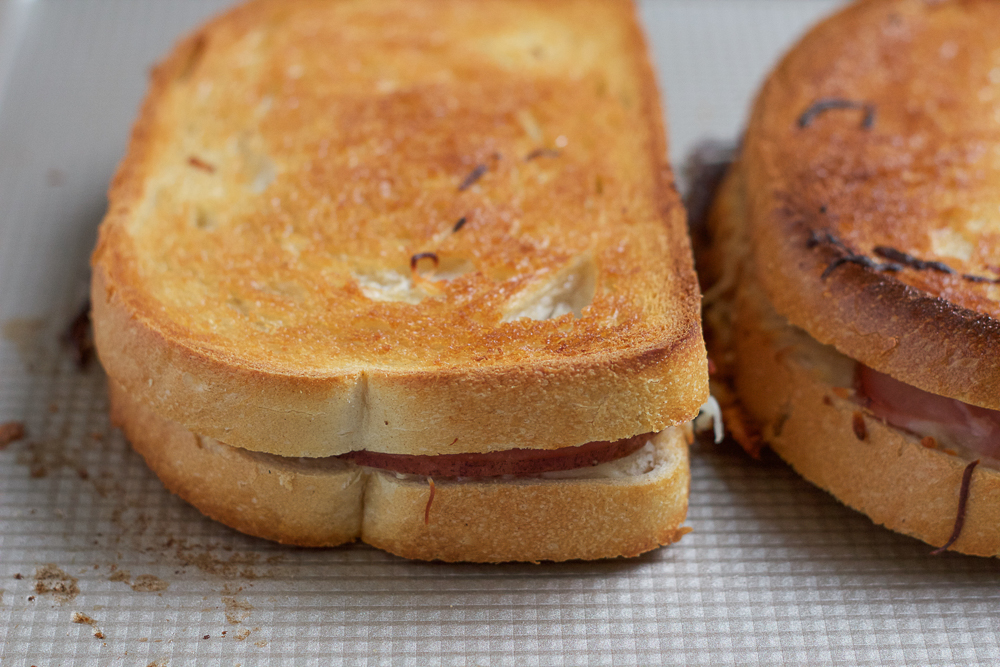 Then, all you're doing is cutting off the crusts, which you can eat right away, cut them into smaller pieces, put them on a platter with tooth picks and you are golden!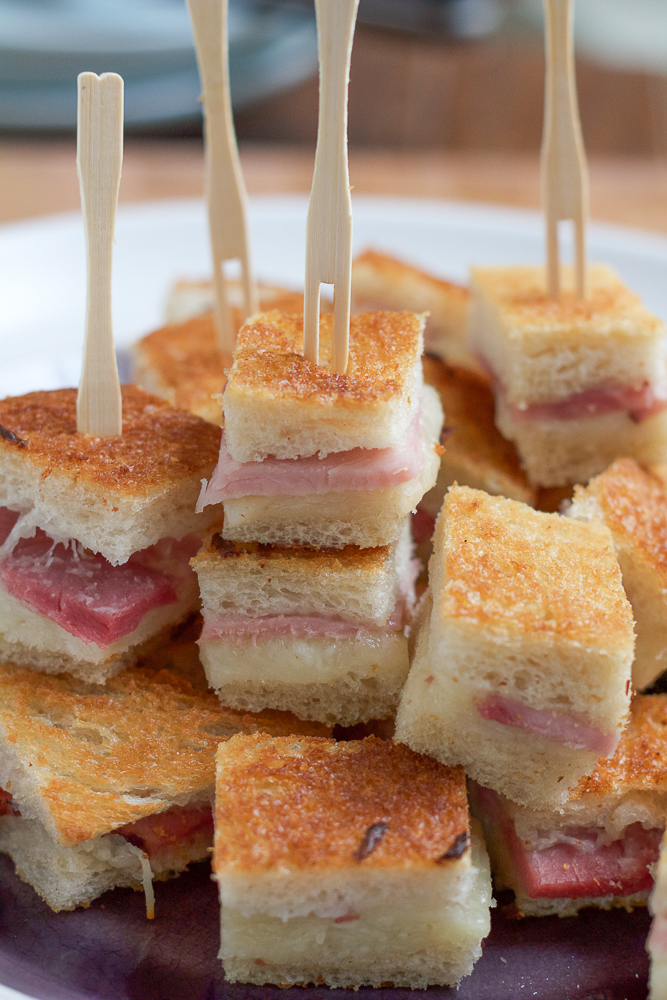 Now, wouldn't you want to eat these at your baby shower?! David, I hope you like them! Wishing you and Laura the best! I'm SO happy for you guys and can't wait to see photos!

Mini Croques Monsieur Sandwiches
Feel free to add dijon mustard or a bacon onion jam to these croque monsieur sandwiches.
Ingredients
6 to 8 slices of thick white bread
6 to 8 slices Jarlsberg, Gruyère, Beaufort, or Comté cheese
6 to 8 slices good quality ham
butter, any kind (can be salted or unsalted)
Instructions
Preheat your oven to 400 degrees.
Arrange 2 thick slices white bread next to one another on the counter and cover 1 slice completely with slices of cheese. Add the ham to cover the cheese and top with the other slice of bread. Repeat with other sandwiches. Spread about 1 teaspoon butter on each side of the sandwiches and arrange on a foil-lined cookie sheet.
Bake for about 10 to 12 minutes, or until the croque monsieur is golden brown and crusty on both sides. Let cool for about 5 minutes. Trim off the crust, if desired, and cut into small rectangles. Serve immediately with toothpicks.
Recipe from Jacques 
Pépin. See him in action here making these sandwiches.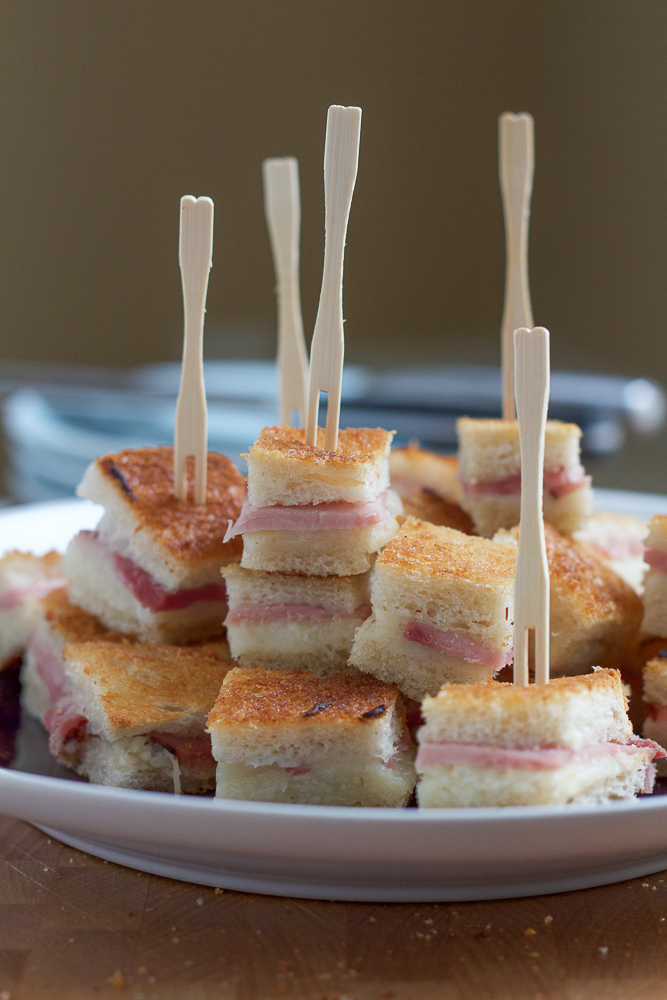 Check out the rest of the dude food we have today for David's baby shower!
Buffalo Chicken Blue Cheese Hand Pies by American Heritage Cooking
Chocolate Bacon Toffee by Bakerita
Pumpkin Beer Soft Pretzels by Baking A Moment
No Bake Salted Caramel Apple Slice by The Big Man's World
Philadelphia Cheesesteak – Southern Style by Beer Girl Cooks
Shredded BBQ Chicken Nachos by Blahnik Baker
Cinnamon Churros by Cook With Manali
Grilled Brown Butter Burgers with Swiss + Boubon Mushrooms by Cooking for Keeps
Cider Braised Brisket by Foodness Gracious
Ham Potato and Corn Chowder by Gather For Bread
Mini Croques Monsieur Sandwiches by Hip Foodie Mom
Wolfpack-Style Meatballs by The Iron You
Pecan Praline Popcorn by Jem Of The South
No Bake Pumpkin Cheesecake Pecan Tarts by Kevin Is Cooking
Maple Sriracha Pulled Pork Mini Pies by Life Made Sweeter
Vanilla Almond Snowball Cake by Pizzazzerie
Something Amazing by Real Food By Dad
Cinnamon Bacon Donuts by Runnin Srilankan
You might also like...