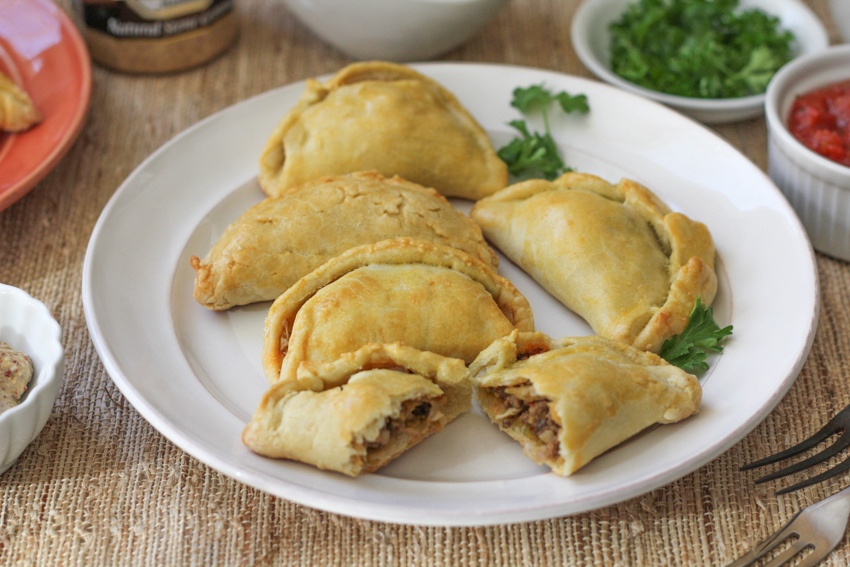 The snow is finally gone and there's a spring in everyone's step. .  heck, people are even wearing shorts and flip flops in this 50 degree weather. And yesterday it was 70 degrees!! We're starting to see our neighbors' faces again, kids riding their bikes and we've been walking to the park quite a bit.
Spring is finally here and it's time to celebrate my friends. It's time to celebrate with Empanadas. And lots of them.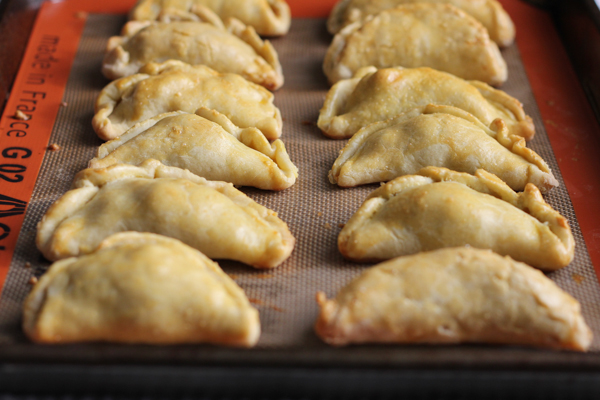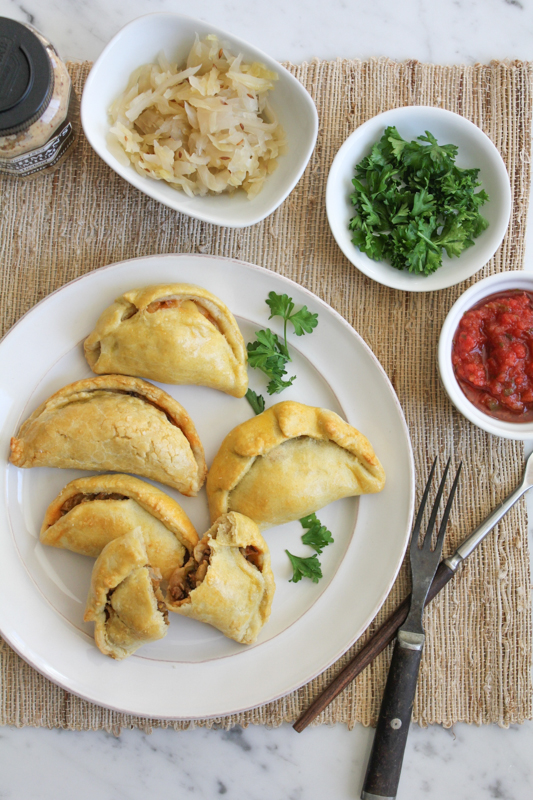 Empanadas are a great, delicious finger food to serve when entertaining and the best part? You can create so many different fillings! Have a vegetarian in the house? No problem. Have someone who wants chicken and someone else who wants beef? You can make both!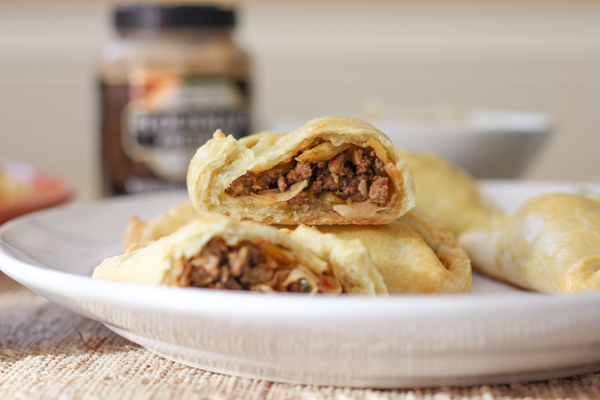 While I was recipe testing for these babies, I made empanadas for like 4 days straight. I took some over to my neighbor, got some feedback and went back into the kitchen. I have to say I'm very happy with the final recipe!

Empanadas!
This recipe card provides THREE different filling recipes for baked empanadas!
Ingredients
For olive oil pastry crust:
2½ cups all-purpose flour + more for rolling dough
2 teaspoons sea salt
½ cup good quality extra virgin olive oil
½ cup very cold water
1 egg; slightly beaten (for egg wash; to brush on empanadas right before baking)
For ground beef filling:
1 tablespoon olive oil
1 pound lean ground beef
½ medium sized zucchini, cut in half
4-5 green onions; cut in half
½ head of cabbage; cut into fourths
1 cup green olives
1 tablespoon cumin
½ tablespoon red chili pepper flakes
1 tablespoon smoked paprika
1 teaspoon Chinese Five spice
Salt and pepper to taste
For bratwurst and sauerkraut filling:
2-3 Bratwurst sausages; casing removed
4-5 green onions; cut in half
½ head of cabbage; cut into fourths
Salt and pepper to taste
For mac and cheese empanadas:
3 cups cooked elbow macaroni (about 4 ounces uncooked)
1½ cup cheddar cheese, grated
1 cup gruyere cheese, grated
1 tablespoon unsalted butter
2 tablespoons Boursin Garlic and Herb cheese
¼ cup milk
¼ cup sour cream
¼ teaspoon salt
1 teaspoon red chili pepper flakes (optional; for a little heat)
5-6 strips cooked bacon
Handful fresh chives, cut in half
Instructions
For olive oil pastry crust:
Using your KitchenAid® Food Processor, combine the flour, salt and olive oil and pulse for about 4-5 seconds. Sprinkle the very cold water over the flour mixture and pulse until the pastry just begins to come together, for about 7-8 seconds; no need to overwork the dough.
For the rest of the instructions and the complete recipe card, visit the link below at The Kitchenthusiast.
Head on over to
KitchenAid's blog
to read
this post
and to get
this recipe
!  I made my own olive oil pastry crust and there are THREE different filling recipes! Enjoy!