White Bean Chicken Chili Soup! Made with swiss chard, spinach, cannellini beans, garbanzo beans and more! And rotisserie chicken for added flavor, and it's a time saver! I hope you try this!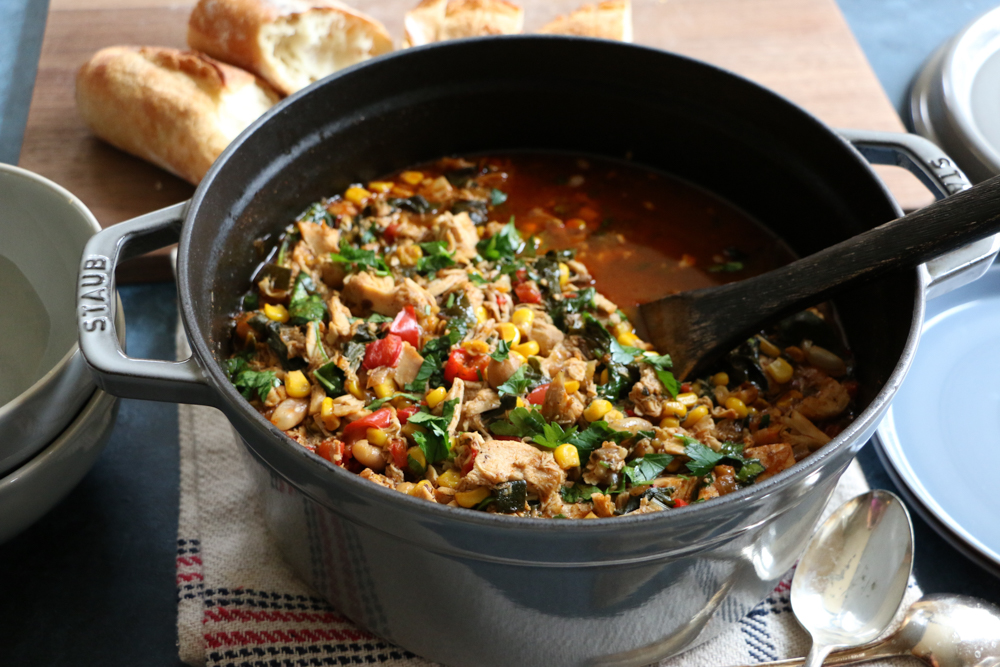 Happy Monday, y'all! We woke up to a few inches of snow this morning. Snow in March. .  yes, that's life in Wisconsin. And there's more snow in the forecast for later this week.
We had a great time last night at The Madison Blind and although we only had a handful of people come out for the instameet, it was a great time and I really enjoyed getting to know some new people here in Madison. We really do have so many nice and talented people living here!
This soup is not new to the blog but I did update the photos and, it's freaking 20 degrees here so I'm making soup! This time I added more chicken stock. .  this way, you get more of a soup and less of a "chili". I also added some spinach in addition to the chard . .  I just love adding greens to soups!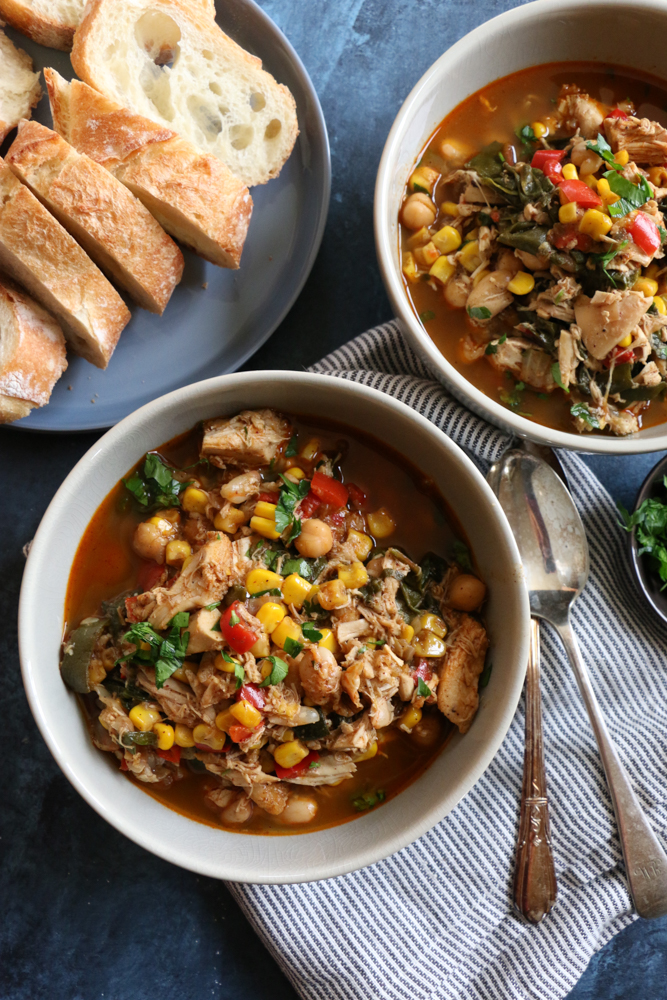 And this white bean chicken chili soup uses rotisserie chicken!!! Shred up that rotisserie chicken for added flavor and protein! and it's a time saver because you are using already cooked delicious, flavorful chicken! My family loves this soup and it's so good and hearty! I hope you give this white bean chicken chili soup a try! Happy Monday!

White Bean Chicken Chili Soup
Ingredients
1 tablespoon extra virgin olive oil
1 large onion, chopped
3 to 4 garlic cloves, minced
½ large zucchini, diced
1 red bell pepper, diced
1 tablespoon cumin
1 tablespoon dried oregano
2 tablespoons chili powder
salt and pepper
1 (15 ounce) cannellini beans, rinsed and drained
1 (15 ounce) garbanzo beans, rinsed and drained
1 bunch Swiss chard, stems removed and leaves chopped
1 to 2 cups fresh spinach
1½ cups frozen corn
5 cups low-sodium chicken stock + more if needed
2 to 3 cups rotisserie chicken, shredded, no skin
½ teaspoon crushed red pepper flakes; optional
chopped fresh flat leaf parsley
Instructions
Using a large heavy-bottomed pot or Dutch oven, heat the olive oil over medium-high heat. Add the onion and cook until translucent, for about 4 to 5 minutes. Add the garlic and cook for 30 seconds. Add the diced zucchini and the bell peppers and season with the cumin, oregano, chili powder, and season with salt and pepper. Cook, stirring frequently, for about 4 to 5 minutes.
Add the beans, Swiss chard, spinach, corn, and chicken stock. If you want a more "soupy" soup with more liquid, add in another cup of chicken stock, otherwise, 5 cups works great.
Bring the mixture to a boil and then turn the heat down low to a simmer for about 20 to 30 minutes. Add in the shredded rotisserie chicken and red pepper flakes (if using) and let simmer for another 5 to 10 minutes. Season with more salt and pepper, to taste. Garnish with chopped parsley and serve. Enjoy!