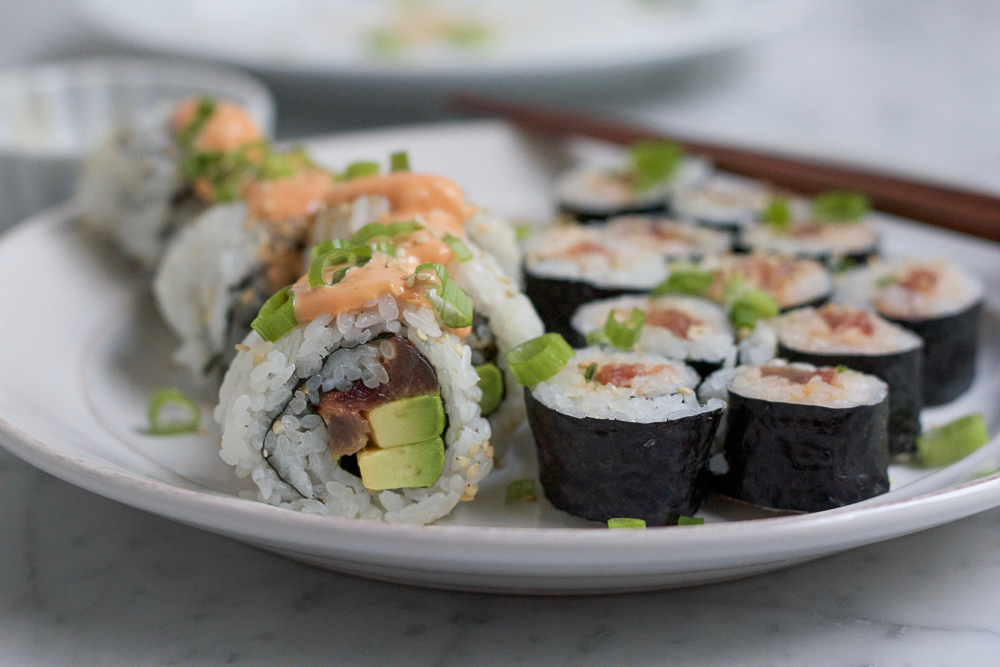 Spicy Tuna Roll! Learn how to make your favorite sushi roll at home! And I show you two ways to make a Spicy Tuna Roll! One way with the rice on the outside and one way with the rice on the inside!
Hello from NYC! Today is the first day of my nutrition course at the Natural Gourmet Institute! I can hardly believe it's finally here! I am so excited to learn, read, be in the kitchen and just absorb information and I can't wait to share what I will learn with you all! I'm stopping in for a quick second to share this fabulousness today . . other than that, follow along on snapchat (hipfoodiemom1) for all the behind the scenes stuff.
On to today's recipe!
If I had to pick one sushi roll I could eat for the rest of my life it would be a spicy tuna roll. Don't get me wrong; I love the crazy, complex rolls too like soft shell crab rolls, rainbow rolls, and all the signature rolls that you find at sushi restaurants. But give me my spicy tuna roll and I am happy.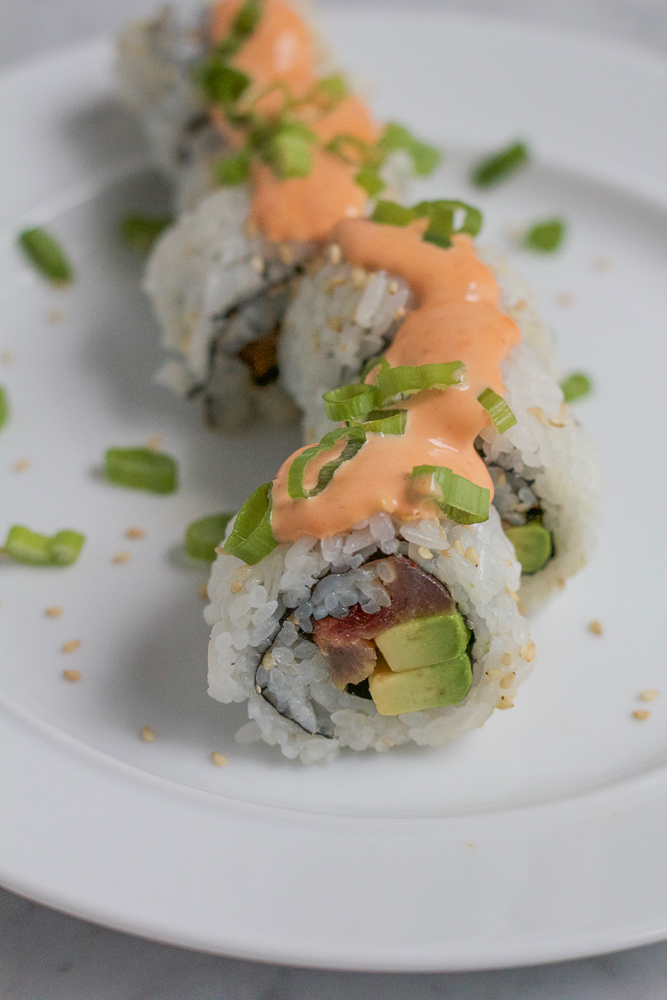 This post is #3 in my sushi series and I had to show you guys how to make my favorite sushi roll, right?! Click here and here to see my first two sushi posts!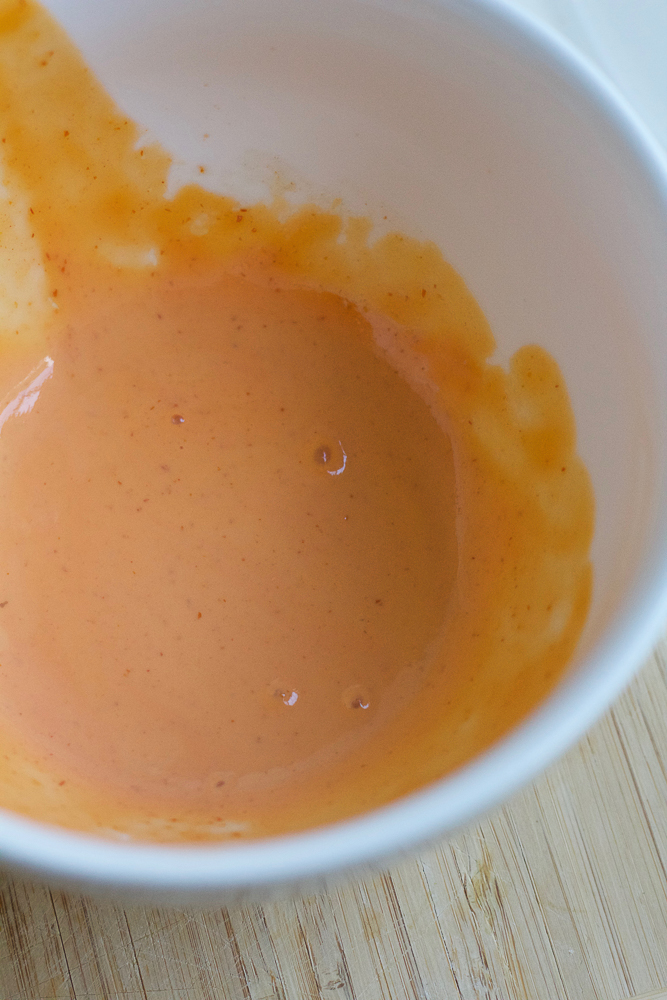 There's something about the spicy mayo sauce that I love. And I think I have perfected the recipe for this so you guys have to check out my recipe! I use more than just Japanese mayo and sriracha.
I also show you two ways to make a Spicy Tuna Roll . . the more traditional way, as shown below, with the rice on the inside. And, if you're feeling fancy, another way, where the rice is on the outside.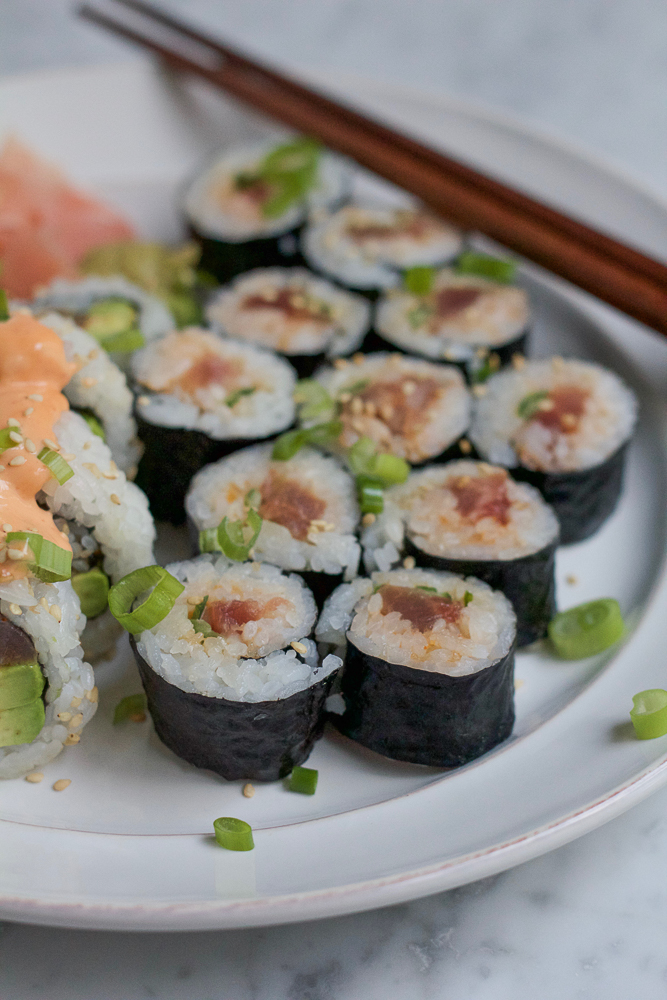 So be sure to check out my post, where I show you exactly what you will need and to get this fabulous recipe, over at The Kitchenthusiast blog!!
I also made this little video to show just how easy it is to make this Spicy Tuna Roll! I hope you give this recipe a try!
And don't miss next month's post! I'll be showing you how to make a sushi burrito! Your mind will be blown with how delicious these are! I hope you enjoy and give this recipe a try!
Disclosure: This is a sponsored post in partnership with KitchenAid USA. All opinions stated here are 100% my own. Thank you for supporting me in working with the brands and products that I use, love and recommend.