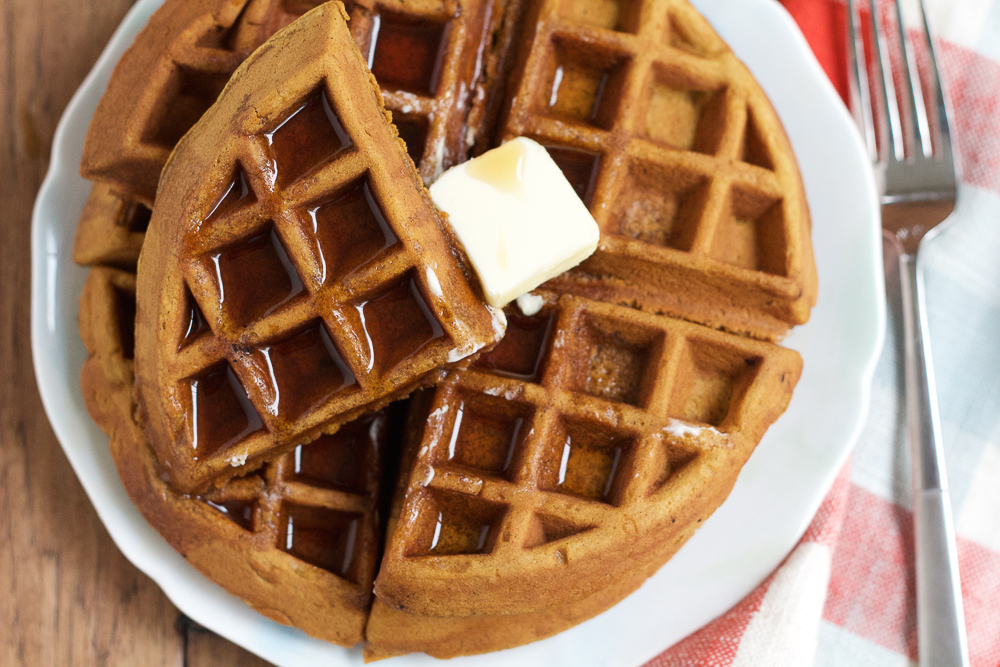 Brunch. It's like the best meal of the day. Am I right?
And I have to give it to Mr. Bobby Flay, who is the brunch master. I love watching his show, Brunch at Bobby's on The Cooking Channel, and now he has a new cookbook out! Brunch at Bobby's offers 140 recipes that are fun, easy, and offer a wide range of flavors. There's everything you can think of when it comes to brunch ranging from cocktails to eggs, and then pancakes, waffles and French toast (including flavored syrups and spreads!!); pastries and breads; salads and sandwiches, side dishes and more!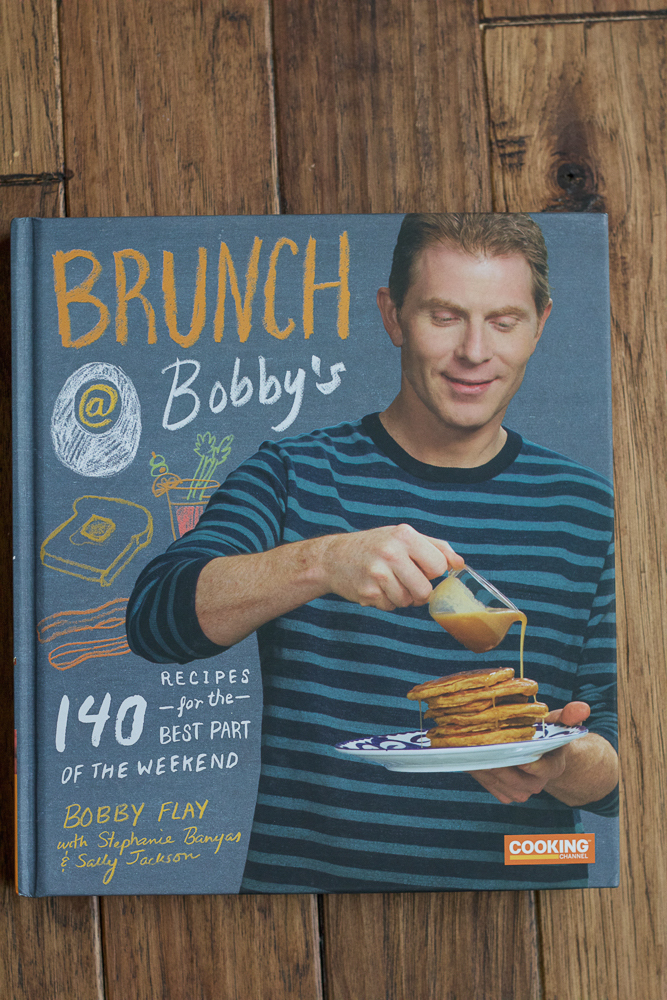 Flipping through this cookbook will make you so hungry.  . and you'll want to immediately run to your kitchen to cook something.
From the decadent . . (and sorry, excuse the glare on my photo!) . .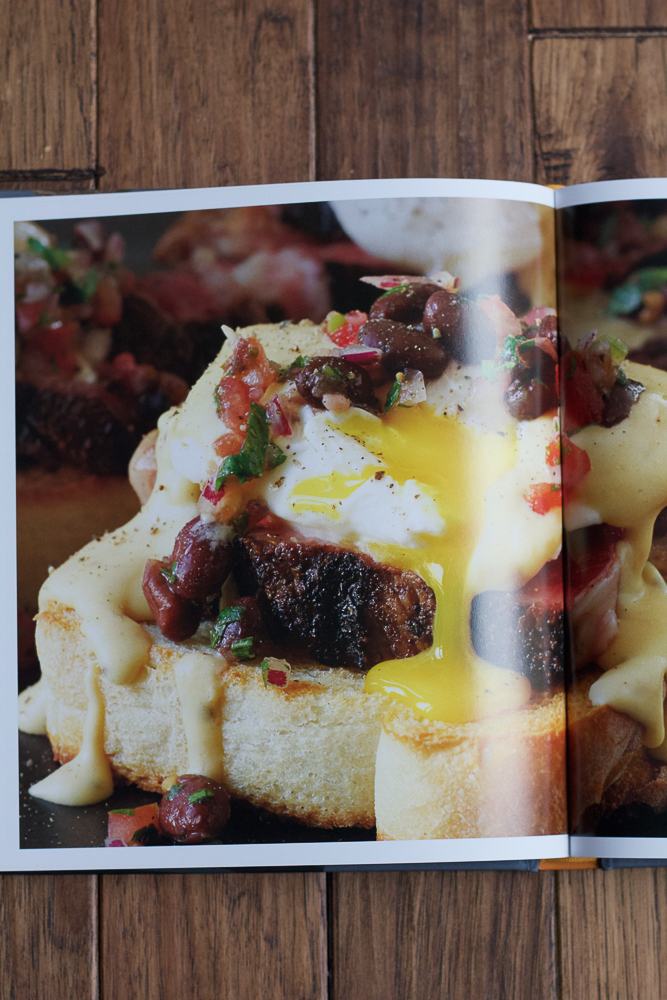 To simple, yet delicious; Bobby seriously has everything covered when it comes to brunch.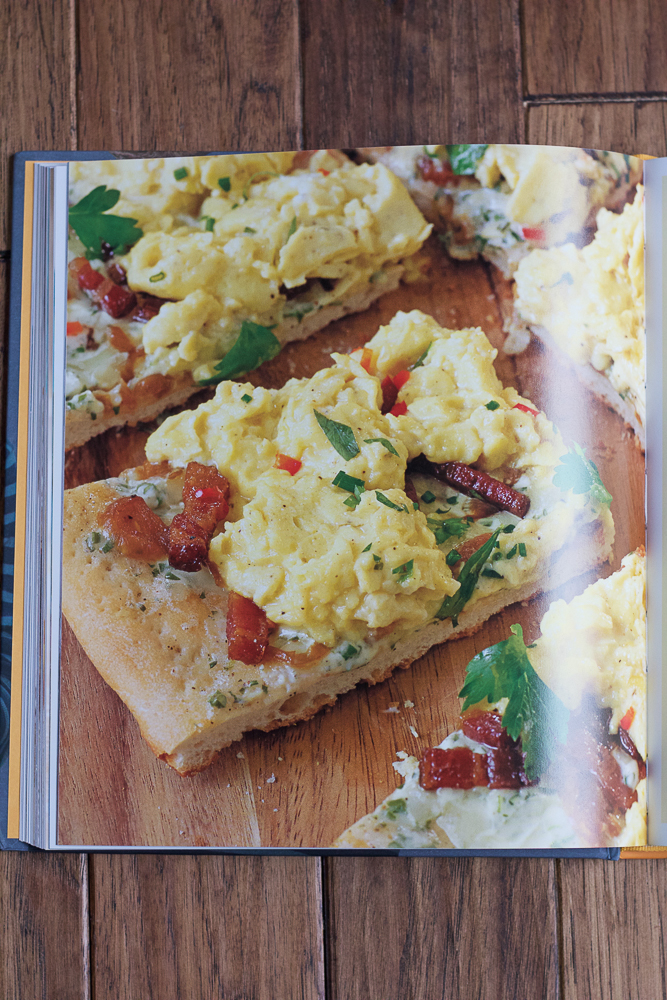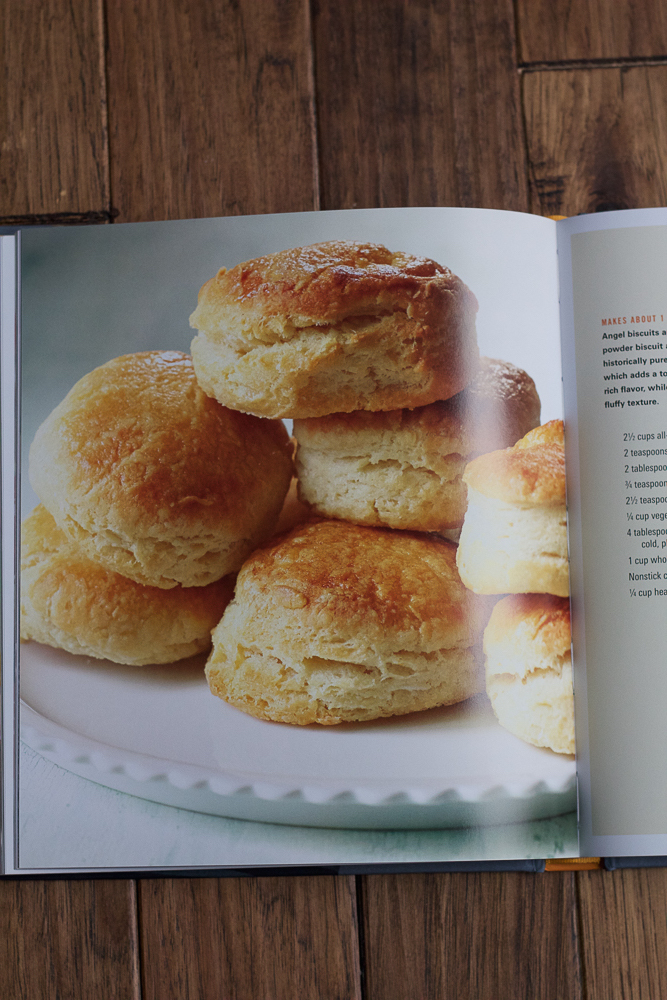 It's October so I had to make Bobby's Gingerbread Pumpkin Waffles. You guys, I am up to my knees in pumpkin, cinnamon and ginger ..  and I love it.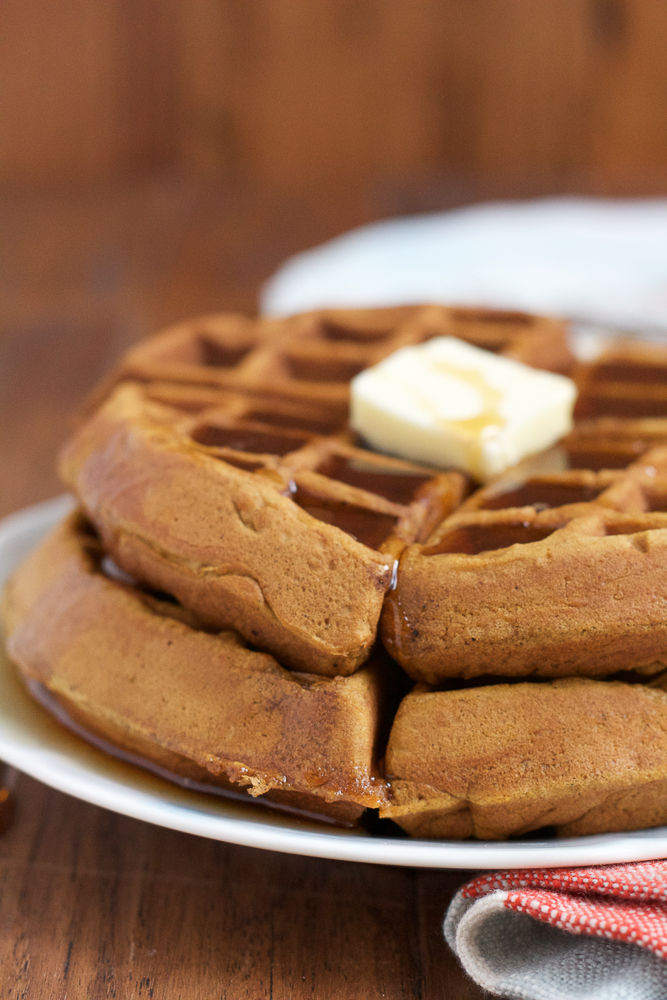 These waffles are like everything I love about fall. . in waffle form! in my mouth! You have to try these! They are seriously so delicious and I absolutely love the flavor! And I was in a hurry last weekend, so I didn't have time to make the buttermilk-bourbon caramel sauce. I know!!! What the hell was I thinking?! Buttermilk-bourbon caramel sauce! I am so making this next time!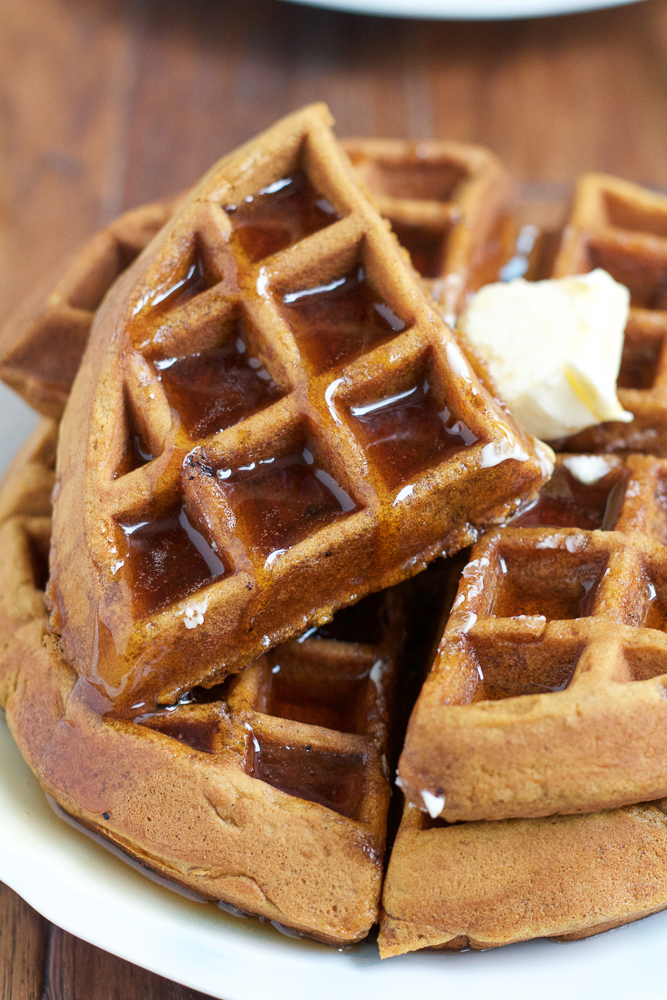 Gingerbread Pumpkin Waffles
All waffle irons and waffle bakers vary. Read your manufacturer's instructions for specific cooking times. Recipe makes 12 waffles.
Recipe type:
Brunch or Breakfast
Ingredients
For the buttermilk bourbon caramel sauce:
1¼ cups sugar
1 cup buttermilk
6 tablespoons (3/4 stick) unsalted butter, quartered
2 tablespoons corn syrup
1 teaspoon pure vanilla extract
2 tablespoons bourbon or dark rum
pinch of fleur de sel or other coarse sea salt
For the waffles:
2 cups all purpose flour
2 tablespoons granulated sugar
2 tablespoons light brown sugar
1 teaspoon baking powder
1 teaspoon baking soda
¼ teaspoon fine sea salt
1½ teaspoons ground cinnamon
1 teaspoon ground ginger
¼ teaspoon grated nutmeg
¼ teaspoon ground cloves
4 large eggs
1 cup whole milk
6 tablespoons (3/4 stick) unsalted butter, melted
½ cup sour cream
3 tablespoons molasses
½ cup canned pure pumpkin puree (not pie filling)
2 tablespoons finely diced candied ginger
Instructions
For the buttermilk bourbon caramel sauce:
Combine the sugar, buttermilk, butter, corn syrup and baking soda in a medium saucepan and simmer over medium-high heat, whisking occasionally, until amber brown and slightly thickened, about 20 minutes.
Remove from the heat and stir in the vanilla, bourbon and salt. Serve warm.
For the waffles:
Preheat your oven to 250 degrees.
In a large bowl, whisk together the flour, both types of sugar, baking powder, baking soda, salt cinnamon, ginger, nutmeg and cloves. In a separate medium bowl, whisk together the eggs, milk, butter, sour cream, molasses and pumpkin until smooth. Add the wet mixture to the flour mixture and whisk until just combined. Fold in the candied ginger. Cover and let sit at room temp for about 15 minutes.
Heat your waffle iron according to manufacturer's instructions. Brush or spray the grates with butter or non-stick baking spray. Fill the waffle iron and cook until crisp and golden. Transfer to the baking rack in the oven to keep warm. Repeat steps to make the rest of the waffles, spraying the grates before each batch.
Serve the waffles topped with the buttermilk bourbon caramel sauce.
Recipe from Brunch at Bobby's cookbook. Reprinted here with permission from Crown Publishing. Gingerbread Pumpkin Waffles + A $100 VISA Gift Card Giveaway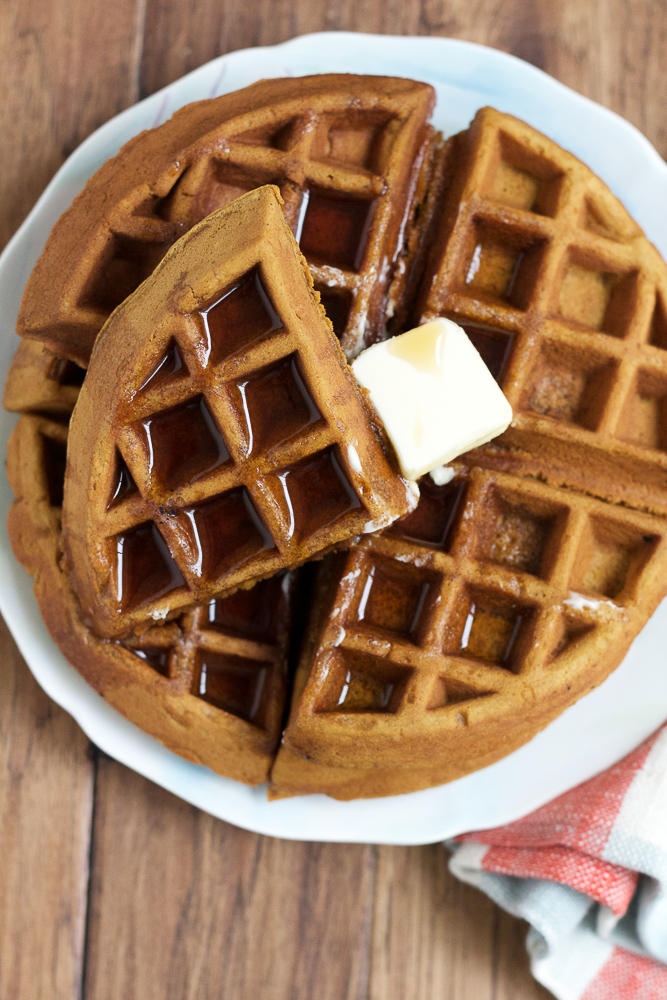 Next up on my brunch menu: going to try the Carrot Cake Pancakes with Maple-Cream Cheese Drizzle, Sautéed Bitter Green Omelets and the Wild Mushroom-Yukon Gold Hash!!
Thank you Chef Bobby Flay. .  you are one of my faves!
The Giveaway!!
One reader will win ONE copy of Brunch at Bobby's cookbook PLUS a $100 VISA gift card so you can buy everything you need to make the perfect brunch! Enter using the widget below and good luck! Open to residents within the United States only.
Disclosure: I was compensated for this post. Samples and prizing are provided by Crown Publishing. All opinions expressed here are 100% my own.