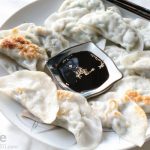 Print Recipe
Korean Food: Homemade Dumplings
Tip from my mom: if you boil these first and then freeze, they hold together better and freeze better so you can enjoy them later! This recipe makes about 150 mandoo dumplings!!
2

lb.

lean ground pork

1

lb.

uncooked shrimp; peeled and chopped

6

oz.

mung bean or sweet potato noodles

soaked in very hot water and then chopped

about 8 oz. of boochu

Korean chives; chopped

4

eggs

2 to 3

cloves

garlic

finely chopped or minced

1

tablespoon

sesame oil

1 to 2

tablespoons

low sodium soy sauce

2

tablespoons

kosher salt

1

teaspoon

black pepper

optional; we did not add this b/c of the kids

3

packages circular mandoo wrappers

or Japanese gyoza or Chinese wonton wrappers

water or slightly beaten eggs

needed when sealing the mandoo
VARIATIONS ON THE MANDOO FILLING:
bean sprouts

but you must use a cheese cloth and squeeze all the water out; chopped

firm tofu

but you must use a cheese cloth and squeeze all the water out

kimchi; finely chopped

but you must use a cheese cloth and squeeze all the liquid out
In a large mixing bowl, combine all of the ingredients from the ground pork to the salt (see photos below). I highly recommend wearing disposable plastic gloves and using your hands to mix everything.

Get your mandoo assembly area ready with your mandoo wrappers, a bowl of water (or a slightly beaten egg or 2) and the pork/shrimp filling mixture.

Place about 1 tablespoon of filling in the center of the dumpling wrapper.

Dip your fingers in the water (or eggs) and wet the outside upper edge of the top half of the wrapper. Fold the wrapper to close and then crimp the edges. Alternatively, you can close the wrapper and then fold and bring the ends together to make a circle. Repeat until all the filling is gone.

Steam, boil or pan fry the dumplings and enjoy! You can also throw these into a Korean mandoo soup. You can freeze the dumplings for up to 3 months.