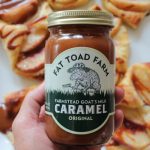 Print Recipe
Peach Croissants
This recipe makes 8 peach croissants.
1-2

fresh sweet peaches

depending on the size; sliced thin

2-3

tablespoons

granulated sugar

3-4

teaspoons

ground cinnamon

2

sheets frozen puff pastry; thawed

mascarpone; 1/2 container

1/2

tablespoon

honey

Egg wash: 1 egg yolk beaten with 1 teaspoon water

Caramel
Preheat the oven to 375 degrees. Line a baking sheet with parchment paper.

Cut the peaches in half and remove the pit. Slice each peach half into 6-7 slices. In a small bowl, mix the sugar and cinnamon together. Set aside.

Roll out the thawed puff pastry. Mix together the mascarpone and honey and spread onto the puff pastry sheet.

Cut the puff pastry sheet in half vertically and then horizontally so you have 4 equal square pieces. Rotate a square so it looks like a diamond. Place 3-4 peach slices across the center of the diamond from left to right. Sprinkle about one-fourth of the cinnamon mixture evenly over the peach slices and the puff pastry. Grab the top and bottom corners and bring them to the center, pinching them together to seal them. Repeat the process with each of the remaining puff pastry squares.

Place the croissants on the baking sheet. Brush the puff pastry with the egg wash. Bake for about 23-25 minutes, or until the croissants are golden brown.

Remove from the oven and allow to cool slightly and then drizzle each peach croissant with caramel.