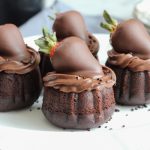 Print Recipe
Triple Chocolate Mini Bundt Cakes for a Ghirardelli Valentine's Day
This recipe will make about 6-7 mini bundt cakes, depending on how much batter you put into each well before baking. You will only need your stand mixer for the frosting.
For the cake:
1 1/2

cups

all-purpose flour

1

cup

sugar

1/4

cup

unsweetened cocoa powder

1

teaspoon

baking soda

1/2

teaspoon

kosher salt

1/4

cup

+ 1 tablespoon vegetable oil

1

tablespoon

white vinegar

1

teaspoon

vanilla

1/2

cup

brewed black coffee; slightly cooled if freshly brewed coffee

1/2

cup

water

1/2

cup

Ghirardelli 60% Cacao Bittersweet Chocolate Premium Baking Chips
For the chocolate covered strawberries:
6-7

fresh strawberries; try to use relatively large ones if possible

Ghirardelli Candy Making & Dipping Wafers- Dark Melting Wafers

chocolate sprinkles

optional, for added decoration
For the cake:
Prepare your mini bundt pan by spraying with non-stick baking spray and preheat your oven to 375 degrees F.

Whisk together all of the dry ingredients in a large mixing bowl until everything is well combined. Into the same bowl with the dry ingredients, add in the wet ingredients and mix to combine. Pour in the Ghirardelli Bittersweet Chocolate Baking Chips and mix to combine again. Fill each well in the mini bundt pan with the cake batter, filling only about 2/3 full. You do not want to pour in too much.

Bake for about 20-25 minutes or until a toothpick inserted comes out clean. Remove from oven and allow to cool. After at least 20 minutes, invert the baking pan and place mini bundt cakes either on wire rack or serving plate.
For the frosting:
Beat the confectioners' sugar, butter, and cocoa powder together in your stand mixer on medium-slow speed until the mixture comes together. Turn the mixer down to a slower speed, and add in the milk (feel free to add in 1 to 2 more tablespoons if needed, but start with one tablespoon of milk).

Once the milk has been incorporated, turn the mixer up to high speed and continue beating until the frosting is light and fluffy (for about 4-5 minutes). The longer the frosting is beaten, the lighter and fluffier it becomes. Chill in the refrigerator for about 30 minutes before applying to the mini bundt cakes.
For the chocolate covered strawberries:
Prepare a baking sheet covered with either parchment paper, wax paper or a non-stick baking mat. Wash and pat dry each individual strawberry. Microwave Ghirardelli's Candy Making & Dipping Wafers according to package instructions. Mix and dip each strawberry and place on the prepared baking sheet. Place strawberries in the refrigerator for at least 20-30 minutes to help the chocolate set and firm up.
To assemble:
Frost the top of each mini bundt cake, either with a piping bag and tip or simply with a frosting knife. Sprinkle chocolate sprinkles on top of the frosting and place one chocolate covered strawberry on top! Enjoy!