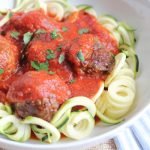 Print Recipe
Zucchini Noodles with Meatballs
This recipe is highly recommended for the Spiral Vegetable Slicer (Spiralizer) but if you do not have one, you can try using your food processor or vegetable peeler for the zucchini. This recipe should yield about 15-18 meatballs.
For the marinara sauce: click here
For the meatballs:
1

pound

lean ground beef or turkey

2

teaspoons

extra virgin olive oil

1/2

cup

Panko or bread crumbs

2

large eggs

2-3

cloves

garlic

minced

1/4

cup

fresh chives

diced

season lightly with salt and pepper
For the zucchini noodles:
3

medium sized zucchinis

very light drizzle of extra virgin olive oil

if desired

fresh parsley for garnish

freshly grated parmesan cheese for garnish if desired

not pictured here
For the meatballs:
Preheat your oven to 400 degrees F. Line a baking sheet with parchment paper or your silicone baking mat and set aside.

Using a large mixing bowl, combine the ground beef, olive oil, panko, eggs, minced garlic, chives, and salt and pepper. Using your hands (with plastic kitchen gloves if desired), mix until well combined. Roll the ground beef mixture into 1 1/4-to-1 1/2-inch meatballs, forming about 15-18 meatballs.

Place the meatballs onto the prepared baking sheet and bake for about 12-14 minutes, or until all of the sides are browned and the meatballs are cooked through.
For the zucchini noodles:
Using your spiral vegetable slicer (you will have to experiment with the blades to get the thickness of the spiral ribbon cuts you want), insert the zucchini onto the spiral vegetable slicer and turn the wheel while pushing the base toward the blade. You'll want to have a bowl underneath to catch the zucchini ribbons/curls as they fall out. You can very lightly drizzle some olive oil (if desired) over the zucchini noodles and set aside. If cooking your zucchini noodles, using a large sauté pan over medium heat, heat 1 tablespoon of extra virgin olive oil. Add the zucchini noodles and sauté for just a few minutes, or until heated through slightly.
To serve:
Place the desired amount of zucchini noodles into a shallow bowl, place a few meatballs on top and cover with some hot marinara sauce. Garnish with fresh parsley and freshly grated parmesan cheese and enjoy immediately.