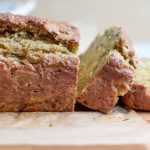 Print Recipe
Avocado Banana Chia Bread
* If you don't have this cereal, I would use a mixture of chia and hemp seeds, but would maybe only add a 1/4 cup or so.
2

cups

white whole wheat flour

I always use White Lily

1

teaspoon

baking powder

1

teaspoon

baking soda

1/2

teaspoon

kosher salt

2

large ripe bananas

1

ripe avocado

3/4

cup

coconut sugar

1/4

cup

milk

or unsweetened almond milk

1

teaspoon

vanilla extract

2

large eggs

at room temp

heaping 1/2 cup of Qi'a™ Superfood - Chia

Buckwheat & Hemp Cereal*
Preheat your oven to 350°. Combine the flour, baking powder, baking soda, and salt in a medium bowl; stir with a whisk.

Place bananas in a medium bowl and mash with a fork. I like to leave a little texture with the bananas; totally up to you.

Place the avocado in your food processor and process until completely pureed. Transfer the avocado to the bowl with your mashed bananas. Add in the coconut sugar, milk, vanilla and eggs; stirring with a whisk until blended. Gradually add the flour mixture to the banana mixture; stirring until everything is incorporated. Add in the Chia, Buckwheat & Hemp Cereal and mix again, just a few times.

Pour the batter into a 9 x 5-inch loaf pan, lined with parchment and coated with non-stick baking spray. Bake at 350° for about 1 hour and 5 minutes, or until a tester inserted in the center comes out clean. Cool for about 15 minutes in pan on a wire rack; remove from pan. Cool completely on wire rack. Enjoy!